Top extensions for physical goods stores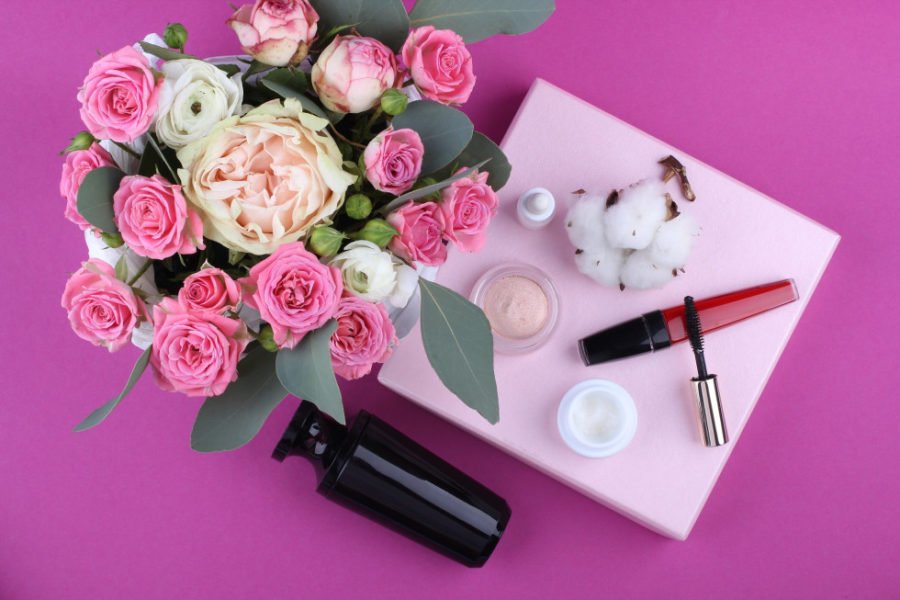 We've written in the past about how WooCommerce can be used for unique store setups — memberships, nonprofits, subscriptions and more. But a lot of you choose Woo because it's a great platform for a simple store selling physical goods.
WooCommerce gives you a fantastic way to start selling and shipping your products fast, no matter what you sell or where you want to sell them. Sometimes, though, you might need a few more tools to take your store to the next level.
In this post, we've collected some of our favorite extensions for stores specializing in physical goods. Have a look and see if you find a new favorite!
Extensions for more appealing product pages
Part of the appeal of shopping at a brick and mortar location is being able to see, touch, and try the products you want to buy. Online, your first meetings with a product are reduced to pixels on a screen.
Luckily, we've found a few solid ways to compensate for that loss of real-life product experience. Until someone invents smell-o-vision or enables you to feel textures with your laptop touchpad, here are the extensions we recommend for higher converting product pages.
Add a 360º image to your product pages
If you can't pick up a product and turn it around in your hands, this is the second best option.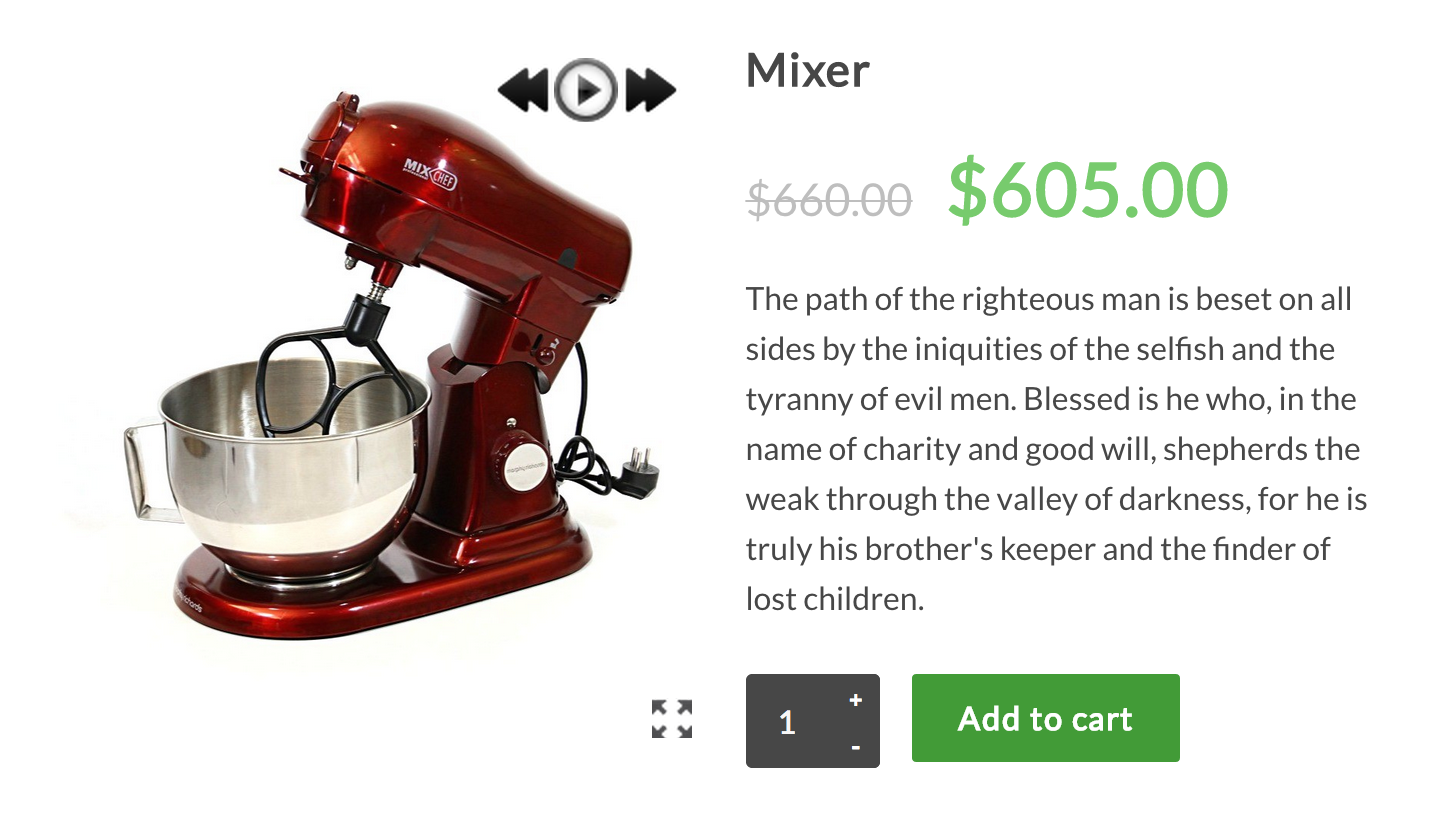 The WooCommerce 360º Image extension allows you to combine photos you've taken of a product into a smooth, customer-friendly display of an item from every angle. Simply click the image and spin, spin, spin.
There's a little work needed on your end to get the effect for every product — namely, multiple photos taken from each angle of the rotation you want to show — but if you're selling anything with detail on multiple sides or features that might be hard to see in a single shot, consider giving this a try.
Not sure how to get a set of beautiful product photos? Here's a tutorial we think you'll find useful.
Purchase the WooCommerce 360º Image Extension
Let shoppers view or download product documents before they buy
Convincing shoppers to purchase an item can take time… and lots of convincing. Sometimes your copywriting and product images alone won't do it, so here's another idea.
With Product Documents, you can add PDFs or other supporting documents to your product pages. This is an easy and quick way to provide everything from instruction manuals to assembly guides to more creative pieces like lookbooks and catalogs.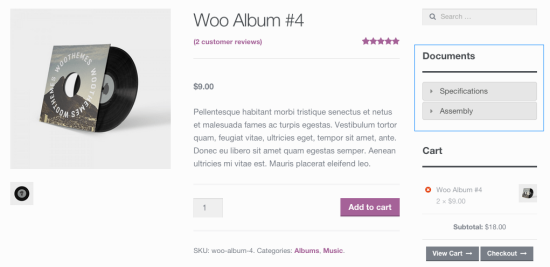 Shoppers who may be on the fence about buying a product — particularly something that looks tricky to put together or use — are more likely to buy with these accessible documents on hand. And a bonus for you: you won't have to print and pack them in the shipping box, since they'll be right on your website if they're needed.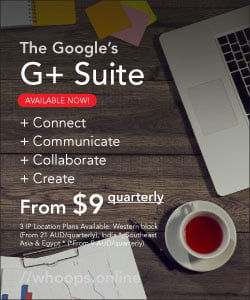 Ways to ship smarter, faster, and with better communication
Shipping is one of those things that can make or break your store. If the prices are too high, potential customers might abandon their carts to find a cheaper alternative. If the methods are too slow, they may decide it's not worth waiting for.
And then there's the added stress of managing all those shipments — packing orders up, printing labels, sending boxes out, providing tracking numbers…
These extensions will help you reduce your shipping stress and keep your customers happy… not to mention make them more likely to buy from you at that final, crucial moment.
Hassle-free management of shipping rates, labels, tracking numbers, and returns
ShippingEasy does what it says on the tin: makes shipping easy. This integration manages multiple aspects of the shipping experience for your WooCommerce store, including:
Pulling real-time shipping rates for orders based on weight or other defined rules
Creating shipping labels (individually or in batches)
Creating and emailing tracking numbers to customers
Automatically creating return labels that can be packed in with your shipments
Additionally, ShippingEasy doesn't just work with WooCommerce: if you decide to start selling your products on other marketplaces (like Amazon or eBay), you can also use it to print labels for those orders. Two birds with one stone, right?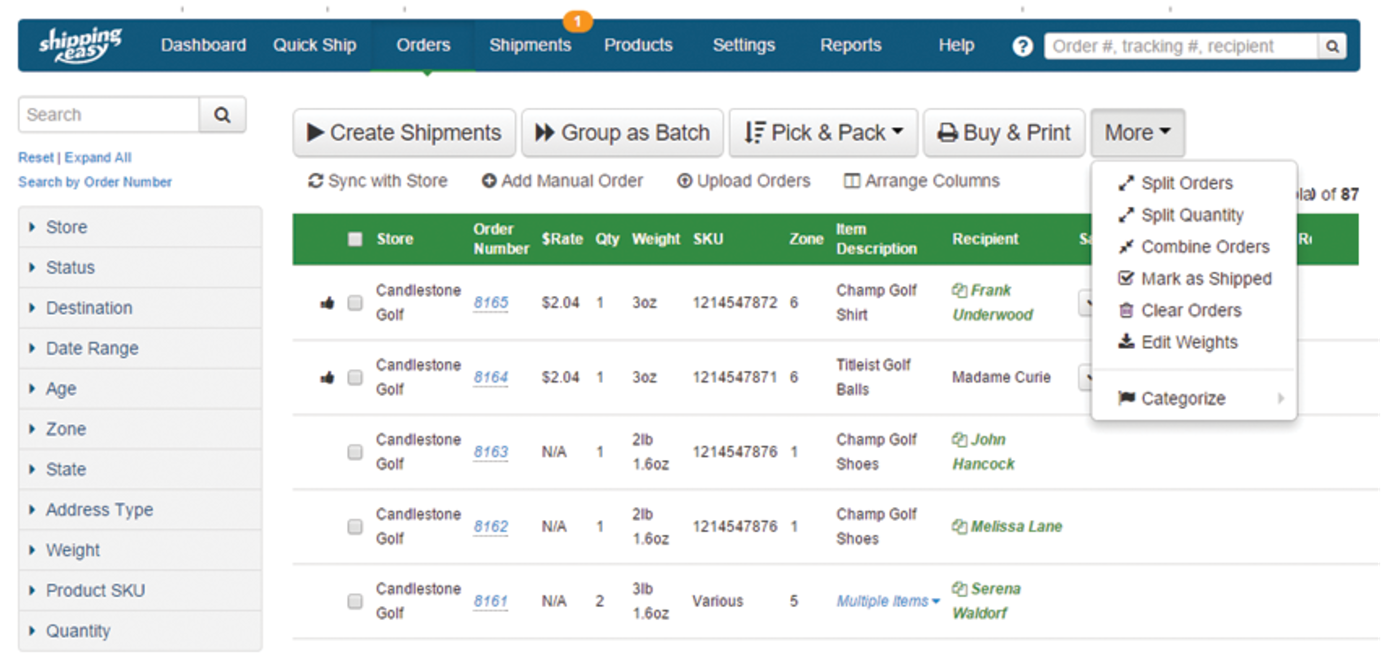 ShippingEasy costs nothing to try, with a free extension and 30 day trial; after that, monthly plans start at just $29.
Start Using ShippingEasy for Free
Allow orders to ship to multiple addresses
Something you might not have thought about: sometimes your customers aren't just buying for themselves. They might be purchasing a gift plus a household item, or a full selection of gifts (most likely near the end of the year).
Rather than put the burden of re-shipping on them, you can outfit your WooCommerce store to handle it for them. Our Multiple Addresses shipping extension gives your customers the power to split their order up in any which way they choose.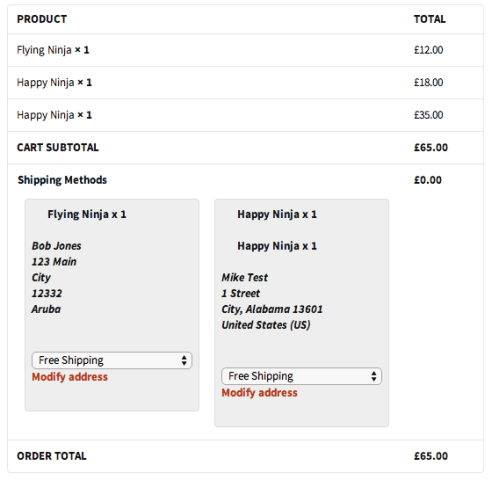 Customers will be guided through splitting up their order at checkout, choosing which products go where and via which method. Then everything will come over to you, with clear instructions and all fees paid in advance (just in case that gift for Aunt Sally needs overnighted).
Manage your inventory between multiple locations
WooCommerce has built-in inventory tracking and management. But so does every other website and online marketplace you might want to sell your products on.
Forget about tracking the amount of available products per site by counting on your fingers or scribbling on notepads. We have several solutions designed to give you full control over your inventory, and here's just one of them.
Use TradeGecko to sell the same products on WooCommerce, Amazon, and more — without running out
TradeGecko's integration with WooCommerce gives you the ability to quickly sync your existing products and their current inventory status to other sites, eliminating the need for manual setup and tracking.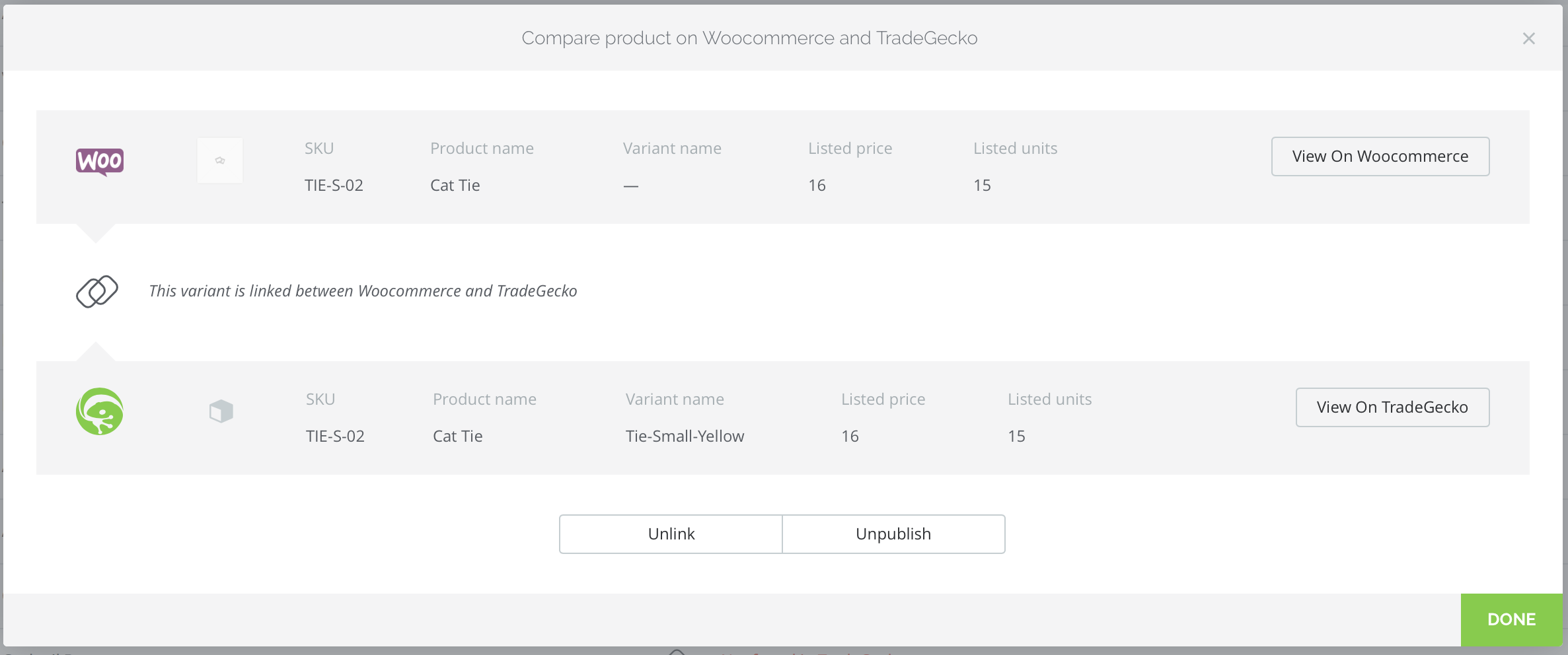 Once you sync with TradeGecko, your product inventory will be managed there (and reported back to WooCommerce). From TradeGecko, you can then begin listing your products on Amazon or other online sales platforms. You can even sync the same inventory to another WooCommerce store, if you choose.
The TradeGecko extension is free; to use it, you'll need to subscribe to a monthly plan starting at $99 per month.
Download the TradeGecko Extension
Get recurring revenue — and keep your customers stocked up
This final extension is something you might want to consider for the purpose of introducing recurring revenue. With subscriptions, your customers will receive shipments on a frequent basis, and you'll get a steady flow of revenue. What's not to love?
Enable WooCommerce Subscriptions for products delivered on your customers' schedules
WooCommerce Subscriptions has plenty of benefits, and we won't go over them all right now. The biggest one you need to know, though, is that it introduces recurring revenue and creates repeat customers much faster than any other option available to sellers of physical goods.

Even if you've been selling for a while, you might not be aware of the potential your store has for a subscription plan. Plenty of products can be sent via subscription, especially perishable goods (snacks, meats, health food, or even coffee, which we wrote an entire guide about). Subscriptions also work for fun things like action figures and collector's goods, or makeup and clothing (from dresses to socks to underwear — after all, they do need replaced eventually).
Recurring revenue is also something everyone should be striving for — it's money you can count on and make concrete plans to use. It can cover monthly fees to start, then help you address "wants" vs. "needs," like a redesign or a new tool. It's also what can help keep you afloat if you're just starting out.
Give some thought to what your customers might be interested in subscribing to. You might be surprised by their willingness to sign up!
Use these extensions to find more success with your WooCommerce store
There you have it — six extensions we think you can use to take your WooCommerce store to the next level.
Whether you want to make your product pages more convincing, manage your inventory across multiple channels, or take the stress out of shipping, we have a solution for that.
Have any questions about selling physical products online with WooCommerce? Or any extensions of your own you'd recommend for selling shippable goods?
[wpseo_map width="100%" height="300″ zoom="-1″ map_style="roadmap" scrollable="0″ draggable="1″ show_route="0″ show_state="1″ show_url="0″] [wpseo_address hide_address="1″ show_state="1″ show_country="1″ show_phone="1″ show_phone_2="0″ show_fax="0″ show_email="1″ show_url="1″ show_logo="0″ show_opening_hours="1″]
3.
Top extensions for physical goods stores