Behind the Dot magazine investigates cyber security
Today I'm pleased to launch the eleventh edition of Behind the Dot.
Never before has the issue of cybersecurity been so front and centre in people's minds. It's hard to believe that it was just a little over a year ago that we released our previous edition of Behind the Dot dedicated to the important theme of security, and in that time, much has happened.
An unprecedented distributed denial of service (DDoS) attack on domain host Dynamic Network Services (Dyn) and the highly-publicised attack on the Australian Bureau of Statistics' website during the Census period, made 2016 arguably the most disrupted on record and many predict this is only the beginning. Neustar's Robin Schmitt gives his top four predictions of what we can expect to see in the online security space in 2017.
We were very fortunate to speak to the Minister responsible for overseeing the Federal Government's Cyber Security Strategy, Dan Tehan for our cover story. As the Minister Assisting the Prime Minister for Cyber Security, Minister Tehan has a big job on his hands when it comes to protecting Australian businesses and individuals from the scourge of cybercrime. Mr Tehan explains to us what every day Australians can do to help ensure we all continue to have access to a free and secure internet.
Traditional crimes such as fraud, scams and harassment are increasingly facilitated using technology, which are described as high-tech crimes, otherwise known as cybercrime. According to the Australian Government, cybercrime is impacting an increasing number of Australian businesses, putting many of them out of business within six months of an attack. It is estimated that this costs Australia's economy around $1 billion each year. That's why in this issue, we take a look at what the Australian Federal Police (AFP) are doing at the frontline to combat serious and organised crime and protect Commonwealth interests from criminal activity in Australia and overseas.
We also look at the security measures that can help protect domain names from malicious attacks, and explore the concept of trust in our regular .au Survey and Research section. I trust you will enjoy our regular departments including Channel Talk and Governance and Policy, which all have explored online security and cybercrime.
I am pleased to present Behind the Dot magazine, and am hopeful it will serve to raise awareness of the real threat of cybercrime and encourage many of you to review your existing measures and address them if need be. As always, we welcome your feedback and input on the magazine and thank you for reading.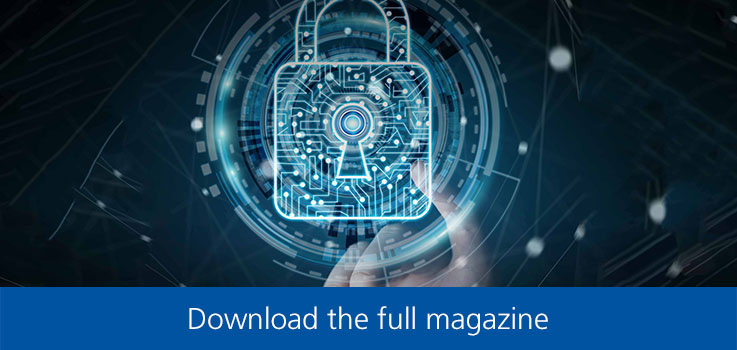 The post Behind the Dot magazine investigates cyber security appeared first on AusRegistry.
5.
Behind the Dot magazine investigates cyber security