The best law firm and lawyer websites are websites that demonstrate their firms' commitment to their clients. They communicate confidence, tenacity, legal expertise and in some practice areas, compassion and foresight. In others, it's all about reassuring visitors that the firm won't stop fighting until justice is served. The best designer for your website is a designer who can translate this confidence into font choices, images, graphics and functional buttons.
When you need a website, don't settle for anything less than a design that communicates your firm's personality perfectly. Hire one of our top lawyer website designers to create a website that works as hard for you as you work for your clients.
How to get the best website design for lawyers
—
There are two ways to work with designers on 99designs: starting a design contest and working with a freelance designer directly.
If you already have a pretty clear idea of how you want your website to look and feel, you can save yourself a ton of time by working directly with a website designer who can deliver what you need. Take a look at our top picks for law firm web designers or search our platform to find the designer who speaks your dialect of legalese.
If you're not totally sure how you want your website to look or if you have some general ideas, but want to see multiple designers' takes on the website that works for your firm, host a design contest. With a design contest, you submit a brief outlining what you need in a website, what colors and other design choices appeal to you and any specific details you need designers to consider. Then, designers from around the world submit their spec designs, giving you the opportunity to scroll through them and choose the one you like best. Once you pick a winner, you and the designer work together to take it from awesome to perfect.
The 10 best lawyer and law firm website designers to hire in 2019
—
1


Other business or advertising


Logo & brand identity pack

2


Other business or advertising


Print or packaging design
How did we choose these as the top lawyer and law firm website designers?
—
You're probably wondering how we reached the verdict on our top picks. When we considered designers for our top picks, we looked closely at the following:
Quality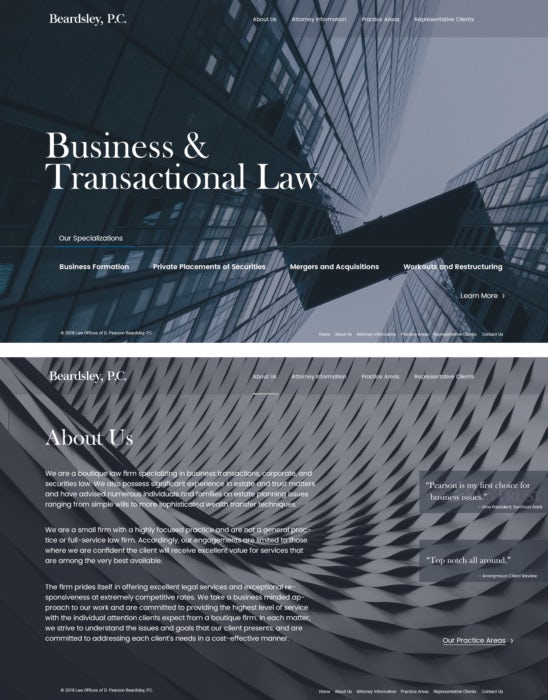 When a new designer joins 99designs, our in-house team of design experts carefully goes through their portfolio to determine their skill level. This process involves looking at the designer's knowledge of design principles, conceptual thought and technical execution of designs.
After reviewing the designer's portfolio, our team assigns them one of three levels:
Top level
Mid level
Entry level
You can see each designer's skill level on their portfolio page. This way, it's easy to know whether you're working with a seasoned professional or somebody who's just getting started in the design world. All of our top picks for law firm and lawyer website designers are top level creatives, so you're getting the best of the best when you work with one of our top 10.
Experience with law firm and lawyer website design
A successful law firm website looks and feels a lot different from a successful medical practice or school website. Our top lawyer website designers understand this and have portfolios full of websites that communicate reliability, dedication and value to their clients.
Professionalism
The 10 best lawyer and law firm website designers to work with aren't just amazing designers. They're also amazing people to work with. When we chose our top picks for this category, we looked closely at each designer's track record of interacting with clients. Past actions we consider include the designer's responsiveness to client requests, communication skills and overall, the ease of working with them.
What to think about when hiring a website designer as a lawyer
—
When you hire a website designer to create your firm's new website, you've got a lot to think about. Some of the considerations you have to make, like whether a designer's price fits your budget, are things you have to think about no matter what kind of website you're developing. Others, like how well a designer understands your practice area, are specific to the legal field. As you search for the right designer for your lawyer website, make these your priorities:
Each designer's experience with your practice area
How each designer's style meshes with your brand
Whether you need UI design and/or custom-coded elements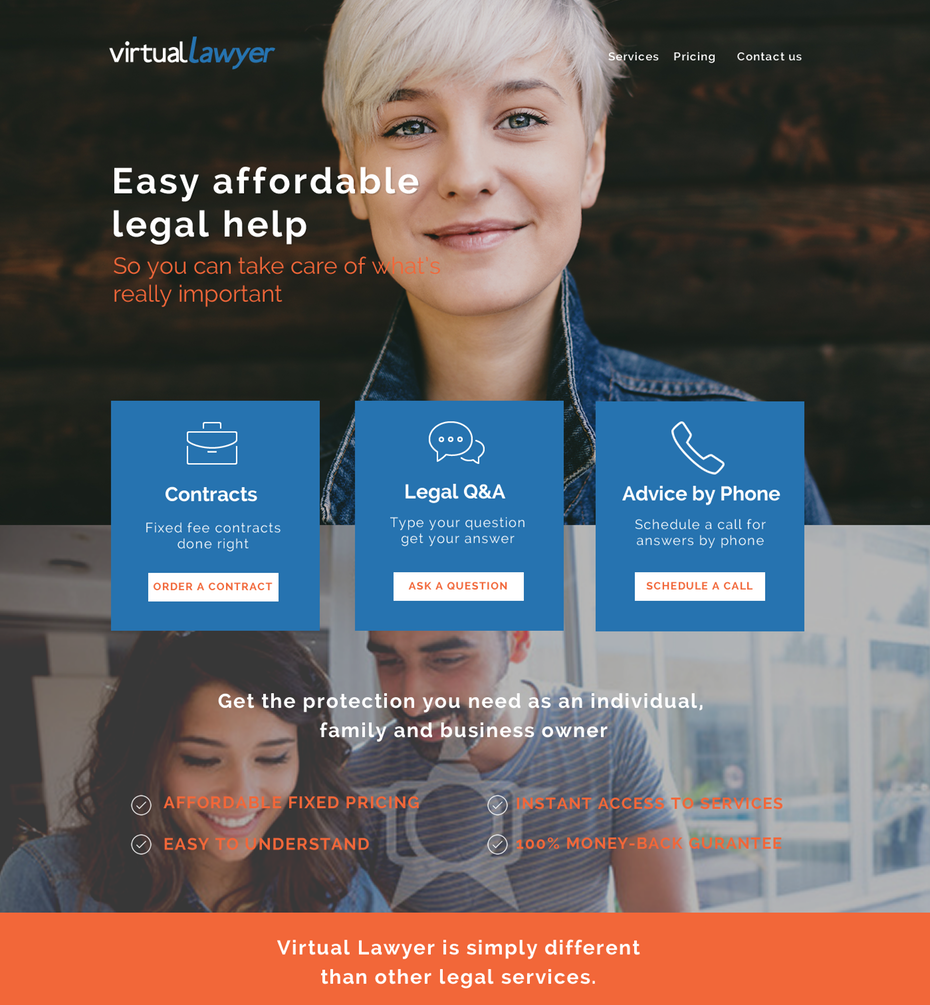 While a criminal defense lawyer needs to spark clients to act now and book a legal consultation, a family lawyer wants to assure clients that they and their children are in good hands. And while a business lawyer promises clients that there will be no surprises or legal hiccups, an estate planning lawyer wants clients to come to their consultations prepared to discuss their specific financial needs and goals.
Lawyers in different practice areas need different-looking websites, so when you're choosing between multiple designers, look for one who understands what your website needs to promise your clientele. The bright colors and bold buttons that create urgency for criminal defense lawyers don't work as well for estate planning lawyers, who benefit from calming, trust-evoking blues and neutrals.
Although your practice area shapes your brand, it isn't your entire brand. Maybe you're a family lawyer who focuses on fathers' rights in divorces by promoting mediation or you're a personal injury firm that takes a holistic approach to client recovery, promoting wellness alongside securing appropriate compensation for clients' losses. Your firm is unique even among other firms in your practice area, and as the first point of contact most clients have with your firm, your website needs to communicate your brand effectively.
The last thing to consider is whether you also need user interface (UI) design or if you want any custom coded elements on your website. Chatbots are a very popular element for lawyer websites right now, and if you want a chatbot or any other custom element on your website, be sure to work with a designer who also has web development experience—or be prepared to hire a web developer in addition to a designer and budget accordingly.
Are you ready to hire a great website designer for your law practice?
—
A better website means better exposure for your firm a better relationship with your clients. Build the website your firm deserves with one of the skilled designers on our platform. If you're not sure one of our top picks is the best choice for your website, search our platform for the designer who is.