Web design is crucial for the success of a website—according to Adobe's State of Create report, 46% of people "will not purchase from a brand if its website or mobile experience is poorly designed." So, how can you learn to create outstanding web design and build your skill? The answer: web design tutorials. There's a wealth of fantastic web design tutorials out there that will teach you anything from responsive design, layout and hierarchy to wireframing, UX and UI.
As most professional web designers will tell you, web design is best learned by doing it. You'll just need to master the basics before you get started. For that, online web design tutorials are a great option. From free video classes to paid interactive web design tutorials, you have a lot of different options—so many, it can be hard to choose the best.
To help you out, here are our picks for the best web design tutorials on the internet and where to find them, along with the specialties of different learning platforms, prices and whom they're recommended for.
Here are the 29 best web design tutorials for every skill level:
—
1. Envato Tuts+ web design tutorials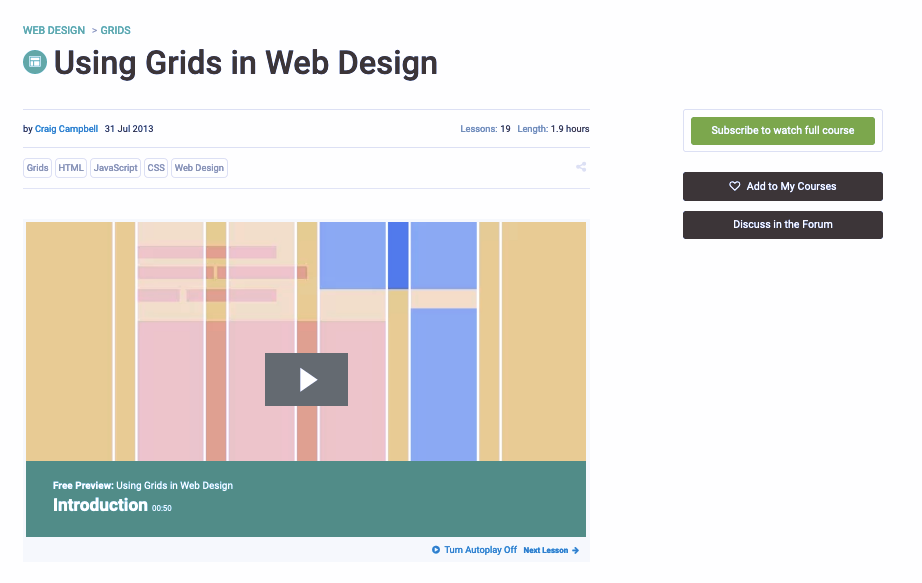 Make sure you check out:
Using Grids in Web Design. In this tutorial you'll learn how to use grid systems from start to finish. A great guide for beginners that shows you how grids can help you create clean and organized web designs.
Also, don't miss: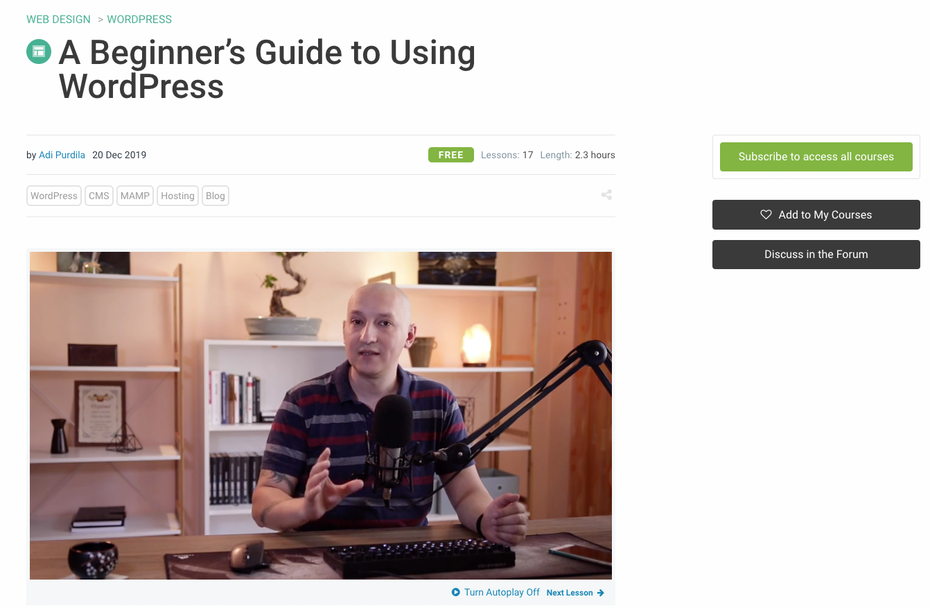 About Envato Tuts+
Envato Tuts+ is an old and trusted name not just for web design tutorials, but also development education as well. As such, they're a good place to start for our list and for aspiring web designers.
Envato Tuts breaks up their subject matter into easily digestible articles, videos and ebooks, which you can browse simply enough on their site. This allows them to really hone in on a particular subject, so, for example, if you want to design a landing page, you can find a handful of content specifically about landing pages.
There's plenty of free samples on their site, so you can sample their teaching style to see if it clicks with you.
Specialities: 
Web development
Web design for kids
WordPress site design
Responsive web design tutorials
Landing pages and one-page websites
Price: 
$16.50/month
basic tutorials are free, and a lot of courses offer free samples
Recommended for: 
Designers who want to educate themselves in web development to complement their design expertise
Fast learners who want take on more intermediate and advanced subjects
2. Lynda.com (LinkedIn Learning) web design tutorials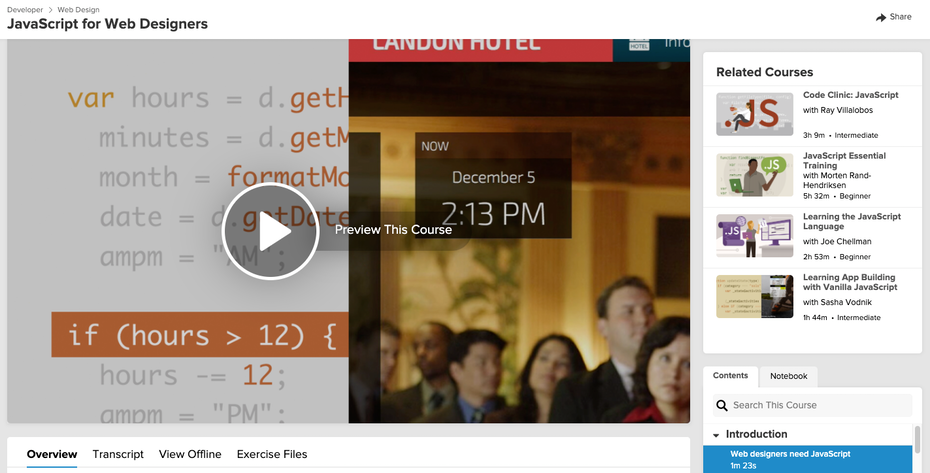 Make sure you check out:
Javascript for Web Designers. As a web designer, having coding skills in your toolbox—even coding isn't something you do regularly—can help you immensely. This could mean offering Javascript as one of your skills to potential clients, or it could just mean understanding how Javascript works and collaborating more effectively with developers.
Also, don't miss: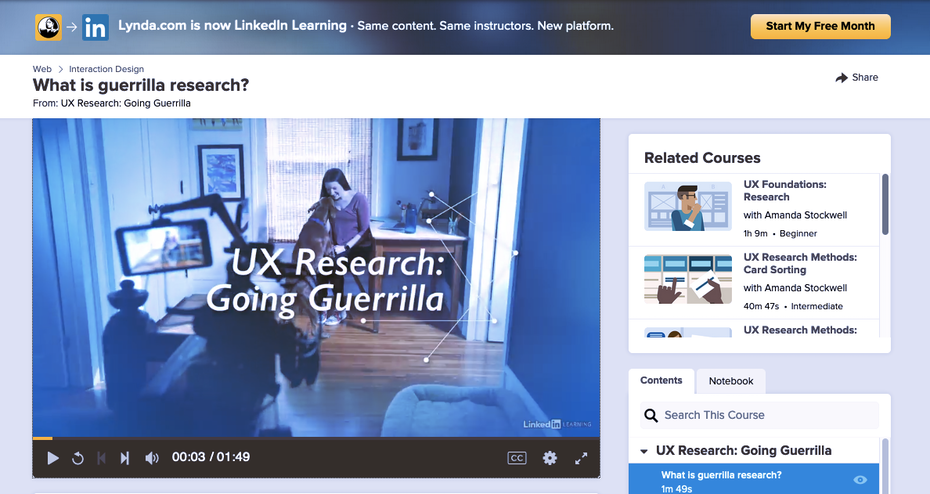 About Lynda
Now acquired by LinkedIn Learning, Lynda.com takes a more structured academic approach with their web design tutorials. They have a wide assortment of topics spanning web development, coding and the business aspects of creating a website, and break up their courses into individual topics so you can mix-and-match as needed.
Lynda.com is also a great place to learn how to use specific web design tools, like Dreamweaver CC or Adobe Animate CC, as well as certain site-builder platforms like Shopify or Wix. Its structure seems to be built for people who know what they want to learn.
Specialities: 
Web development
Web design software
Site builder instruction
UX Design
Web design techniques
Price: 
$29.99/month ($19.99/month billed annually)
1-month free trial
Recommended for: 
Learners who have specific topics in mind
Designers who want to learn a specific design tool or platform
3. Coursera web design tutorials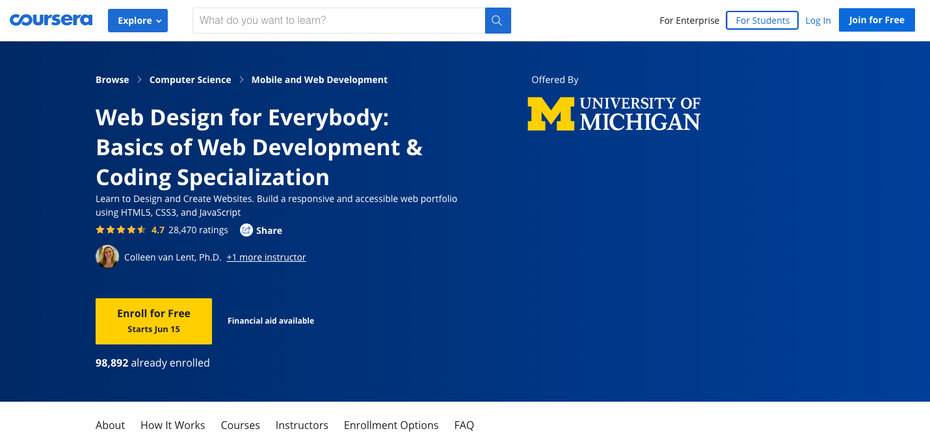 Make sure you check out:
Web Design for Everybody: Basics of Web Development & Coding. This course touches on a little bit of everything, and it's all at the beginner level so if you're brand-new to web design, or just brand new to certain aspects of web design, you'll get a solid foundation here. The skills covered in this course include cascading style sheets, responsive web design, HTML and web accessibility.
Also, don't miss: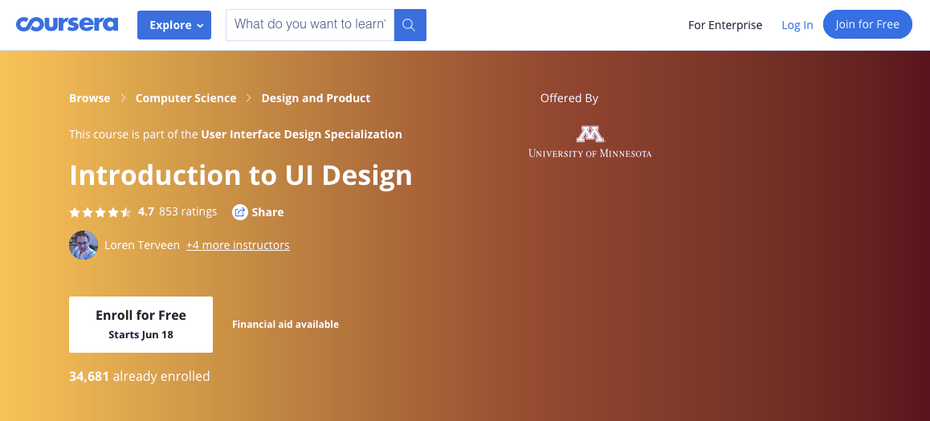 About Coursera:
Of all the web design tutorials on this list, Coursera is the most like an actual college—particularly because they offer accredited college courses and participate in online degree programs for universities all over the world.
Coursera is huge, and deals with topics far beyond just web design—but just because they don't specialize exclusively in web design doesn't mean their classes are inadequate. Most of their classes come directly from universities and are taught by professors. And because they're such a big organization, you can find classes in many different languages on many different topics.
Specialities: 
Web development
Responsive web design tutorials
UX design
Computer science
Content Marketing
Graphic design
… they have pretty much most topics covered
Price: 
The costs on Coursera vary wildly; you'll find free sample classes alongside $15,000 online degree programs.
As with college tuition, they have financial aid options available.
Recommended for: 
Learners who want an actual degree or certifications
Non-native English speakers
4. Youtube web design tutorials
Make sure you check out:
UX Design Process: How To Sketch Wireframes. This tutorial breaks down the UX design process from start to finish and takes you through the first considerations to the finished wireframe sketch.
Also, don't miss:
About Youtube:
Youtube is an amazing resource for learning about practically anything—and web design, web development, UX and UI are no exception. The great thing about Youtube is its wealth of diverse videos from web design experts who share their wisdom and experience. No matter what you want to learn or where your interests lie, there's a Youtube channel out there for you.
Price: 
Recommended for:
Beginners to pros who are looking for a casual learning experience
5. Pluralsight web design tutorials

Make sure you check out: 
The Art of A/B Testing for Web Design. This tutorial's for advanced web designers, and it walks you through a topic any serious designer needs to master: A/B testing. You'll learn how to integrate a split testing tool into a responsive landing page and analyze the results it yields, something you'll likely be doing a lot as a working web designer.
Also, don't miss: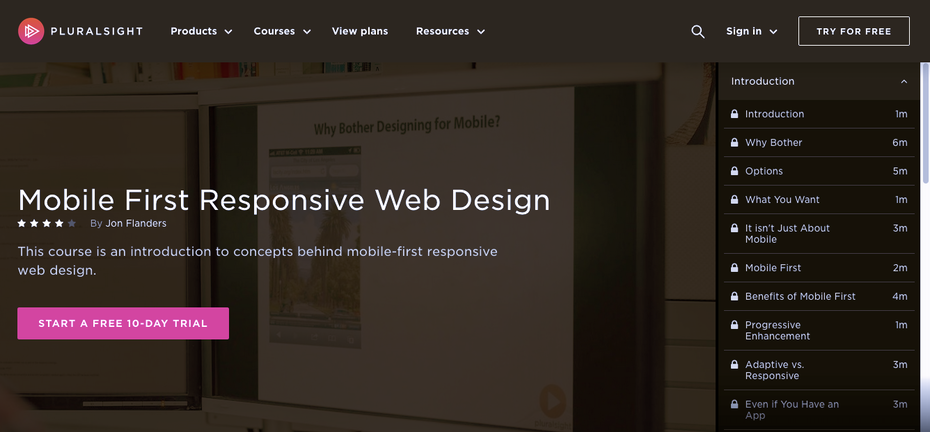 About Pluralsight
Although a lot of their content is from a few years ago, Pluralsight still remains one of the most loved and best rated web design tutorials around. Through downloadable videos you can watch offline, Pluralsight breaks up courses into manageable pieces around 5 minutes each (with some only a minute and some stretching out to 20 minutes).
In particular, Pluralsight specializes in responsive web design tutorials. If you want to prioritize web design for mobile devices, you'll find more courses here with that dedication. They also offer interactive web design tutorials, but only for Premium members.
Specialities: 
Responsive web design tutorials
Web development
Web design software
Price: 
$29/month ($24.92/month billed annually)
$37.42/month billed annually for Premium, which includes certification practice exams and interactive web design tutorials
10-day free trial
Recommended for: 
Web designers who want to prioritize mobile design
Learners who prefer to work offline
6. Udemy web design tutorials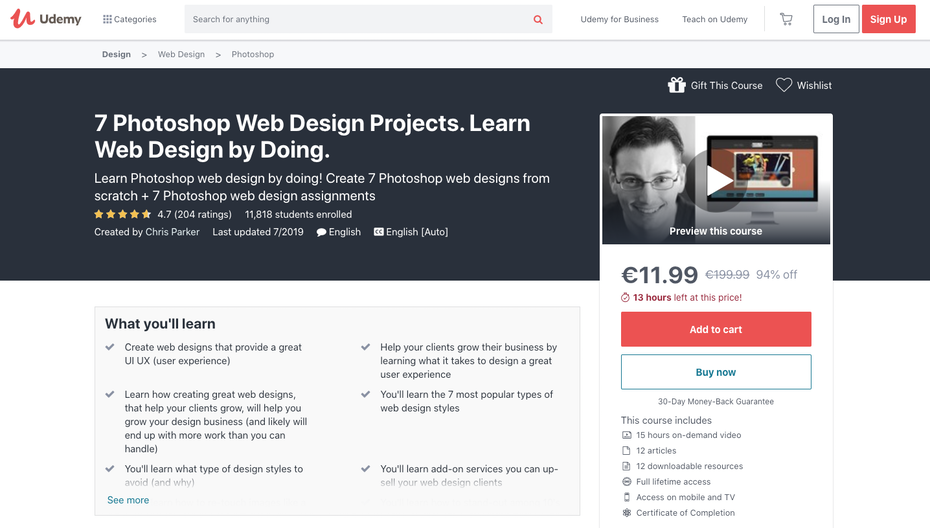 Make sure you check out:
7 Photoshop Web Design Projects. Learn Web Design by Doing. Photoshop is a popular program for web designers. This course is actually seven tutorials in one, all focused on creating web designs from scratch in Photoshop. It covers design must-knows like how to remove figures from backgrounds without destroying the images and how to align multiple layers as well as things you'll want to know if you aim to become a professional web designer, like how to stand out among the competition and how to help your clients grow their businesses through great web design.
Also, don't miss: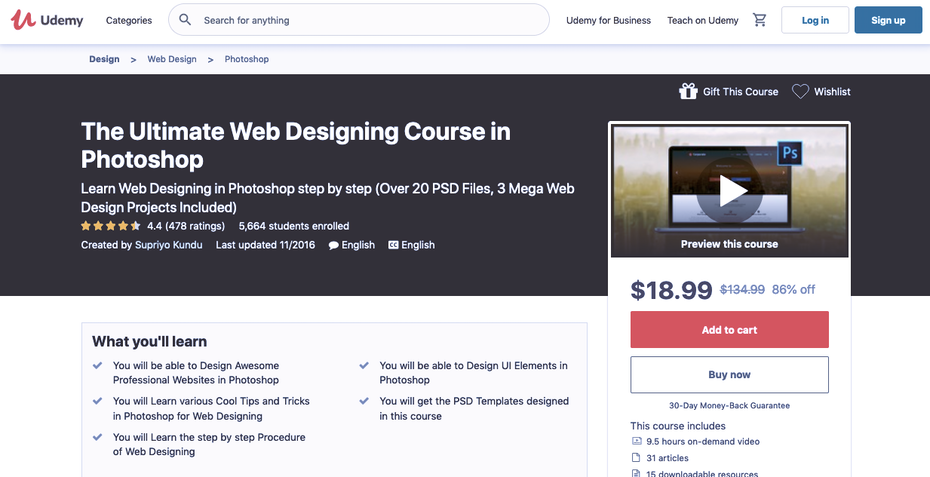 About Udemy: 
One of the most trusted names in web design tutorials, Udemy is often the first choice for designers who want to learn a new topic or skill. That's partly thanks to their pay-as-you-go model—instead of buying a membership or subscription, you buy individual courses, so you only pay for what you need.
Because Udemy is so popular, they have a reliable course rating system so you can see which classes are worthwhile. That's doubly important because there's so many classes, another advantage if you want to find less-popular topics like Gestalt Theory or designing for individual themes.
Specialities: 
Web development
WordPress site design
Responsive web design tutorials
Web design software
Price: 
Prices vary based on the class, but most are $18.99
The amount of hours also vary, so check to see if you're getting your money's worth
Some free classes.
Recommended for:
Cherry-pickers—you can pay only for the classes you need
Learners who can't find specific topics elsewhere.
7. Dreamweaver web design tutorials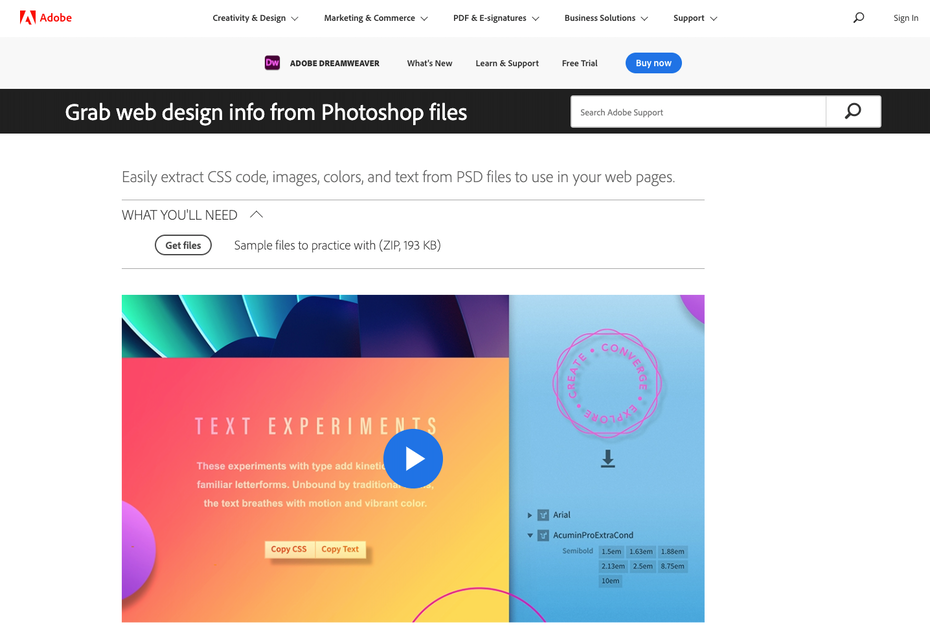 Make sure you check out:
Grab Web Design Info from Photoshop Files. In this video tutorial, you'll learn how to extract colors, text, images and CSS code from Photoshop files to easily use them on the web.
Also, don't miss: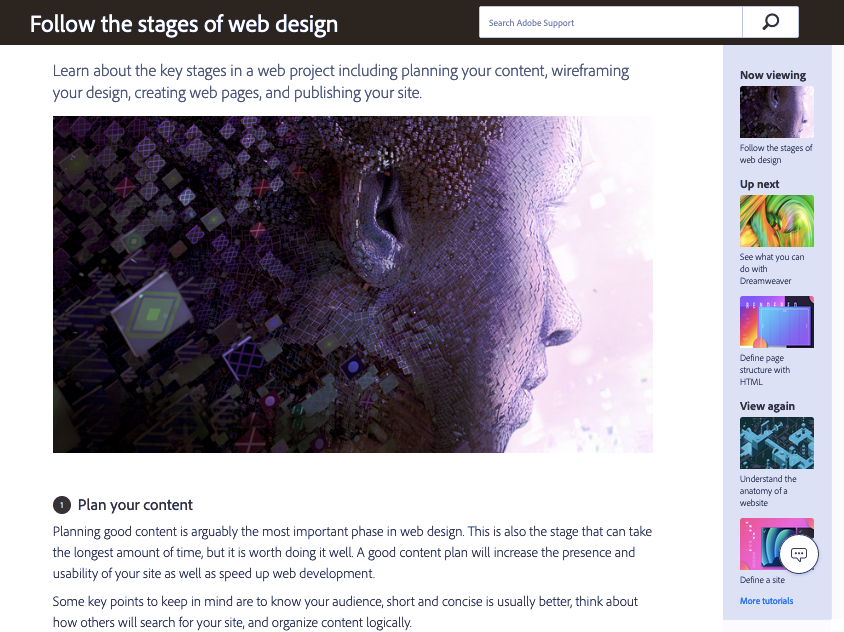 About Dreamweaver Tutorials:
To be clear, Adobe Dreamweaver CC is an individual piece of software for web design, considered an industry leader among professional designers. Their blog, Dreamweaver Tutorials, offers dozens of articles and videos with in-depth web design tutorials on both the design techniques themselves, and how to apply them in Dreamweaver.
Interestingly, you don't need to use Dreamweaver to learn from these tutorials—but it does help. The big advantage is that this content is free, making it a great starting point if you're low on cash.
Specialties: 
Designing in Dreamweaver CC
Responsive web design tutorials
Plotting out the design process
Web development
Price: 
Recommended for: 
Learners strapped for cash
Designers who love Dreamweaver CC
8. Skillshare web design tutorials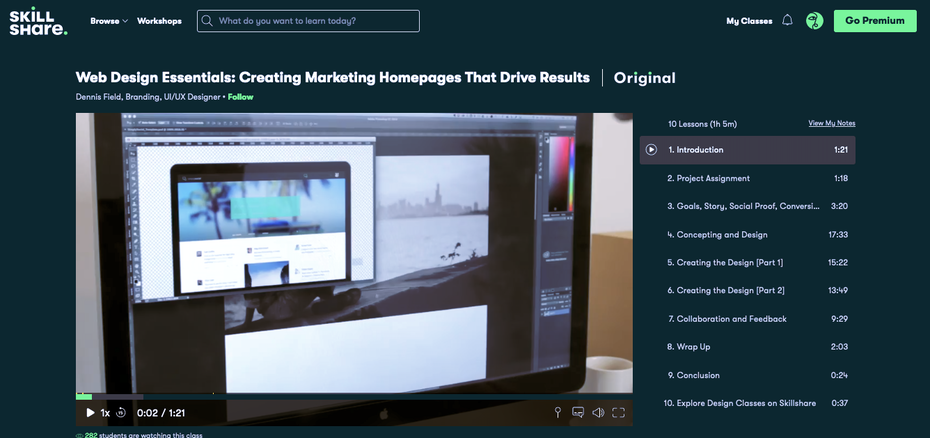 Make sure you check out:
Web Design Essentials: Creating Marketing Homepages that Drive Results. This video tutorial is only 60 minutes long, but in those 60 minutes, you'll learn the key tenets of designing an effective marketing homepage. This tutorial isn't just about the visual aspects of design, but how to design webpages with the goal of converting as many visitors as possible.
Also, don't miss: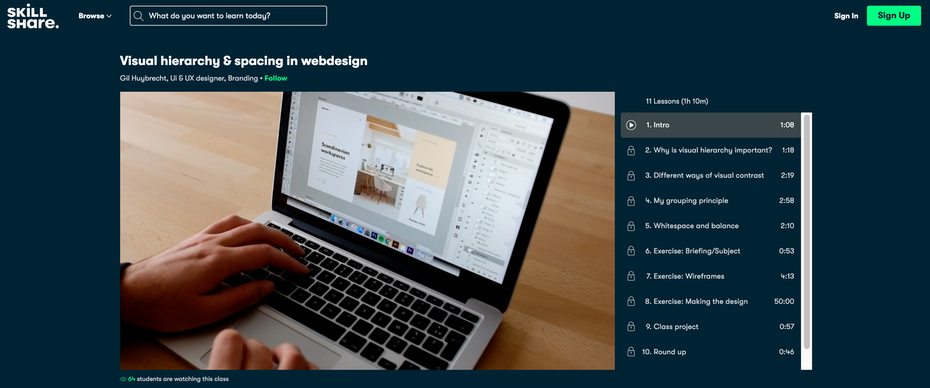 About Skillshare:
Like Coursera, Skillshare is enormous and offers classes outside of web design and development—although they cater to creative professions like web design. Courses are broken up into video lessons of about 5-10 minutes apiece, which you can watch on your own schedule until completion.
The beauty of Skillshare is that you can easily branch out into separate, but related, topics. For example, if you want to incorporate SEO tactics into your web design, you can take a course on that. Their membership plan offers unlimited classes, so learners can take full advantage of that by studying fields like graphic design, animation, creative writing or digital business strategies.
Specialities: 
Web development
UX design
Responsive web design tutorials
WordPress site design
Graphic design
Animation
Other related topics: SEO, ecommerce, etc.
Price: 
Recommended for: 
Learners who want broader education outside of web design alone
Time to start learning!
—
It's never too late to learn web design. Becoming a web design pro may seem like a lofty dream, but once you actually commit to it, you'll see just how achievable this dream really is. If you're still apprehensive, it's best to start teaching yourself with free materials until you're ready to for a more serious investment.
You can start by browsing this very blog—we have a whole separate section just for articles about web design, so you can start right now!