16 inspiring social media profile graphics to get your followers talking

Social media is an important channel for connecting with your customers, be it for marketing, support or good old fashioned chit-chat. Though the focus is often on comments and short news feed posts, the popularity of platforms like Instagram and Snapchat have demonstrated that a picture is worth much more than 140 characters. Your images can serve as a continuation of the strong visual identity you established on your other marketing materials, help you tell a story and keep followers entertained, propelling them deeper into who you are as a brand.
Social media is chock-full of unique and inspiring examples of brands that have used imagery to their benefit. Not sure where to start with yours? With your brand imagery selected, check out the following examples as inspiration on managing your social media with shareable and engaging graphics.
Brand consistency
—

For starters, the imagery you show on social media should be consistent with your existing brand collateral. A no-brainer, but sometimes hard to pull off given that social media is not your typical marketing channel.
The important thing to remember about using imagery on social media is that there needs to be some sort of consistency with the brand visuals you've already established. Following in the footsteps of the examples above, you'll be able to make it clear to your audience—regardless of where they find you—what your brand is all about. This will enable them to more quickly and clearly make a decision about how they feel about you.
Inspirational images
—

Inspirational brand imagery is about capturing a particular lifestyle that you want customers to believe they can obtain when they work with you, utilize your services or purchase your products.
To really make this work for you, you'll need a large inventory of images that convey one clear and consistent idea. In the example of Home Depot, all their images support this singular idea: "this is the sort of perfect home you can build with supplies from our stores."
Your business model also needs to make sense for these types of images. e-Commerce and brick-and-mortar retailers trying to "inspire" customers to shop with them are just one example. Also, creatives (like designers) trying to show off their portfolios of work could use this to their advantage. It could serve as an unofficial portfolio as well as a source of inspiration for other people looking to do that kind of work.
A creative spin
—



For adventurous brands and ones that have already established a bolder brand persona on other media, a creative approach to social media imagery may be in order. Of course, "creative" can mean any number of things, but they generally depend more on visceral reactions rather than on predictable product photography.
Taco Bell, for example, relies upon on their packaging to draw the audience in. Dunkin' Donuts, on the other hand, chooses to highlight its fast and ready iced coffee, confident that donuts are already well-established in their brand.  With this type of approach, it's really important to identify what your strengths already are as a creative brand and to show your customers another side of you.
Lifestyle imagery
—

Maybe your company uses the promise of a certain lifestyle to fuel your branding. If so, social media is a great platform to show that lifestyle in action daily.
The Ritz-Carlton, for example, a chain of hotels found all around the world, but when you look at their images, you'll see that they don't want customers to view their hotels as just a place to put their bags during the day and to crash for the night. They want you to equate the experience with something more luxurious.
User-generated content
—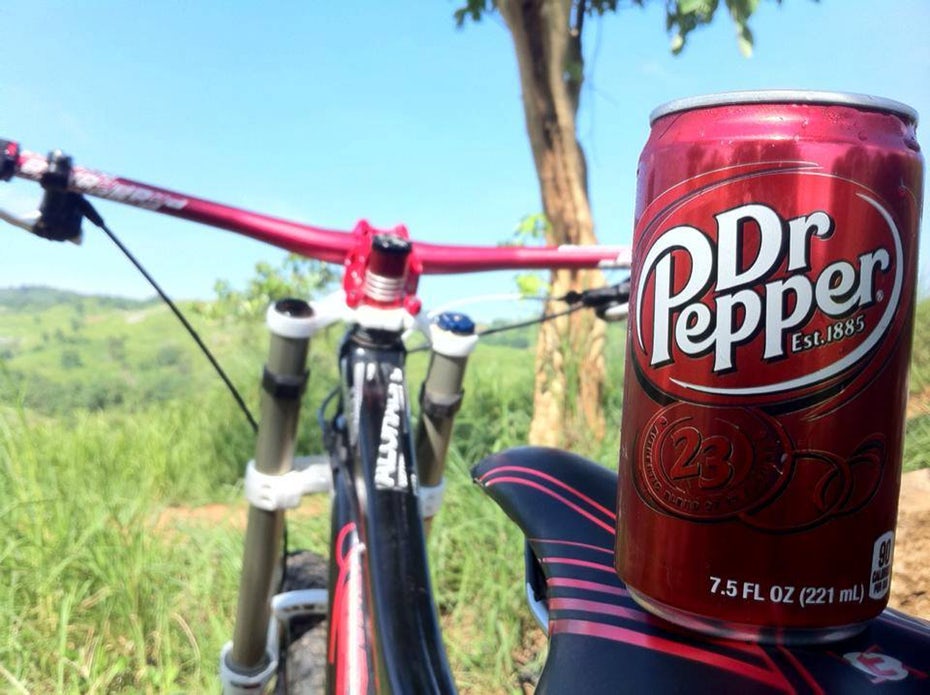 Product specs, case studies and about me's make the sense on your website. People are there to read about your business and find out exactly what you can do to help them. For social media, though, the best way to leave a big impression with your audience is to let your customers tell your story through their own images.
Social media is an incredibly image-friendly platform, so much so that posts with images are known to significantly perform better than those without. Stock photos are okay. Custom graphics are fantastic. But letting your real-life customers share photos of your products in action? That is some powerful stuff that will show your prospective customers real-life examples of how your brand is currently impacting people's lives. And the best part is that these images are completely free.
Conclusion
—
The important thing to remember when using graphics on social media is that, while consistency is key, it's also okay to deviate from the graphics you use on your site. In fact, you probably should. As social media is a constantly moving platform, there are many more opportunities to play around with brand imagery and you should take full advantage of them to connect with your customers like never before.
—
This article was written by Brenda Barron. Brenda is a business and technology writer from Southern California.
SaveSave
SaveSaveSaveSave
SaveSave
Original article written by Guest Blogger >
[wpseo_map width="100%" height="300″ zoom="-1″ map_style="roadmap" scrollable="0″ draggable="1″ show_route="0″ show_state="1″ show_url="0″] [wpseo_address hide_address="1″ show_state="1″ show_country="1″ show_phone="1″ show_phone_2="0″ show_fax="0″ show_email="1″ show_url="1″ show_logo="0″ show_opening_hours="1″]