For the sake of Hinterland ~ How to perform a Hinterland Business?
Here's an example of how to not take care of a local business, market and client support: In recent few years there have emerged several changes performed in the Hinterland Business arrangements, especially in the predominant area of local Maleny, Montville, Flaxton, Reeseville and surrounding Sunshine Coast area, Queensland, changes that ended with a discontinuation of a very well known and well established local agency, namely Fig Creative, and a take-over of Fig Creative's professional services, support and a reliable client base by the company that bought into the area, namely The Creative Collective. See more here >>
Now, this is not a writing that would disregard any of the endeavours made previously, business endeavours as they are performed today and might have any impact on the very future of the Hinterland business. No. As every other thing we're experiencing while working with people, for the people and within the local and national market, there are always two sides to each coin. But since the Hinterland area of the Sunshine Coast QLD and it's special niche markets, especially in Tourism, Wedding Industry, Local Support Business and Community are holding its unique position up on the hill, above Sunshine Coast – in that regard we, as a local company, find it of an outmost importance to keep the local market, community, businesses and people on the safe side of the coin. That's all.
Sunshine Coast Hinterland QLD is one of Australia's most established creative community, with great spirit, immeasurable potential and located in some of the best areas of Australia itself. It's core is it's community. Unspoiled, highly experienced, hard working, high thinking, beautifully connected, not fractioned and a very productive, stable community.
The dark side of the Hinterland community is only one, that is that 64% of its residents are over 60 years of age. That wouldn't be a down side, as they say – the older the people, the higher the wisdom – but sadly for the business and for the industry, that the proportion in age and the need for the youngsters to move down the coast is so high that we are actually loosing on the other side – that is where the creativity, process control and new technologies, enabling us to reevaluate our business.
We believe that we have the capability to think about the position we are at right now and here in the Hinterland in order to complement the missing numbers in the ageing population with an averaging quality service that would take over in demands for support for local businesses to the local businesses. We believe it is of an outmost importance to keep the uniqueness of the place in mind and while allowing the access to the Hinterland IT market to the outside companies and agencies, we need to bear a safe guard on mind to keep the precious jewellery and silver dishes safe in the safe.
For example: The Hinterland Tourism website is still running on an (old) protocol HTTP, that is without a proper HTTPS installation, without a proper SSL installation and without a proper 301 HTTP to HTTPS redirection if once applied. Why is that? >>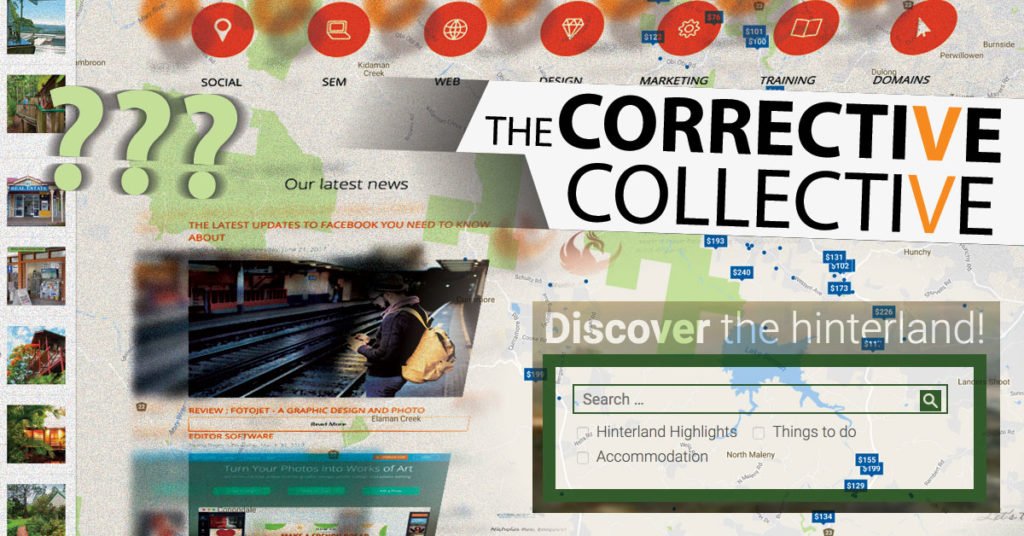 The Corrective Collective
One of the beneficial factors of The Creative Collective, that walked into the Hinterland market and took over some of its dominant actors is The Creative Collectives attitude towards its business. The Creative Collective stepped into the market by purchasing the remains of what was once called The Fig Creative, a lovely local agency and IT services company that managed almost all, if not all, business clients of the Hinterland. The Fig Creative had a strong base, since 2012, with a good service and dedicated team that varied from 2 to 6 and they were capable of supporting local clients with all their available time. So what has happened to The Fig Creative? Why it did go wrong? 
The problem are always expectations. Expectations and the equal amount of valuable time that is put into a project to flourish is of an outmost importance when actually doing any business support, development and IT. And the expectations, quality of service and amount of time put into the project always result either in a good business practice or into a bad one. And if so, that immediately influences the success of either – the service provider and the service seeker. All Hinterland businesses and all developers could be held responsible for such ending.
So. If we equal the expectation with the amount of time needed and these to the amount of funds available and provided in Hinterland itself we might get onto an unequal equation. From our experience the precious source of support and the precious work that The Fig Creative was offering was neglected by the rising expectations of the clients, reaching out after every detail with newer and newer expectation without calculating upon time needed for each to fulfil the demand. So, on either side of equation, The Fig Creative has lost its might, by being burned out by constant requests that at the end it couldn't provide anymore, or clients did not provide The Fig Creative adequate funds for the local agency to rise and expand and to employ more of the local youth into aspiring projects for local business and by doing so not only develop and support good business relationship, and nourish them, but only not being able to keep the smart youth on the top of the hill.
The Creative Collective has kicked exactly at the spot and bought into the market at the weakest spot of the chain >> We personally cannot determine whether that was at anyone's expense or anyone's benefit but we are very sure this move might complement the Hinterland businesses to a certain degree but never to a degree that would really nourish its uniqueness. No. Thus we name it The Corrective Collective, and thus we hope their reach will be limited in a degree as well as in the reach they might have in local community. We have nothing against it but we do highly oppose that move. The Corrective Collective will definitely collect its tax and rush businesses through certain business protocols that will endeavour the Hinterland with a little bit of something new, but never enough to continue its traditions nor to enrich its uniqueness, nor to actually support the character of its specific needs, uniqueness and its marvellous community. They'll charge you for everything. Every single thing. And you'll have to pay dearly for something you'll not be able to get and that you've had before in plenty. Isn't that an interesting equation?
And now what?
Now, the need is to simply sit down and to rethink the situation. We believe the Hinterland is loosing a battle but that it hasn't lost a war. Hinterland, including Maleny, Montville, Reeseville, Flaxton and its supportive communities of Crystal Waters, Starlight, Ananda Marga have never lost a war – as they have not fought one yet and we hope they will never have to. But listening, proper planning and actual strategy is needed at these times, as in every business, to procure and develop business plans with local support and national interests. The basic with it is that local community has enough IT knowledge and expertise that could provide solutions much better that are currently received and the business establishment that it would provide would serve as first step with dealing with such situations.
Hinterland is too precious to be carelessly managed. And its businesses, especially Wedding, Tourist, Agriculture and Community establishments might demand some immediate needs and could respond to outer business influencers (as TCC) but keep its maintenance under one roof, similar to The Fig Creative, but maybe more liquid in its establishment –  – similar to a liquid connected community supported company of well established IT professionals with a support of younger, learning cadre.
Whoever might have a comment to this call, please do contact us. We would be more than welcome to respond and to organise any steps required to bring up any solutions in this direction. Currently we feel that the area of IT support and knowledgeable business establishment is somehow available to vultures and they're heavily heading, trying to dominate the resolutions. This might be a good learning time for the character of Hinterland to clear itself, and change, but it is also an important time to take steps towards a reliable, supportive and exceptionally effective IT futures that can soon complement its unique character and its needs.
Will write more. If you have any questions, please contact us here >>
If your Hinterland business needs support with website, see here >>