How to take payments without accepting credit cards
When you find something online you want to buy, you probably plan on making your purchase with a debit or credit card. Plastic is the preferred method for most of us — it's convenient, it's safe, and it's lightning fast.
But what if the store you're buying from doesn't accept credit cards? What do you do then?
Surprisingly, many stores outside of the United States look at taking credit cards as optional, if not something to avoid entirely.
On top of this, plenty of consumers worldwide don't have credit cards — or even refuse to use them online.
Today we're going to look at a few ways that your WooCommerce store can accept payments without getting credit cards involved. We'll also talk about why these alternative payment methods are so important, and how they could boost your sales (or keep shoppers from walking away).
Let's dive right in!
Why you might want to have a cardless option
As we mentioned, credit cards tend to be the preferred method, but that doesn't mean everyone can use them. 70% of American adults have at least one credit card, but that still leaves 30% without — due to choice, credit history, or factors out of their control.
But this is just the United States. In India, card usage is about 2% ("dismally low," as this article calls it). And in South Africa, where WooCommerce was, in part, born and raised, credit card usage currently sits at about 17%. A poll shows 38% of South Africans don't feel secure enough to use their cards online.
Credit card usage and confidence varies all over the world. If you're only shipping to the United States and Canada, you can probably assume that most of your shoppers will be fine with plastic. But if you're selling or shipping elsewhere, the payment expectations of your customers could be very different.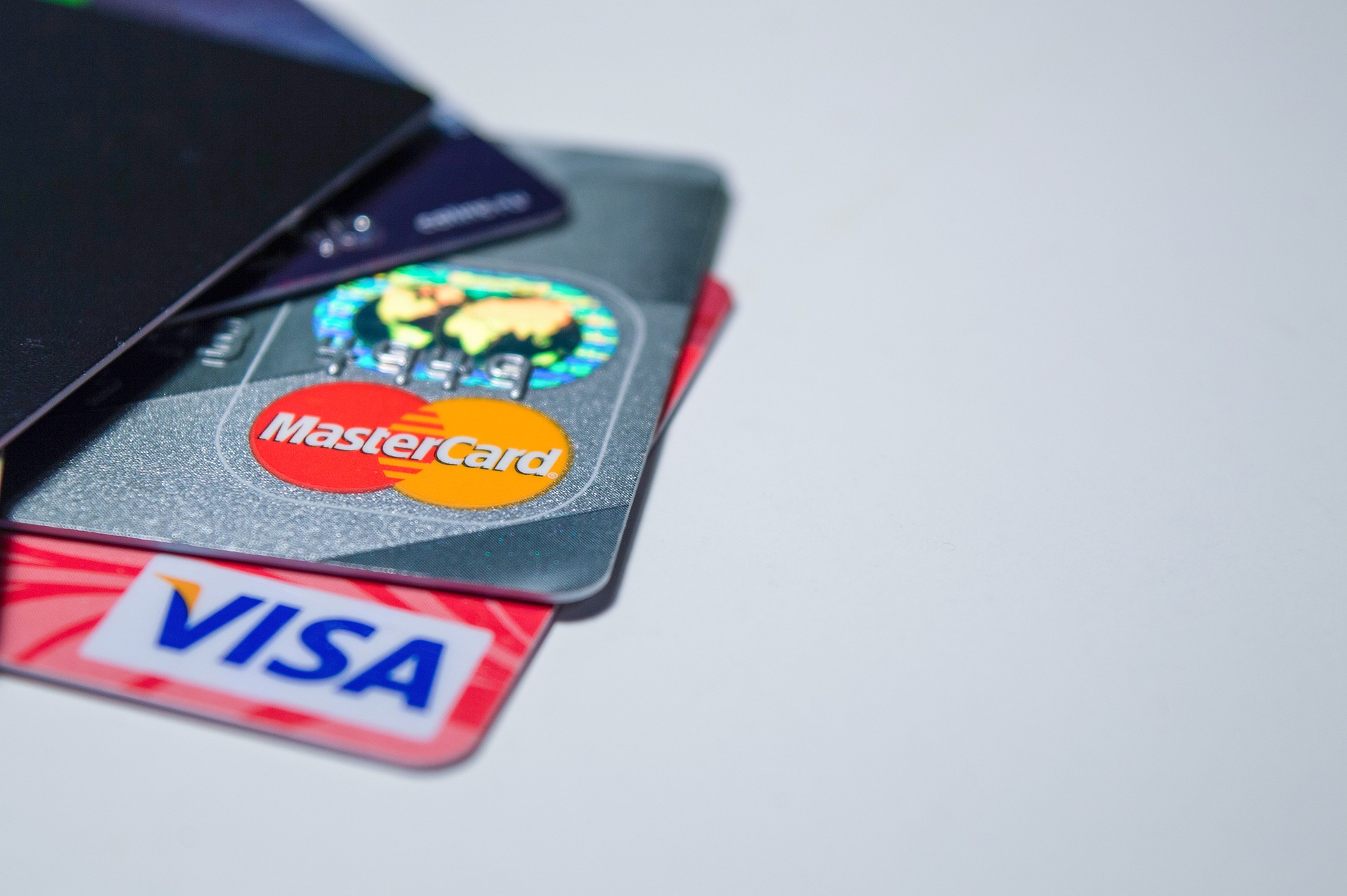 Depending on where you're located, who you're selling to, and how you're getting products to your customers, you should consider adding at least one alternate payment solution to your store that doesn't involve credit cards.
There are a few of these you can consider, and they're easier to use than you might expect. Keep reading to get a handful of ideas.
For local customers: cash on pickup or delivery (COD)
WooCommerce has some built-in payment options that are useful for local customers either picking up orders or receiving deliveries. We'll look at pickups first, then move on to deliveries.
For pickups, there's a Local Pickup option in WooCommerce that does what it says on the tin: lets customers pick up orders directly from your location. WooCommerce will use the customer's address to determine if they're in range for local pickup (that is, within the Shipping Zone you add it to); if so, this option will be shown to them.

In this case, we recommend using the Local Pickup Plus extension — it adds helpful features like notification emails and multiple location support, and is actually what you need to get the no-credit-cards-required part of this equation running.
To avoid requesting a credit card payment from your pickup customers, you'll want to enable Cash on Delivery (often called COD). COD is a separate payment option in WooCommerce, and again, it's easy enough to understand: customers pay when their order is delivered (or in this case, picked up).
The trick here is to add "Local Pickup Plus" as the enabled shipping method in the COD settings. This will allow your pickup customers to breeze through checkout without paying and just hand you cash when you meet in person. Chris Lema has a great tutorial on making these options work together; it's from a few years back but the advice still works perfectly.
Moving on to accepting deliveries from your employees or couriers — this one's a little simpler. As noted, COD will only appear for shipping methods you assign it to. So you can create shipping zones consisting of one or two zip codes you deliver to, add a shipping method, and you'll be on your way.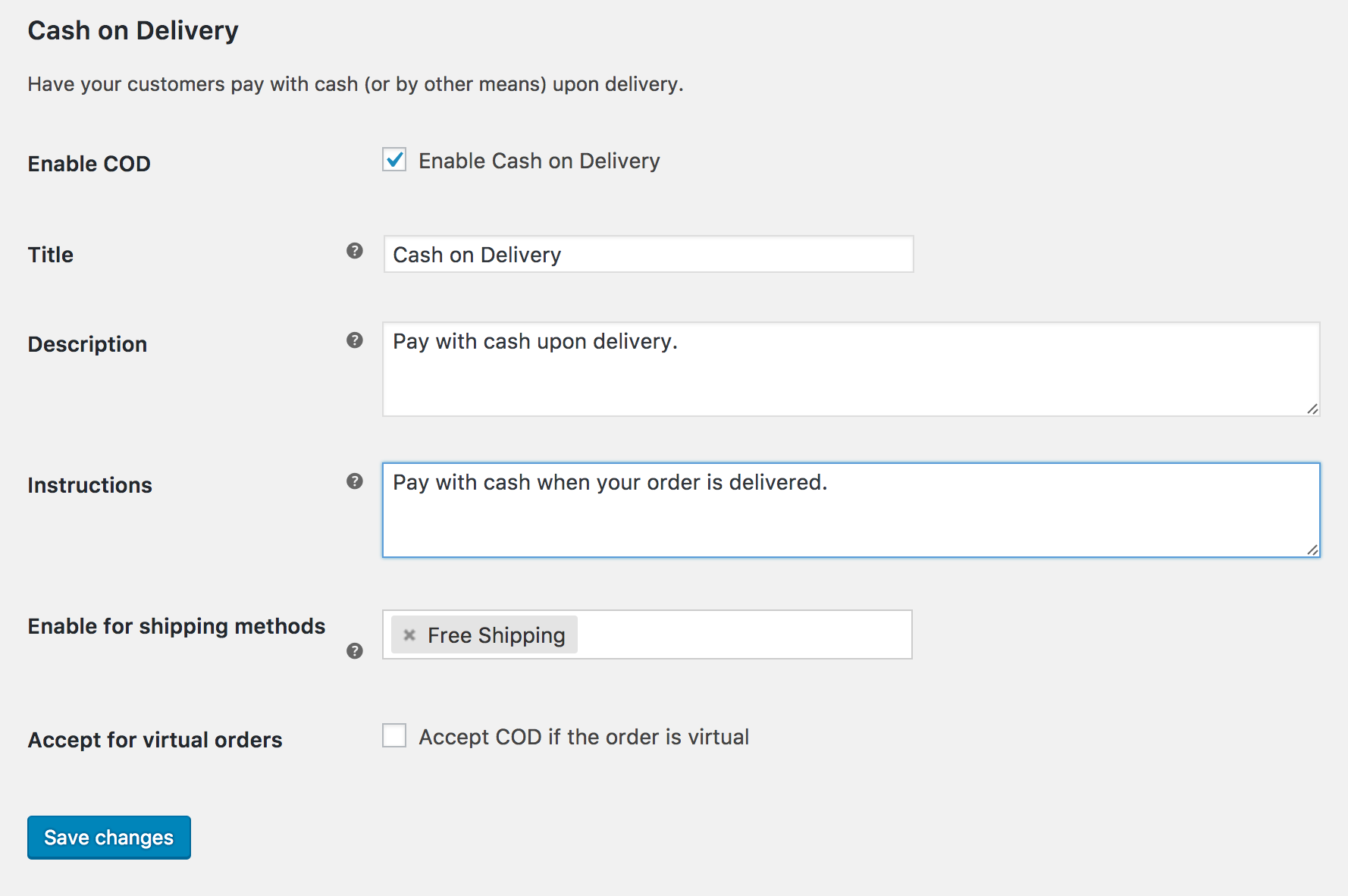 Note that COD isn't just for local shipments, but in countries like the United States it's only common for food deliveries. If your postal service or carrier has a COD option worked out with you, follow the same instructions — just double-check those shipping methods to be sure you're collecting payments from customers at the right times!
For mobile shoppers: one touch payments with Apple Pay
As we announced recently, you can now offer mobile shoppers the option to pay for their orders with billing information stored in their Apple Wallet or Touch ID payments on a supported device.
This is accomplished via the Stripe payment gateway, which you'll find bundled with WooCommerce right out of the box (or — if you don't have it yet — it's free to download!).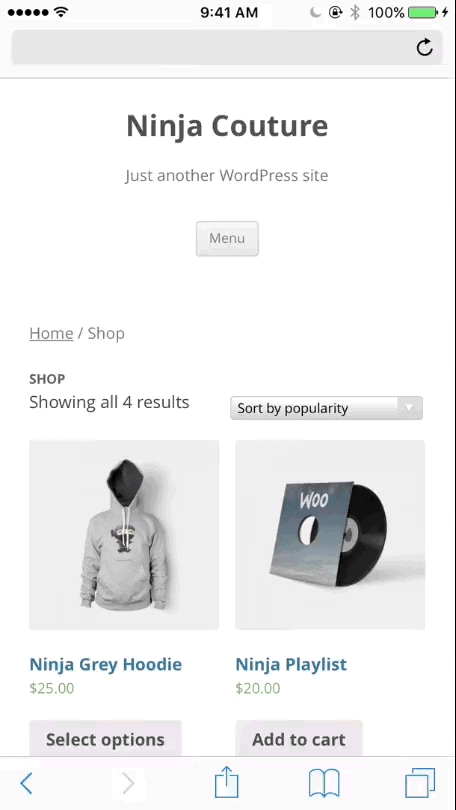 Your customers will need to add their credit or debit card information to their Apple Wallet to make purchases with Apple Pay, but once it's added you can accept their payments without getting those cards involved. The customer's billing information will be stored safely in their Wallet, and nothing will be stored on your server (only Stripe's).
Does this really count as a cardless option? On the one hand, no: your customers will have to put their card info to use Apple Pay, and you'll need to use Stripe (which can process a variety of cards) to accept it. But on the other hand, Apple Pay reduces the need for mobile shoppers to find and use their cards, and takes the burden of processing or potentially storing that data away from your store.
In this sense, we're happy to call it a sort of card-free option. 😉
For a variety of options online: cardless payments with Klarna
In some countries outside of the United States, individual eCommerce websites aren't trusted to handle billing information, but payment processors are. This has led to the rise of companies like Klarna, a Swedish payment processor that handles everything from top to bottom — and in some cases, without the need for credit or debit cards.
Klarna's biggest draw is its flexible payment options without passwords or logins. If Klarna is set up on your store, a customer can begin the checkout process by simply entering their email address and ZIP or postal code.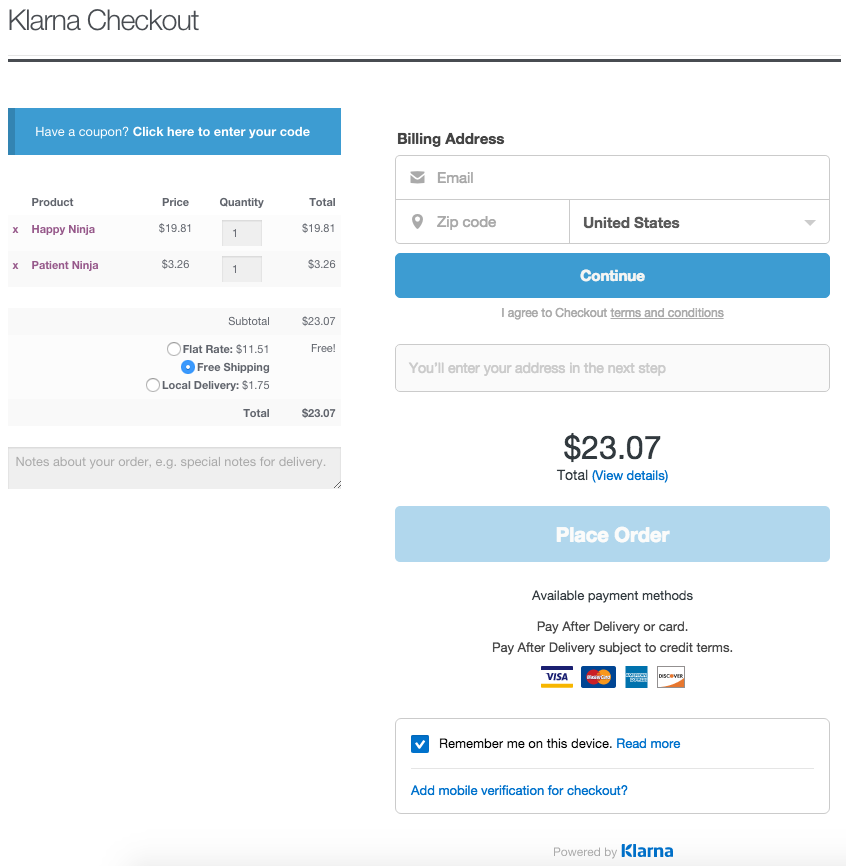 For US and many European customers, Klarna offers its own Klarna Checkout, which gives shoppers the ability to use credit cards as they normally would. But if your shoppers are wary of using cards, it's their Pay After Delivery and Buy Now, Pay Later options that are really worth looking at.
With Pay After Delivery, a customer places an order via Klarna and pays nothing up front. Klarna pays you in the meantime (within two business days), and you ship the order to the customer like normal. The customer then has up to two weeks after the shipment of their order to pay Klarna via a bank transfer or — if they prefer — a credit card.
Buy Now, Pay Later starts off similarly, but relies on an approved line of credit. Again, the customer pays nothing up front, and Klarna pays you for the purchase. Once the customer's order has been received, they can either pay it off immediately, or make periodic payments with interest.
(Note that this second option is not yet available in the US, but is available if you're in Sweden, Denmark, Finland, Norway, Germany, Austria, the Netherlands, or the UK — Klarna's currently supported countries.)
If you worry that your customers won't trust handing over their card information, or simply want to give them some really neat options that will put their orders in their hands before they pay, Klarna is the way to go. The idea of paying nothing up front is pretty compelling, we have to give them that!
If your customers don't use credit cards, you can still take their payments
Whether you're selling in a country where credit cards aren't common or simply want alternatives for shoppers who prefer to go without, WooCommerce has plenty of payment options you can try.
These are just a few of the cardless options out there — there are plenty more to try. Don't be afraid to experiment and explore if you think it'll make your customers happy! You never know what adding just one more option could do to your sales. 🙂
We'd love to hear what you think about these solutions, or if you plan to try one of them in your store. And if there are any other unique payment options you'd like to see us support, let us know — we're always on the lookout for new ideas.
One more cardfree option to look at: BACS (bank/wire transfers)
5 more ways to take payments with WooCommerce
What you should know about payments if you're selling internationally 

Original article written by Nicole Kohler >

[wpseo_map width="100%" height="300″ zoom="-1″ map_style="roadmap" scrollable="0″ draggable="1″ show_route="0″ show_state="1″ show_url="0″] [wpseo_address hide_address="1″ show_state="1″ show_country="1″ show_phone="1″ show_phone_2="0″ show_fax="0″ show_email="1″ show_url="1″ show_logo="0″ show_opening_hours="1″]