Since cannabidiol — better known as CBD — was removed from the federal list of controlled substances in 2018, small businesses who develop their own tinctures, oils, and other extracts can start selling their CBD products online in the United States.
But, because it's still a highly-regulated substance, CBD products sold online require adherence to a special set of rules. See what you'll need to consider when selling CBD online and why WooCommerce is right fit for your business.
Why WooCommerce
WooCommerce is the ideal choice to power your online CBD store whether you're on online startups or an established brand with physical locations.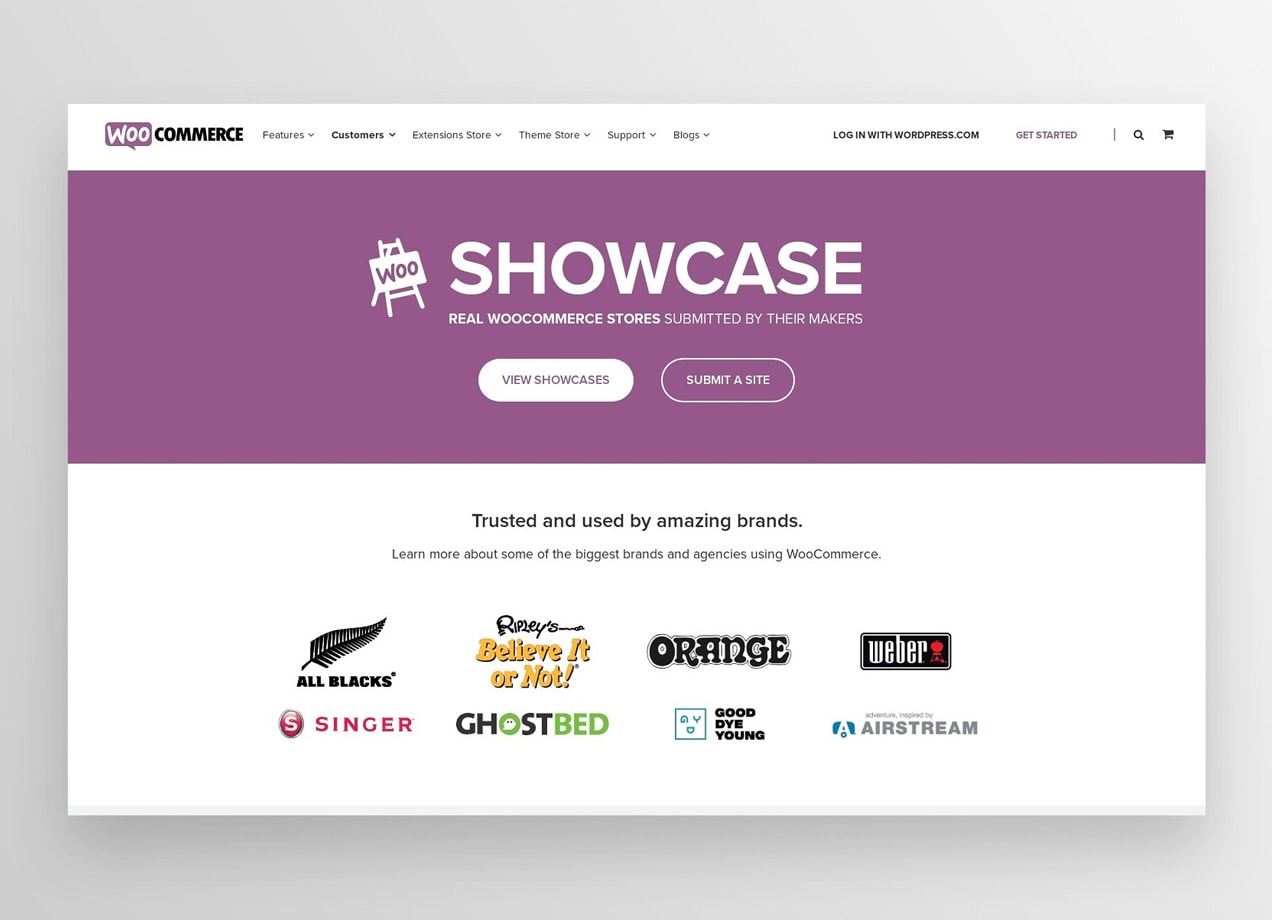 It's made to be accessible to both tech novices and experienced developers. See our full documentation.
It can scale to meet the needs of the largest online store. Learn how to grow your store.
You have full control over your brand, messaging, and design. Meet some of the companies that use WooCommerce.
Functionality can be customized to meet the needs of your business. Check out our vast extension library.
All core features and functionality are free to use — you just need a domain name, hosting, and payment processor. Read how to build an effective store for as little as $135 a year.
It's powered by WordPress, so your store benefits from a huge community and unrivaled blogging tools. See why WordPress is used by 35% of the web.
Like many mission-driven CBD brands, WooCommerce is committed to making the web — and the world — a better place. Read about our mission.
With WooCommerce, you'll benefit from a full suite of tools designed for businesses like you.  Learn how to get started in just five simple steps.
Important considerations when selling CBD online
Watch your tech
There are a few things you'll need to keep in mind when selling CBD with WooCommerce:
Find the right plugins and extensions. Automattic, the parent company of WooCommerce and WordPress, powers several official extensions that can dramatically improve your store. Jetpack offers a suite of security, performance, publishing, and promotional tools in a single plugin. And two of the most common WooCommerce add-ons, WooCommerce Shipping (for printing labels) and WooCommerce Tax (for automatic tax calculations), require Jetpack.
Keep it within the United States. If you want to use any of Automattic's extensions, you'll need to keep transactions and shipping within the United States. 
Use Square as your payment gateway. Only Square has an agreement with WooCommerce that allows for safe, legal transactions for substances of this nature. The good news? Square is easy to configure and fully integrates with your dashboard using the free Square for WooCommerce extension. As a bonus, it provides excellent fraud protection and customer authentication. If you also have a physical store or sell products in-person, you can use a Square reader to accept credit cards and sync inventory across both platforms.
Find the right host. Some hosts don't allow shops that sell CBD. Check with potential providers to ensure you can host your site with them.
Choose the right email marketing tool. Email marketing allows you to stay in touch with your clients and encourage additional purchases. But some services, like MailChimp, don't allow CBD companies to have an account. Be sure to check your preferred third party provider to make sure they won't erase your list due to a policy violation.
If you're outside the United States or want to sell CBD internationally, you can still use WooCommerce, since it's open source. But you'll need to find alternative ways to manage payments, shipping, and taxes — you can't use Jetpack, WooCommerce Shipping, or WooCommerce Tax unless you're using Square and are located in, and shipping inside of, the United States.
Watch your language
Since CBD isn't approved by the FDA as a therapeutic drug, your shop can't make any specific claims about CBD's mental or physical benefits, or its effects on individual symptoms.
That said, you can do a lot to promote your products and brands:
Introduce your customers to who you are as a company — your founders, ideals, and solutions.
Show the quality of your products by adding information like ingredient lists, current test results, scientific or industry certifications, endorsements, and reviews.
Educate customers on your products and how to apply them through blog posts, videos, tutorials, or FAQs.
Invite shoppers to stay connected by creating an account, joining your mailing list, or contacting you directly.
You'll be able to create a home on the web for your customers to get to know you (and for you to get to know them!) and provide the right products for their needs.
Watch your laws
This article provides some procedures and guidelines for setting up a CBD store, but it's not a complete description of laws in your area. Check your local laws for any conflicts or specific regulations about CBD.
You might also want to check:
Your bank: Not all banks allow transfer of funds from Square into one of their accounts if the revenue is generated from CBD sales. 
Your shipping: Various carriers have their own set of rules for how, where, and when CBD products can be shipped. Consult their protocols to make sure you're in compliance, and fill out all the right paperwork when mailing your products to customers. 
Find inspiration
Are you interested in seeing some family-owned businesses in action? Some market leaders are already selling CBD using WooCommerce within the United States. Here's what they're doing right:
Friendly education
Bluebird Botanicals is on a mission to help everyone take control of their own health. Their approachable WooCommerce website is full of easy-to-understand information for potential customers. Supporting pages include customer-friendly FAQs and a fantastic blog with exciting new ideas and answers to questions.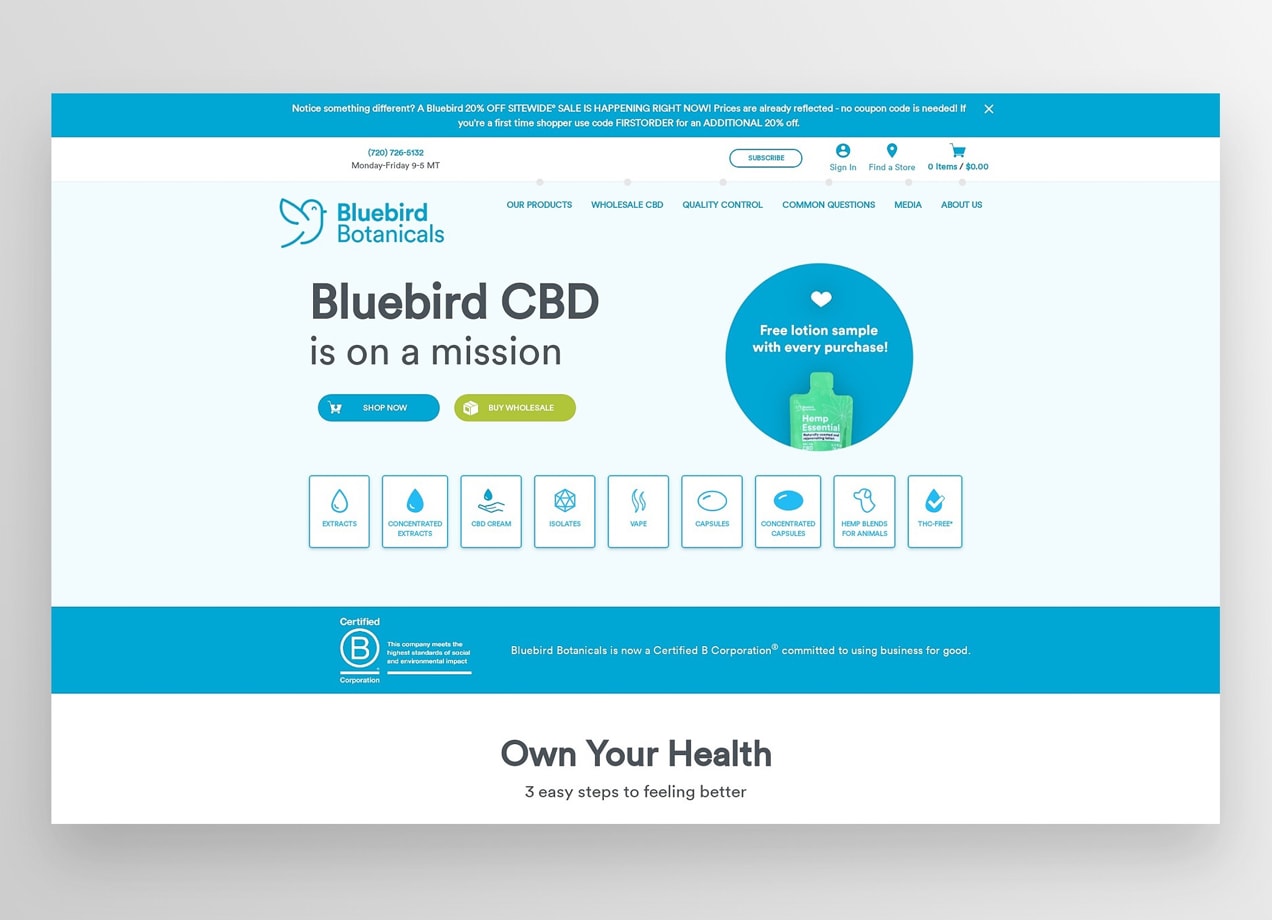 Plus, their product set — easily accessible by categories on the home page — contains a full description of every CBD item, with a list of ingredients and practical suggestions for dosing. It's everything you'd ever want to know if you're considering using CBD.
Solid customer connections
Apothecanna invites customers to find what they need by organizing products into categories like Calming, Relieving, and Circulating. By keeping their storefront focused on client wants and wellness, they're building a loyal audience of people who know their needs are front and center.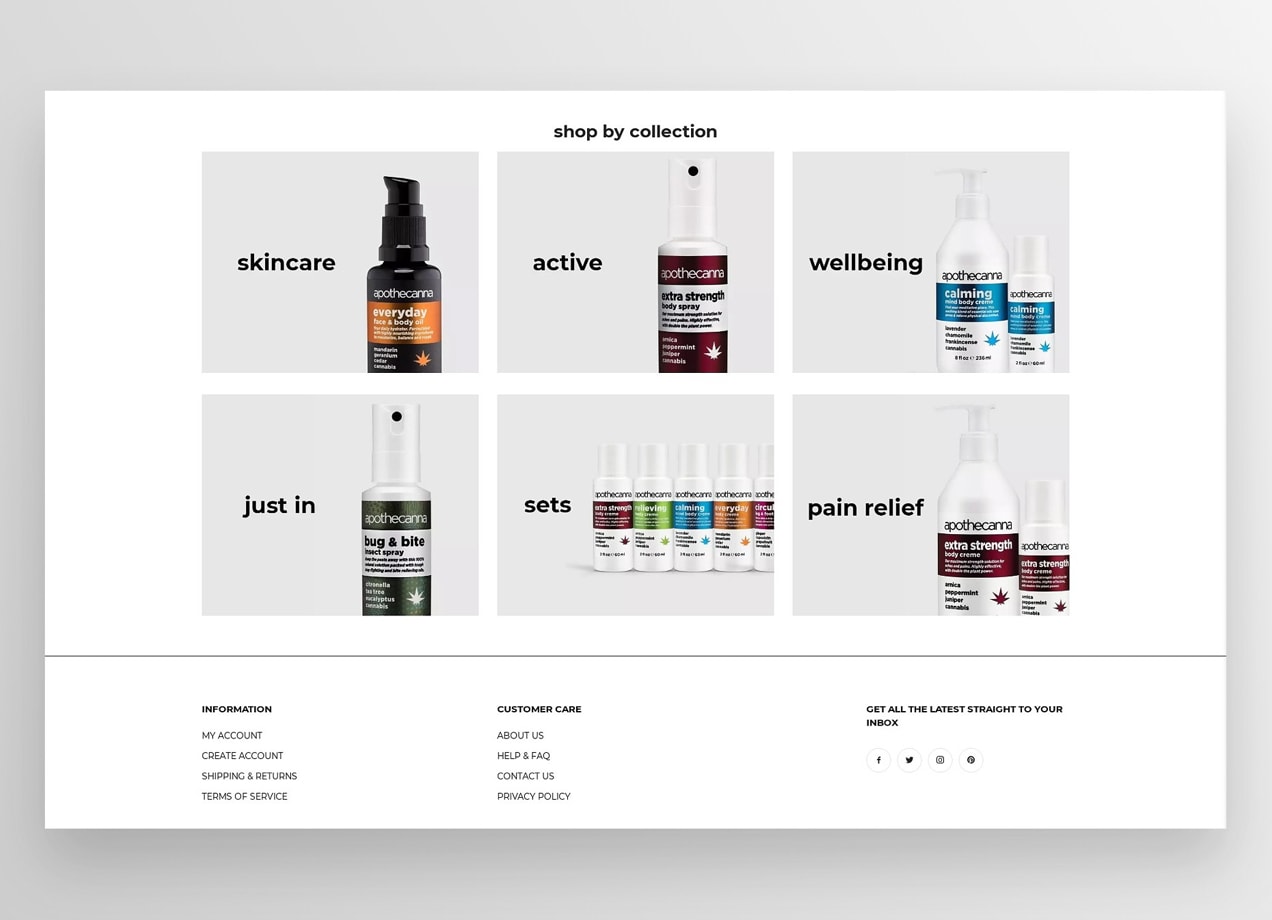 Like all WooCommerce CBD shops, Apothecanna uses Square to handle payments securely and smoothly. But they take trust and loyalty one step further by allowing clients to pay in installments. And they're growing their audience base by including a handy referral button during the entire checkout process that offers a discount to both parties.
Sell CBD online with WooCommerce
WooCommerce is a flexible, affordable solution for CBD merchants of any size. You'll become a part of a community of professionals, volunteers, and store owners who share your commitment and values. WooCommerce and WordPress are committed to empowering people to improve their lives through equal opportunity, just as your products support the well-being of your customers. 
With a few simple measures, you can bring your passion and products to new audiences and bigger markets.