Getting the Perfect Shot with BOTE Boards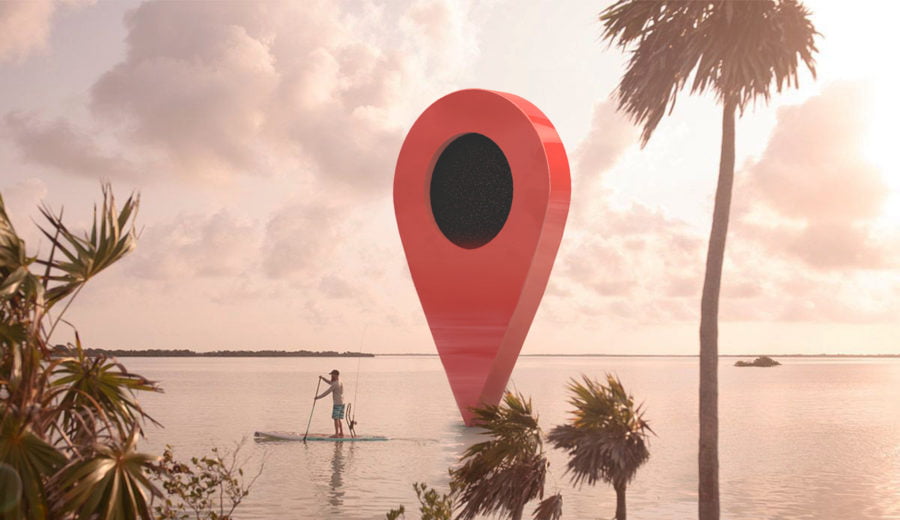 Life in Destin, Florida is a little slower. But the ambling pace of smaller-town life hasn't hindered husband and wife Corey and Magda Cooper, who co-founded BOTE Paddle Boards.
When they first tried paddling nearly a decade ago, Magda, who grew up swimming, and Corey, who loves fishing, skiing, and anything to do with water, loved it. That is, everything but the products, which were like big, unstable surfboards. They knew they could make something better—and better-looking—that fit their intrepid lifestyle.
With a pocket full of credit cards and just a few thousand dollars to their name, Corey quit his job as a mechanical engineer and Magda walked away from her role as a financial advisor to start the business out of their garage. Today, with almost 300 dealers and a loyal customer base worldwide, the beauty of their customers' aquatic adventures is captured in their emails.
A devoted fanbase
It takes only one look at a BOTE campaign for you to instantly want to climb into the screen. Among the brilliant blues and greens of lakes and other bodies of water are people who look like they've got life figured out, paddling with their dogs or coolers brimming with chilled beer.
To stay in the back of people's minds, BOTE sends just 1 email a week from one of 4 different types of campaigns: product-focused, seasonal, teasers, and original content. There's also an occasional promotion. "However, we don't want to oversaturate their email with our product," says Mackenzie Amos, marketing and events coordinator. "We don't want to feel like we're pushing anything down anyone's throats."
The brand boasts open rates around 22%, which is above the industry average, with an average click-through rate of 3%. Teaser campaigns for new products have even higher open rates: 28% with a 9% click-through.
Subconscious advertising
"We try to make our boards for every single type of person," Mackenzie says. BOTE has categories for fishing, yoga, touring—even children. "We tend to have incredibly loyal customers who are constantly keeping up with our new innovations and designs, just because they love the brand and the lifestyle that we portray and live," she says.
That devotion is even more apparent when you venture into BOTE's stories, which are featured on the navigation menus of their site and emails. "We try stay away more from the straight-up advertising and do more subliminal advertising through our stories," Mackenzie says.
That means that instead of prominently toting their paddle boards in all of their campaigns, part of BOTE's strategy is to focus on the tales of the people standing on them and how living the outdoor life has touched their lives. And it's clear customers enjoy the original content: The stories' open rate aligns with their average open rate, but readers are more engaged, with click rates hovering around 4% and higher.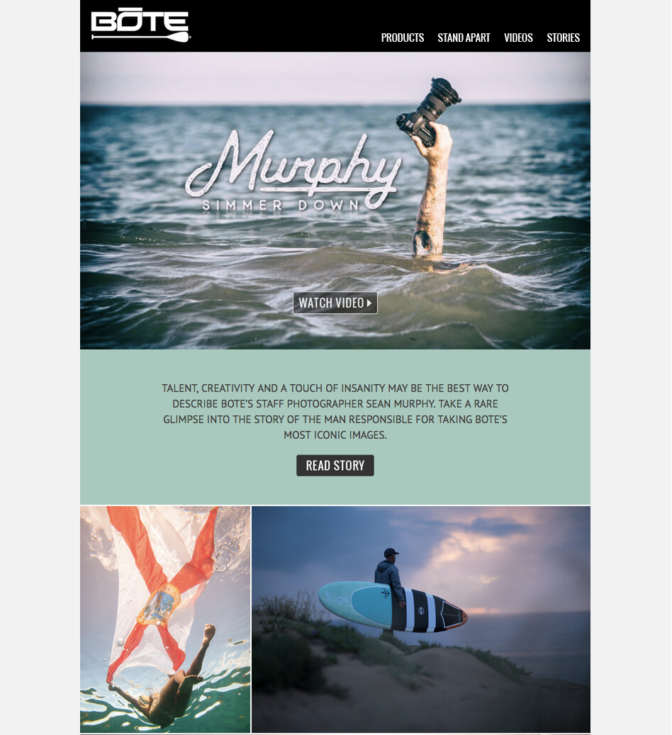 Taking photography to the next level
Each story features a magnificent photo series and accompanying video, shot by BOTE's photographer Sean Murphy, who's also from Destin but lives in Los Angeles. Sean's portfolio is staggering. Having shot some of the biggest bands and decades' worth of surfing, he knows what it takes to give a photo some serious edge.
"He just loves coming home and loves the product, so he is always willing to come and do shoots with us," she says. One of Mackenzie's favorite photo series features a few brave souls taking BOTE's inflatables whitewater rafting. "Design is something that we really pride ourselves on."
Keeping their heads above water
BOTE has also hooked up their emails to Google Analytics (GA) to track the response rates of their various digital campaigns, which provides valuable insights into the success of each email push. "We use GA's geolocation data to determine which areas we should focus our marketing and sales efforts," says Bob Brown, director of content and technology.
Google Analytics allows BOTE to see which campaigns resulted in conversion. In other words, they can track subscribers from clicks in their email to purchases on their website, including product and transaction information, average order value, and other data. And using that data, BOTE can plot more gorgeous campaigns.
"Always keeping the creative juices flowing," Mackenzie suggests. For inspiration, BOTE follows bigger businesses just to keep an eye on how others are designing their layouts and emails—and to keep up with current times. "And don't copy them by any means, but just for aspiration," she says. "And maybe take a little piece of it and make it into your own. You just have to grow into it."
Original article written by Kasia >
[wpseo_map width="100%" height="300″ zoom="-1″ map_style="roadmap" scrollable="0″ draggable="1″ show_route="0″ show_state="1″ show_url="0″] [wpseo_address hide_address="1″ show_state="1″ show_country="1″ show_phone="1″ show_phone_2="0″ show_fax="0″ show_email="1″ show_url="1″ show_logo="0″ show_opening_hours="1″]