Billboard Artist Spotlight: Brian White Quilts His Way to New Heights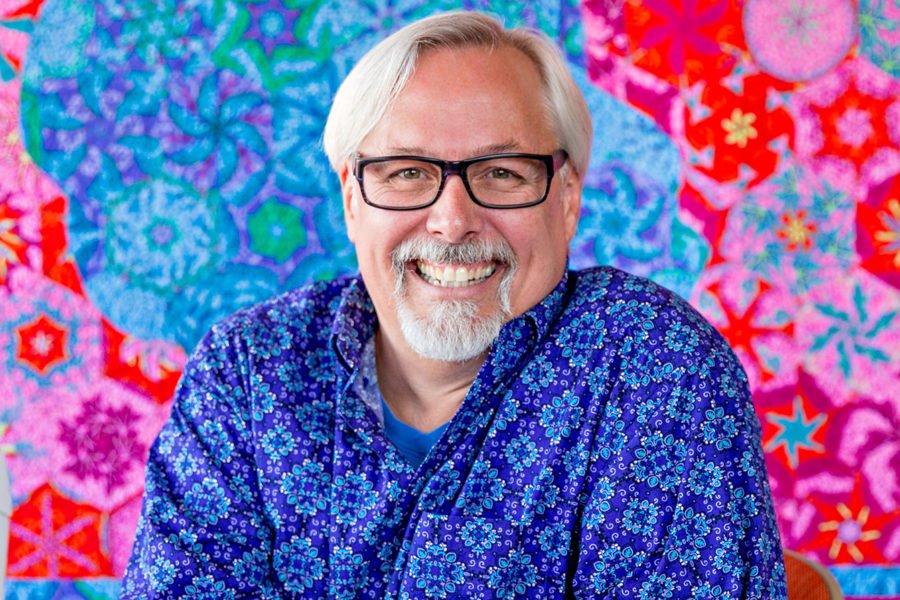 Brian White never really thought of himself as a visual artist. But he's always had a knack for math, which is how he landed in his first quilting class 5 years ago. It was there that he learned a technique that involves cutting a piece of fabric into hexagrams and rearranging them into kaleidoscopic shapes.
"I was hooked," he says, "and I've been quilting ever since."
We got wind of Brian's psychedelic designs and asked him if he'd be up for a custom commission. Brian's creation, which he calls "Groovy Chimp," is a celebration of his favorite kaleidoscopic technique. We love it so much that we're not only hanging it in our office—we're exhibiting it on a 25-foot-wide billboard.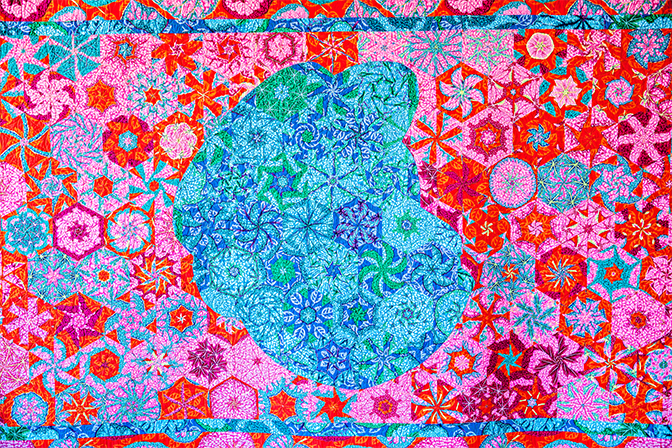 It wasn't until we had Brian over to MailChimp that we realized how many of our employees—from engineers to customer support folks—moonlight as quilters.
"We're a clandestine bunch," Brian explains. "You never know who's going to show up at the quilting guild."
I asked Brian whether he considers himself a typical quilter, and he quickly responded, "No way!" In fact, he prides himself on being as atypical as possible. "But that's the beauty of it," he says. "I'm a realtor by day, a musical theater performer by night, and a quilter into the wee hours of the morning. Quilters and artists come in all shapes and sizes."
We sat down with Brian and talked with him about quilting, art, and creative inspiration.
Where do you—and other quilters—usually show your art?
Quilting is a solitary art form. We chain ourselves to our sewing machines for hours on end until that last stitch is complete. Then we crawl out of our studios and head to the first guild meeting we can find for a good old fashioned "show and tell." There are also quilt shows, locally and nationally, where we can show our work, as well as many Facebook quilter's groups with thousands of quilters who encourage and educate each other and are always eager to stroke the egos of their fellow fiber artists.
What's the inspiration for your design?
Five years ago, I took my very first quilting class on a technique by Maxine Rosenthal from her book, One Block Wonder. I became fascinated with kaleidoscopic hexagrams and the countless variations which could be made using only one fabric. I had always wanted to design a quilt with this technique, but utilizing multiple fabrics instead of just one. This idea which had been floating around in my head for years lent itself perfectly to my end product, "Groovy Chimp."
What's the best advice you have about how to be more creative?
Let your mind run wild with ideas before you even allow yourself to formulate a plan as to how to execute that idea. If you're working from a pattern, allow yourself to stray from that pattern. Also, every now and then, just sit down and start creating without a single idea as to where you will end.
You can follow Brian on Instagram at @brian_white_quilts. If you're in Atlanta, check out Brian's design on our Krog Street billboard.
Original article written by Sarita >