A week for teamwork and Teams, as well as good-natured, gaming fun with 'Exploding Kittens' — Weekend Reading: Sept. 15 edition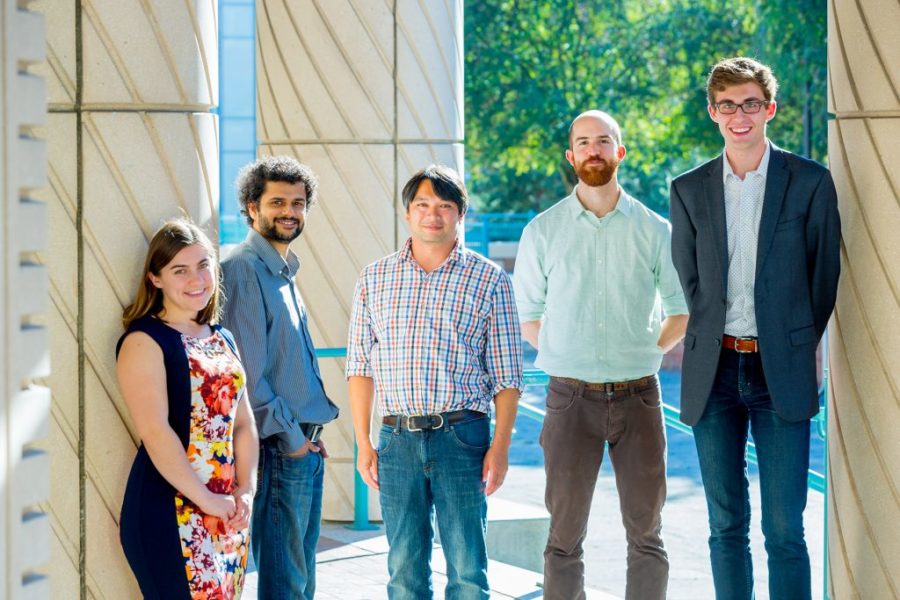 Here, kitty, kitty, kitty…. Oh wait, sorry if we pulled you away from the highly addictive game "Exploding Kittens." More on that in a moment. But first, a look at some of the people and news that made our week at Microsoft claw-dacious, er, audacious.
More than two dozen students from the University of Washington in Seattle and the University of British Columbia in Vancouver used data science and analytics projects to tackle traffic, transportation and other metropolitan issues over the summer as fellows in Data Science for Social Good programs, done with support from the Microsoft-sponsored Cascadia Urban Analytics Cooperative. Some of the students' work was shared this week in Seattle at the second Cascadia Innovation Corridor Conference. Steve Barham, data scientist for the Seattle Department of Transportation and a project lead, says the students "collectively contributed expertise that the city does not have, for example, in applied math and working with big data." Moreover, "We had fellows that ate machine learning and different coding languages for breakfast."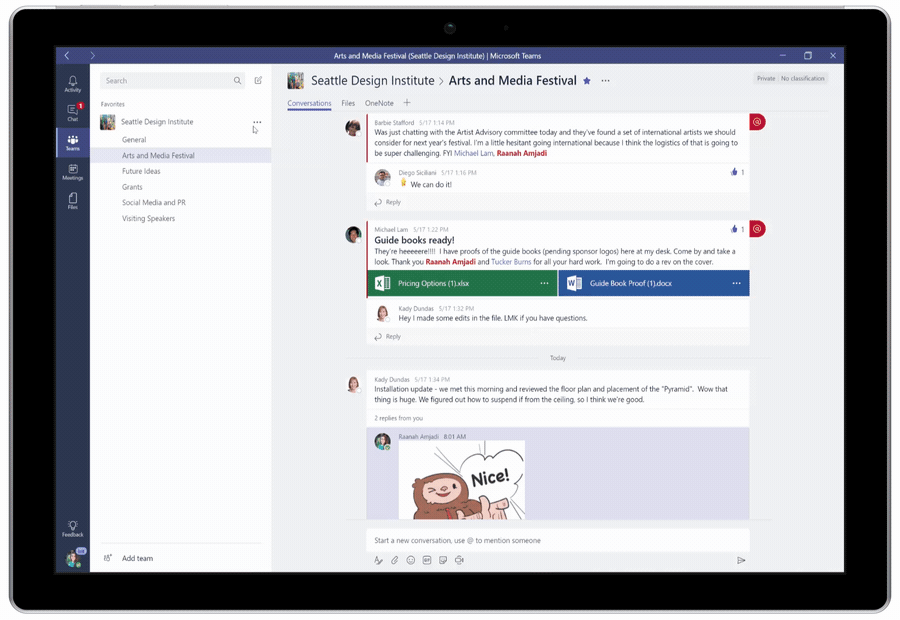 Guest access for Microsoft Teams, one of the most-requested features by customers of the chat-based workspace, became available this week to Office 365 commercial and education customers. Office 365 users can add people from outside their company to a team, so guests can participate in chats, join meetings, collaborate on documents and more. Guest access is built on the enterprise-grade, B2B collaboration features of Azure Active Directory (AD).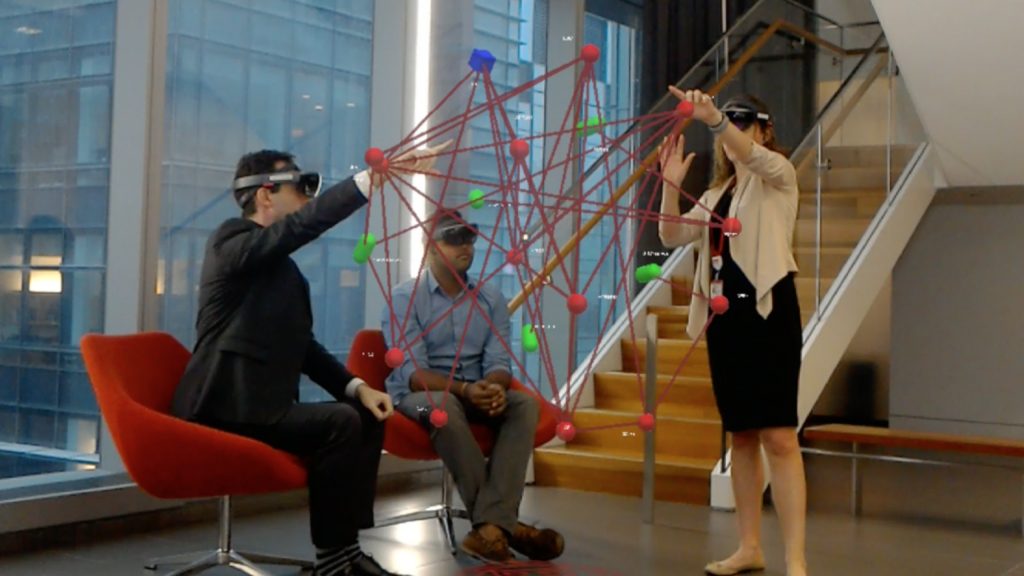 Speaking of teams, we got to meet the team using Windows Mixed Reality for cancer research, including Alexandros Sigaras and Sophia Roshal, a duo who rapidly prototyped a Microsoft HoloLens application to achieve the Englander Institute for Precision Medicine's "cancer moonshot," a promise to empower better and faster cancer research, data collaboration and accessible care. It's now in the Windows Store as Holo Graph, an app enabling researchers to bring their own network data into the real world to explore, manipulate and collaborate with other researchers in real time, whether they're in the same room or on the other side of the planet.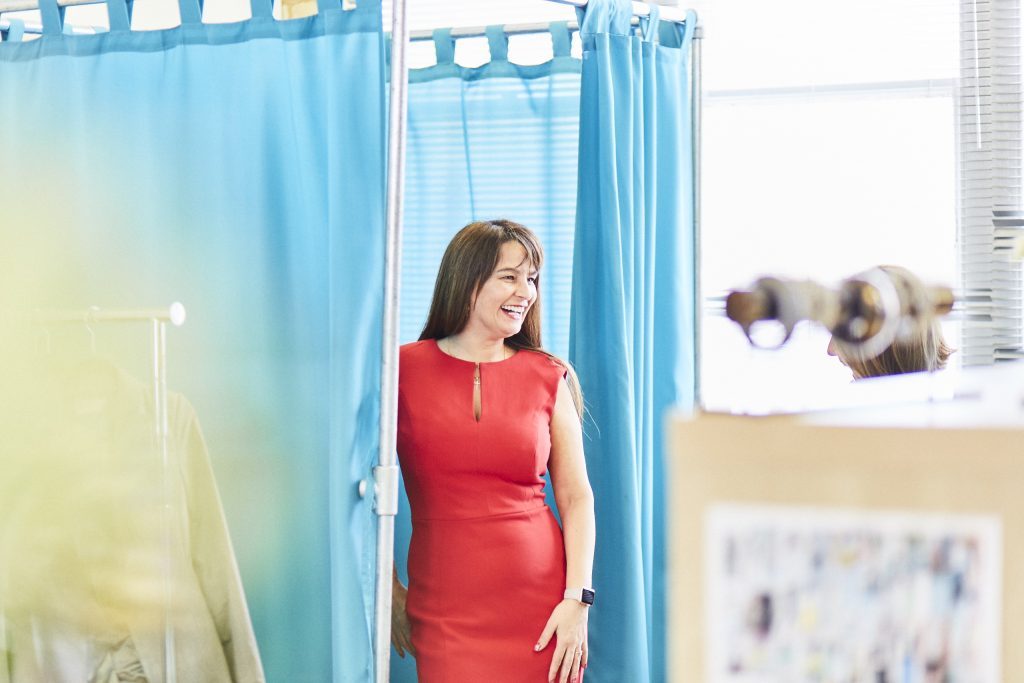 In the U.K., a charity that helps vulnerable women find jobs – and their confidence – counts single parent Selina Motlieb as one of its many success stories. Motlieb was looking for work, but her lack of self-confidence held her back at crucial one-to-one meetings. One of her biggest concerns was the way she was dressed – "I didn't feel I was wearing the right clothes," she says. That changed with the help of Smart Works, a charity that helps thousands of women each year, providing them with coaching as well as suitable clothes for job interviews. Smart Works operates six sites across Britain. Microsoft Azure, Dynamics, Office and SharePoint play key roles in booking appointments for the women Smart Works helps, gathering feedback and giving those in charge an overview of the whole business so they can run a reliable and professional service that puts their clients first.
Azure confidential computing, a collection of features and services introduced Thursday, makes Microsoft Azure the first cloud to offer new data security capabilities. "Put simply, confidential computing offers a protection that, to date, has been missing from public clouds – encryption of data while in use," writes Mark Russinovich, Microsoft Azure chief technology officer. "This means that data can be processed in the cloud with the assurance that it is always under customer control."
Control is very important for Tetra Pak, which supplies food processing and packaging solutions to manufacturers in more than 175 countries. The Swiss-based company is employing new digital tools that enable its cloud-connected machines to predict exactly when equipment needs maintenance, averting breakdowns. Sensors on more than 5,000 Tetra Pak filling machines at customers' sites, all connected to Microsoft Azure, feed real-time performance data to the company for monitoring and analysis – nearly 700 million data points each year. As a result, maintenance can be scheduled precisely and efficiently.
Last, but not least, we go to "Exploding Kittens," the wildly popular tabletop and multiplayer game that is highly strategic and kitty-powered. The team behind "EK" is turning to Microsoft's social bot, Zo, to offer the game's first single-player version, for free. Fans can play one-on-one with Zo through Facebook Messenger (m.me/Zo), kik (kik.me/zo.ai) and GroupMe (contact: Zo). To play, start a conversation with Zo and ask if she'd like to play "Exploding Kittens" by texting "play EK." Zo will reply with a link to play together.
Now, that's the cat's meow! Enjoy, rest up this weekend and we'll see you back here next Friday!
Posted by Suzanne Choney
Microsoft News Center Staff
Tags: Bots, Cascadia Innovation Corridor, Cascadia Urban Analytics Cooperative, Dynamics, Internet of things, Microsoft Azure, Microsoft HoloLens, Microsoft Teams, Office, SharePoint, Weekend Reading, Windows Mixed Reality, Zo
Original article written by Suzanne Choney >