Why OceanWP Uses Rank Math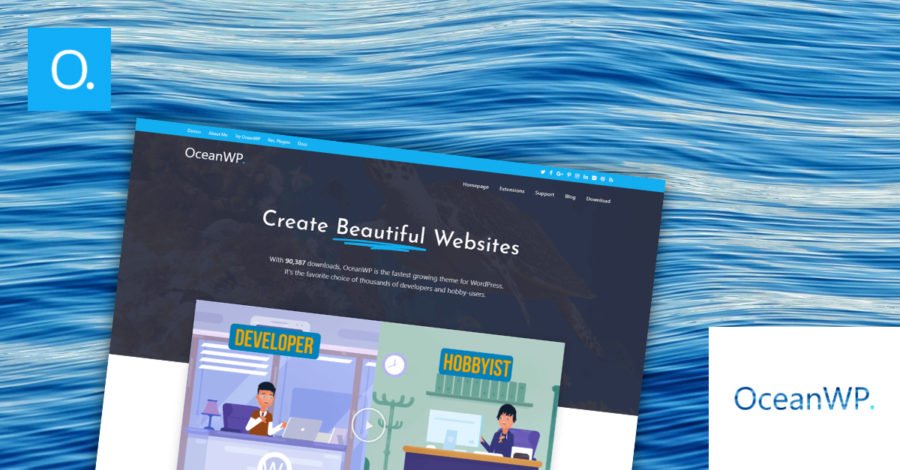 If you're an avid OceanWP user and have recently installed our theme, you may have noticed that we make a few plugin recommendations. After all, you might be on this page because you're trying to find out more about one of the plugins we recommend – Rank Math.
So without further ado, in this post, we'll run through the reasons we chose to recommend the
Rank Math WordPress SEO
plugin and why we use it on our website.
1. Rank Math + OceanWP = An Unbeatable Combination
Before we jump into taking a look at the specific features that we love about the Rank Math plugin, let's take a look at why OceanWP and Rank Math specifically are an unbeatable combination.
We've worked directly with the Rank Math plugin developers to ensure that our theme is as SEO-friendly as possible and works seamlessly with the plugin's existing powerful Schema.org implementation for all of OceanWP's elements, sidebars, footers and so forth.
2. Seriously, all of this is free – we're not kidding 💸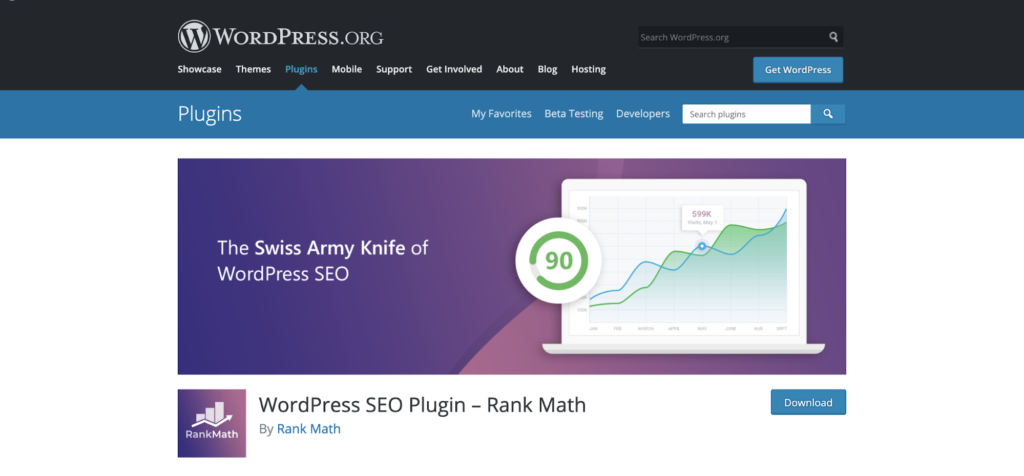 Here's a quick look at some of our favorite features that are freely available in the Rank Math SEO plugin:
Deep Schema Markup Integration for Over 14 Types of Content.
Latent Semantic Indexing Keyword Tool Built-in.
Track your keyword rankings, click-through ratio, and other important metrics right from your WordPress dashboard.
Easily initiate a 12-Step SEO Audit – helps identify issues on your website that may be preventing your site from ranking in search.
Built-in 404 Monitor & Redirections Support.
Create sitemaps that can easily be submitted to the Google Search Console.
Breadcrumbs are useful in helping Google's bots better understand a website's hierarchy and make it easier for users to understand where they currently are on a website. In case you missed it, Google replaced site URLs in search results and now uses site names and breadcrumb paths instead for mobile search snippets. Rank Math automatically adds the structured data (markup) to your website so you don't have to go through the tedious process of doing this yourself.

There currently isn't a paid version of Rank Math available just yet and the good news is that all of the awesome features that are currently available in the free version are and always will remain completely free. We believe that this truly shows what they're trying to do for the entire WordPress community in helping them truly take control of their website's on-page SEO and optimize their websites to rank as highly as possible without just trying to make money off of every little feature.
This additionally makes us extremely eager to see what's in store for the future of Rank Math and what extra functionality they'll be introducing to help us take our SEO to a whole new level (again).
3. It makes everything easy (the way it should be) 😅
Everything from Rank Math's 404 Monitor all the way down to their redirections module and improved SEO Meta Box makes technical SEO easy, the way they should be.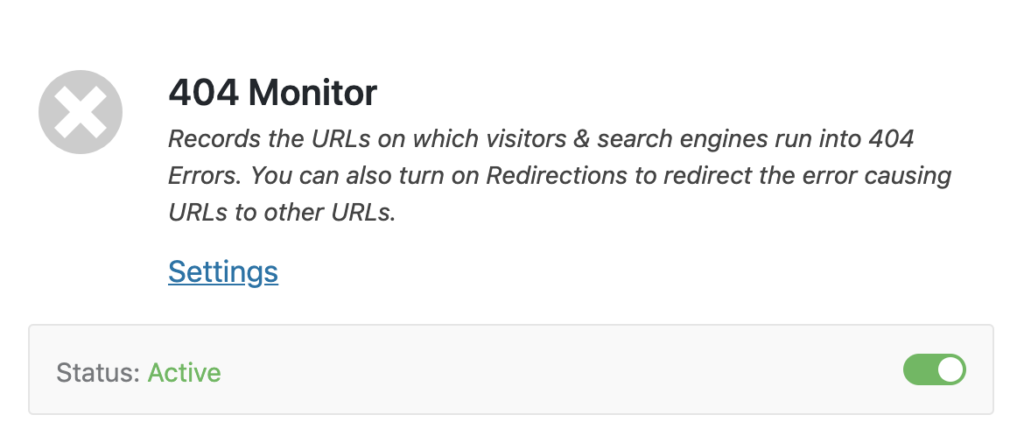 Once activated, you can easily use the 404 Monitor to keep track of URLs where your website's visitors run into errors. That data can then be used together with the Redirections module to easily redirect broken pages or deleted content to more relevant pages on your website.
All you need to do is click the Redirect button on any of the links that appear in the 404 Monitor's logs.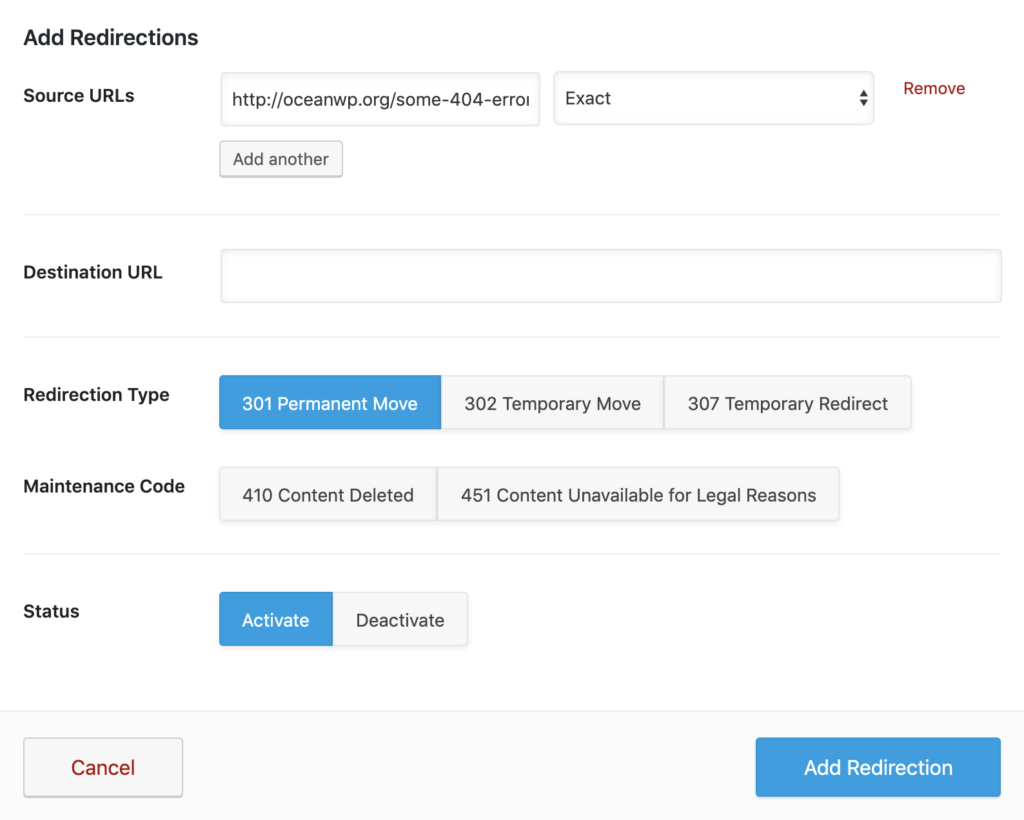 This is something we love because it not only makes sure that we aren't accidentally serving our own visitors with 404 pages unknowingly but it also makes it extremely easy (and fast) to implement the correct redirect so we can fix it before anyone else notices it.
4. The user interface is second to none 🥇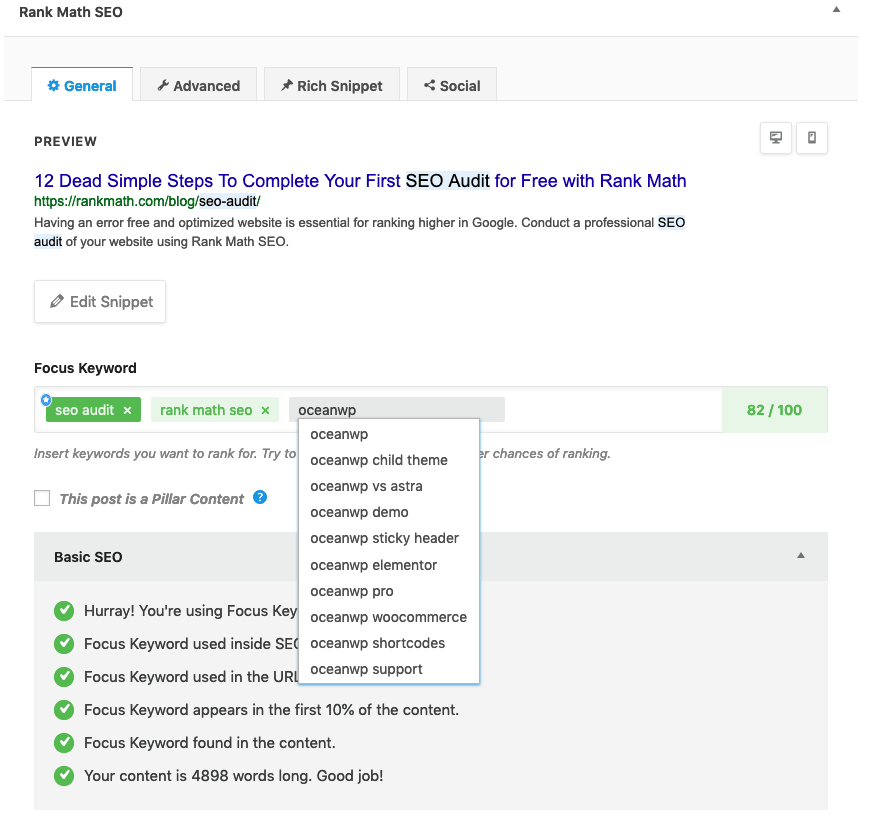 Rank Math's user interface is really nice to work with and the plugin is extremely fast (more on speed coming up). In contrast to most if not all other SEO plugins for WordPress, Rank Math isn't riddled with annoying upsells and advertisements that clutter the WordPress admin area – what used to be a productive workspace. This is definitely on the list of reasons why we use Rank Math and recommend it to OceanWP users – we doubt anyone would really want
As we're about to come onto, Rank Math is really fast. And this is in part due to the sheer amount of thought that went into the design of the user interface. It's simple and nice to work with on a daily basis. The free plugin isn't riddled with advertisements and upsells that continuously try to encourage you to buy something else from them which is something we've seen a lot in our days of working with WordPress.
5. Rank Math is the fastest search engine optimization plugin 💨
As you will come to realize when using the plugin, Rank Math incredibly fast.
Thanks to a leaner codebase and a plugin that makes fewer database queries on page load, switching to Rank Math is an easy choice if you care about performance at all.

6. A Schema.org Implementation that makes sense 📜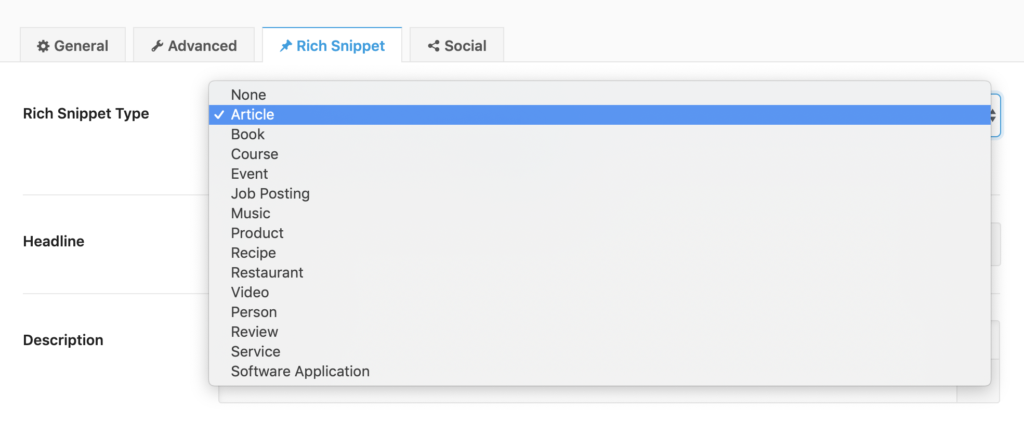 Rank Math also makes it extremely easy to configure your posts, pages and custom post types for all of the following Rich Snippet types:
Article Rich Snippets
Book Rich Snippets
Course Rich Snippets
Event Rich Snippets
Job Posting Rich Snippets
Local Business Rich Snippets
Music Rich Snippets
Person Rich Snippets
Product Rich Snippets
Recipe Rich Snippets
Restaurant Rich Snippets
Review Rich Snippets
Service Rich Snippets
Software/App Rich Snippets
Video Rich Snippets
Schema is more important than ever now that voice search is an integral part of Google search as a whole. There's really never been a better time to make it easier for Google to understand your website's content using Rank Math's Schema.org Markup implementation. With Rank Math, you finally have the ability to take complete control of your website's on-page SEO.
7. The tight Google Search Console Integration 🔗

Another feature we think you'll really love is the Google Search Console integration. Easily view key metrics and check important information such as rankings, sitemaps that have been submitted to Google and more right from the WordPress admin dashboard.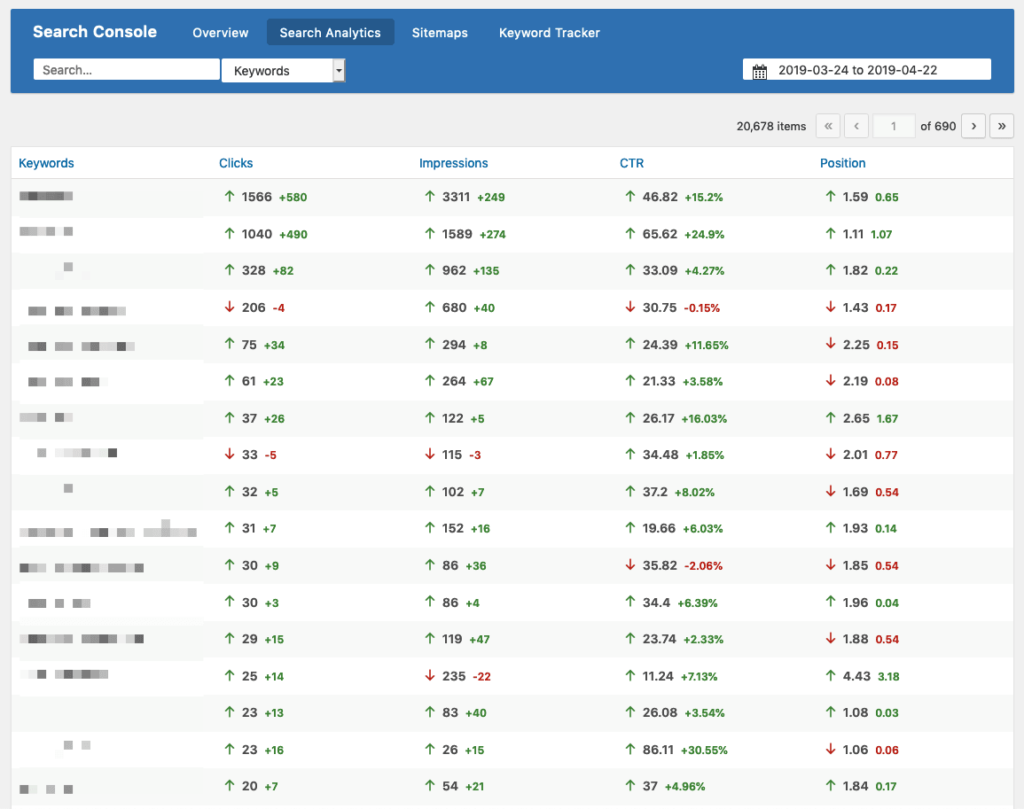 8. Support is available for non-paying users 🙋‍♂️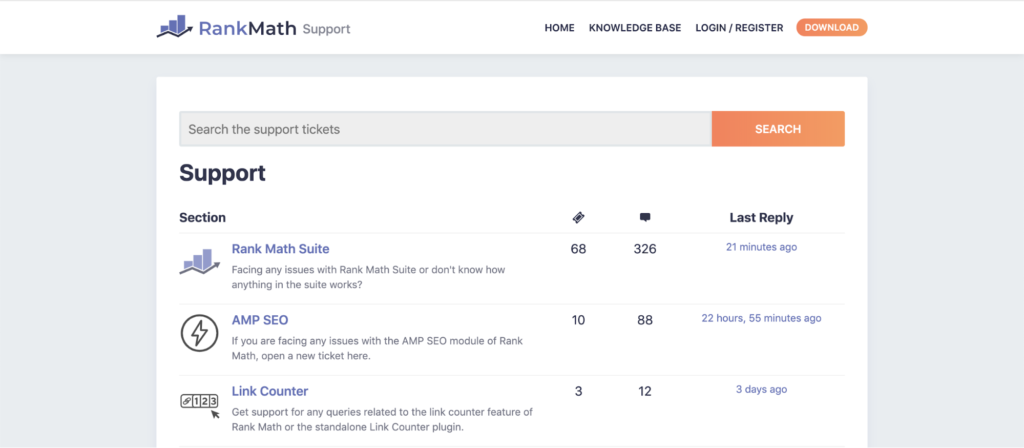 Their extensive documentation together with their amazing customer support works 24/7 to make sure that no question is left unanswered. Now that you're using Rank Math, you're also more than welcome to join this Facebook community of fellow WordPress users passionate about search engine optimization.
Not many plugins provide support to non-paying users apart from limited support on the WordPress.org support forums and we think the comfort of their active community of developers and users is unbeatable.
9. Quick & Easy migrations from Yoast & others! 🥳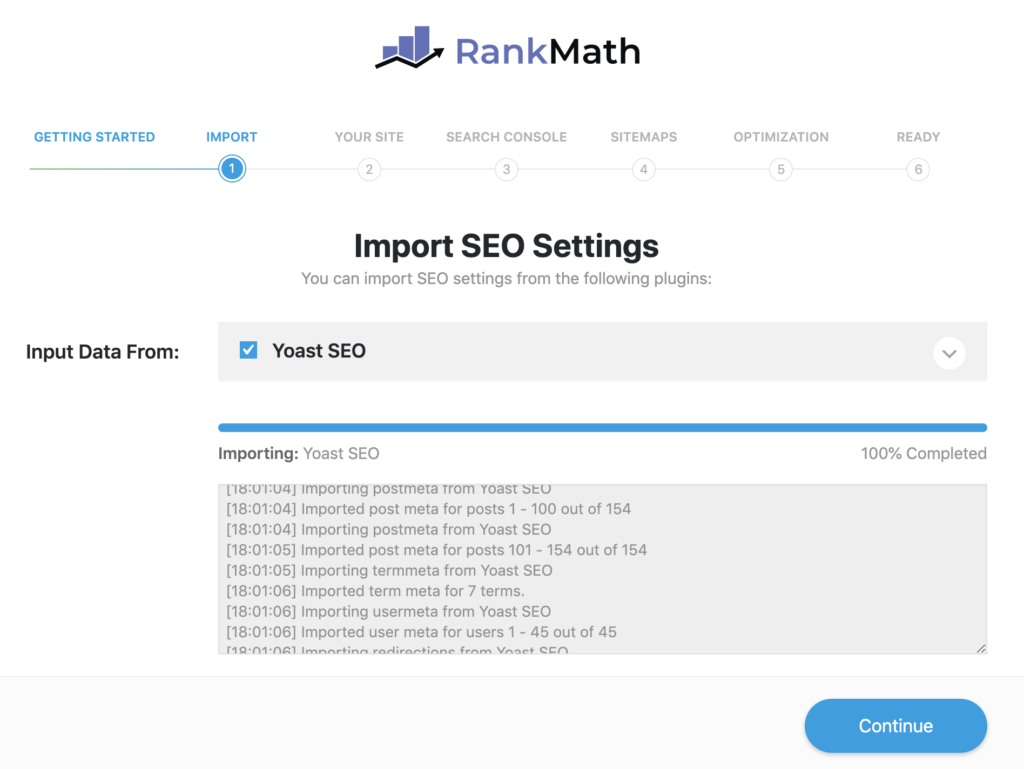 Moving over couldn't be easier so what are you waiting for! Here's a brief overview of how to ensure that you retain the data from the old SEO plugin you were using:
Leave the old SEO plugin you were using before active.
Install and activate the Rank Math WordPress plugin.
Use Rank Math's one-click migration and setup wizard to start the migration process + let the magic happen! 🚀 (it supports migrations from Yoast, All In One SEO Pack and SEOPress).
Our partnership with Rank Math is all a part of OceanWP's ongoing effort to grow, evolve, innovate and provide the best possible experience to users so we can turn your dream of designing a successful website into a reality.
If you have anything to add or have a question for us – please feel free to leave a comment below and we'll get back to you as soon as possible!