When it comes to this year's most significant emerging industries, we are in for a wild ride in the wellness space. From CBD and veganism to biohacking and astrology, the outlook for these high-growth industries is bright.
At 99designs, we keep a close watch on how industry trends are evolving, and what our clients need to adapt to any flourishing sectors. Last year we tipped some of 2019's hottest emerging industries, and judging by our numbers, the four sectors below are on track to experience phenomenal growth in 2020.
1. CBD products
—
As the cannabis industry continues to shed its social stigma, the rise of cannabidiol (or CBD for short)—particularly in high-end lifestyle products—has been astronomical.
Already estimated to be a multi-billion dollar global industry spanning food and drink, health and beauty, pet products and more, we've seen an incredible 1568% increase in CBD-related design work completed on 99designs since 2015, and with a sharp 61% increase over the past 12 months, it's showing no signs of slowing down.
Why now?
CBD has been big news in the United States for a couple of years now (we identified cannabis as one of 2018's most significant emerging industries) but in other places like Europe, it has become this year's wellness trend du jour.
CBD does not contain the psychoactive ingredient (THC) which causes a 'high' sensation, instead claiming an impressive range of health benefits from easing anxiety to reducing pain. Its spike in popularity is partly thanks to a much wider and more indepth public understanding of the differences between psychoactive and non-psychoactive cannabis extracts, as well as people becoming more used to these newly legalized ingredients being available in mainstream stores like Sephora or Walgreens.
And it's seriously big business: researchers believe that the CBD beauty industry alone will be worth a whopping $25 billion in the next decade. Even our furry friends are getting in on the action, with the CBD pet sector set to ring up an estimated $1.16 billion by 2022.
From face creams and oils, to pet treats, tea, and even gin, expect to see much more CBD making its way into everyday products through 2020 and beyond.

Design trends in CBD branding
When it comes to design, in 2020 CBD brands are increasingly targeting the top end of town. As the use of cannabis extracts has become mainstream, brands have evolved their visual assets to reflect new premium product offerings. Here we see slick and sophisticated packaging and aspirational branding, where CBD as an ingredient doesn't necessarily take center stage visually.
Another notable trend in this space is the move away from the typical green bold designs of the past towards a much more feminine aesthetic, with the use of pink and peach pastel shades alongside floral designs, specifically targeting female consumers.
2. Biohacking
—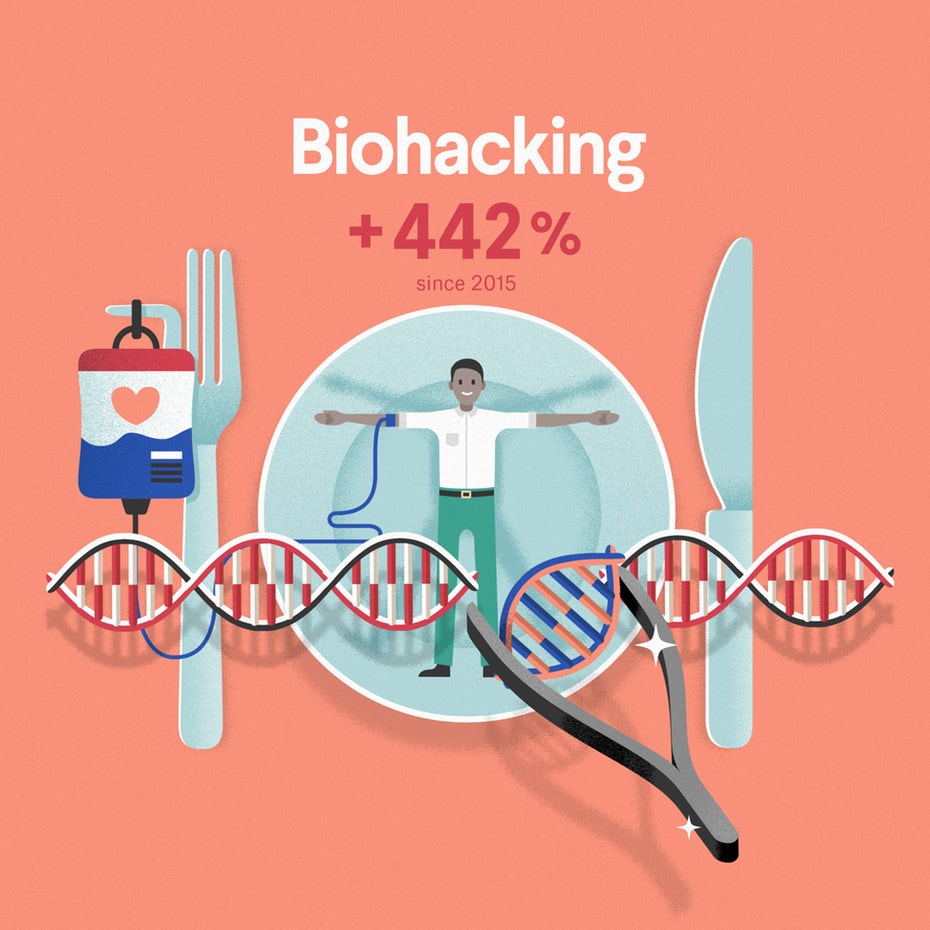 While biohacking sounds pretty out there and in the realm of cyborgs, sci-fi and microchips, it's really just about optimising the human body and mind. The reality of this trending sector is often much less high tech than you might think. While the industry incorporates everything from IV hydration therapy and nootropics to genetic manipulation, it also includes things like intermittent fasting and bulletproof coffee.
Judging by the creative work done in this industry on 99designs over the past 5 years, there's been 445% growth since 2015, and a sharp 71% increase in the past year alone. That means 2020 is set to be a bumper year for biohacking as it continues to enter the mainstream.
Why now?
It's human nature to want to be better, smarter and stronger. Biohacking initially took off in Silicon Valley, and with a high-achieving, competitive population that loves to solve a problem, many solutions reported to maximize productivity and performance have been created.
It's no wonder then that as some of the greatest minds in the world started to focus on how we 'hack' our own health and bodies, this trend found its way into consumers' consciousness. Over the past year, a number of biohacking spas and clinics have popped up from Upgrade Labs in LA, ReCover in New York to Bellecell London, signalling the arrival of biohacking as an accessible and aspirational service—and one that ticks all the boxes when it comes to wider wellness trends.
The human drive for self-improvement means the opportunities in this space are limitless, so expect this sector to flourish for many years to come.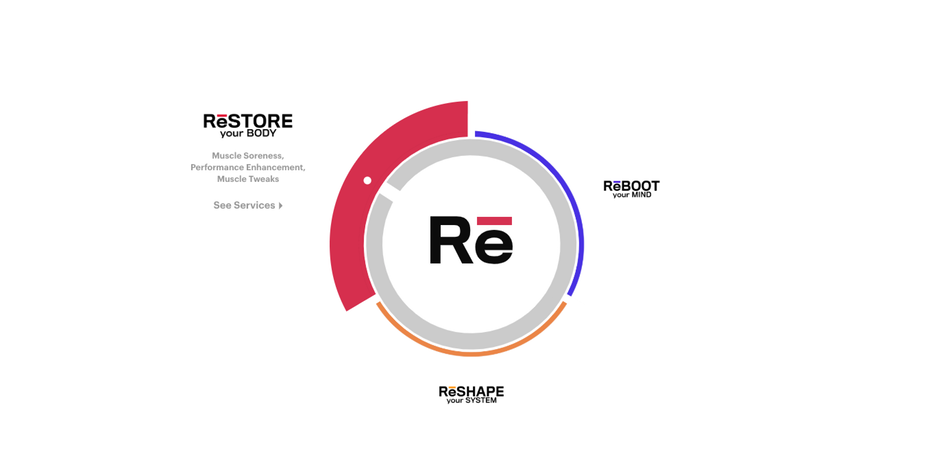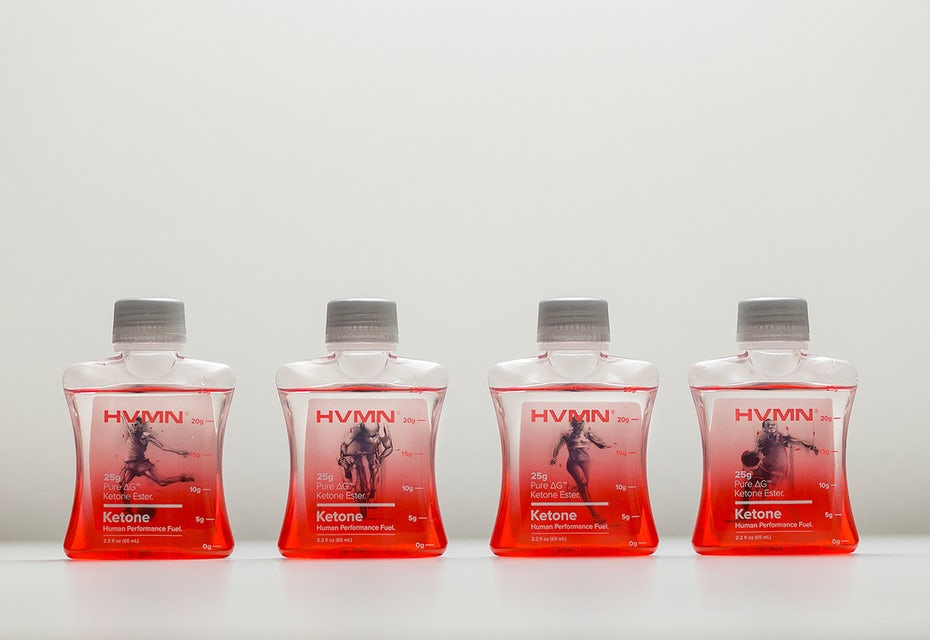 Design trends in biohacking
While much of the hardware used in biohacking spas and clinics throw out some serious sci-fi vibes, when it comes to branding it's a different story.
Modern, minimalist logos dominate the industry, and you can clearly see how the tech industry has influenced the overarching design aesthetic through the frequent use of sans serif fonts that are so favored by startups, as well as the heavy use of blue. Red is also a popular brand choice in the biohacking sector, and for an industry that seeks to optimize the human experience and keep our bodies youthful and energetic, this bold, striking shade is a smart move.
3. Veganism and plant-based products
—
Chicken-free nuggets, meatless meat, and vegan sausages: Consumer demand for plant-based meat alternatives is at an all-time high. This trend is part of a wider spike in vegan, plant-based products across a number of verticals, with fast food chains like Burger King, Subway and KFC incorporating plant-based alternatives into their menus, Kroger introducing a new vegan line, and luxury retailers like Selfridges experiencing a 96% surge in vegan product sales over the 2019 holiday period.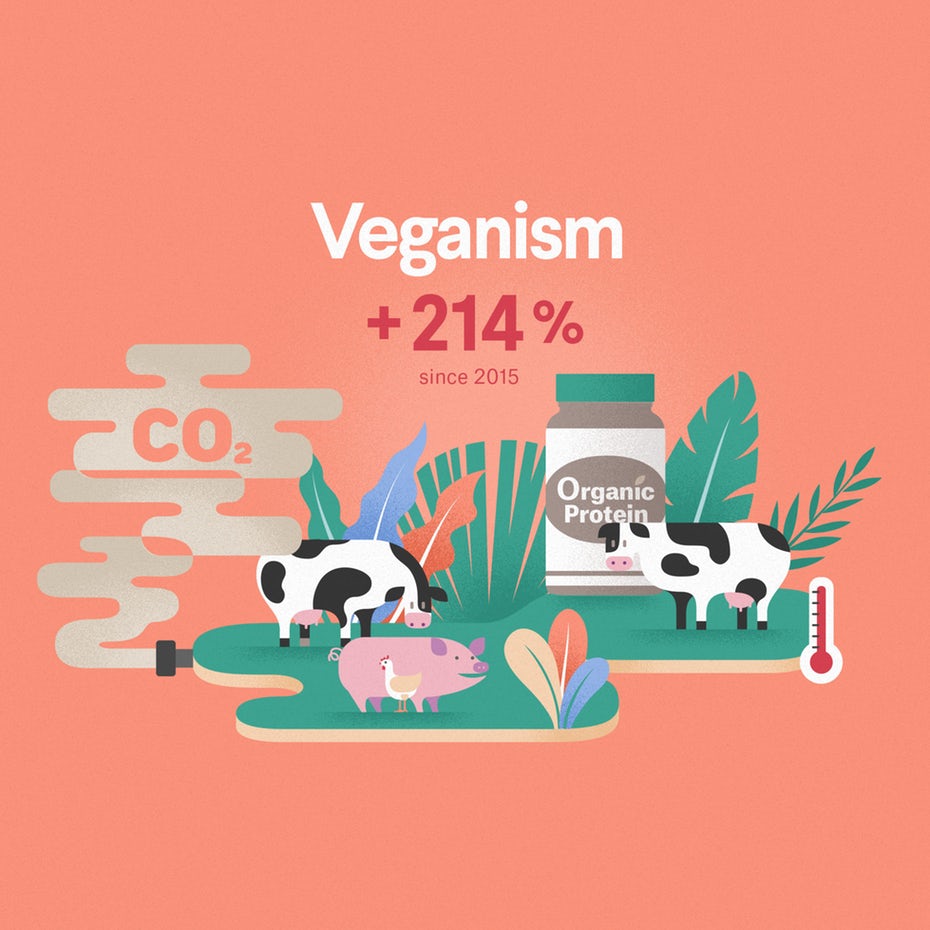 Lately, the number of vegan brands requesting creative branding work on 99designs has spiked—a 214% growth since 2015 and a 20% jump in the last year—showing that plant-based products are in hot demand across industries and from businesses of all sizes.
Why now?
2019 was the year the world started to pay attention to the global climate crisis, and one of the ways many people are reducing their environmental impact is cutting down on their consumption of animal products. This is one of the big reasons that plant-based meat alternatives are one of the few growth areas in the food industry, and one that is also experiencing rapid innovation.
While the proportion of the population that identifies as vegan is still small (around 6% in the US) the sector growth is a result of non-vegan, meat-eating consumers seeking more plant-based proteins, milks and products. For example, a recent report showed that meat eaters made up 95% of plant-based burger sales in fast food restaurants last year.
Brands are also actively marketing vegan products to so-called "flexitarians" who are choosing to purchase more plant-based products for sustainability, health or environmental reasons. The good news? Research shows that consuming 'green' environmentally-friendly products actually increases our enjoyment of them, so it's a win-win situation for brands, consumers and the planet.
Design trends in plant-based branding
With hashtags like #MeatlessMonday trending around the globe, brands are tapping into wider trends within the wellness industry to capitalize on plant-based eating hitting the mainstream (think about words like "clean", "pure" and "cruelty-free"—they are used to describe everything from food to shampoo). Many brands like Raised & Rooted consciously use natural textures and rustic design elements to add an element of visual authenticity, as well as using fresh, light color palettes that are perfect for social media.
While there are thousands of great vegan and plant-based brands to inspire you, the most important thing to remember is to be transparent—consumers need to know exactly what they're buying. As a growing number of states and regions around the world look to regulate any potentially misleading labels, the challenge for designers working in this space will be creating brands and packaging that communicate clearly, even at a glance.
4. Astrology
—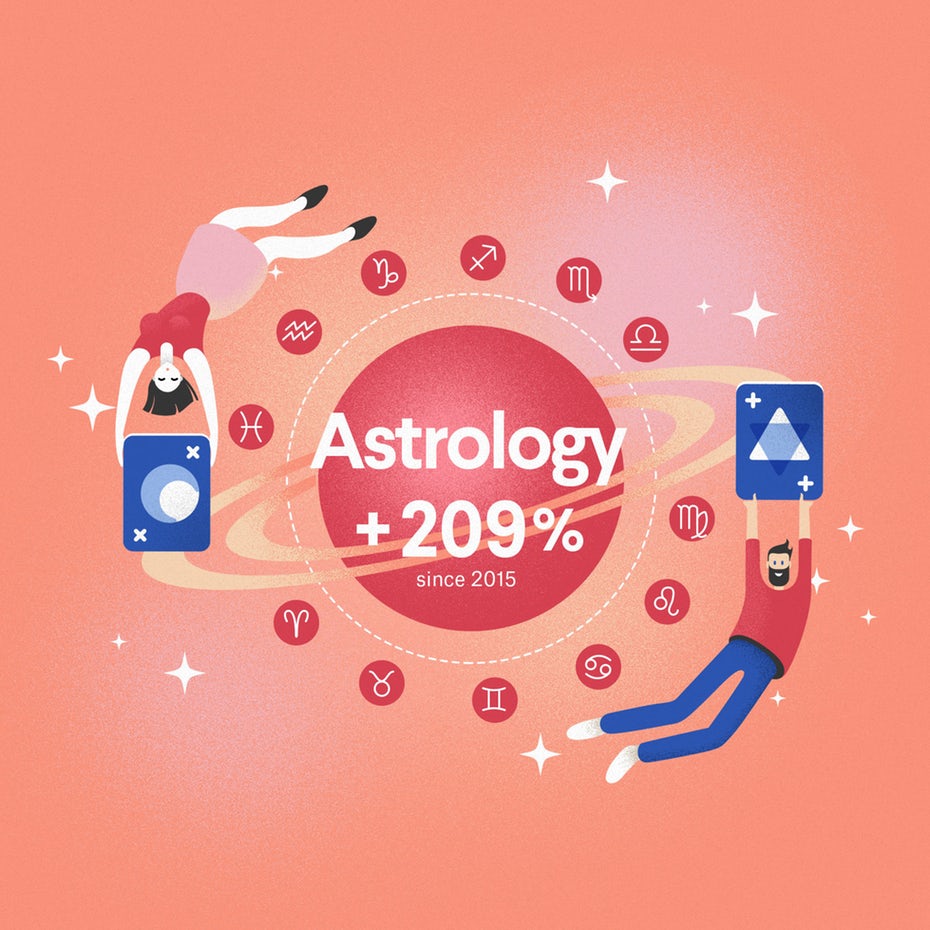 What's your sign? Not a question you'd typically expect to hear from a venture capitalist, but with the "mystical services" market now worth an estimated $2.1 billion, astrology is becoming big business.
With apps like Sanctuary securing investment from Five Four Ventures and Co-Star raising $5m in funding and topping the iOS charts, success was written in the stars for the astrology sector in 2019, and it shows no signs of stopping. Spanning everything from spiritual consultancy to podcasts, apps, books and more, the number of astrology brands commissioning creative work on 99designs has grown 209% since 2015, and in the past 12 months increased sharply by 127%.
While astrology might seem niche, at least 40% of American women admit they regularly read their horoscope—and that is a huge addressable market.
Why now?
We might live in an age of factual science and sophisticated technology, but that doesn't mean consumers aren't enticed by ideas from a more celestial plane. As we begin a new decade, astrology has become a cultural phenomenon, influencing everything from personal apps to entertainment—Spotify even launched personalized horoscope-inspired cosmic playlists.
Modern astrology, with its Instagram-friendly affirmations, memes and helpful advice and guidance, sits comfortably in between a booming wellness industry and our growing online "hustle culture", while also offering consumers a connection to something bigger than themselves. Even if you don't believe in astrology, it's easy to understand the appeal of cosmic reassurance in today's often chaotic world.
Design trends in astrology branding
Astrology's traditionally psychedelic, retro style is far behind us as the sector moves towards a cleaner, aspirational and Instagram-ready aesthetic. Both Sanctuary, with its fresh mint green and navy hues, and Co-Star, with its sharp lines intersected with hand-drawn illustrations, strike a feminine note that is clearly designed to resonate with millenial and gen Z audiences.
However, it's not all straight-laced and spiritually intense—astrology can also be great fun. In its Cosmic Playlist campaign, Spotify maintained its engaging brand voice and personality in a light-hearted way while partnering with respected astrologer Chani Nicholas, showing that astrology is something that brands can leverage to connect directly with their customers in a personalized and authentic way.
Conclusion: Wellness as a way forward
—
These four high-growth areas fit together as part of a $4.2 trillion global wellness industry, and business is well and truly booming.
In different ways, each of these emerging industries addresses anxieties or concerns about our own health, happiness and future success, and there are limitless ways businesses can tap into these trends to create their own success through 2020 and beyond.