How to make a mood board for your brand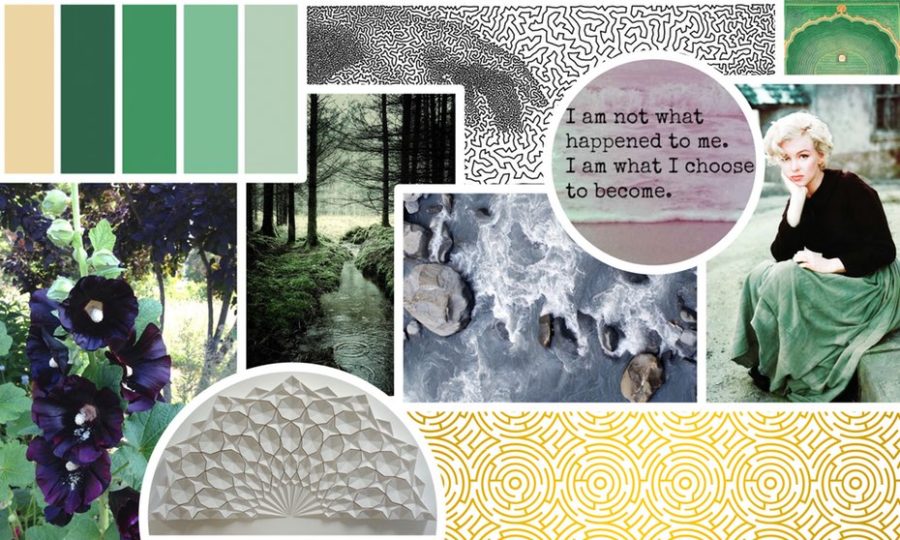 You know your brand better than anyone—your origins, your vision, your goals, your company culture. But when it comes time to convey your brand qualities to a designer, you might find that words fail you. Unfortunately, while designers possess many talents, psychic ability isn't usually one of them. So how can you accurately communicate your brand? Try a mood board!
What is a mood board and why do I need one?
–
A mood board is like a collage containing a variety of images, text, and other objects that define your brand and communicate your brand identity. It can even work as a guide in developing a business project, such as a website. Whether you're just launching your business or rethinking your existing brand, a mood board is a valuable tool, for:
Inspiration. If you're still in the process of working out your brand identity, a mood board will help bring things into focus, like company attributes, vision, identity, and the emotions you want your brand to convey.
Affirmation. If you're already sure of who you are, a mood board will affirm and support your brand identity. It will also help you translate concepts like culture and values into tangible things, like design.
Guidance. A mood board that accurately reflects your brand can act as a guide to keep you focused on your brand identity when creating your logo, business cards, website, or other marketing materials.
Communication. A mood board ensures that your designer, company principals and stakeholders understands your brand and your vision right from the start.
Digital or physical?
–
The process of creating your mood board doesn't have to be complicated. Whether you choose to pull images from the Internet and assemble them online, or grab some foam board, Elmer's glue, and a stack of magazines is completely up to you.
Digital mood board
Performing an online image search and compiling a digital mood board is easier than ever with the availability of some pretty cool online sites: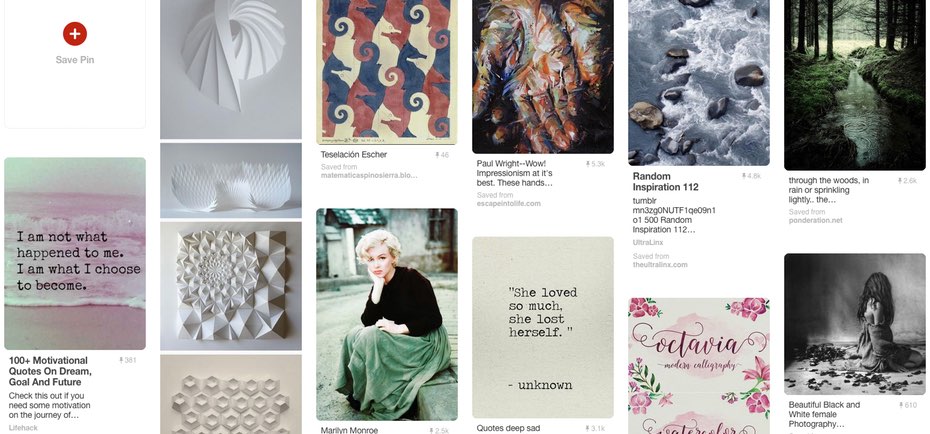 Pinterest: Pinterest is a popular online service that allows you to pull images from "pinboards" that have been curated by others. What's great about Pinterest is that the collections are already organized for you, making it easier to find and choose images you like.
Moodstream: Brought to you from your friends at Getty Images, Moodstream allows you to adjust settings for image search with idea-generation and mood board assisting tools. Detailed filters–like orientation, location, image style—allow you to narrow down choices and cut down on time spent weeding out imagery you're not interested in.
Moodboard and Mooboard Lite: Moodboard helps you organize, create and share multi-user collaborative mood boards on your iPad for just $9.99. Handy tools enable photo editing, pdf and png export and the ability to organize multiple boards. Moodboard Lite is the free version, offering all the same convenient tools as the paid version, but limited to just one board.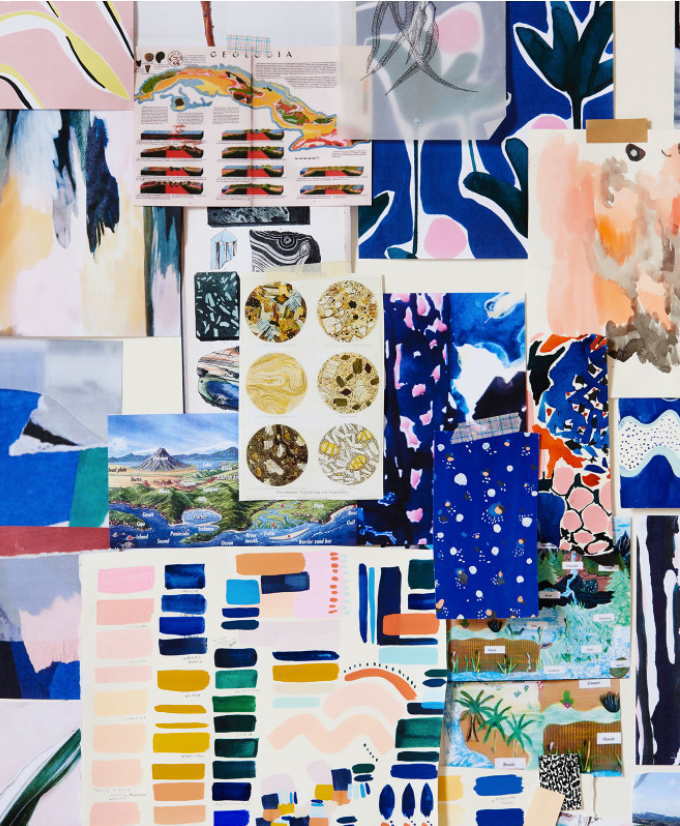 Sampleboard: This digital mood board creation tool lets you upload your images and organize them into project files that can be shared on social media or imported into documents. Intuitive and easy to use, it's a great way to get professional results that can be easily shared with others.
Physical mood board
If you prefer to do things old school, you can create a physical mood board that you can actually touch. To create one, use a foam board base and spray mount images and materials to the surface. Source your collections from magazines, newspapers, old books, your own photos, or materials from a craft/art supply store, fabric store or surplus store, like Axman.
Choose your images and materials
–
Find a balance
Too much imagery can be confusing and overload the senses, while too little won't provide adequate direction or information. The key to finding a balance is to start with more items, then weed out those items that don't match up with your criteria.
Aim for your target
Who is your target demographic? Millennials or seniors? Married couples or singles? Urban, suburban, or rural residents? Male or female? Let's say you're business offers holistic therapy and your target demographic is women in their 40s and 50s. With them in mind, ask yourself what kind of imagery they might find appealing? What might capture their interest or grab their attention? Collect those images.
Get the picture
Look for images and materials that convey brand emotions and communicate brand identity, i.e., bravery, strength, leadership, energy, serenity, playfulness or seriousness, simplicity or sophistication, feistiness or calm. Sort through what you've collected and start narrowing down your choices. Going back to the therapy example—maybe one of the images you thought your target market might find appealing is flowers. While the picture might interest your audience, does it define your brand? Or could your brand be more characteristic of a healing garden with a water fountain instead?
Be consistent
Stay focused on your message. Don't include images or words just because you like them. Every time you add something to your mood board, ask yourself, "Does this communicate my brand?" and "Is this something that my target market would find appealing?"
What to include
–
Really get creative and take your mood board to a whole new level with these ideas:
Imagery
Consider classic photos, vintage illustrations, or trendy images. Or go one step beyond the Internet or Good Housekeeping magazine and use your own photos. (Pinterest recently introduced a new visual search tool called Lens. "Lens is a tool inside the Pinterest mobile app that functions as a kind of Shazam for objects. Point it at food, furniture, or even the night sky, and Pinterest will return objects that it believes are related."
Colors
What colors define your brand? Think beyond the color of your packaging to colors that convey the same emotions as your brand. Is patriotism a sentiment that your brand evokes, as is reflected in the mood board with iconic British imagery? (You can almost hear "God Save the Queen" when you look at it, can't you?) Or does your brand suggest brightness and happiness as in the eye-popping yellow mood board? Should your colors be warm or cool? Muted or bold?
Visual metaphors
Take a step away from being literal into being figurative with images that work as visual metaphors. For example, a fast car for "speedy," a tiger that is synonymous with "fierceness," a lock that communicates "security," or sparkling water to demonstrate "refreshing"
Art
Infuse your mood board with famous artwork or the styles of popular artists such as Lichtenstein, Warhol, and Van Gogh for a classic or contemporary feel.
Words
Single words or inspirational quotes combined with supporting images can be very effective in describing your brand.
Letters
Different fonts and type styles send a message too. For example, a serif font looks very professional and business-like, while a lower-case script font seems more relaxed and informal.
Texture
Photos of textures on a digital mood board or the actual materials on a physical mood board inspire thought-provoking messaging. Look for fabric, paper with texture, tiles, buttons, shells, or flowers.
Patterns and shapes
Organic shapes found in nature reflect tranquility and calm, while repeating patterns create visual energy and movement.
Pulling it all together
–
Now that you've collected and sorted your materials and images, position them on your mood board. Concentrate on key themes with larger images, and place smaller images or materials around those to support your message.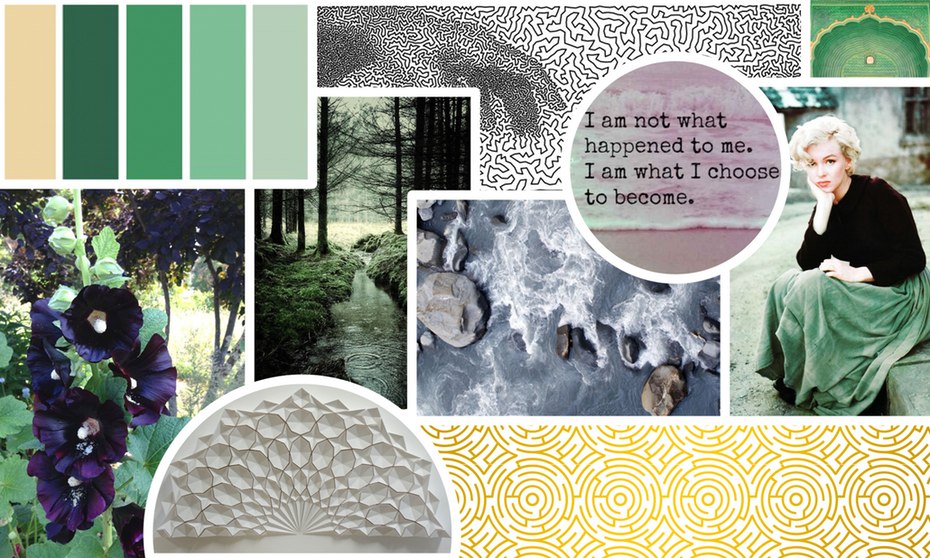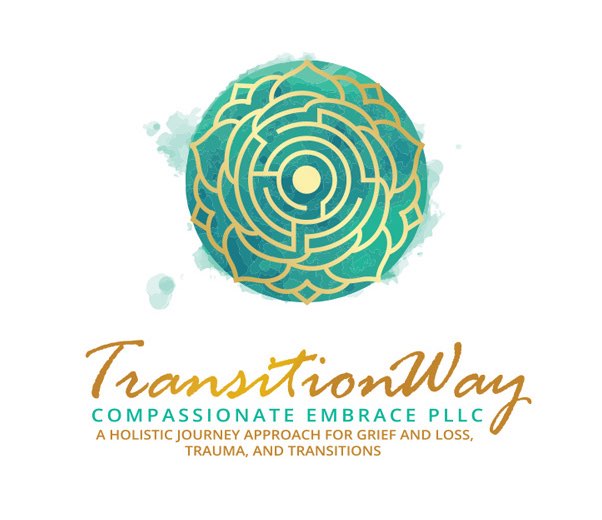 Producing a mood board for your new business is an ideal first step to help you identify and develop your brand. It will prove useful as a guide when you begin creating your company's marketing, taking it from mood board to something as impactful and memorable as this brand identity package.
Questions on creating your mood board? Post in the comments below.
Original article written by Kris Decker >
[wpseo_map width="100%" height="300″ zoom="-1″ map_style="roadmap" scrollable="0″ draggable="1″ show_route="0″ show_state="1″ show_url="0″] [wpseo_address hide_address="1″ show_state="1″ show_country="1″ show_phone="1″ show_phone_2="0″ show_fax="0″ show_email="1″ show_url="1″ show_logo="0″ show_opening_hours="1″]