Emerging industries and design trends for 2018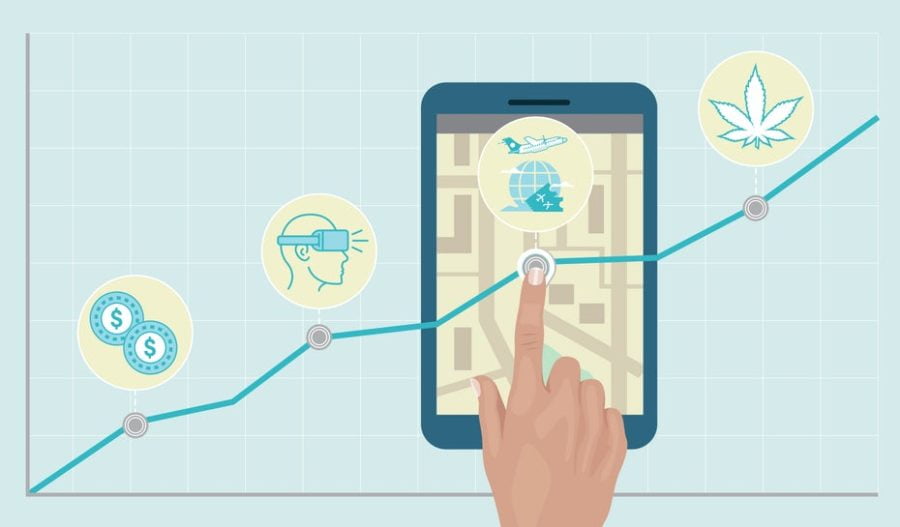 Virtual reality, digital currency, and a new definition for herbal medicine… With all these progressive innovations, it's finally starting to feel like the 21st century. We just need to wait a few years for flying cars.
More than the years preceding it, 2018 is plunging into more "modern" industries as the tech curve gets steeper and socio-political issues veer into new territory. That's not just speculation, either—we've got the numbers to back it up.
We combed through the data on our platform to look at design projects started over the past five years, and found that these new industries are seeing tremendous growth. For entrepreneurs, this means new and profitable opportunities… but branding a new industry has its challenges too.
Below, we discuss the 4 industries to watch in 2018—cryptocurrency, VR, the new age of tourism and cannabis—as well as some branding trends and tips for each.
1. Cryptocurrency
—
This probably isn't the first article you've seen mentioning cryptocurrency; Bitcoin has been all over the news lately, attracting a lot of attention to the cryptocurrency industry in general, and causing some serious FOMO for investors showing up late to the party.
Why now?
Bitcoin's been around for years, so why is it so popular in 2018? A few months ago, August 1, 2017, Bitcoin forked to create Bitcoin Cash, allowing the original Bitcoin holders to "cash in." This move strategically coincided with a change in the bitcoin code, BIP 148, which in theory improves its reliability.
All the publicity from Bitcoin's big 2017 move is drawing attention to other cryptocurrencies—especially among people who believe they missed out on the "free money" by passing on Bitcoin when it was first introduced years ago. This has launched a new wave of investors hoping to get in on the next Bitcoin before the upswing. On our platform alone, we've seen a whopping 458% increase in design projects with the terms "cryptocurrency" in the title since 2015.
Of course, the immediate rise of cryptocurrencies is part of a general increase of interest in alternative banking options. The pull away from traditional banking is fueled by both technological advancements and the preferences of Millennials, who, according to a FICO report, "are more likely to consider non-traditional payment companies" because "they see value in the convenience, mobile support and ease of use."
What you need to know for branding
The biggest branding trend for cryptocurrencies has been to take the traditional design themes for banking and financial services, and add a dash of futurism. We've seen designers take this trend in a lot of interesting directions by playing with a few key elements:
Futurism: symbols evoking space, robotics, electronics
Grids and angular designs
The color blue (a staple for financial services because it denotes trust)
When branding for cryptocurrencies, the key is to balance the traditional trust, gravitas and professionalism themes of other financial industries, while conjuring the cutting-edge nature of the industry and the feeling of excitement that comes with a high-growth investment.
2. Virtual Reality
—
Virtual reality has always been one of the end goals for the gaming industry—another high-growth industry for 2018, although too broad for this list. In 2018, VR becomes more "reality" than "virtual," with many new startups entering the game. On our platform, we saw a 38% increase in design projects with "virtual reality" or "augmented reality" in the title.
Why now?
VR gaming platforms like Oculus Rift and HTC Vive are now becoming more mainstream, raising the demand for developers of VR games. With these devices in place, VR has expanded into the cultural consciousness, and Steven Spielberg's new movie Ready Player One — in which VR features heavily — could be the tipping point the industry was waiting for.
What you need to know for branding
Like cryptocurrency, VR brands want to highlight how new and modern the industry is with futuristics designs, and combine them with strategic visuals to help make this "strange" new device seem accessible to the everyone, not just serious gamers.
Despite the futuristic spin, VR design follows the same conventions of marketing tech products. And like any new industry, it takes time to build up a collection of symbols that people can instantly recognize. One of the strongest symbols for VR is the headset device itself, and we see headset visuals appearing often in logos of VR studios, even several years in to the industry upswing. We're also seeing a lot of marketing media depicting photos of real people wearing the device, a bid to make the tech seem more approachable.
3. The New Age of Travel
—
Boutique hotels, voluntourism, RVs, Airbnb rentals… staying at a hotel is soooo 2016.
Why now?
Perhaps it's because the wild success of Airbnb, or advancements in air travel making it more affordable, or because the travel industry itself is constantly evolving. Certainly the recent popularity of travel bloggers and Instagram-ers helps; these lifestyle influencers make their living through alternative travel recommendations.
Whatever the reason, 2018 will no doubt continue the rise in hotel alternatives. Design elements focus more on travel experiences than just traveling itself, and even Airbnb now features experience recommendations on its home page. On our platform, we've seen a 27% increase in design projects with the terms "airbnb", "boutique hotel", "camper van", or "vacation rental" in the title since 2015.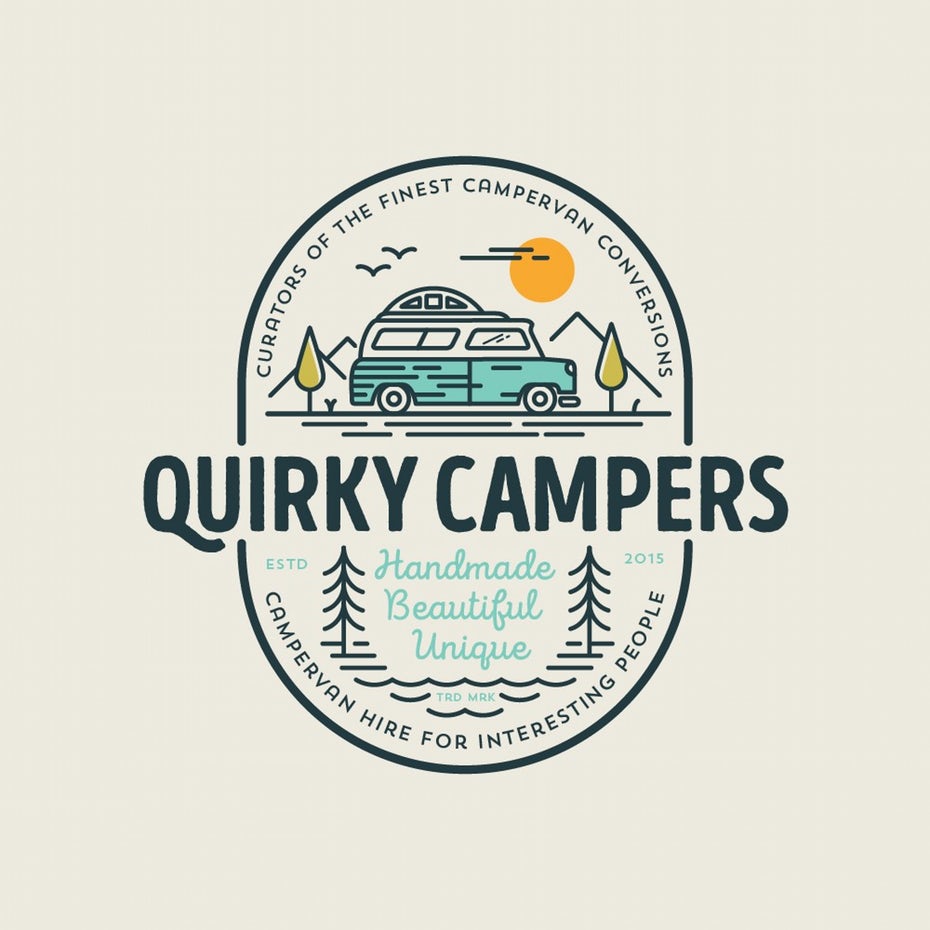 What you need to know for branding
Almost ironically, the new forms of travel and accommodations are taking an old-fashioned approach to design. This could be an attempt to make these new options seem like a welcome escape from the overstimulation of modern life, or maybe it's because many of the new options are old fashioned themselves, like RV camping and bed & breakfasts. Here's some design trends we're seeing:
Nature themes, including plants, animals and scenic imagery
Vintage-inspired circular emblems
Retro typography
Custom illustrations
When designing for new travel options, it's important to remember that the industry itself is flexible; your designs can be customized to your specific customer base. A camping-in-nature experience would want to play up old-fashioned and rustic themes, while a modern method of tourism (like voluntourism) might do better with a progressive approach.
4. Cannabis
—
The efforts of the 60s hippie movement have finally come into fruition… although a little late, in true hippie fashion. Whether for recreational or strictly medical use, marijuana is now legal in more than half of U.S. states (29, including D.C.), leading to an industry that more or less "sprouted" overnight. Not surprisingly, we've noticed a big uptick in the number of entrepreneurs looking to capitalize on the upcoming boom in recent years. Since 2015 we've seen a 59% increase in design projects with the term "cannabis" or "marijuana" in the title.
Why now
The appearance of the cannabis industry is a direct consequence of the legalization votes may states passed in the last few years (with more expected to legalize in 2018 referendums). The revenue is certainly there already: $7.2 billion in 2016, with predictions for 2020 as high as $24 billion, according to Forbes.
What you need to know for branding
The biggest challenge with cannabis branding is in finding ways to move this controversial commodity upmarket and get away from dated stereotypes. Designers will want to play on some of the more fun themes surrounding marijuana, while being careful not to lean too heavily on old symbols with counterculture connotations. The result is a mix of casual marijuana themes like relaxation with more formal branding tactics. Some common trends include:
Leaf imagery and nature themes
Traditional medical symbols
The color green (for obvious reasons)
Minimalism
A lot of companies are finding success emphasizing the health benefits of cannabis and downplaying the stereotypes. By focusing on cannabis's legitimate medicinal applications (including a alternative for pain management during the current opioid epidemic), these companies help sway more conservative skeptics. With either strategy, minimalism seems a smart choice, since it furthers themes of relaxation and simplicity, while at the same time giving the branding a more professional look.
Original article written by Matt Ellis >
[wpseo_map width="100%" height="300″ zoom="-1″ map_style="roadmap" scrollable="0″ draggable="1″ show_route="0″ show_state="1″ show_url="0″] [wpseo_address hide_address="1″ show_state="1″ show_country="1″ show_phone="1″ show_phone_2="0″ show_fax="0″ show_email="1″ show_url="1″ show_logo="0″ show_opening_hours="1″]