Need a musician to write an advertising jingle? You can hire someone on fiverr. Don't want to spend hours converting your PDFs to HTML? You can hire someone on fiverr. Want an expert to build you a castle in Minecraft? You can hire someone on fiverr. But if you need graphic design work done, you can hire someone from fiverr, but should you? Can fiverr compete with sites like 99designs that specialize exclusively in design? With 99designs vs fiverr, which is better for getting design work done?
It's one thing to have a subpar Minecraft castle, but a subpar logo, product packaging or book cover design could hurt your business—or at least necessitate hiring a new designer. A lot of people don't know whether to choose 99designs or fiverr, so I went through both sites and wrote this in-depth comparison to outline the advantages and disadvantages of each.
99design vs fiverr: At a glance
—
In case you're unfamiliar with either 99designs or fiverr, here's a brief introduction of who they are and what they can do.
99designs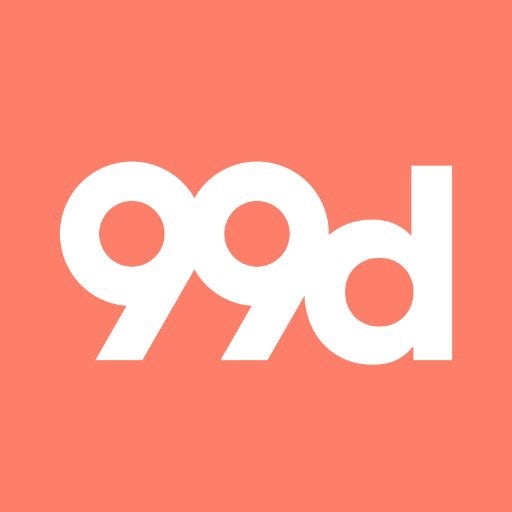 You may not find data entry specialists or business consultants here, but for graphic design work, 99designs is the go-to choice for hundreds of thousands of clients. They are a global creative platform that connects clients and designers and makes it easy for them to work together, with features that help find the perfect designer to match the client's style and project criteria. On top of that, 99designs also offers "design contests" that allow clients to see dozens of personalized sample designs before choosing the one they like best.
99designs has paid out over $200 million to designers to date and boasts a community of designers 1.4 million strong. A large part of their business is working hands-on with their designers so clients can more easily—and more quickly—find what they're looking for, including top-tier skill levels. However 99designs aims to price its services fairly, to attract the best designers in the field, leading some companies to seek cheaper alternatives like…
fiverr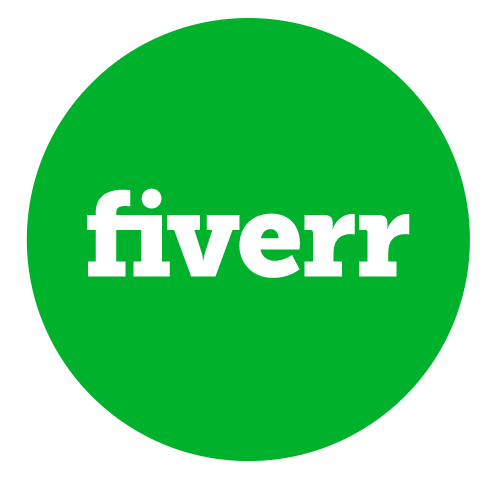 fiverr is a lot more broad. Like a social media site, their service is more about providing a user-generated platform for clients ("buyers") to patronize one-off services ("gigs") listed by freelancers ("sellers"). These gigs can include pretty much anything from lawn-mowing to pranking your friends; however, in recent years the emphasis has shifted to more professional services like digital marketing, content creation and graphic design.
Their business model relies on undercutting traditional industry costs by allowing freelancers to set their own price and cutting out "middle-man" services. Their epithetical name "fiverr" comes from the minimum and most common price of gigs, $5; however, this is most often only a "starting at" price, whereas the final totals are more commensurate with industry rates.
While the user-generated platform allows for cheaper rates, not to mention creative and customizable services, the biggest complaint for fiverr is that it's unregulated, with documented examples of plagiarized work and even scamming. To be fair, these dishonest practices are far from the norm, but they occur often enough to earn fiverr hundreds of complaints at the Better Business Bureau.
99designs vs. fiverr: a quick comparison
—
Everyone has different priorities when getting graphic design done. For some, quality is everything. For others, a seamless process is paramount. Here's a quick take on what 99designs and fiverr offer. For more detailed information explaining all the options and why we made our choice, click or scroll down to keep reading.
99designs

fiverr

Our choice

Type of work

Graphic design (logo & identity, web & app design, packaging, business & advertising, book covers, illustrations, etc. See full list of categories

.)

Just about anything you can imagine outsourcing (web/app development, graphic design, content writing, etc. See full list of categories

.)

fiverr for choice, 99designs for design

Ways to get something designed

Contests (designers send you ideas for your unique project)
Find & hire a freelancer

Post a request and receive custom offers
Find & hire a freelancer

Advantage 99designs for contest option

Design tools & process

Great tools to make the design process easier
Handles NDAs & payments

Standard communication tools
Handles payments

Price

Flat rates for running contests
Negotiable rates with freelancers on a per-project basis. 99designs' cut is 10%
Contest money back guarantee

Negotiable with freelancers. fiverr's cut from buyers is 5% on purchases over $40.

Quality

Varies. Mid- and Top-Level designers are hand-selected by designer quality team.

Varies. Seller levels are based on ratings, earnings and past performance. Pro Sellers have been vetted by the fiverr team.

Slight advantage 99designs

Special product features

Great customer service & support manager for platinum contests
Private contests & white labeling
Payment protection plan
Money back guarantee on contests

Business tools (upgraded invoicing and payment options and VIP customer support)

Agency and pro options

Pro for agencies (assigned Success Manager helps you run projects and find talent, access to privacy and white labeling tools)

fiverr Pro Gigs are offered by freelancers that have gone through a vetting process by the fiver team
Pricing
—
Along with the wide range of job categories, cheaper prices are one of the biggest advantages of fiverr. Prices vary wildly depending on the seller and project, but given the competitive market and the site's emphasis on low cost, designers often list the lowest possible fees they're comfortable with. Professional, top-level designers still charge their same high rates, but in general you can find design work for cheaper costs.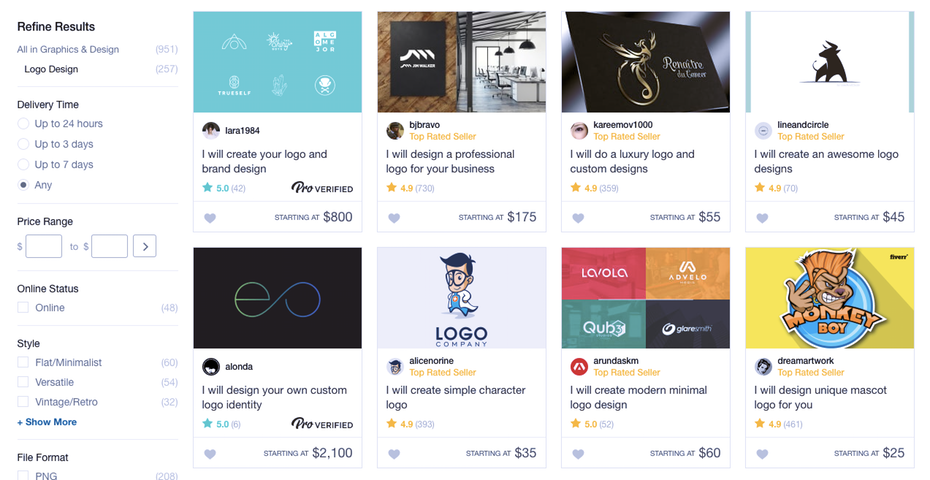 Whenever browsing fiverr, it's important to keep in mind that the "starting at" price is more-or-less just a sale gimmick. The listed price is a often for bare-bones services, with essentials tagged-on for additional costs. fiverr is rife with hidden fees, and if you're not careful, you may end up missing out on something necessary like ownership of your copyright.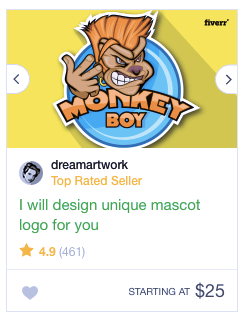 Most designers on fiverr offer a tiered package system, where the basic "starting at" price doesn't include the most in-demand features like revisions or even setting a logo against a transparent background, all of which cost extra, sometimes hundreds of dollars more.
For example, look at this listing, which advertises a mascot logo design from a Top Rated Seller for a "starting at" price of only $25…
Once clicked, you see that for $25, you don't get much—just a hand sketch. To get a fully designed digital logo, clients need to pay $110 or $150.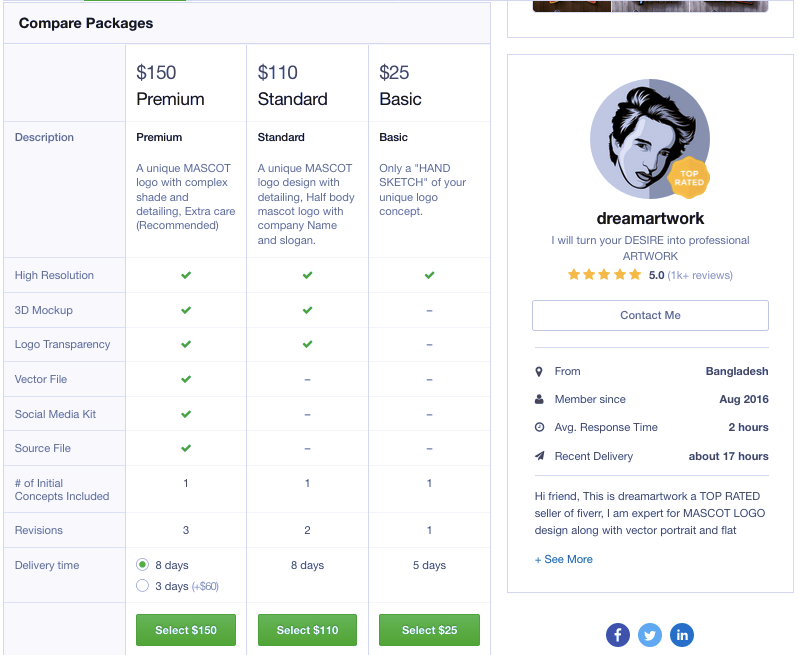 Still, despite the misleading sales tactics, $150 for a mascot logo design is very affordable, and a competitive price compared to other platforms like 99designs. These more affordable prices are what keeps fiverr in business. It's worth mentioning though that, if you see a suspiciously low gig with seemingly no strings attached, you're right to be suspicious. If someone is offering a full-treatment logo for $30, they're cutting corners somewhere, perhaps even stealing designs. While this kind of unsustainably cheap pricing is exactly what attracts businesses to fiverr, the rule of thumb is, if it seems too good to be true, it probably is.
99designs takes a different strategy: they offer tiered contest packages, which cost more than your average fiverr job, but offer higher design quality and less risk for the client. While at fiverr all you have to go on is the seller's level, 99designs vets designers, helps with any questions and mediates any problems during a project. With 99designs, you also receive a money-back guarantee, so if the design isn't what you hoped for, nothing is lost.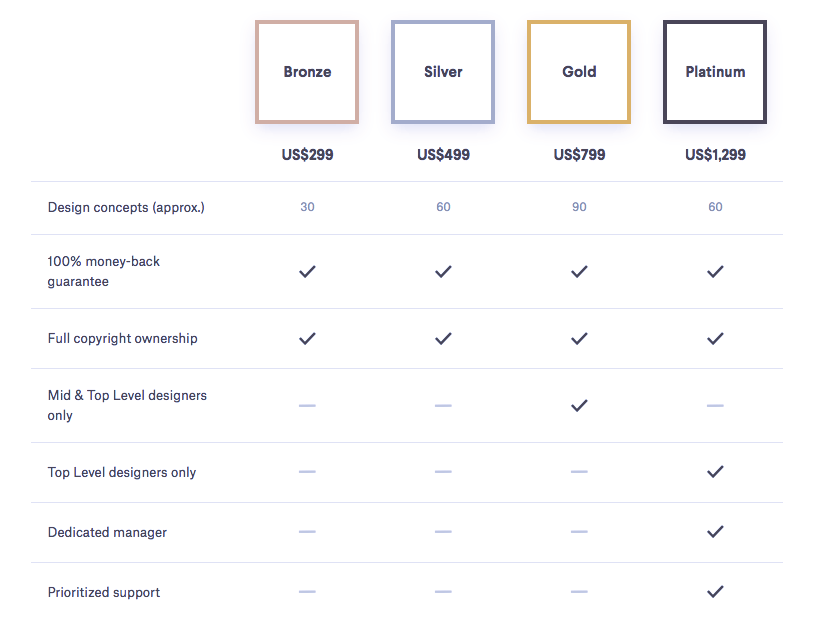 At 99designs you can hire a designer directly or commission a design contest (explained below), although both usually run into the hundreds. To put it in perspective, the minimum cost of a design contest for a logo is $299, but even the most basic package includes full ownership and a money-back guarantee, not to mention all digital files (which some fiverr designers charge extra for).
99designs' top-tier package, Platinum, runs at $1,299, but you'll notice this deals with Top Level designers only. Even on fiverr, top-level designers charge similar prices—or more, as you can see in the example below—so if you're expecting fiverr to be a cheaper alternative for high-quality designs, you'll be disappointed.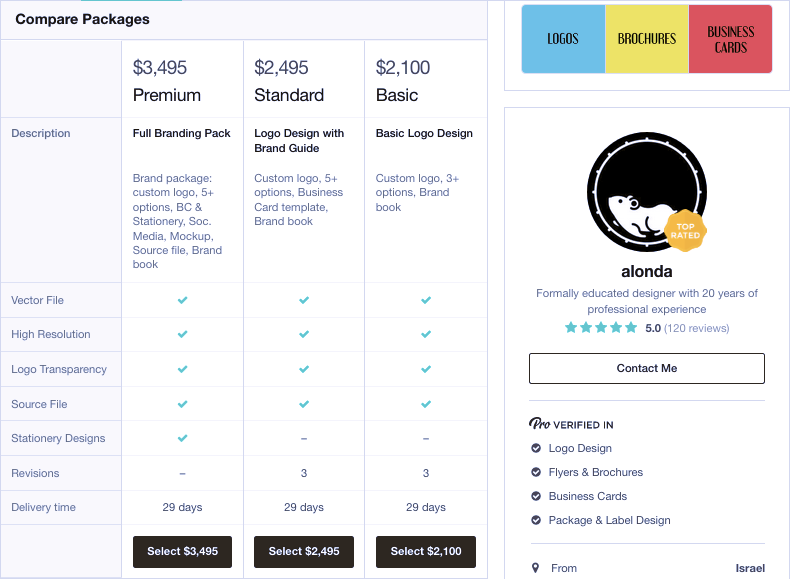 Design quality
—
While you can find talented, awe-inspiring designers on 99designs or fiverr, there's a few different factors worth mentioning. The first is volume, plain and simple.
fiverr has an estimated community of designers at around 7,000, whereas 99designs has 1.4 million registered designers, and counting. For a visual field like graphic design, artistic style is paramount, so more designers means more options for finding your intended style or meeting the criteria for your project. For example, if you have a project like 3D product prototyping, you'll likely find more designers with experience in this at 99designs than at fiverr.
Another consideration is that 99designs specializes in design work exclusively, while fiverr caters to a wide array of business services (and plenty of non-business ones, too). That's a distinction with plenty of ramifications.
To name one, fiverr's interface is built around searching for freelancers of many different disciplines, whereas 99designs only accommodates designers. 99designs' specialization allows it to build their search functions around design work only, accentuating design-specific search filters and using a results screen that prioritizes visuals instead of pricing or product descriptions.
Moreover, 99designs personally assesses each designer in their database based on design qualifications. This evaluation involves both the designers empirical skill in the graphic arts, as well as individual qualifications—if you're looking for a designer who excels at designing wordpress websites, you can filter for that.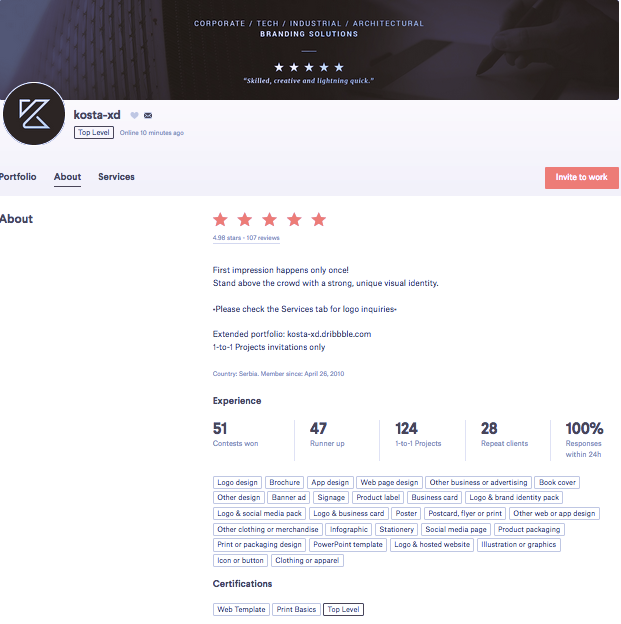 This accuracy in categorization makes it much easier to pair clients with the right designer, especially compared to a site that has to factor in hundreds of other categories irrelevant to graphic design.
No matter where you go, 99designs or fiverr, you can still search for designers by skill. fiverr rank its designers by level, designated "Level 1 Seller" and "Level 2 Seller," along with no designation at all. Their seller profile pages also list out CV-like bios, with data like education, certifications and proficiency skills like "Photoshop."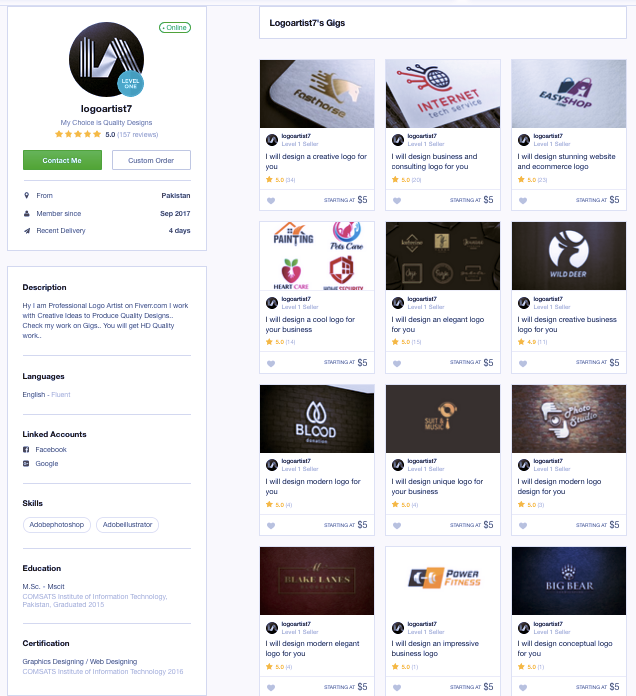 However, fiverr's system is automatized and not hand-picked like 99designs. Additionally, there's again the risk with fiverr that designers are lying about their portfolio, and with no quality checks as with 99designs, fiverr buyers search at their own risk.
But to bring it around again, fiverr has one advantage that 99designs lacks: they're better for interdisciplinary projects. If a client has a specialized project that requires a freelancer skilled in multiple disciplines—say, a designer-videographer or a designer-writer—they could find one more readily by posting a custom request on fiverr. Remember that fiverr is the jack of all trades, while 99designs is the master of one: graphic design.
Ways to get design work done
—
Again, there are plenty of differences in how to actually commission design work when comparing 99designs vs fiverr. Both sites have a couple options each, so I'll go through each below.
fiverr:
1. Choose a pre-existing gig
fiverr's interface was built to handle virtually any task or service, giving equal consideration to a gig about graphic design as, say, a gig for casting a magic spell on your crush. Since their shift to more business-oriented operations, sellers have adopted a kind of makeshift organization, where they post a gig about a general service, i.e., "I will design an infographic," and then leave it to the buyer to fill in the details once they're hired.
This system works well, thanks to fiverr's efforts to break the site into umbrella categories. So, to find all the gigs about designing infographics, the buyer simply clicks the "graphic design" category and then the "infographic" subcategory.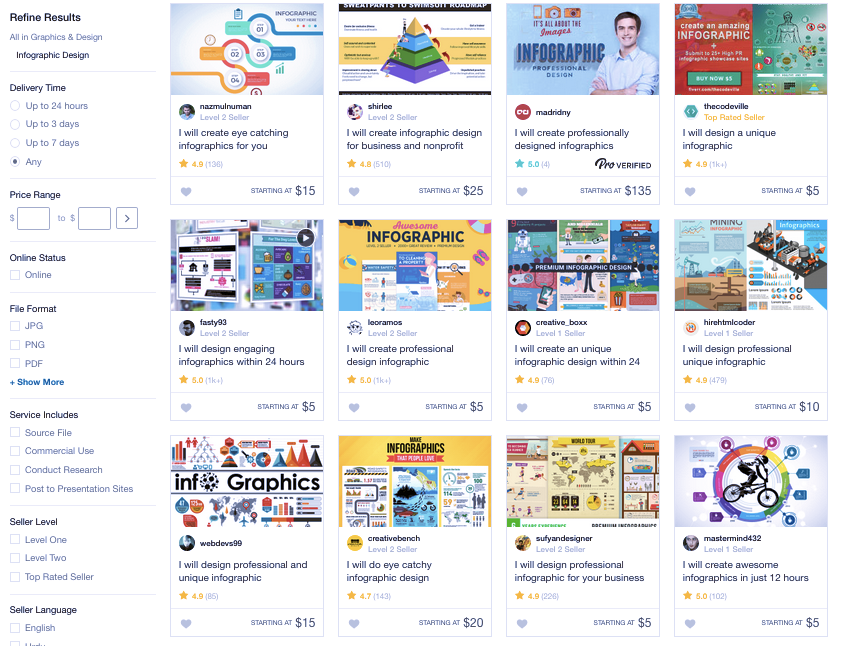 This lists all the gigs pertaining to infographic design (or whatever subcategory you want). Although the gig titles vary, most sellers are offering the same or similar services, although at different prices with different features. Buyers can even further filter out results by price range, Seller Level, features or time frame.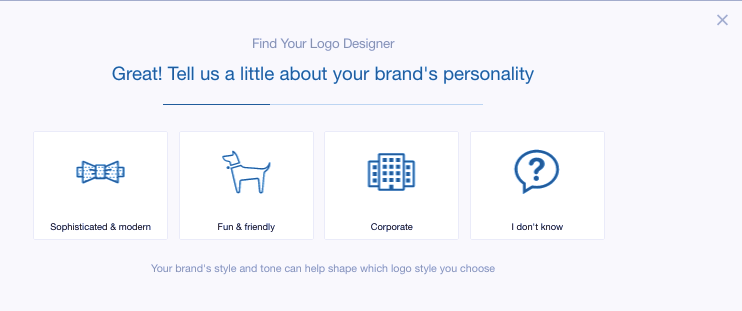 For popular categories like "logo design," fiverr also offers some guidance in narrowing down the search results according to the buyer's style. You can fill out a simple, optional questionnaire at the beginning to receive more personalized results.
2. Post a request
To post a custom request, you first must have to be a registered member of fiverr. After initiating the request from your account menu, you write out a description of what you're looking for, along with the appropriate category. The request will be marked as "pending" until the fiverr staff can review it, but once it's live, sellers can send you offers and bids until you choose the one you like best.
The problem with fiverr requests, though, is that you have no control over who patronizes your request. Which designers see it depends on when it's posted, what category it's posted in and how it's worded, plus the most successful sellers probably don't need to check custom requests because they already have enough incoming business.
99designs
—
1. Work directly with a designer
In a much more straightforward approach than fiverr's gig searches, 99designs allows you to pick and choose a designer directly and start working with them on your design project.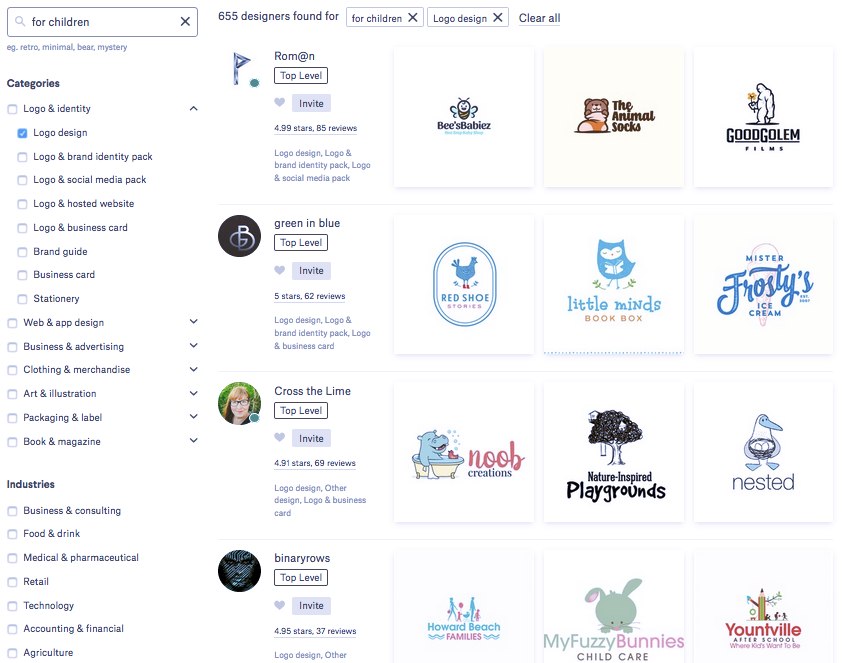 You can find the right designer to fit your project using the optimized Find a Designer search tool. Because of how 99designs categorizes their designers, the search function can offer precise and specific filters. In addition to filtering for design type, language fluency and skill level like fiverr does, 99designs also allows users to search by industry experience (i.e. medical, legal, etc.) as well as customizable user tags (i.e., "retro," "for children").
On top of that, because 99designs' results feature graphic designers only, the search results show multiple samples from the same designer without having to navigate to a new page. This gives you a better idea of the designer's personal skill—and style—which helps when choosing whom to hire.
2. Commission a design contest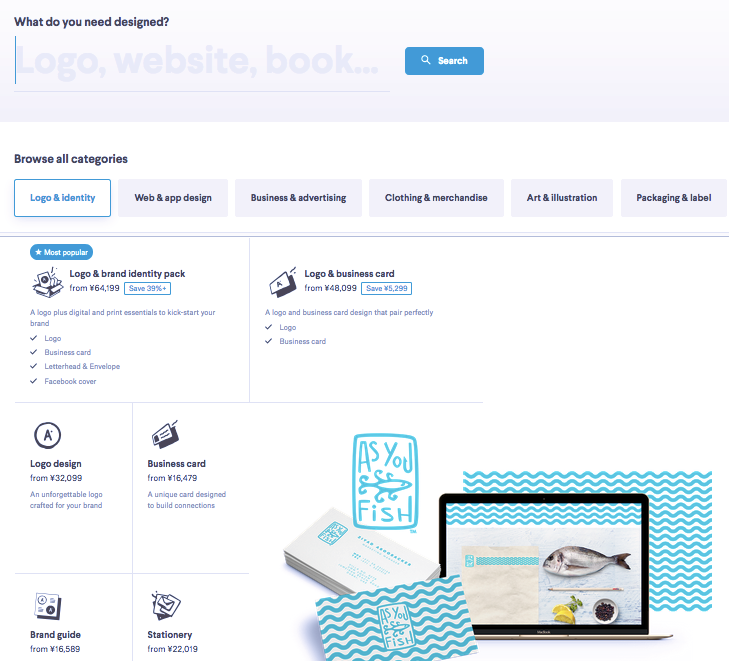 The design contest is perhaps the most popular design-oriented feature 99designs offers that fiverr doesn't. Design contests are crowdsourcing at its best, and fit the graphic design industry like a glove because, as a visual medium, you can't be absolutely sure of something until you see it.
Design contests at 99designs work like this: First, you answer a series of questions to hone in on the kind of brand you are and the best style to match it. These questions are similar to fiverr's questionnaire, although more thorough and investigative with optional sections on color usage and choosing from preexisting designs to gauge your preferences.
Next, you fill in a design briefing that explains your project, its business goals and what you want your design to look like.
99designs then shows your briefing—along with your answers from the initial questions—to their community of designers and interested designers submit original concepts based on your briefing.
You're able to browse their submissions, comment and rate the designs and finally choose the finalists you like best.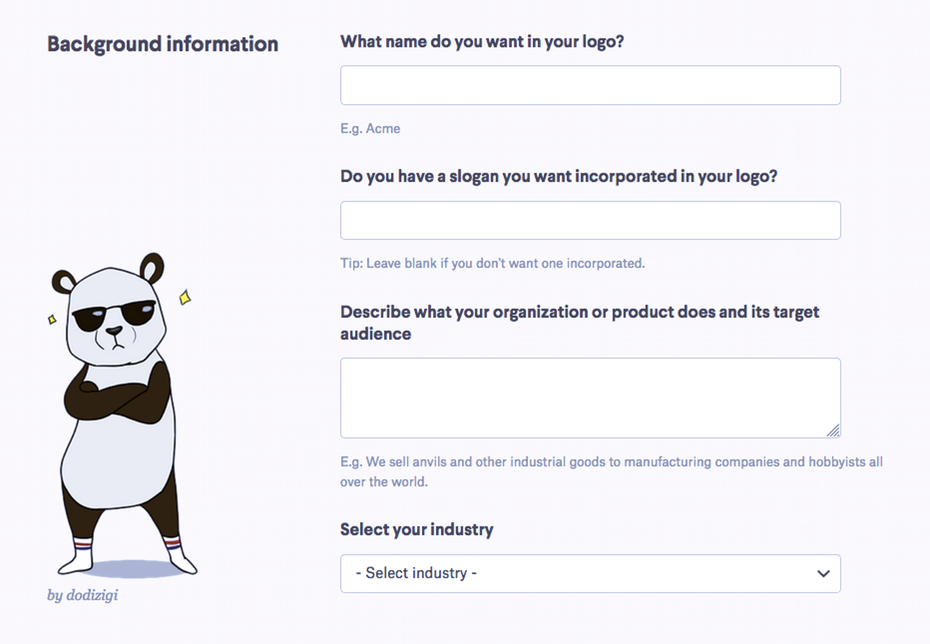 Finally, there's a final round of revisions where you can pick the winner. With the money-back guarantee, it's the most surefire way in the design industry to know what you're getting before you buy.
Higher priced packages give you extra benefits as well. If you're willing to pay extra, you can expect to get more submissions, or have only high-level designers participate.
99designs vs fiverr: final verdict
—
Looking at all the points we've discussed, here's my final verdict: fiverr is great if you are looking for freelancers in different fields who can perform various tasks for you at a low price (such as build that amazing Minecraft castle). If what you want is high-quality graphic design, I'd recommend 99designs.
What it all comes down to is, how much are you willing to gamble? There's a chance you could get the same quality of design at a cheaper cost on fiverr, but it's only a chance. There's also a chance you could receive a poor design and have to pay for a new one from a different designer. Even if you do choose a pro designer on fiverr, they're going to charge you pro prices, so it negates fiverr's biggest advantage.
If you're willing to spend a bit more on good design, 99designs offers better quality designs more consistently. It's not that fiverr has bad designers, it's just that with 99designs, there's a greater chance of finding the designer you want while at fiverr it's more up to luck. On top of that, 99designs has more designers than the entire population of Dublin, so if you're searching for a particular style, you'll most likely find it there.