Start the conversation – R U OK?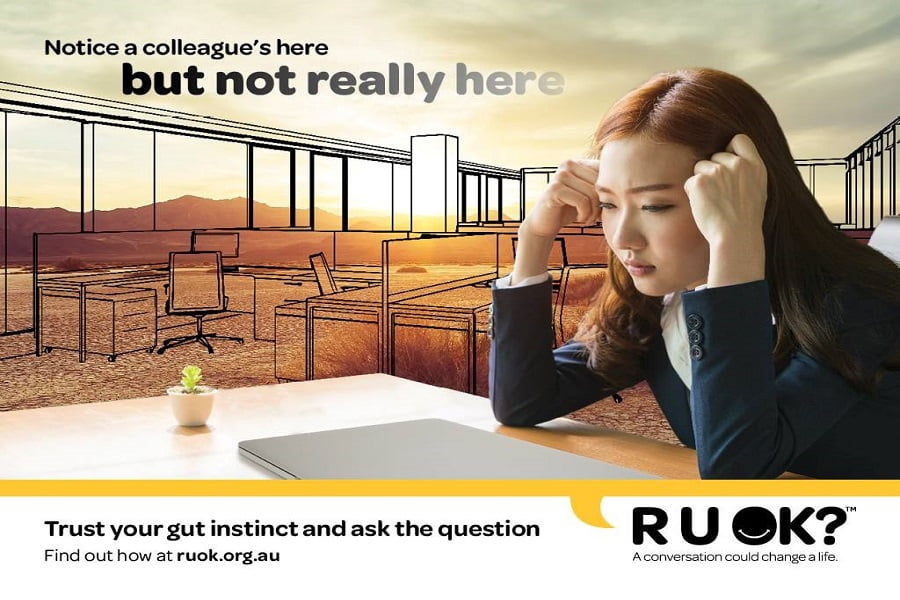 Start the conversation – R U OK?
September 12 is R U OK? Day. You've got what it takes to change someone's life!
September 12 is R U OK? Day. It's a national day dedicated to inspiring and empowering people to connect and support those struggling with life.
Do you have a feeling that someone you know isn't behaving as they normally would? Do they appear to be struggling with their work? Or have they lost their usual energy?
If you recognise the signs that something isn't right, reach out and ask – R U OK? By starting the conversation, you could be making a real difference to someone's life.
Get involved in R U OK? Day
Start the conversation – take that first step and start a conversation by asking 'are you okay?' Check out the R U OK? day website for helpful tips on how to ask.
Host an event – put on a morning tea or set up a sausage sizzle to encourage people to start a conversation and raise awareness.
Donate – help start more life-changing conversations, donate now.
To get the conversation started in your workplace, download the R U OK? Day resources for mental health in the workplace.
Supporting employees with mental health issues
Many Australians will experience a mental health condition that may affect their ability to work, so it's a good idea to think about how you will manage mental health issues in your business.
As an employer, you can help promote mental health in your business by:
increasing awareness and encourage your employees to look after their own mental health
supporting employees with mental health conditions and preventing discrimination against them
creating a mentally safe and healthy workplace
Check out our information on managing mental health in your workplace.
Original article appeared first at Business.gov.au >
[wpseo_map width="100%" height="300″ zoom="-1″ map_style="roadmap" scrollable="0″ draggable="1″ show_route="0″ show_state="1″ show_url="0″] [wpseo_address hide_address="1″ show_state="1″ show_country="1″ show_phone="1″ show_phone_2="0″ show_fax="0″ show_email="1″ show_url="1″ show_logo="0″ show_opening_hours="1″]