Yubico CEO and Founder wins SC Media Reboot Leadership Award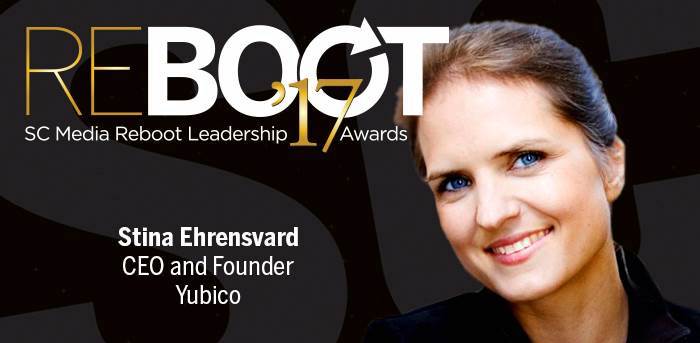 Yubico is proud to announce that our CEO and Founder, Stina Ehrensvard, won in the Thought Leaders category of the inaugural SC Media Reboot Leadership Awards. Honorees across a range of professional categories were revealed in today's special editorial section at SCMagazine.com, and recognized for their outstanding service, qualifications, and advancements in cybersecurity.
"Businesses today are increasingly under threat by a range of cybercriminals," said Teri Robinson, Executive Editor, SC Media. "The cybersecurity leaders we're celebrating with these leadership awards are on the frontlines every day to help defend and protect our critical systems, data, and privacy from their attacks. To showcase their advances is SC's honor."
The awards program is designed to showcase and acknowledge industry luminaries who positively impact the cybersecurity arena. As an extension of SC Media's annual Reboot edition, the announcement will also be published in print at the end of the year, when the editorial team identifies the best and brightest cybersecurity professionals and their many achievements.
"Winning the SC Media Reboot Leadership Award, in its very first year, is truly an honor and one that represents our company as a whole," said Ehrensvard. "Our core product, the YubiKey, has become the gold-standard for easy-to-use authentication and encryption. In close collaboration with our customers and top internet companies, we will continue to drive innovation, enabling a safer internet for everyone."
Contenders in various categories faced a thorough judging process conducted by SC Media's editorial team. The process included a review of their professional background, references, efforts to benefit the wider industry, and any other research deemed necessary by editorial leaders.
"Stina Ehrensvard exemplifies leadership in one of the most vibrant and fast-evolving industries today," continued Robinson. "That's what this awards program is all about – highlighting some of the strongest leaders of the cybersecurity arena whose efforts more often than not underpin every business and leisure activity we all undertake online nowadays. The advances made in this marketplace to protect data, privacy and people are vital to all that we do."
After this inaugural year, the SC Media Reboot Leadership Awards program will continue to be an annual celebration of the notable contributions, thought leadership, and unique improvements made by a wide range of IT and information security players. To see the profiles of this year's SC Media Reboot Leadership Awards honorees, go to SCMagazine.com.
Read original article at Source link >
[wpseo_map width="100%" height="300″ zoom="-1″ map_style="roadmap" scrollable="0″ draggable="1″ show_route="0″ show_state="1″ show_url="0″] [wpseo_address hide_address="1″ show_state="1″ show_country="1″ show_phone="1″ show_phone_2="0″ show_fax="0″ show_email="1″ show_url="1″ show_logo="0″ show_opening_hours="1″]