What you can learn from Woo's holiday sales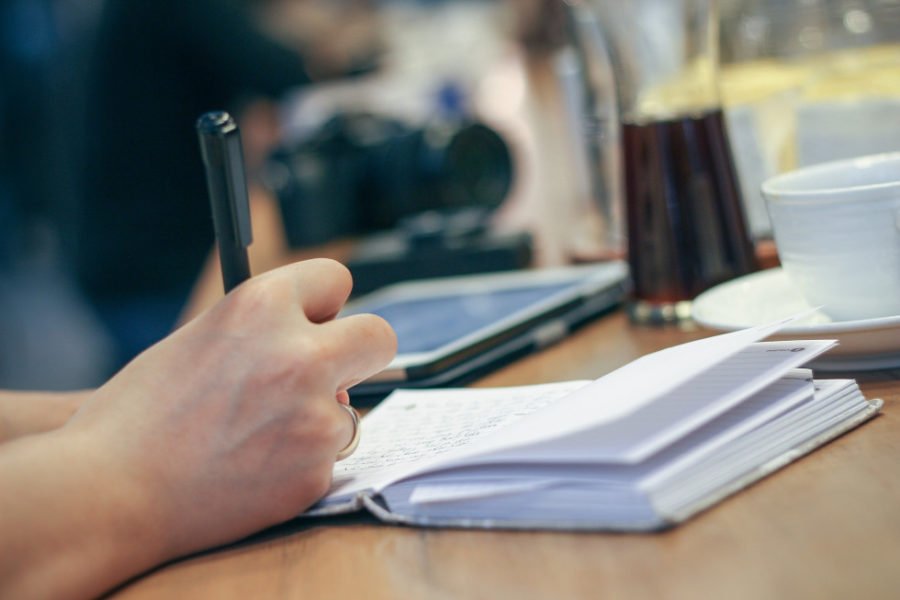 We run a couple of major holiday sales on WooCommerce.com each year, including Hallowoon, Black Friday, and Cyber Monday. The challenge as each one comes around is: how do we keep running them bigger, better, and fresher?
This year we tried a few new things that increased conversions. We learned a lot from these experiences, and decided to write about them as we thought you might be able to learn from them as well.
Read on for some key questions to ask before running a sale, tips on creating a positive sale experience, and what there is to be learnt from Woo's holiday sales.
Holiday sales: who are they for and what will you offer?
The first and most critical thing to decide with a sale is who you want to entice which for the most part informs what you offer.
For our major sales the offering is pretty simple: we run a sitewide sale with a set percentage discount (say, 20% or 30%) on everything. The only exclusion is renewals – the coupon only works for new purchases.
Why do we take this approach? When we run a straight up % off sale, the intention to get customers who are already excited about WooCommerce to shop with us. We aren't trying to win over cold prospects with these, and in fact existing customers have proven year after year that they are most likely to shop our sales.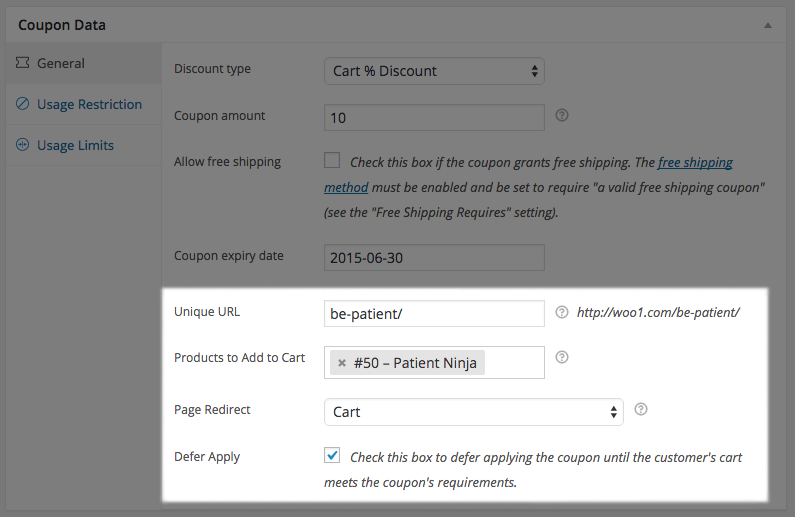 Depending on who you're aiming to attract, you could mark the holidays with a percentage off a special category, or increase average order value by offering a free gift if shoppers exceed a certain amount. There is the classic buy-one-get-one-free, or you could give away a free gift for purchases made on a specific day (a great way to move old stock).
One of our favourite WooCommerce stores, UniversalYums, is great at upselling. On Black Friday this year, they gave away a free limited edition advent calendar with every new subscription purchased, and at the moment are running a flash sale giving away an extra box of snacks with 3-6 month subscriptions purchased.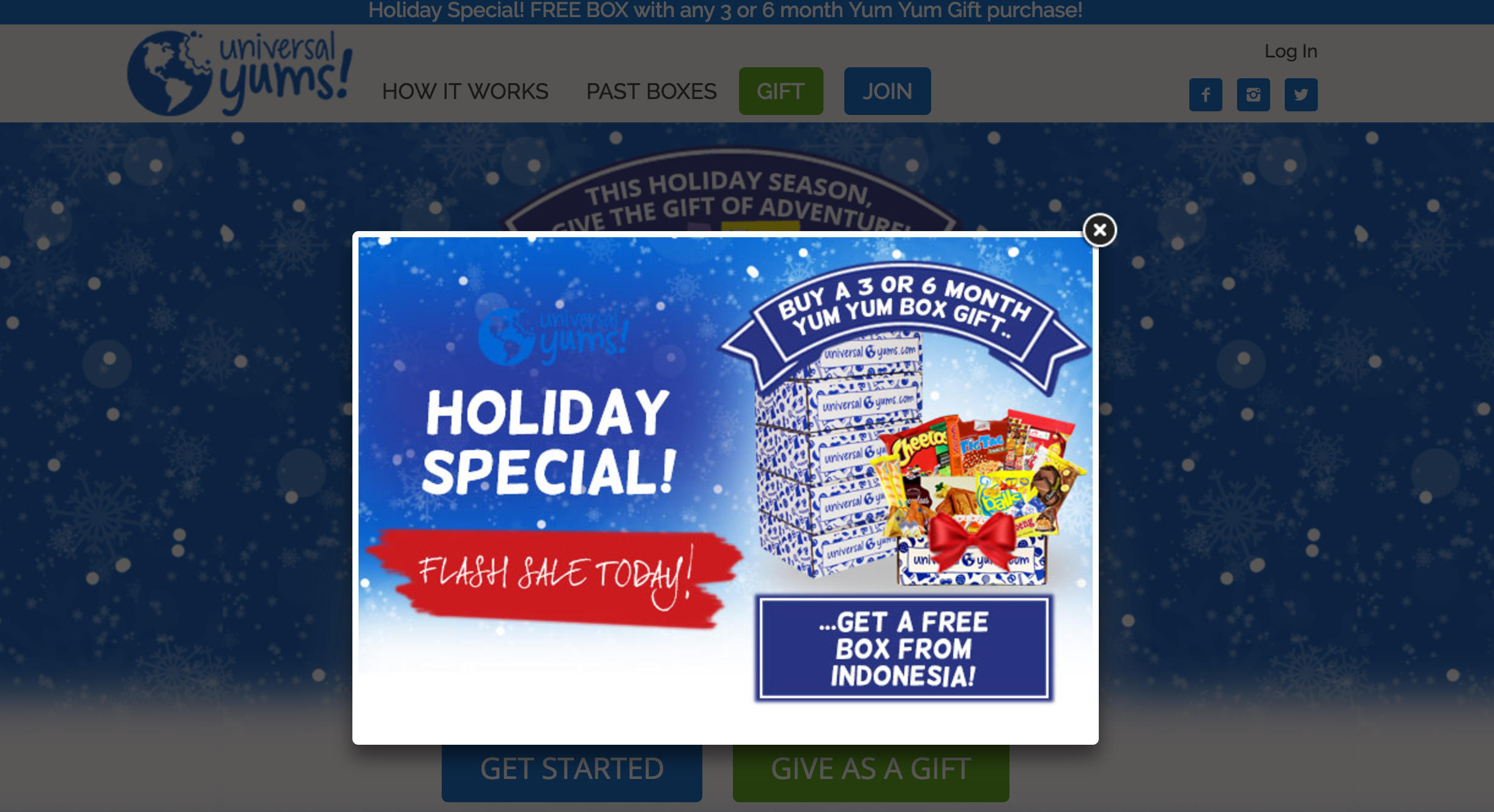 If a blanket sale like ours isn't your cup of tea, have a read about 10 sales you can try (and some WooCommerce extensions that make them possible).
Black Friday + Cyber Monday = BlackCyber
In the past we have treated Black Friday and Cyber Monday as separate sales. They had a different look and feel, different coupon codes, and sometimes different discounts.
This year we ran with a combined BlackCyber sale. To be honest, this was a bit of an experiment: I had been pondering the upcoming sales and it occurred to me that it would be simpler for our team — and perhaps our customers — if we combined the sales and issued one code for the whole four day period.
The one thing giving me pause was the change in messaging between the emails (as we call them, "mailers") we send out on Friday and Monday, especially as Cyber Monday tends to be a bigger sale day for us. We decided to give it a go anyway, and tweaked the messaging for Monday to say "last day."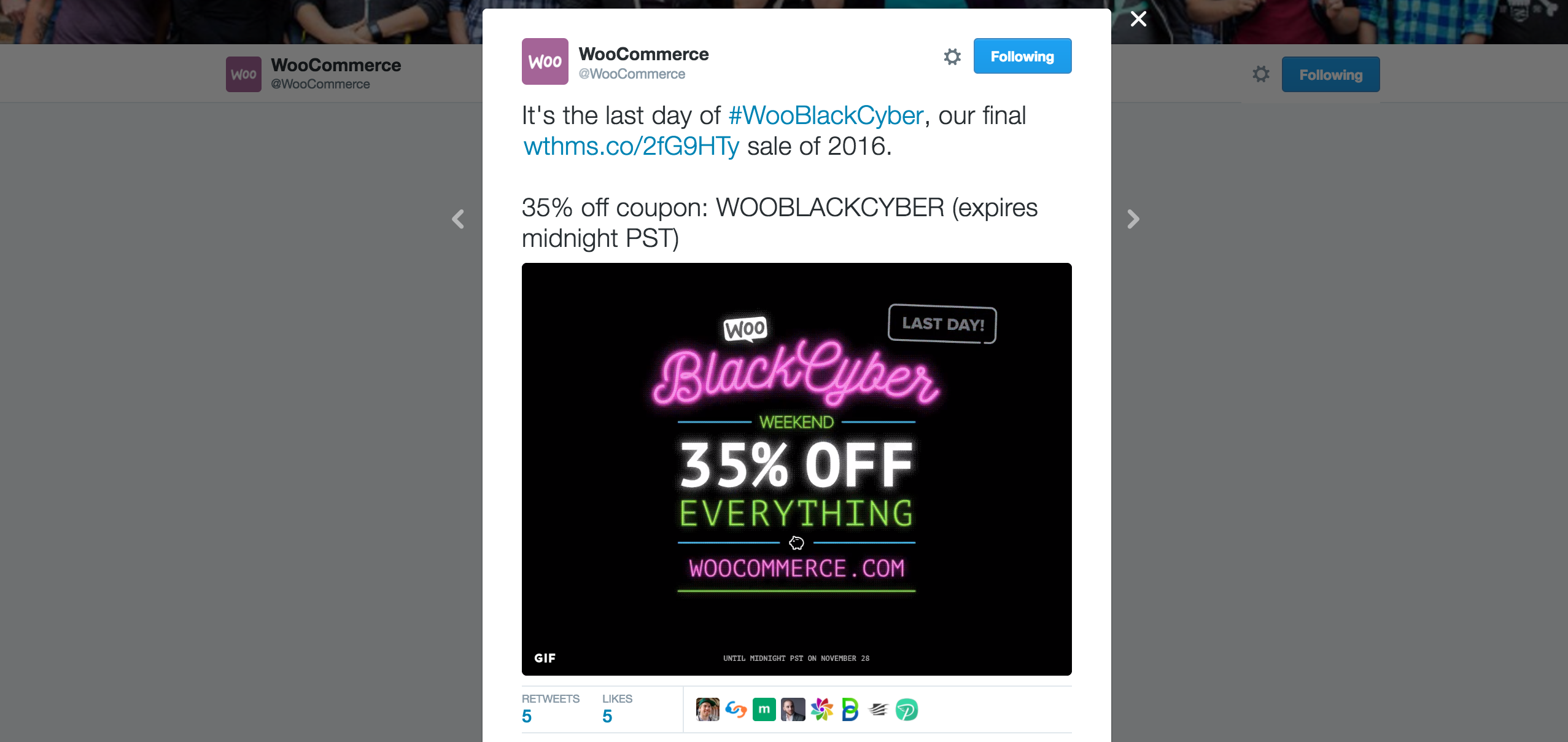 Did having a single message campaign lose us holiday sales? It is hard to say conclusively, but the campaign performance was up year over year. Our conclusion is that merging our separate sales into BlackCyber was a good move for the sake of streamlining the sale experience.
The takeaway for you? Simplicity is sometimes best, both for you and your shoppers.
The importance of your visual identity
Pictures speak a thousand words, or so they say. From our experimentations, having a strong visual identity for even a short marketing campaign serves to make it more enticing.
Graphics also help with message recognition across the various spaces you speak to your users: if there are multiple touch points for your message (a mailer, a tweet, an Instagram post), people make an instant visual connection and register that they are seeing something again at a glance. It's a bit like when you see a billboard and then the same advert arrives in your Facebook feed.
We have many talented designers at Automattic working on WooCommerce design. Cobus Bester, who created the visual identities for both our Hallowoon sale in October, plus BlackCyber, is one of the longest serving Woo team members! We used his fresh designs to tie all of the campaign elements together.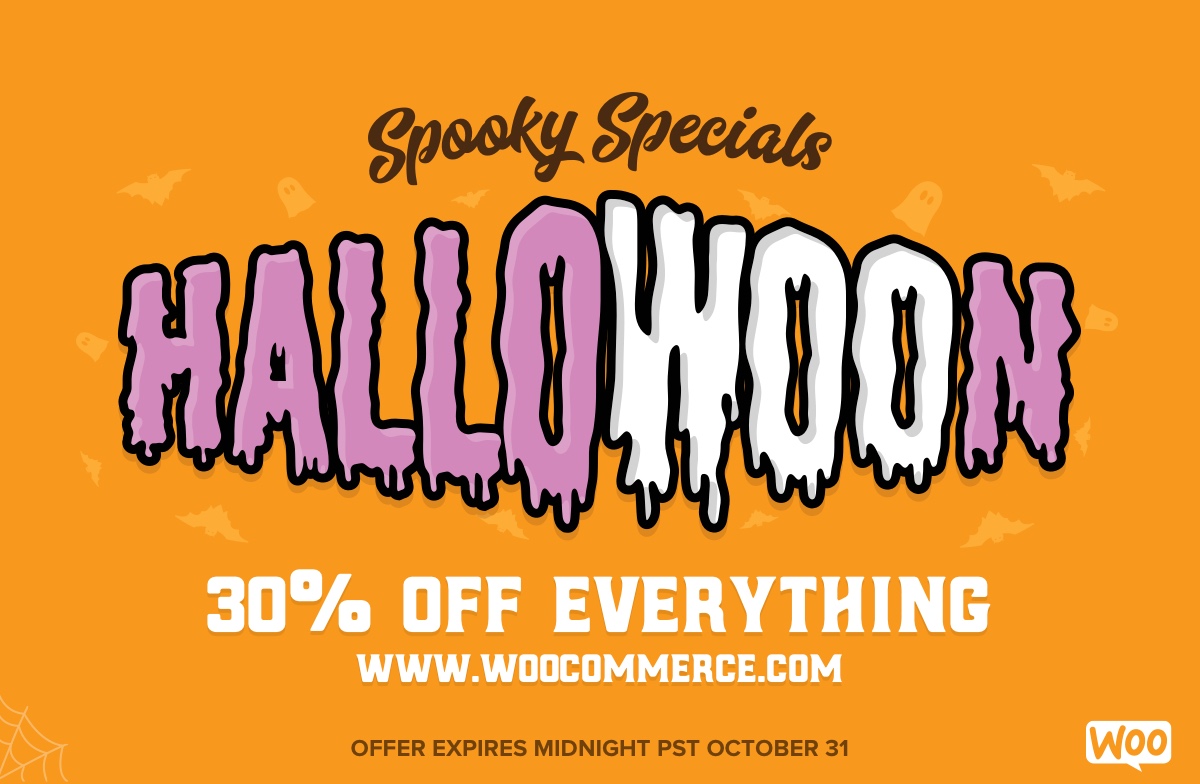 We feel the time investment required to create custom campaign graphics is well worth it, especially given the noise online with so many brands competing for attention.
Once you have figured out your offering and created some visual assets, it's time to inject your sale message into as many marketing touch points as you can.
Four changes to your store to increase sales
Making changes to your store itself will have a significant impact on how well your sale performs. We make four key changes to WooCommerce.com for our major sales, all detailed below for your learnings.
Deploy a sitewide banner
There is a likelihood that users will end up browsing your store without having seen an ad or clicked a link in a mailer about your sale. In such instances, it is important to have messaging on your site that is hard to miss.
There are plugins to help you do this on WordPress, but we use WooCommerce for WooCommerce.com (of course) and there is some easy-to-use sitewide banner functionality (called "Store Notice") built right in.
Have fun playing with the copy and even changing it up over the course of the sale. Be sure to add a compelling call to action and link (with UTM parameters if you're tracking them) to the button you use, too.
A homepage takeover or altered design
In the past we have done a thematic site takeover for holiday sales by coloring WooCommerce.com ghoulish, black, or cyber-y. This year, we tried out a homepage takeover for both Hallowoon and BlackCyber.
This approach meant incorporating the respective graphics into our homepage (and for BlackCyber, we also turned our logo black):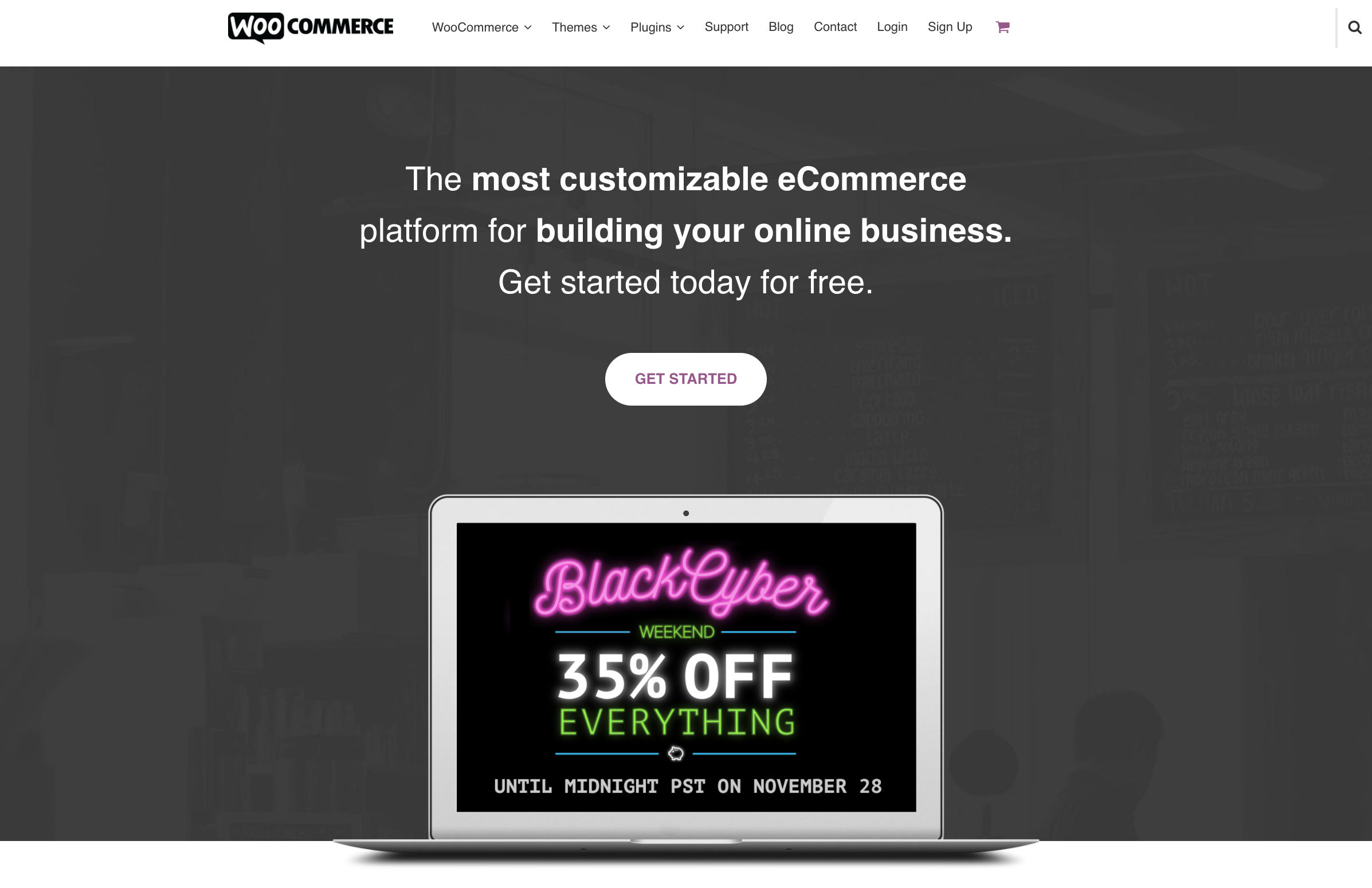 Importantly, and as per best practice, we tested the code on a staging site (including how it looked on mobile) and made 100% sure nothing was broken before pushing it live on Black Friday.
Custom landing page
If you haven't experimented with custom landing pages yet, they are a secret weapon of eCommerce conversion. We wrote about how to optimize eCommerce landing pages earlier this year, if you're interested to learn more about them.
In terms of our own experimenting, we have pretty compelling stats that show a higher conversion rate when we send traffic to a dedicated page versus the homepage, so we created a special themed page listing our top selling extensions for those looking to save big this year.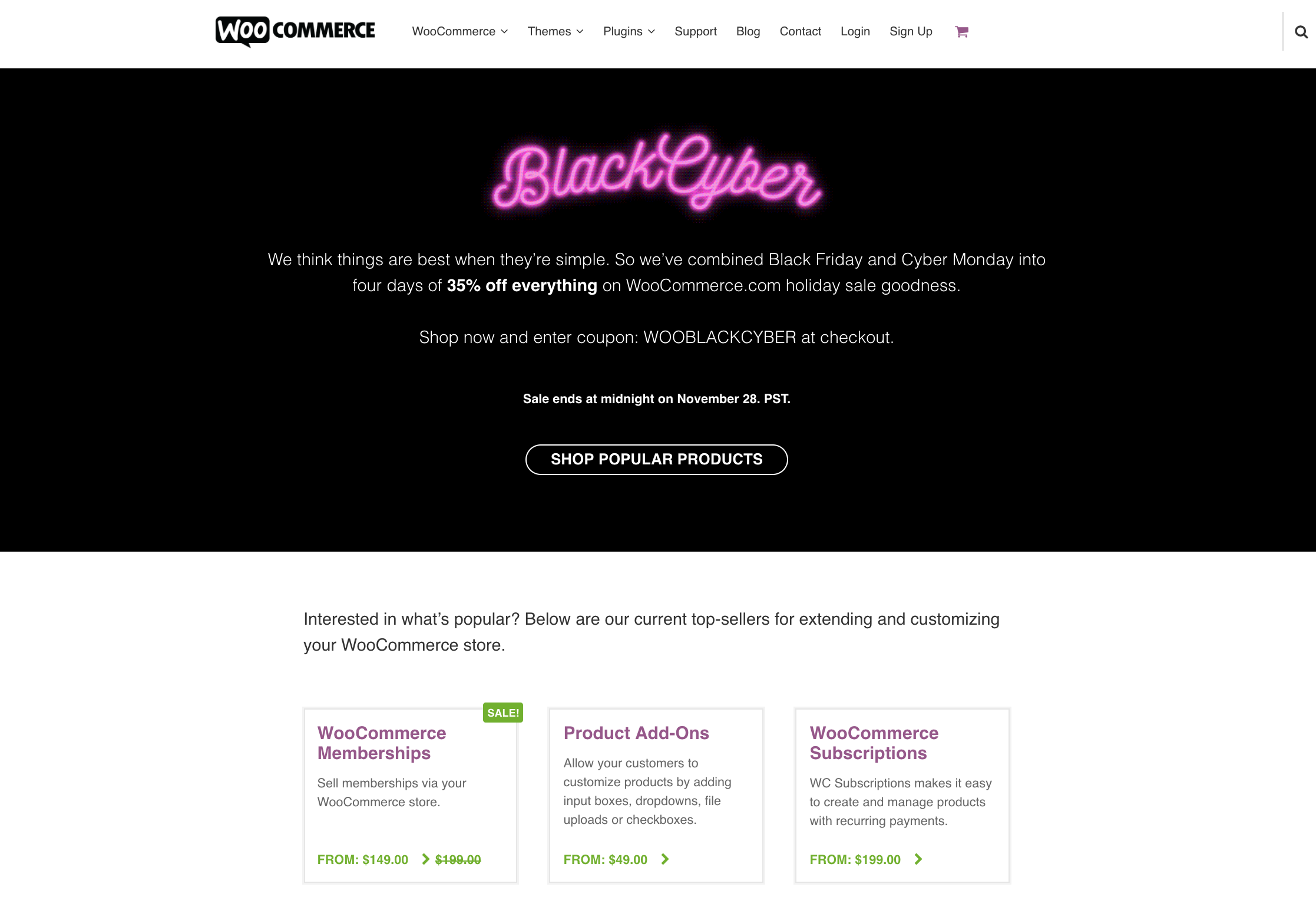 The conversion rate for this page was over 11%, and the page continued to perform very well in the days after the sale.
Optimizing the homepage for social sharing via OpenGraph
Homepages don't tend to get shared a lot. But when we run sales, we update the OpenGraph information for our homepage so that if anyone shares it, they promote our sale for us.
For the duration of the sale period, if people are sharing our URL, there is baked in promotion of our sale and a special graphic that shows up on Facebook, Twitter, and so on. After the sale, we change back to our usual card, which contains general Woo copy and an image.
If you aren't familiar with OpenGraph, it is a neat plugin and worth exploring — have a look!
A final tip with this social sharing optimization, specifically with Facebook, is to request that they scrape your URL so that the changes you make show up. You can instruct Facebook to rescrape here simply by entering your store URL (which will pull up the latest info they have for your site).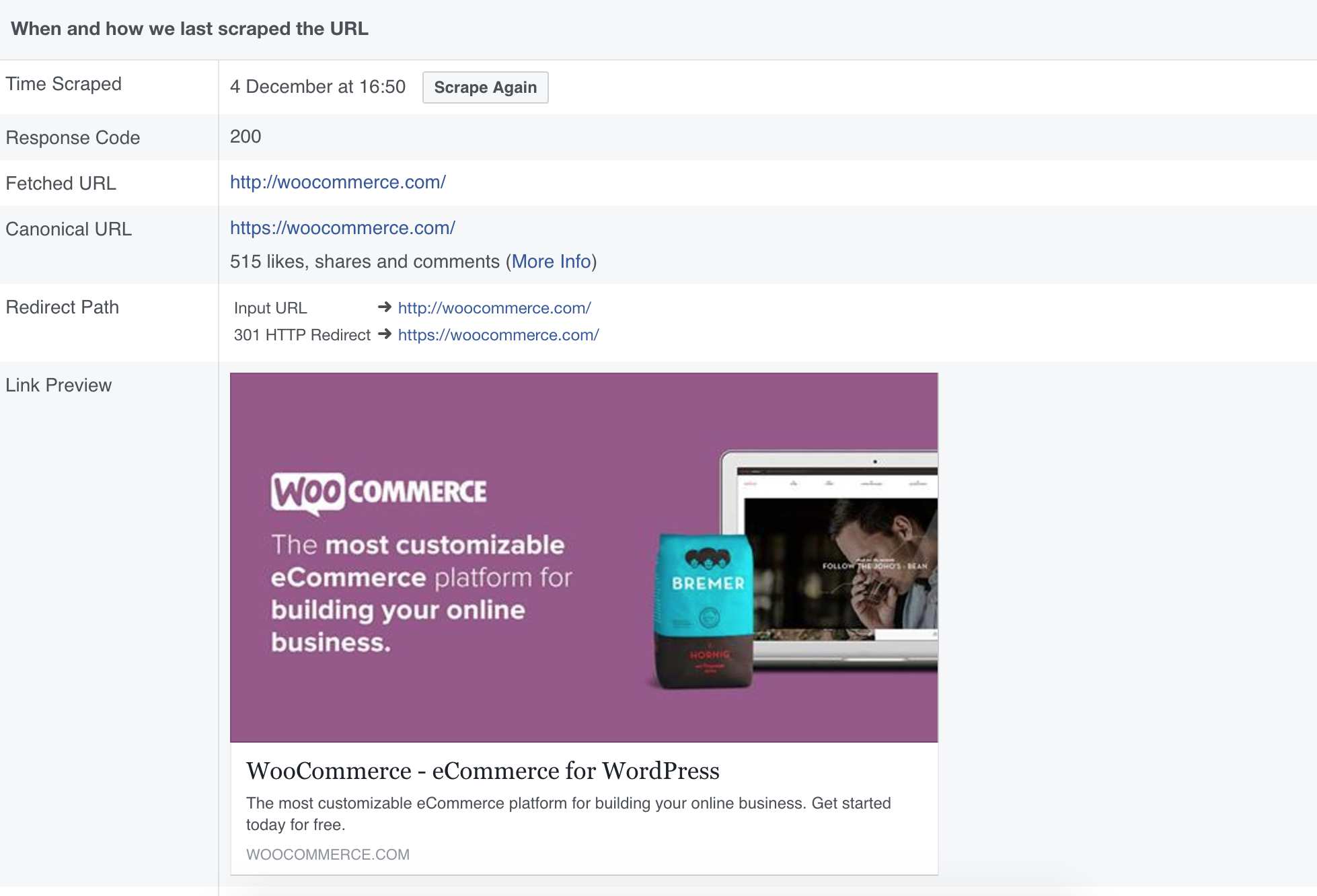 How to make your sale stand out in the chaos
There is a dangerous line of thinking that says if your product is great people will find it. Sadly, this is not always true.
People will find the product that is shouted about the loudest, which can be via word of mouth and product evangelists, but even that is too often outstripped by concerted efforts (sometimes paid, sometimes free strategic messaging to existing users).
If you are running a sale and you want people to know, here are three simple ways to shout about it, all of which we did for our Hallowoon and BlackCyber sales.
Emails (in our case, to existing customers)
The biggest drivers of traffic and sales for our sales is the mailers we send. If you do just one thing to promote your sale, this should be it: mail your existing customer list to let them know you are running a sale.
That is assuming you are already building a list of your customers email addresses, which we highly recommend! If you aren't yet capturing emails, check out this neat WooCommerce for MailChimp integration that adds a field during checkout and builds a customer list in your MailChimp account.
Your customers will be delighted that you've let them know about the sale. And in fact, if you don't let them know you might find yourself having to issue refunds to people who shopped at full price and missed a discount.
Of all of our marketing efforts we make to alert people about sales, mailers have the best conversion rate and spend per user by far (followed by Twitter, if you find such things interesting).
We have a very international mailing list and have learnt by trying that sending two mails for major sales, optimized for United States and non-United States-based customers, increases conversions.
If you're interested in really getting into the nitty gritty with timing, MailChimp offers a timewarp feature that sets up your campaign to be optimally distributed automatically to each user by timezone.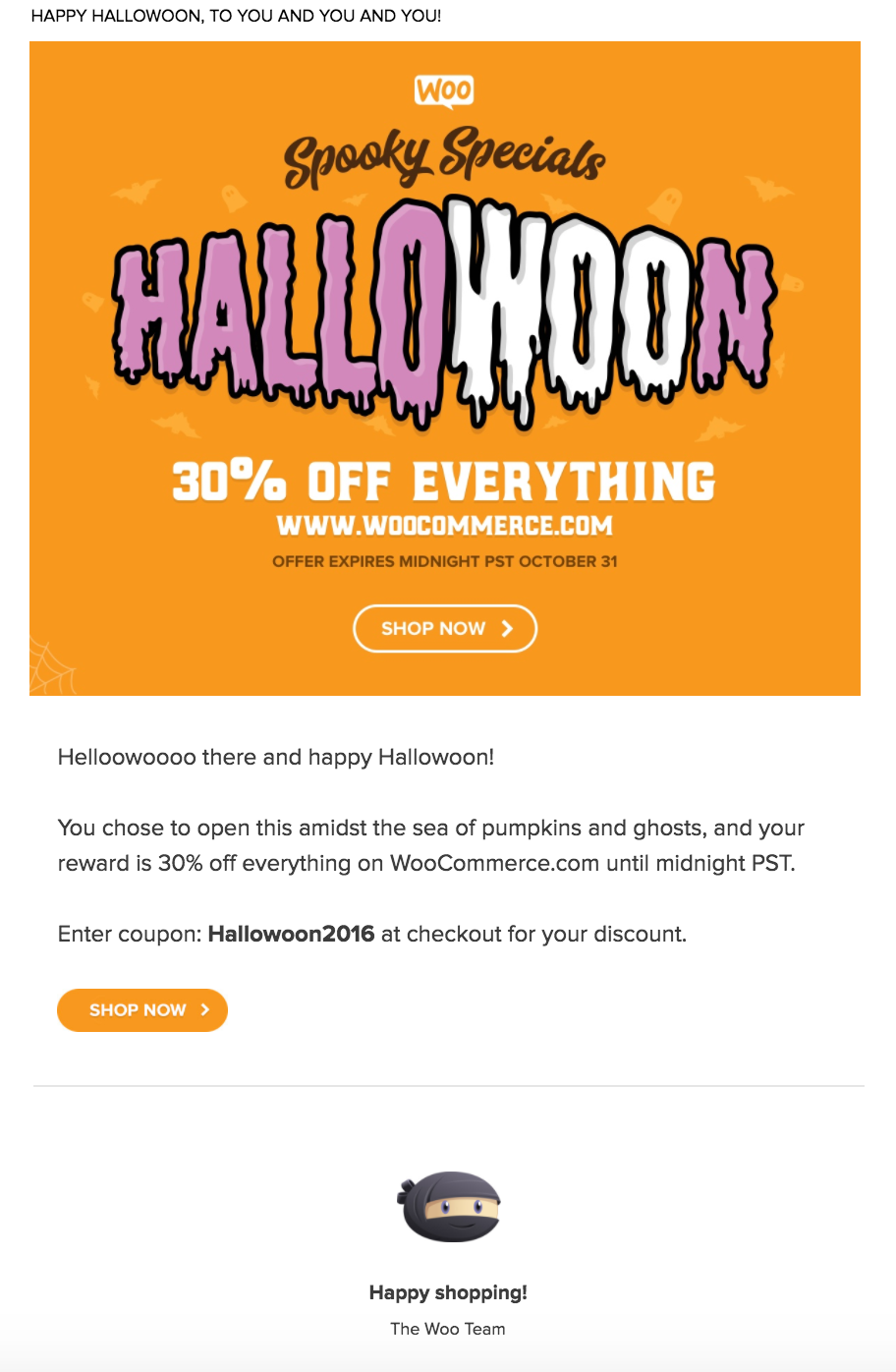 Post on social media (more than once)
We use CoSchedule to plan content and marketing campaigns. It integrates really well with WordPress and social channels, and recently was the first of these scheduling tools to add capability for Instagram post scheduling.
For our holiday sales, we scheduled tweets to cover both non-US and US users, with the first few firing off at the same time as the mailers. We pen different wording for each tweet to avoid repetition, but include some of the same phrases and ideas from the mailer messaging for consistency.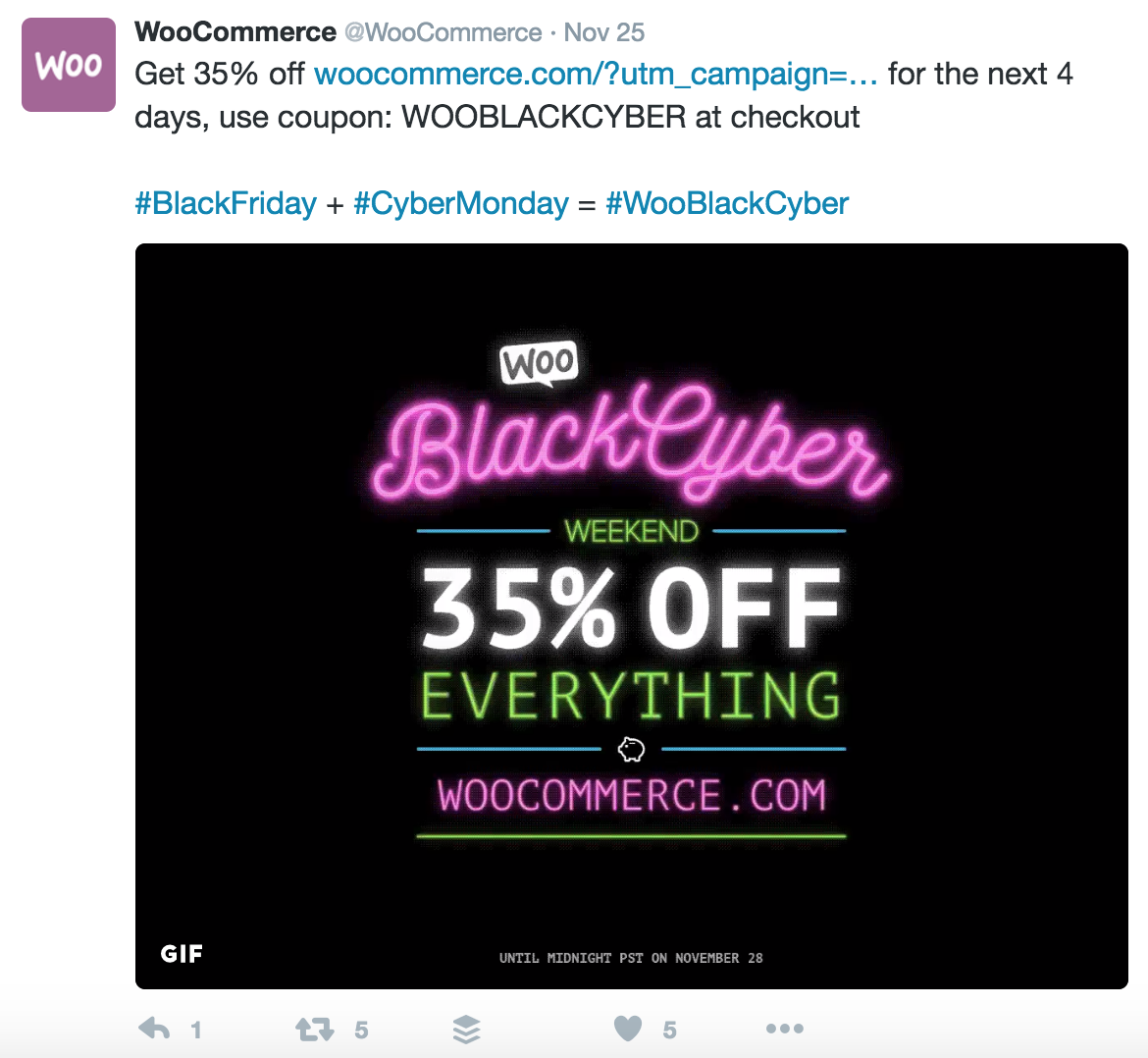 For interest, here's what we did on WooCommerce social for BlackCyber this year:
1x Instagram GIF
2x Facebook posts (Friday and Monday, both boosted)
1x Facebook offer (redeemed 170+ times)
7x Tweets (4 on Friday, 1 on Saturday, 2 on Monday)
Finally, something we are careful to do when we have sales is give a heads up to the people who manage and respond to our users on social media, to make sure they are prepared and have answers to FAQs.
We are lucky to have a team who do this, but if you're a one-person-show, having to respond to social on sale days can be tricky — set aside some time each day to make sure it gets done.
Advertising
Is it worth paying to advertise online during the chaotic holiday sales? The question here is really how much is it worth spending to get the message out when you have other ways to spread the word?
It's clear that telling people about our sales is a huge win for revenue. We spend to advertise WooCommerce products on Facebook and the Google Network ongoingly, but have noted during the holiday sales how much more difficult it becomes to see satisfactory ROI.
In the case of BlackCyber, we spent almost $6k (USD) to make a little over $3k for a return-on-adspend (ROAS) of 53% — well below our usual target, which is 75%. Is it worth advertising on a major shopping holiday? If you can invest a lot of time, money, and energy, the answer is at best sometimes.
One thing we would add here is that advertising to our current paying customers (and people who have viewed the sale's lander without yet purchasing) yields a far higher conversion rate than trying to go after new customers. We focus our advertising budget during sales where we know it does best — customers who already use WooCommerce.
Running a sale like clockwork
There have been times when we have run sales and things have been a little disorganised and last minute. To avoid this — and to avoid knowledge being locked away in the brains of only a few — we have published our learnings internally.
In the interest of sharing this knowledge with you, too, here are a few of our favorite learnings:
Test any site changes in staging. Vet the code in advance. Don't do it on your live site.
Create a launch checklist and assign tasks to people. Have backup in case someone is sick. Try to get everything you need done at least a week before.
Communicate well internally: Something we have learnt, is how good it is to communicate well about sales with your team (support and social ninjas).
Test coupons are working (again) as you go live. Perhaps you won't be surprised to know we forgot to publish one once!
Double-check timing and timezones! Be careful with coupon timing and expiration dates. Be sure you know your store's timezone and have set your coupons up to match.
Be clear about terms and conditions. Are their users who need to know the sale won't apply to them? Be sure to communicate this clearly and consistently.
Prepare for traffic spikes. Your site going down during a sale is not ideal. Speak to your host to prepare adequately for spikes.
After the sale: measuring all of the things
It nearly went without saying, but we wanted to add that it is healthy and important to track the results of your marketing efforts so you know what worked and how much time it is worth investing next time.
What do we track?
Traffic from social, mailers, and ads
Conversions and abandoned carts
Coupon usage
New vs. returning customers
If you'd like to learn more about how to track sales and get set up properly to do so with tools like Google Analytics, check out this post we wrote on what to do once your promotions end. Adding the correct tracking links or UTMs to social posts, adverts, and mailers are all things we have omitted to do in the past, and are improving on now.
For further reading and learning on tracking:
Take a look at this guide from MailChimp on eCommerce tracking options
Get familiar with Google's best practice on on creating custom campaigns
Practice using the Custom URL builder (here's an extended guide if you're interested to learn more)
These days we are fortunate to have our own analytics tools built by Automattic, which teaches us all of the data things and keeps our tracking in one place.
Use these learnings to improve your own holiday sales
Black Friday through Cyber Monday was our best sales period to date. While there is always room for improvement we are confident the above methods work… and we hope that they will help you with your own holiday sale efforts in 2017.
We love to learn from what others have tried, and are interested to hear what worked for you this year. Give us a shout in the comments, and thanks for reading.
Read original article at Source link >
[wpseo_map width="100%" height="300″ zoom="-1″ map_style="roadmap" scrollable="0″ draggable="1″ show_route="0″ show_state="1″ show_url="0″] [wpseo_address hide_address="1″ show_state="1″ show_country="1″ show_phone="1″ show_phone_2="0″ show_fax="0″ show_email="1″ show_url="1″ show_logo="0″ show_opening_hours="1″]