We Merged Automations with Campaigns. Here's Why.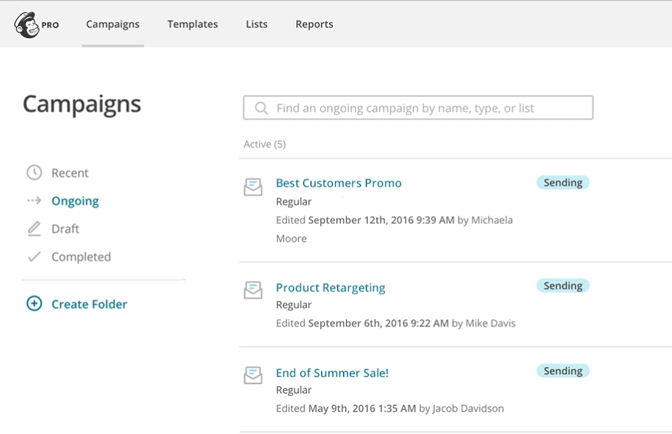 Every week, 10,000 businesses create their first marketing automation in MailChimp. From recapturing sales with an abandoned cart series to finding a new audience with Facebook and Instagram ads, our automation features help mind your marketing, so you can get back to minding your store.
It's like another employee for your growing company, except marketing automation is free. And it never reheats fish in the office microwave.
Marketing automation is essential for growing your brand and generating revenue, which is why we've placed it at the core of the MailChimp app. We've merged automations with your bulk emails and ads on the Campaigns page, so you can create all your campaigns and quickly compare their performance without jumping to different sections of your account.
Like Drake starting from the bottom, automation started on MailChimp's Automation tab, but now it's here. It's everywhere in MailChimp.
We're making marketing automation synonymous with MailChimp because that's what the entrepreneurs who use MailChimp are logging in to use. There are 2 reasons why it's so popular:
Marketing automation saves time.

Marketing automation generates revenue and drives engagement.
Marketing automation saves time
Every 6 weeks, the MailChimp research team travels to different cities around the world—Boston, London, Austin, just to name a few—to talk to small business owners and entrepreneurs who use MailChimp. I sometimes tag along on these trips, and there's one comment the team hears from our customers more than any other.
"I have no time."
The typical MailChimp customer is a founder who's wearing so many hats that it's surprising they're able to keep their head up under the weight. They're CEO, they're office manager, they're HR, they're finance, they're shipping and receiving, and they're the marketer.
Preparing marketing content takes time. Perhaps you're running an event or promoting a new product launch. You'll need newsletters. You'll need to buy a social ad.
That's time that can't be spent following up with customers after they purchase an item or abandon their cart at checkout or browse your product catalog but don't make a purchase. That's where automation comes in.
With automation, you can take some of the more repetitive tasks off your plate—like following up with customers after a purchase or welcoming new contacts after they sign up to a list—and focus on other important parts of your business.
MailChimp has personalized automation recipes that help you guide people who express interest in your brand to make a purchase and eventually become repeat customers. You can even add AI-powered product recommendations to your automations, turning things like simple receipts into extra revenue.
Marketing automation makes money. Lots of it.
A couple months ago, we published the results of our study on marketing automation. Basically, the results told us one thing: Marketing automation makes you more money.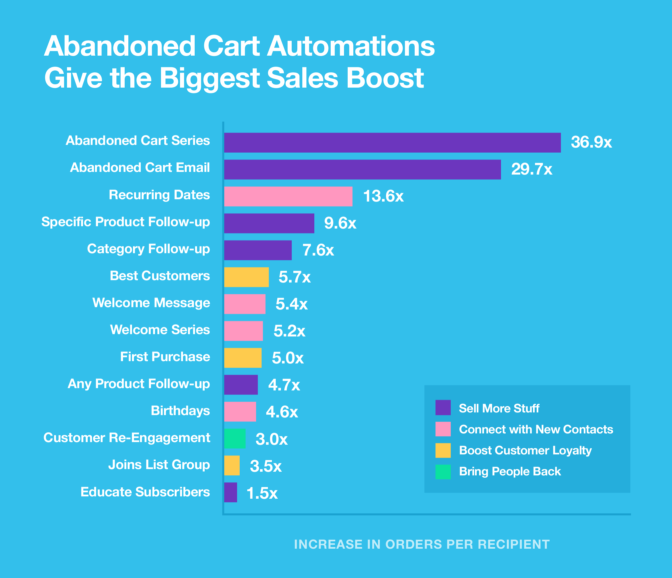 Abandoned cart emails earn 30 times the revenue of standard bulk campaigns per recipient. Post-purchase follow-ups earn 5-10 times the revenue. Even win-back campaigns, which are designed to re-engage lapsed customers, earn more revenue than standard newsletters.
That's because marketing automation helps you reach your customers with the right message at exactly the right time.
Go forth and automate
Businesses that use MailChimp's e-commerce features, primarily marketing automation, experience 10-20% higher revenue growth than those that don't.
So we've doubled down on automation by making our features free for everyone and moving them front and center in the app—finding and creating a marketing automation has never been easier. And we've also introduced several new recipes to help you grow your business.
Now, go forth and automate! I hope you enjoy getting hours back in your day.
Original article written by John >