Tour d'Europe: Identity, Mobile, and YubiKey NEO

Today, Yubico joins the FIDO Alliance and thousands of people from around the globe in Barcelona for the GSMA's Mobile World Congress (MWC) 2017. Find us at the FIDO Pavilion 2UP.40 #4!
No one can deny it. User acquisition is king! To acquire users as quickly and cheaply as possible, mobile app and online service providers frequently sacrifice strong authentication security in favor of fast and easy access. With YubiKey NEO and FIDO U2F, businesses needn't compromise. No longer must developers complicate mobile login or frustrate users in order to protect customers, because security based on FIDO U2F changes the game.
YubiKey NEO (US $50) is an innovative USB device featuring NFC (near-field communication, a wireless communication method). With a tap of their YubiKey NEO to an NFC-enabled Android device, users can quickly and easily authenticate themselves to supported services. YubiKey NEO gives mobile online security a better user experience while providing stronger security and reducing risks. Stop by the FIDO Pavilion, 2UP.40 #4 at MWC 2017, to see a demo and chat with a Yubico security expert.
Next week, find us in London at the Gartner Identity and Access Management Summit EMEA 2017 at booth S14 (6-7 March). Then, follow us to Disneyland® Paris for the IT Partners fair (7-8 March). Visit our booth to see how YubiKeys can help you and your customers reduce risks, increase employee productivity, and unlock additional revenue potential.
You can buy a Key NEO from our web store, on Amazon, or through any authorized reseller.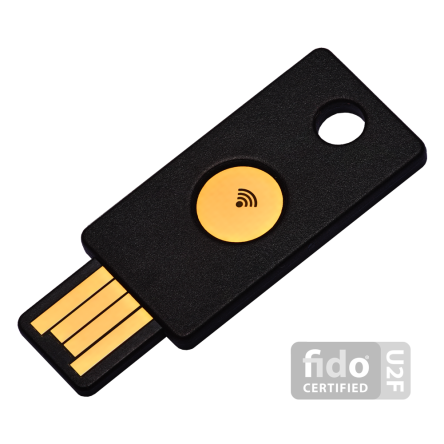 Buy Now
YubiKey NEO | $50
Combines USB and NFC for mobile communication, enables One-Time Password, smart card, and FIDO U2F authentication. Full product details
Read original article at Source link >
[wpseo_map width="100%" height="300″ zoom="-1″ map_style="roadmap" scrollable="0″ draggable="1″ show_route="0″ show_state="1″ show_url="0″] [wpseo_address hide_address="1″ show_state="1″ show_country="1″ show_phone="1″ show_phone_2="0″ show_fax="0″ show_email="1″ show_url="1″ show_logo="0″ show_opening_hours="1″]