If you have an online shop, it's time to start thinking about the holiday season. It's never early enough to start planning for the most wonderful time of the year, right?
Black Friday and Cyber Monday are coming up soon. While ranking in Google isn't something you can do overnight, with a few weeks still to go there is time enough to make some search engine optimization (SEO) related improvements and strategic changes.
Let's explore what you can do right now when it comes to SEO tips for the holidays, namely: setting up new pages and renewing old ones.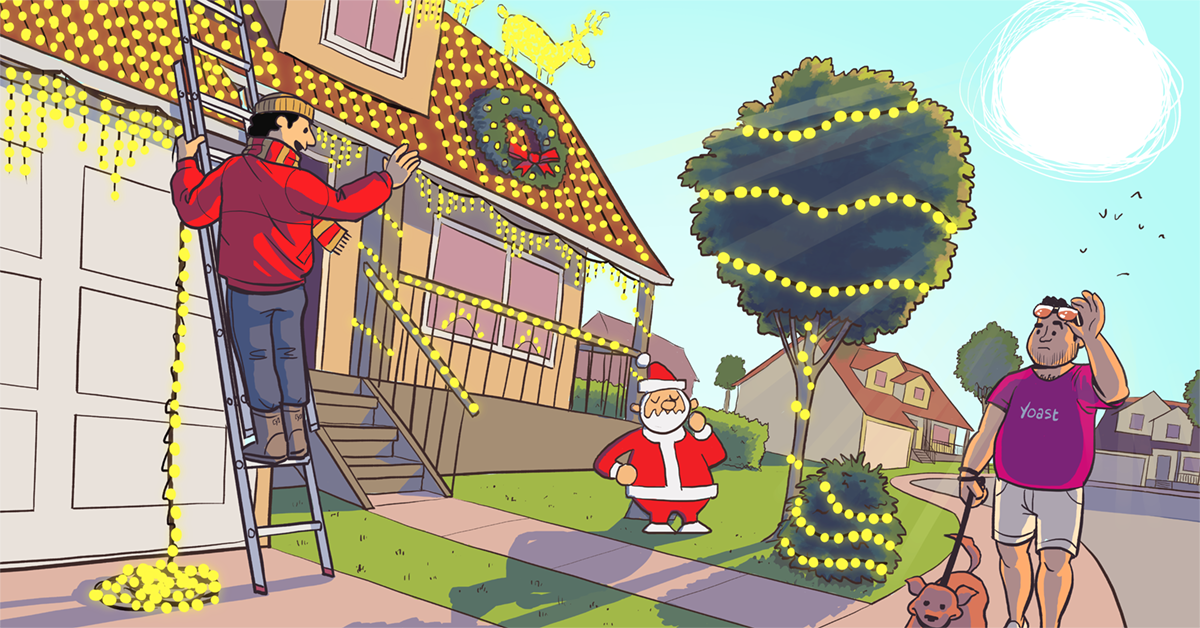 Optimize Your Holiday Season Gift Pages
If you are planning to create some special landing pages for the holidays, or update existing ones: keep SEO optimization in mind.
There has to be enough time for Google and Bing and all the other search engines to follow your links and find your specific holiday season landing pages in time, so try to make your changes abt least 30 days or more before the holidays or event you are focused on starts.
For existing pages, change the page title and the meta description to speak to the holidays specifically. The same applies to published posts: find old content that fits the holidays and rewrite titles and meta descriptions to match the upcoming season.
Finally, check that you have added structured data to all key product pages. For example, rich snippets for products in the search results, showing ratings and prices, can give you an edge to your competitor.
Re-use Old Content (With a Few Changes, if Necessary)
If you have a Christmas guide for 2018, it's a smart approach to re-use that in 2019 instead of reinventing it. It is wise, however to do some refreshing:
Update the year, and update details like popular brands and popular products for that year
If the slug of your URL is /christmas-2018/, change that to /christmas-2019/ and redirect the old URL to the new one. There is no need to create a totally new page. It would be a waste of nice inbound links to not re-use that old URL. Of course, this is even easier if you simply don't include the year in the URL.
In the months before the holiday season, repost popular posts from last year (a bit adjusted if needed) on social media. Valentine's Day might even become Secret Santa. Cyber Monday might match daddy's favorites for Christmas. These are probably small adjustments; perhaps just adding 'this Christmas' to a meta description or title will do.
Re-purposing content is an excellent example of working smart.
Leverage the Power of Social Media to Drive Inbound Traffic
Used strategically, social media – including Twitter and Pinterest – can play a huge role in the success of your (online) holiday sale. Take Pinterest, for instance: If you manage to get the right products on people's wish lists, that can have an impact on your sales. You draw inspiration from other people's wish lists as well.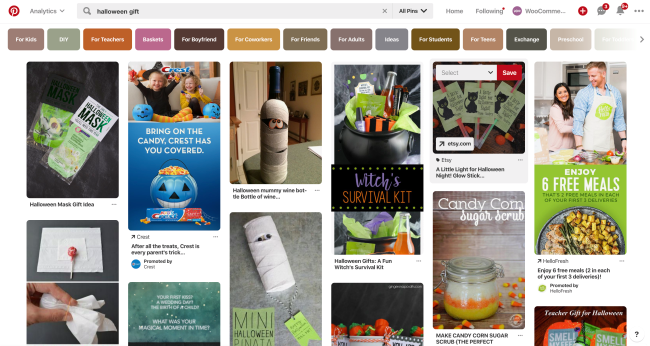 While you're at it, don't forget to share your holiday season gifts pages on social media, too!
A good example is the Huffington Post Holiday Gift Guide. This is pretty clever. Huffington Post simply created a taxonomy for Holiday Gift Guide and added all posts that fit into this category. It creates a nice overview of all kinds of gifts for a plethora of people. ELLE has a page like that as well, and so do more companies.
Write Posts About Your Newest (Trending) Products
The holidays are an excellent time to pitch new products. If you know of potential best-sellers for the upcoming holiday season, start writing about them now.
Think about how tech sites write about concept iPhones, highlighting features that might be added to drive interest. The more you write about these products upfront, the more likely the sales pages for these products will rank when it matters.
Optimize for Speed and Mobile
We recommend you to check and optimize your website for speed and mobile. These are recommendations you'll get from any SEO blog or consultant, everyday all day. Mobile, mobile speed and speed in general, are becoming more important every year (or day, for that matter).
When preparing your website for the holiday season, this is a good a time as any to re-check your mobile website and site speed and update or improve these, if possible.
Get Yoast SEO for WooCommerce
On WooCommerce and using Yoast SEO? That's a great combo! If you want to make sure your holiday gift sets and seasonal changes get the attention they deserve you should consider getting Yoast SEO for WooCommerce too. This premium plugin by Yoast will help you achieve the following:
More clicks on products that have been shared on social media; you can enter Facebook/Pinterest-specific details so, for instance your rich pins on Pinterest show price, stock and a clear link to your website.You get to use the Yoast SEO breadcrumbs; you can customize those more than the defaults. So you can create easy to follow breadcrumbs that your visitors and Google will understand.
A cleaner sitemap; Yoast SEO for WooCommerce will remove redundant pages that otherwise will be added automatically to your sitemap, like URLs for all different combinations of filters. By doing so you'll increase your chances of ranking high for the relevant pages.
Easier editing of your seasonal content; focus on your product description and details first, and optimize for search engines later. The plugin will allow you to show the WooCommerce blocks together on top, and the Yoast metabox at the bottom.
For this plugin to work you need to have the free version of Yoast SEO or Yoast SEO Premium already, as it is required for the add-on plugin to work. Installing it works a bit differently than the free plugins because it's a downloadable plugin and not one found in the free WordPress plugin repository.
If you decide to purchase the plugin you'll get a MyYoast account where you can download the add-on. Read the installation guide of Yoast SEO for WooCommerce if you'd like to learn all details.
Finally: Put a Measurement Plan in Place
All set? Don't forget to make a measurement plan to be able to analyze your success. Write down all your plans and think about how to track all your actions. This is key if you want to know what to focus on next year. Learn more about how to analyze your Black Friday, Cyber Monday or Christmas shopping success.
And when the holiday season is over?
How to handle the product pages of holiday gift sets after the holidays are over? Even if the gift set or product was a great success, and you want to offer it again next year, it'll take a while for the page to be relevant again. So, what's the best way to deal with these pages in the meantime? Here's a video speaking to this:
That wraps it up. You can never start too early when your online business depends on the holiday season. Be prepared; start now!
————-
Michiel is one of the partners at Yoast and our COO. He's happily married to Esther and proud father of his two daughters Puck and Linde. He was one of the first bloggers in the Netherlands and co-founded one of the first Dutch blogs about web design and blogging. At Yoast, he works as a senior SEO consultant for both customers and colleagues.