If you've spent precious minutes in a supermarket trying to decipher which variety of near-identical dry pet food is right for your dog – and even if you haven't – you'll appreciate the simplicity of Scratch.
Founded by Mike Halligan and Doug Spiegelhauer in early 2018, this thoughtful Australian startup has three audacious goals: eliminate the guesswork, bureaucracy, and secrecy that dogs the pet food industry, to make customers smile, and to save the planet while they're at it. And they do it all with WooCommerce and WooCommerce Subscriptions.
Mike was an early adopter of WooCommerce – he stumbled upon and installed version 1.0 for a client back in 2011! After years building sites and running a web agency, he found himself yearning to start his own eCommerce store:
"I wanted to try the eCommerce optimization and segmentation that I constantly saw from the outside, and recommended, but couldn't run with until I had something of my own to play with."
A Coincidental Introduction to The Pet Food Industry
In January this year, Mike was struck by the power of 'unboxing experiences' while watching a video from packaging company, Lumi.
As one woman talked about receiving personalized treat boxes for her dog, it got Mike reminiscing about his own experience growing up with dogs, and wondering what people were doing online in the pet industry…
After a week of late nights on Google, he began to understand the state of the pet food industry in Australia:
Only 5% of all pet food sales took place online.
Mars and Nestle held market share globally for pet food and created all the rules.
Laws favored pet food companies, who didn't have to disclose what percentage of each ingredient went into their dry pet food (e.g. chicken versus wheat versus sugar).
Pet food brands were widely mistrusted by consumers.
The average industry markup for dry pet food was 80%, the majority of which went to supermarkets and retailers.
It was an industry ripe for disruption.
Transparency and quality issues aside, the traditional 20kg bags of pet food were not easily portable, unsightly, and took up an inconvenient amount of space in the home.
A business case built around value for money, easier delivery, and ethics began to emerge.
Paving The Way With Research for Product Market Fit
Every good product begins with research, or a lot of luck, and usually both! Product market fit is the extent to which your product or service meets the needs of your intended customer segment(s).
To explore this, Mike spoke to friends and family and joined a number of online communities, eventually surveying hundreds of dog owners:
"The things they hated, I felt like we could solve online. Most people weren't buying online and our research confirmed we could compete on value for money and customer satisfaction."
Shopping habits in Australia are distinct from trends in North America and the United Kingdom: when it comes to consumables Australians don't tend to shop online, in part due to Australia's high density of suburban grocery shops and percentage of car ownership per household.
Mike felt confident he could offer a customizable online subscription experience and cut out the retailer, freeing up some of the 80% margin to put towards better ingredients. The result would be a lower-priced but better quality product with free shipping to Australian doorsteps.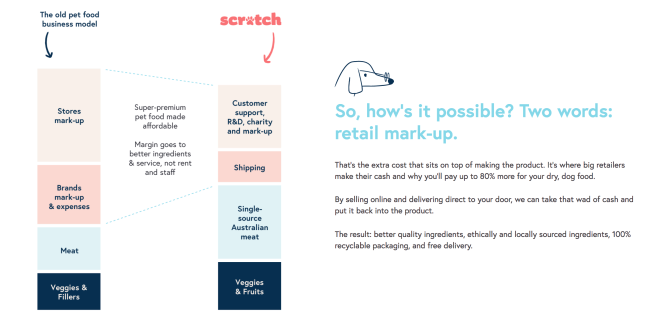 He teamed up with pet food industry expert, Doug Spiegelhauer, who knew all of the ins and outs including what producers typically do to cut costs – like using wheat as a filler – and how to design the perfect recipe:
"For us, it didn't make sense that someone would buy pet food the old way if they could get it shipped to their door, have someone to speak to, and the product is markedly better."
The pair co-founded and bootstrapped Scratch, taking some investment from friends to give them twelve months runway. They kept the business model deliberately simple with just a single product and SKU: One type, one size.
Which left all of the complexity, finesse, and customization to the subscription experience.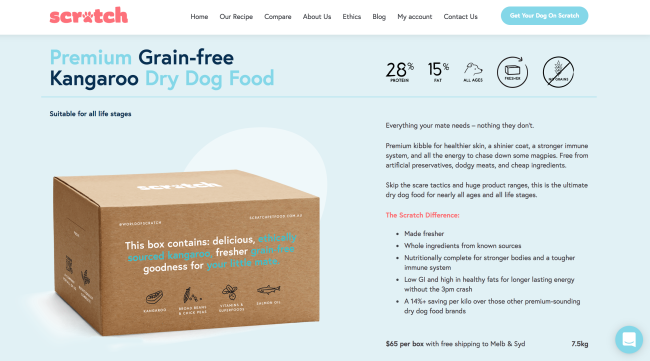 Creating Value Through a Differentiated Subscription Experience
Mike's experience in eCommerce has led him to believe that the success of a subscription businesses lies in the level of convenience and customer experience – not price:
"If you're in the subscription business you're in the business of looking after a customer and making sure that they are happy not just at that first purchase but over the first month, year, and longer. You need to be able to customize the hell out of everything to offer the best experience possible."
Scratch built a feeding recommendation engine into the checkout process to make the experience different and take some of the guesswork off the dog owner's plate.
As you check out, calculations based on weight and age determine your dog's caloric needs and suggest how quickly your pet should finish their standard 7.5kg box of food. For small dogs, this can be months! Bigger dogs might need a new box each week. Estimates change automatically as your dog ages.
This smart, scientific subscription experience is a key differentiator for their business. WordPress and WooCommerce was the right choice because they needed to be able to customize every bit of the user's experience:
"We wanted an entirely customized subscription process and to be able to angst over and edit every detail of the checkout flow. I didn't think I'd be able to customize the little things as much as I wanted with Shopify."
For this more complex customization of WooCommerce Subscriptions and the checkout flow, Mike worked with a freelance developer he found on Upwork.
Here's a quick look at the checkout process:
WooCommerce Extensions running scratchpetfood.com.au:
Advanced Custom Fields Pro: Supports site building with blocks and layout options
Checkout Address Autocomplete for WooCommerce: Reduces cart abandonment by enabling Google to suggest autocompletions in the address field as the customer types
Gravity Forms: For creating advanced forms for WordPress-powered sites
Metorik: really good insights and reporting. Easy to measure churn. Use the Engage feature for reminders and any triggers between orders (e.g. feeding guides).
WooCommerce: For eCommerce, order emails, receipts, and processing
WooCommerce Shipment Tracking: Give customers an easy way to track orders
WooCommerce Stripe: Payment gateway, handles subscriptions really well
WooCommerce Subscriptions: Adds recurring payments
Yoast SEO: A popular tool for search engine optimization
Hosting, scaling, and performance for the site are by The Code Co and Digital Ocean.
Warehouse Automation and Customer Service
During the very first week of business, Mike and Doug fulfilled orders themselves because they wanted to meet the dog owners. But from day one, their warehouse integration was set up, automated, and ready to go:
"An order comes in and we don't touch a thing. We have a manufacturer who makes the food to our recipe, orders get sent straight to the warehouse, and they ship it. They even print a sticker with the dog's name at the warehouse."
The seamless warehouse integration is key. The decision about which local warehouse to work with boiled down to the flexibility, ease of integration with the website, and tracking options the warehouse could offer.
The completely automated fulfillment means Doug and Mike can focus on other aspects of the business–like customer service.
In their research, having a real human to talk to came up as very important to their prospects. New dog owners reported a real need for guidance as to how much to feed their dogs:
"All pet food brands look the same and say they are premium. No one is strong on what is the best option and way. By breed? It's an overwhelming experience for new dog owners."
Scratch is experimenting with live chat which will be powered either by Facebook Messenger or Intercom, depending on which gets more uptake in their AB test.
Differentiating with a Strong Brand and Memorable UX
In Australia, pet food has traditionally been bought from nameless, faceless companies with offices overseas. Scratch is out to make things more human, real, and high-touch.
There is a strong brand presence throughout the website, with attention to detail in the micro-copy, customized call-to-action buttons, and thoughtful content. The seriousness of the pet industry and responsibility of choosing the right food is artfully balanced with the fun of owning a dog.

There is a distinctly Australian flavor to the copywriting and humor that strikes a good balance of being native and personable, but non-alienating:
"We want people to feel like they can write to us, because they can. And that we care about the experience they have, because we do."
Following trends that have worked in the United States in the digital native space, the site design is stripped back and focuses on the product. The packaging was created to look good on the kitchen table and signal that it doesn't contain your average pet food.
Not satisfied with just improving the world for dogs, Scratch is committed to donating 1% for the planet:
"I think it's how businesses should be. The planet and the environment are increasingly a little bit stuffed. Every box we send out is fully recyclable but still takes resources from the planet. As business owners, we want to make sure our business is good for dogs but also for the planet."
Instead of leading with this ethical angle in their marketing, they articulate their values gently, like famously philanthropic but subtle brands Patagonia and Ben and Jerry's.
The next stage in engagement? To do some things in real life to engage with users. Over the summer holidays, Scratch plans to partner with Bumble to throw an event for single dog owners to meet one another. With light-hearted, press-worthy brand experiences like this, they hope to create word of mouth and organic social media content — organic marketing that's oceans different from just another ad on Google. Dog owners in Melbourne and Sydney take note!
Preparing for Launch: The Right Kind of Buzz
When it came to launching the store, Mike had already put in considerable work by actively building a list of prospects. Over two months he gathered an impressive number of leads with:
An online quiz to learn what was in your pet food. This was hosted on a "Coming Soon" version of their website, including ten questions that subtly highlighted how companies deceive dog owners, then offered a solution in the soon-to-be-launched Scratch. The tone was informational rather than doom-and-gloom and got a few hundred people signed up. The thousands of others who viewed it were added to a remarketing list.
A casting call for Melbourne's cutest dogs. Scratch put out a call for Melbourne's cutest dogs on their Facebook page and invited people to post a photo and leave an email. Nearly 1,500 users shared photos in just two days, and the post got really great reach. The video on the website homepage is some of the fruit of this endeavor: the bulldogs pictured, Simon and Wilma, also appear in (paid) street posters around the city.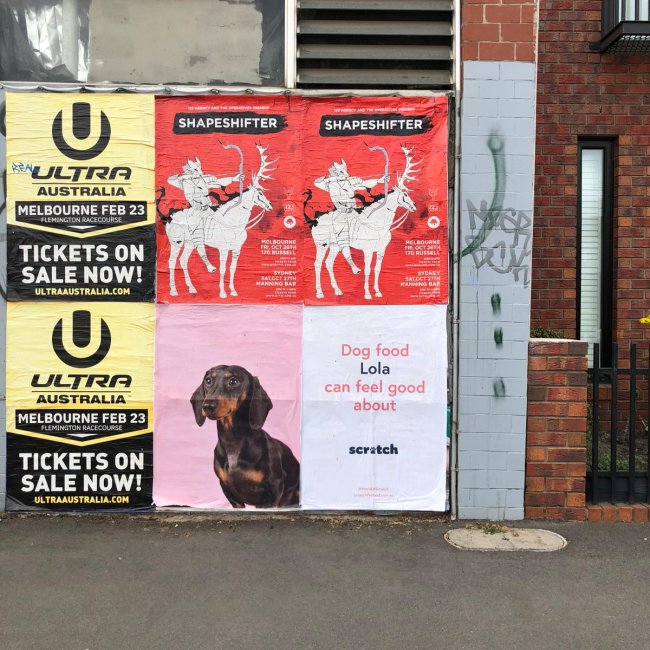 When the store went live, they had around 400 people they could email as well as thousands of dog owners they could reach via Facebook remarketing. Woof!
After just two weeks they were being approached daily by dogs and their influencer owners for free food or a cut of a discount code, but scratch has been deliberate about not getting into discounting – only three people to date have been gifted a subscription – or playing the influencer game:
"This is good stuff. We stand by it and we hope whoever you are, you pay for it, and we make it good enough that you want to pay for it."
Franklin says thank you, Mike! Very pleased with his new box, now ripped to shreds.. pic.twitter.com/XaIxW4UBOg

— Johan V Karlsson ☀️⚡ (@johan_energy) October 31, 2018
They are running some Facebook retargeting leveraging purchase-intent (i.e., if someone adds a product to their shopping cart but doesn't convert) plus some YouTube and search engine marketing to reach people whose searches indicate they are the right 'tribe': willing to spend on their dogs, like 'pet daycare' or 'pet hotels' (but not other dog food brands).
"We've got the best thing in the world to work with: dogs! So let's start with that, rather than the buzzwords of 2018. We're trying to avoid advertising and just make good stuff."
Pet Food is Broken – But They're Out to Fix It
What's next for Scratch? Growing sustainably and hiring for a few more good people, throwing some events for customers, and possibly introducing some dog treats and one or two other little things, but come what may – keeping it simple.
"We want to make sure we can grow but not then become something that isn't personalized, interesting, and trustworthy."
We're proud to be the platform of choice for this brilliant startup and hope that in six months there are thousands of dogs being fed by Scratch in Melbourne, Sydney, and beyond.
Are you dreaming up an eCommerce business? Let us know in the comments.