Rewarding Customer Engagement With Pre-Built Segments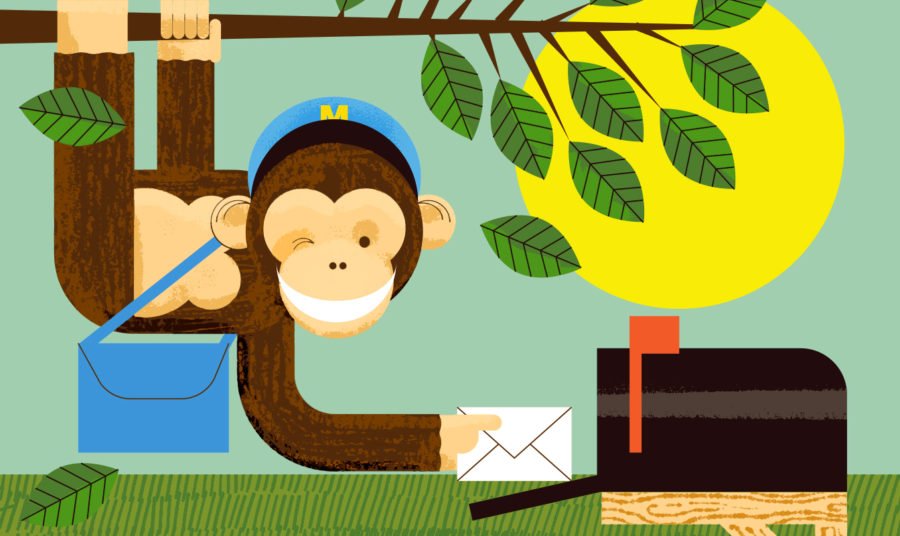 When you're a small business owner, embracing the unknown sometimes comes with the territory. But building a focused and effective marketing plan requires knowing a thing or two about your customers. That's why Gingiber uses pre-built segments to identify their most engaged customers—the ones who open every product announcement and are interested in snagging a discount on their next purchase.
What started as a nursery art company in 2009—an expansion of founder and illustrator Stacie Bloomfield's personal project to create art for her daughter's room—has since broadened its audience with products like enamel pins, tea towels, and other home goods decorated with Stacie's clever, childlike illustrations. But when it comes to their email marketing, Gingiber finds that narrowing their audience with pre-built segments not only increases opens and clicks, but ensures them.
"We have learned that not all people who sign up for our newsletter will actually open it," Stacie says. "We have also identified a smaller audience that is more excited about our newsletter messages, so when we send to that smaller segmented group, we have seen our open rates increase."
Start with your full list, then zero in
The small paper goods and home decor company wholesales its products to 250 brick and mortar stores across the U.S. and ships orders from their online store internationally. They've connected their Shopify account with the MailChimp for Shopify integration, so they can seamlessly add customers to their list and keep them engaged after they've made a purchase.
Right now, their focus is on letting their best customers guide their marketing strategy. "We engage our entire mailing list at least twice a month, then target especially engaged customers an additional 2 times a month," Stacie says.
Gingiber first used this segmentation strategy leading up to the 2016 holiday season, and found that sending promotional emails to their most engaged customers a week before Black Friday led directly to increased sales over the holiday weekend. While they were impressed with how quickly customers started purchasing, Stacie says she used pre-built segments to guarantee their campaigns would get opened. Though, she does want to start targeting customers based on the products they purchase.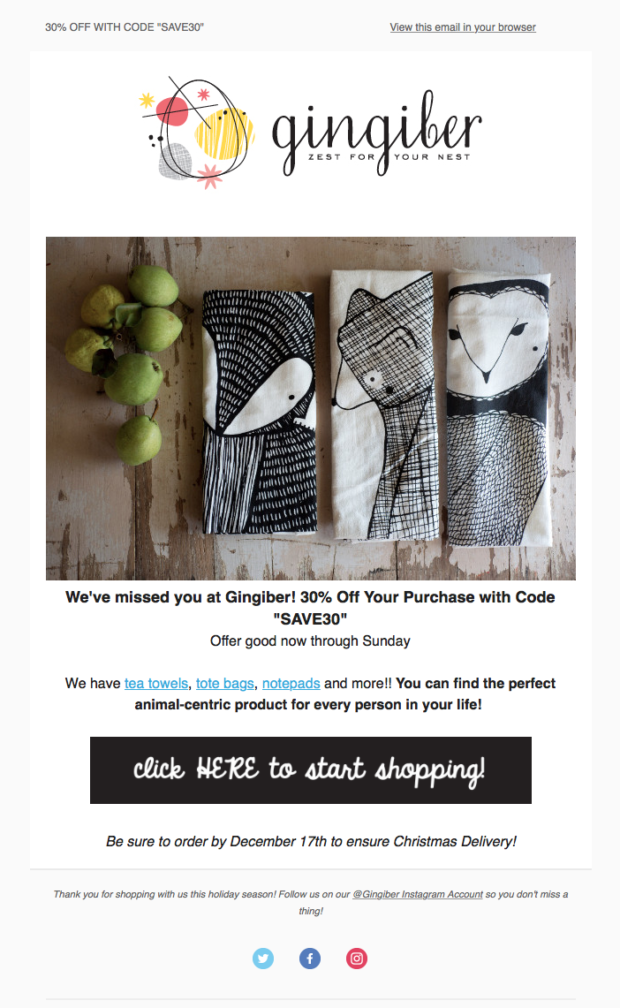 If at first you don't succeed, send again
When done strategically, resending a key campaign to subscribers who didn't open it the first time can increase opens and clicks. Stacie's team doesn't always resend a campaign if the open rate falls short of expectations, but Stacie says it's an important option to have when there's a message or announcement they need to get in front of customers. She likes being in control of how they communicate with their audience, something social media marketing and other tools don't necessarily allow them to do. And she even uses a campaign resend as an opportunity to run an A/B test on subject lines.
A more important target for Gingiber, however, are lapsed customers who haven't made a purchase in the past 8 months. They don't just want to send a product announcement to this segment of subscribers; they want to try to win them back. So they created a re-engagement campaign and sent it off to a segment of their inactive customers.
"In the subject of that email, we offered a win-back coupon," Stacie says. "That extra email earned us several orders from customers who might otherwise have forgotten about our store."
Reward engagement
Stacie considers staying engaged with their MailChimp list vital to the company's growth. Their secret to keeping customers engaged is rewarding engagement, and pre-built segments make it possible for them to send their most active customers freebies like coupons and downloads.
"We couldn't do that effectively without MailChimp," Stacie says. "It's a way that our customers can feel like we aren't just selling products to them; we are offering them something that they can enjoy and use."
Original article written by Maggie >