Black Friday and Cyber Monday are behind us, but there are still plenty of holiday shoppers looking for the perfect gift. With many wanting their purchases by December 25th, it's critical for you to plan around your carrier's holiday shipping deadlines and set expectations with shoppers.
To help, we created this chart outlining the important send-by dates recommended by USPS for Christmas delivery.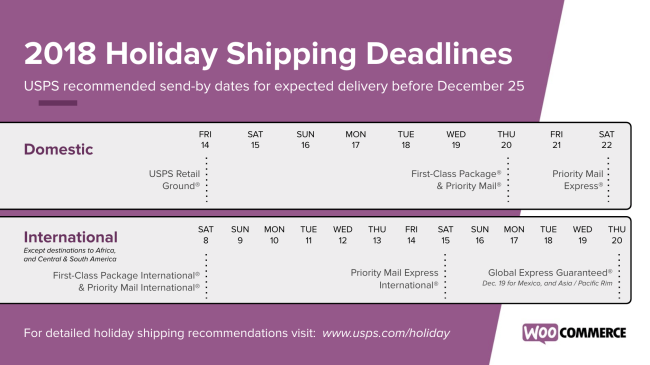 Download a PDF version.
USPS has more detailed resources about the holiday deadlines: Holiday Workshop, Holiday Newsroom, and Know the Deadlines fact sheet.
Here are a few tips to help you make the most of holiday shopping season:
1. Set (and publicize!) your "order-by" dates.
Use your carrier's send-by dates to determine your own "order-by" dates: the dates by which customers need to place an order for them to receive it before December 25. Make sure you give yourself enough time for processing, packing, and shipping the order. Announce these dates clearly on your store to set expectations with your customers.
Our friends at Pressable wrote a great post on how to create eye-catching announcements.
2. Prepare for last-minute shoppers.
We've all been there, shopping at the last minute for the remaining friends, coworkers, and family members on our gift list. Help your last-minute shoppers along:
Before your order-by date: Offer expedited shipping options like Global Express Guaranteed® and USPS Priority Mail Express® to push back your order-by date and extend the shopping window. Your shipping costs will be higher, and you can pass those additional costs along to your customers. Use carrier rate extensions to help you calculate and charge shipping costs during checkout.
After your order-by date: sell virtual gift cards and avoid shipping logistics altogether.
3. Get orders out quickly.
Your order-by and your carrier's send-by dates will likely be set very close together, maybe even be the same day. Fulfilling orders quickly and efficiently will be key to your success.
Use WooCommerce Shipping to buy discounted USPS labels with just a few clicks right from WooCommerce. Plus, with WooCommerce Shipping, you can print USPS labels right from your computer, avoiding long holiday lines at the post office.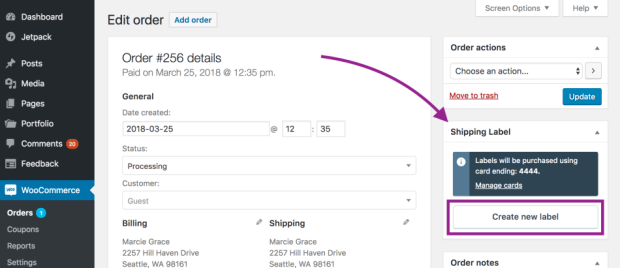 Maximizing the holiday shopping season
We hope this helps demystify your shipping deadlines and optimize your holiday sales. Do you have your own holiday shipping tips to share?