Join the WooCommerce Affiliate Program and start earning for all referrals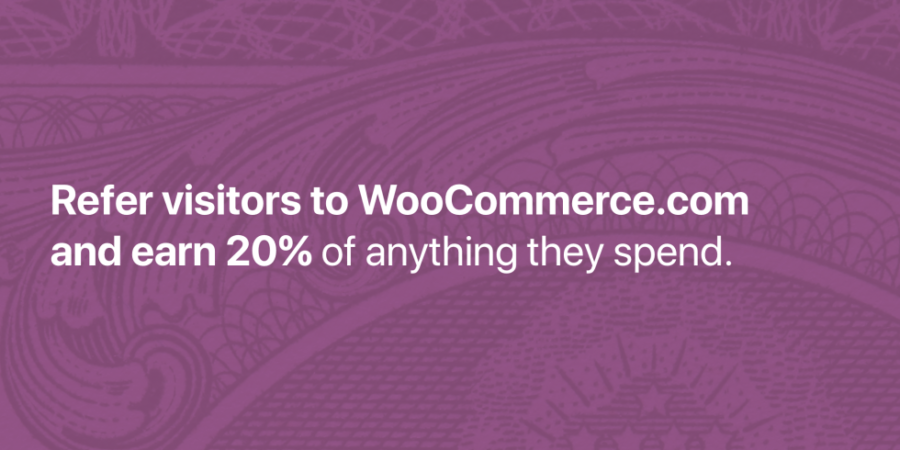 We're pleased to announce that WooCommerce has now been added to the affiliate program on refer.wordpress.com!
Earn 20% on all referrals by recommending the platform and extensions available on WooCommerce.com to your audience.
Keep reading to find out more, then create a refer.wordpress.com account, and pick WooCommerce to start collecting cash.

Program overview
The WordPress.com Affiliate program now includes WooCommerce! Enjoy a neat revenue stream for referring people, if you have an audience interested in WordPress or eCommerce.
All the tools you need to promote WooCommerce.com and earn top commissions from resulting extensions sales are provided – you sign up for an account, get verified, generate a unique referral URL within your dashboard, and then add it to your website, newsletter, theme, or plugin.
In addition to WooCommerce, you can create referral links for Jetpack.com and WordPress.com plans in the same place, and earn extra money the same way.
It's an exciting opportunity for the WordPress community!
Who should become an affiliate?
WordPress-focused blogs and sites
eCommerce-focused sites
WordPress plugin authors
WordPress theme designers
Freelancers, contractors, and agencies

Commission & benefits
20% commission for every WooCommerce.com sale
Earn 20% of all revenue generated by your referral. It adds up quickly!
Unlimited referrals
Sky's the limit! Refer as many clients and contacts as you like, and get paid for every sale.
Intuitive dashboard
Launch and manage campaigns, track traffic, view detailed statistics, customize reports, and check your payments.
Expert support
WooCommerce.com affiliates get direct support from Automattic's affiliate marketing team of experts in high-converting products.
Go to refer.wordpress.com to get started!
Original article written by Travis Jacobson >
[wpseo_map width="100%" height="300″ zoom="-1″ map_style="roadmap" scrollable="0″ draggable="1″ show_route="0″ show_state="1″ show_url="0″] [wpseo_address hide_address="1″ show_state="1″ show_country="1″ show_phone="1″ show_phone_2="0″ show_fax="0″ show_email="1″ show_url="1″ show_logo="0″ show_opening_hours="1″]