Restoring old cars is big business. It's also art! Created by people with the ability to preserve heritage.
Pagoda Classics is a Croatia based car restoration and renovation company. With more than 25 years of experience and over 150 renovated vehicles, they've become a synonym for passion, individualism and perfection. CEO Karlo Beštak and his skilled team are devoted to fulfil the highest expectations in restoring classic cars to a better-than-new condition.
As the agency tasked with building their website, our job was to convey that message to the world and create the best possible online experience for their customers. Solution? WooCommerce paired with custom-made photo and video content.
The Power of Videos and Photos for eCommerce
Video was used for background visuals as part of the design, but also as on-demand apropos video which would tell the story behind Pagoda Classics.
Photos, on the other hand, were used to depict individual cars on sale. They can be uploaded in 4K or higher so users can see new arrivals in great detail. Seeing that the prices of these babies go up to half a million euros, it's essential to present every nook and cranny of the vehicle to potential customers.
Video is dominating the internet. It can help you improve search ranking, engage your customers and boost your conversion rates: up to 85% of users are more likely to make a purchase after viewing a product video.
Video performs well on all devices, making it more user-focused, yet is still one of the most underutilized eCommerce strategies. The reasons for that vary from overwhelming pre-production process, very expensive gear and big production crews all the way to operating complicated post-production software.
Of course, anyone can shoot a video on an iPhone and for certain contexts that level of quality is acceptable. But for Pagoda Classics, professional quality was a must.
Video is dominating the internet. It can help you improve search ranking, engage your customers and boost your conversion rates.
Finding the perfect location for the shoot
Pagoda Classics had two wishes for the video: epic drone footage and great looking rugged scenery. Neuralab is blessed to have teams in Croatia where beautiful surroundings are bountiful. On top of that, we have island Pag, which over the years has become known as the go-to place in Europe for shooting car commercials. Part of its landscape looks like the surface of the moon, so choosing a location for this shoot was a no-brainer.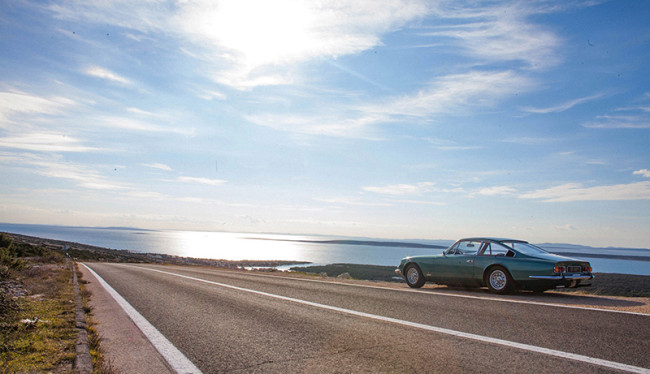 While figuring out the skeleton of the video, we decided to open with a thirty seconds raw sequence of actual driving, followed by the story behind the company.
Location scouting was executed via Google Maps and street view. We went through every corner of the road itself and determined which locations to shoot at, and also what gear to use to get the shots we needed. All of the permits (for shooting on state roads + drone flying) were acquired, and we were ready to take the production on the field.
The crucial production asset for this kind of video is b-roll. In order to have a wide spectrum of it, we used gimbals, sliders, tripods, monopods and a drone. All of the audio was recorded on the field with a shotgun mike. Seeing we were shooting in December when daylight is short, a proper shotlist was essential to not waste any time. We started shooting with the sunrise on ferry crossing and finished with the sunset on the other side of the island.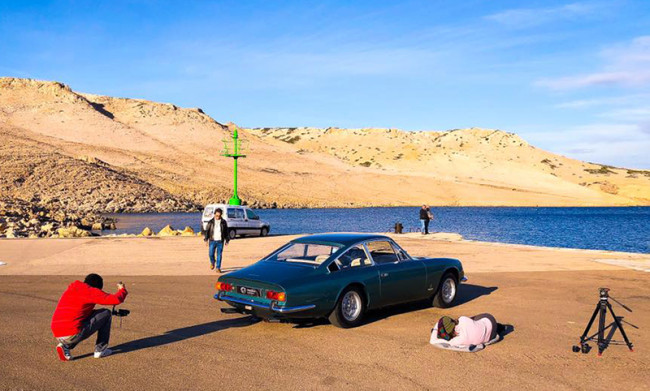 The biggest time consumer in post-production was colour matching and grading because everything was filmed with 5 different cameras, each with its own colour science. It was imperative to achieve an even look throughout the video. Especially since it would be an intricate part of the homepage design. We worked closely with our design team and followed the brand guidelines. The edit itself followed our tried-and-tested style of cutting: fast, attractive, and narrative.
Before exporting, we consulted with our developers about file formats and codecs to be used. Video can drag page load time, so it's good to have an even mix of quality and size. All in all, it took us 113 production hours to deliver the final versions, ready to be shared with the world.
The importance of good product photography
Even though videography is supreme when it comes to conversions and brand awareness, photos still play a major role in every good eCommerce store. They grab and hold users attention.
With Pagoda Classics we had two goals, regarding the creation of photo content:
To conceptualize and produce high-quality photos which were to be used firstly as part of the website design and secondly as product photos in the stocklist section.
Our task was to shoot three exceptional and very different cars:
With Alfa Romeo Giulia, we were aiming for a rustic setting. Something like countryman club with stables, and lots of greenery. Giulia was painted in an unusual celeste blue colour, so we wanted to emphasise it and shoot with vintage lenses to recreate that retro look.
For Alfa Romeo 1900C we wanted something rugged, post-apocalyptic, with lots of cold concrete paired with the warm colours of setting sun during the golden hour. That all contributed to accentuating the cars minimalistic yet aggressive lines.
The Mercedes on the other side oozes with luxury and extravagance. For this stunning convertible, we picked a location in downtown Zagreb, in front of the Art Pavillion, built in the late 1900s. It served us as a great backdrop for the nostalgic look&feel of the car.
Prior to photo shooting, we consulted our design team to determine which motives and compositions were needed to implement inside of the website design itself. In the end, we used both photos and still shots from the video in order to achieve the attractive look and smooth user experience.
Our second goal was to consult Pagoda Classics content creators on car photography so they can shoot and publish first-rate photos themselves. This turned out great! We were lucky enough to meet a tech-savvy client eager to learn and evolve into a leading company in all segments they offer. They've tackled photo production with ease and all of the photos for recent additions to stocklist were shot and edited by them.
An artfully crafted automotive experience
Creating custom content for Pagoda Classics was both a thrill and a challenge! We thoroughly enjoyed seeing these epic classic cars up close and trying to convey the story of the company for potential customers. We feel that the produced content embellishes this WooCommerce project.
WooCommerce was the best solution for this project because of its customizable framework, REST APIs and the fact it's one of the greatest platforms for custom theme (user interactions) development in the industry. Also, reporting and analytics are easy – the built-in reporting tools make a wide cluster of statistics crystal clear. In addition, WooCommerce integrates with FacetWP, SearchWP and membership plugins seamlessly and that makes a nice combo for our clients and most importantly, end-user.
And the client? This quote from Clutch.Co review says it all: "Neuralab's casual approach, punctual delivery, and honest project leadership have all contributed significantly to our satisfaction."