Getting Hired for Design at MailChimp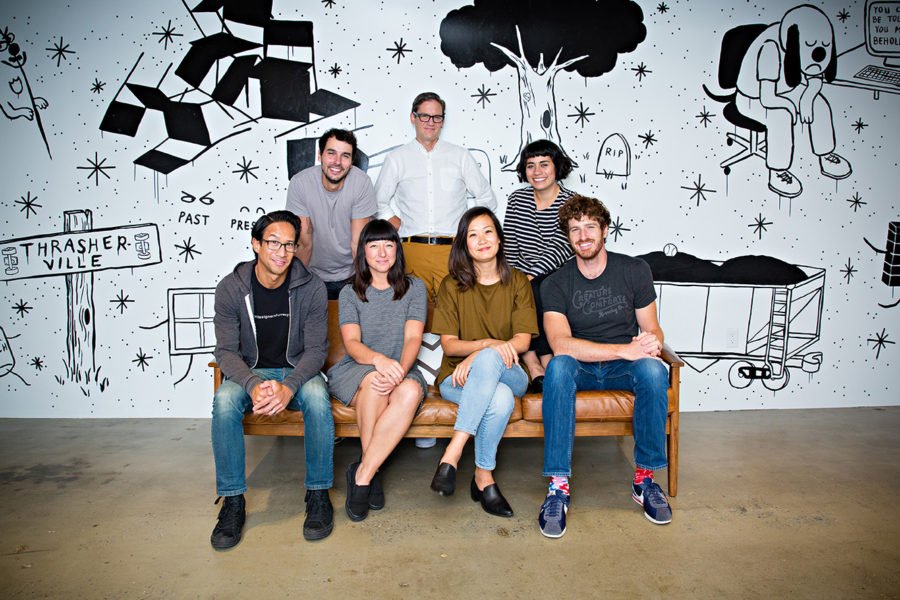 If you had to describe MailChimp in visuals, you might use a paint drip billboard, a Freddie made of moss or basmati rice, and about a hundred different T-shirt designs. Then again, maybe you'd use a skateboard deck, a temporary tattoo of Grace Hopper, or a neon sign about coffee inspired by Dave Grohl.
Also part of design: our product, an automation platform designed to be fun, good-looking, and above all, easy to use.
"From MailChimp's beginning, design and user experience have been a core part of our business," says Todd Dominey, Senior Director of Design. "It is part of what has always differentiated us, and it's in everything we do."
The 3 branches of the Design team—Brand and Culture, Product Marketing, and Product Design—are responsible for how MailChimp interacts with both our customers and the community at large. Everything MailChimp looks MailChimp-y because a talented creative team focuses on every single detail of the experience for consistency.
What does it take to make a MailChimp designer? We asked the people who do the hiring.
Chase Curry, Senior Designer, Product Marketing
Background: interactive design, product design, UX design, internal tools, product design
Job at MailChimp: "I work with the other designers on the Product Marketing team and Product team to come up with different ways to talk about MailChimp. We try to go beyond the standard stuff and push the boundaries a bit when we can."
What are you looking for in interviews? "I think a lot about how well someone can tell a story. It's 2 parts: Can you tell a story aesthetically, and can you take a complex and technical challenge and break it down into something that can educate, inspire, and inform? Can you distill a concept to something digestible, exciting, and fun? A nice visual is only half of what we want. The other half is user empathy and storytelling."
What do you look for in a candidate? "A rounded set of interests, a good culture complement, depth of character. And nice—we like nice people.
We run the gamut from hypercreative to hyperlogical. The best product marketing designers understand the user's perspective as well as good visuals."
What do you love about working on the design team? "Our work can be really creative and funky and weird. One day we were talking about our then-upcoming product recommendations feature, which we called P-Rex. I spent 3 or 4 days just drawing a T. rex holding dresses. That idea was not only not pushed down, but elevated. It speaks volumes about what type of place MailChimp is. We encourage spending time on weird stuff that has no direct impact on the bottom line."
Eric Toledo, Director of Design Ops
Background: 15 years in product design, leading UX efforts across business from small startups to large organizations
Job at MailChimp: "My job is to nurture a healthy environment where product design can collaborate harmoniously with engineering, design, and product. I ensure that the right paths are in place for designers to thrive and grow and empower them to do their best work."
What do you look for in a candidate? "I look for someone who can articulate the reasons why they would make a decision. I want a systems thinker who isn't focused just on one feature but is thinking along the lines of how things work across the whole experience."
What are you looking for in interviews? "I like to see that candidates have a clear process around how they evolve an idea from concept to execution. I like to see that there is sound logic in their decision-making and that their story is fluid. Communication style says a lot about what a designer might bring to a cross-functional dynamic. "
What's your advice for someone who wants to work at MailChimp one day? "Be curious. We hire from industrial design, engineering backgrounds, literature majors. If you're curious, you like to take things apart and figure out how they work and then turn that into a narrative. Those are the types of things that help you hone the skills for what you need in product design.
Also, practice creation without being too attached to your ideas. Find opportunities to practice being OK if someone doesn't agree with you or has a different perspective. Being attached to an idea makes it really hard for someone to thrive in a collaborative environment."
Jenna Crisp, Senior Talent Scout, Design
Background: 10 years of experience in recruiting for technical and ops positions. "I came on board to help out with technical recruiting and was thrown into design. I've been learning design on the fly!"
Job at MailChimp: "My job is to make sure we have the most diverse candidate pool that we can. We do a lot of university recruiting and recruiting events, we search on traditional channels like LinkedIn, we sometimes find cool people on Twitter and Instagram, and we're also lucky enough to have a lot of really talented people who apply to work here."
What do you look for in a candidate? "I look for someone who is curious, humble, enthusiastic about design, interested in our culture, and has a strong portfolio of work. I also want to find out what interests the person most and which team lines up best with their interests: Brand and Culture, Product Marketing, or Product Design. People tend to align with one team or another, but everyone is generally interesting, fun, and absurdly talented."
What are you looking for in interviews? "We look for candidates who are extremely collaborative, talented, and aligned with MailChimp's values. There's a fine line between selling yourself and your work but also being humble. I like when people tend to talk a little more about the 'we' and team aspects of their experiences and what an experience has taught them versus what they've taught."
What's your advice for someone who wants to work at MailChimp one day? "Go after as many experiences that you can and try new things. Don't be afraid to take risks, and keep a really strong portfolio of everything you do. We value a lot of life experiences and our design leadership team does, too."
Ross Zietz, Art Director, Brand and Culture
Background: 10 years at a crowdsourced T-shirt startup, from junior designer to creative director; in-house and agency design
Job at MailChimp: "I manage the Brand and Culture team. We're a lucky bunch. We make all the stuff that's visible to people internally and externally—swag for employees in our Rainbow Room, swag for partners, event experiences, and any other projects that pop up."
What's your team like? "The team here is all about collaboration, not competition. It's like we're working on a book, and we each have a piece of it. We have people who are good at traditional media illustration, design illustration, people who make music, people who are really good at character design and hand lettering, people who are great at animation. We're good at improvising and we like to break our own rules when we're making things."
What do you look for in a candidate? "I love when people have self-initiated projects. They keep the drive going. A lot of us on the team have passion projects. This is a place to grow, and there's room to meander into things you like and get better at them."
What do you like best about design at MailChimp? "Our brand as a company is what sets us apart. I love making our swag and seeing everybody in the office wear it proudly. It's like making a legitimate clothing brand for a tech company."
Jane Song, Senior Designer, Product Marketing
Background: primarily agency and in-house at tech companies, with a focus on both web and print design
Job at MailChimp: "I work with the Marketing team and other designers to come up with creative campaigns around large-scale product releases."
What are you looking for in interviews? "We need to know you care about the business and understand business goals. One of the mistakes people make is just pitching portfolio work. I want to see how the project solved the client's problem. Stress what you can contribute.
I want people who aren't afraid to jump in and take initiative. In product marketing, we also look for web experience and familiarity with best practices."
What do you like best about design at MailChimp? "The level of autonomy we get is really appealing to me. There's a lot of room here to play and do things that are not necessarily in your job description, and there's a lot of reward for having good ideas and pursuing them on your own."
What's your advice for a new designer? "Always be learning. A lot of people on our team have multiple skills that we've taken the time to learn just out of curiosity. I specialize in layout and typography, but I also do illustrations and I am teaching myself After Effects. If you're not able to get the internship or entry-level job you want, create as much as possible on your own—make work you're excited about."
Jacqui Frey, Design Project Manager
Background: 6 years in software industry, 12 years around design. "I always gravitate toward fast-paced and design-centric areas."
Job at MailChimp: "My job is to understand the projects that come in the door and get them delivered, as well as help create programs to motivate and grow our teams."
What's your role in the hiring process? "Often, I'm the person who unearthed the business need for the role. I study trends and analytics to forecast growth and the Design department's recruitment needs."
What are you looking for in interviews? "I look for cultural complements. I make sure that they're a good fit for MailChimp and that MailChimp is a good fit for them. I listen out for design ops chops and organizational skills like understanding of timelines, design milestones, project execution, and communication skills."
What's your advice for an aspiring designer? "Have a side hustle. It's a fast way to grow your design skills and experience. Thinking big and understanding the customer experience is critical. Take your art and make stuff from it. To be a really great designer, you should have an entrepreneurial spirit."
Todd Dominey, Senior Director of Design
Background: designer "before the internet happened," agency, coder of apps and websites, creative director, entrepreneur
Job at MailChimp: "My main job is overseeing the customer experience and design of MailChimp. This includes our web and mobile product, brand design, events, product marketing, and anything else Design gets involved in. There's no way I could do it all alone, so thankfully we have a number of fantastic senior designers and managers who are all focused on the same goal."
What do you look for in a candidate? "The #1 thing is ensuring that candidates align with our core values as a company. We meet a lot of wonderfully creative people who have beautiful portfolios, but we look for more than that. We look for original thinking, a passion for craft, empathy, and humility. Above all else, diversity of experience and cultural background is key when building a team, so that's something we consider with every candidate.
I'm also looking for people who are curious. For me, curiosity is more interesting and important than mastery. In my experience, people who are curious typically end up being the most innovative and unpredictable."
What are you looking for in interviews? "Part of being a good designer and someone who performs well is knowing when to ask for help. In an interview, I want to know what you're passionate about and what gives you the most creative satisfaction, but also what you're not particularly good at. It's tempting to say you're good at everything, but nobody truly is. Understanding someone's weaknesses is just as important to me as their strengths so we can provide the requisite support they'll need to succeed."
Interested in being part of our Design team? Check out our Jobs page for open positions.
Original article written by Katie >