From military-grade shelters to DNA testing for dogs: we use WooCommerce to help all kinds of clients grow their businesses. Here's the story of how we worked with Micah and Adriana to turn their own passion for dogs into an online canine genetic testing service, so all dog lovers can learn more about their canine companions.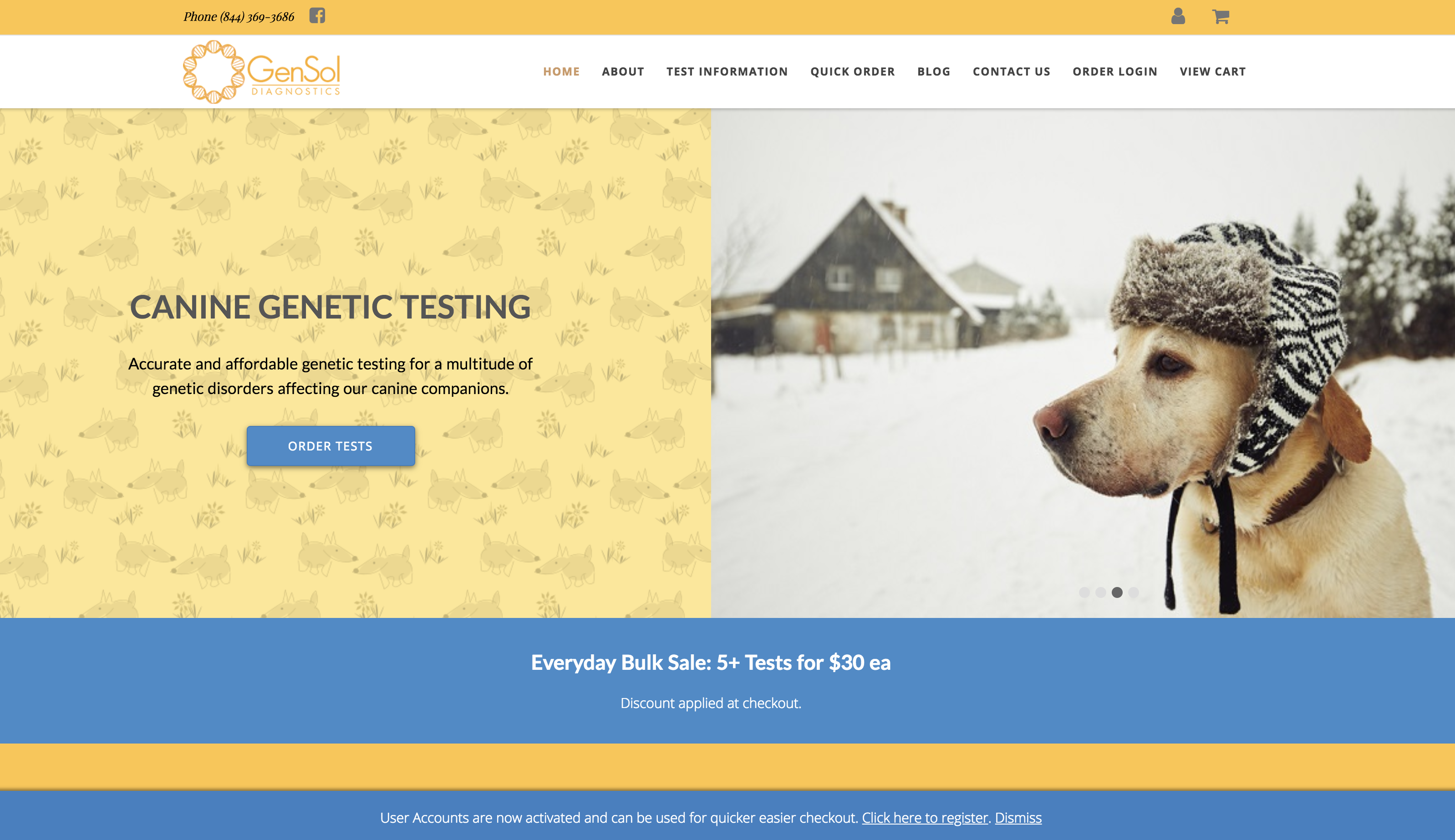 An unpopulated field
Genetic testing has blown up in recent years. We of the hominid persuasion use it mainly to determine where in the world our ancestors came from. DNA testing has also become big business for the furry little carnivorous companions we keep around our homes. While breed testing is increasingly popular, disease testing is the key driver of the boom. Dog DNA testing is super important for breeders and veterinarians to understand and prevent painful hereditary diseases.
Early on, there were just a few labs offering expensive disease tests to breeders and vets. As genomic technology progressed, so did the business of genetic testing. With better technology in place, more companies could join the fray.
Beginnings: Enter GenSol
Before 2008, Dr. Micah D. Halpern was working in forensic science, pathogen detection, and animal genetics. On top of that, he co-authored a number of peer-reviewed journal articles and published a handful of genome sequences.
This wealth of experience plus his love of animals pushed him to try something different — working for himself. He recognized that the major barrier to reducing genetic diseases in dogs was the excessive cost of testing. He wanted to change that.
The catalyst? His own pet. Micah and his wife, Adriana, found that their Australian Cattle Dog had a genetic eye disorder that would eventually leave him blind.
Knowing that breeders would be better able to reduce the prevalence of genetic disorders in dogs if testing were more affordable and available, the Halperns started GenSol Diagnostics.
"After finding out that the test cost was the main barrier to reducing genetic disease in dogs, we determined that we could apply more advanced genetic testing technologies to significantly reduce the cost of testing and make it more available to pet owners, breeders and veterinarians." – Micah D. Halpern
As their customer base grew, so did their business and staff. They've been lucky to find employees that are as dedicated to improving dog health as they are.
Since they started GenSol, they've seen a sharp decrease in the cost of disease testing and a greater overall availability in the market. They are happy to have the most affordable tests in the business while focusing solely on disease and coat/color testing.
"Since we came on the scene, not only has the industry grown in size with new testing companies coming on the scene but more importantly, we have seen an overall reduction in the cost of testing across the industry. We are proud to know that we played a major part in reducing the overall cost of testing which means more people testing their dogs and hopefully resulting in fewer dogs with disease." – Micah D. Halpern
GenSol and WooCommerce
GenSol didn't originally start on the WooCommerce platform, but their original eCommerce platform wasn't satisfying their needs and didn't work intuitively for their business. WooCommerce came highly recommended, so they made the switch and never looked back. WooCommerce helped them position their online store for success. Asked to distill their experience using WooCommerce in three words, Micah said, "effective, efficient, and flexible." We at coolblueweb could not agree more.
"We considered other options but were impressed with WooCommerce's capabilities and their standing in the industry. Since we made the switch, we have never looked back." – Micah D. Halpern
GenSol and coolblueweb
The right eCommerce platform wasn't enough, though. Their competitors were building up their websites with the newest web development improvements, and the Halperns realized that their site needed an overhaul.
After interviewing several development agencies, they landed on coolblueweb. Since they were already on — and happy with — the WooCommerce platform, they liked the Woo experience we brought to the table.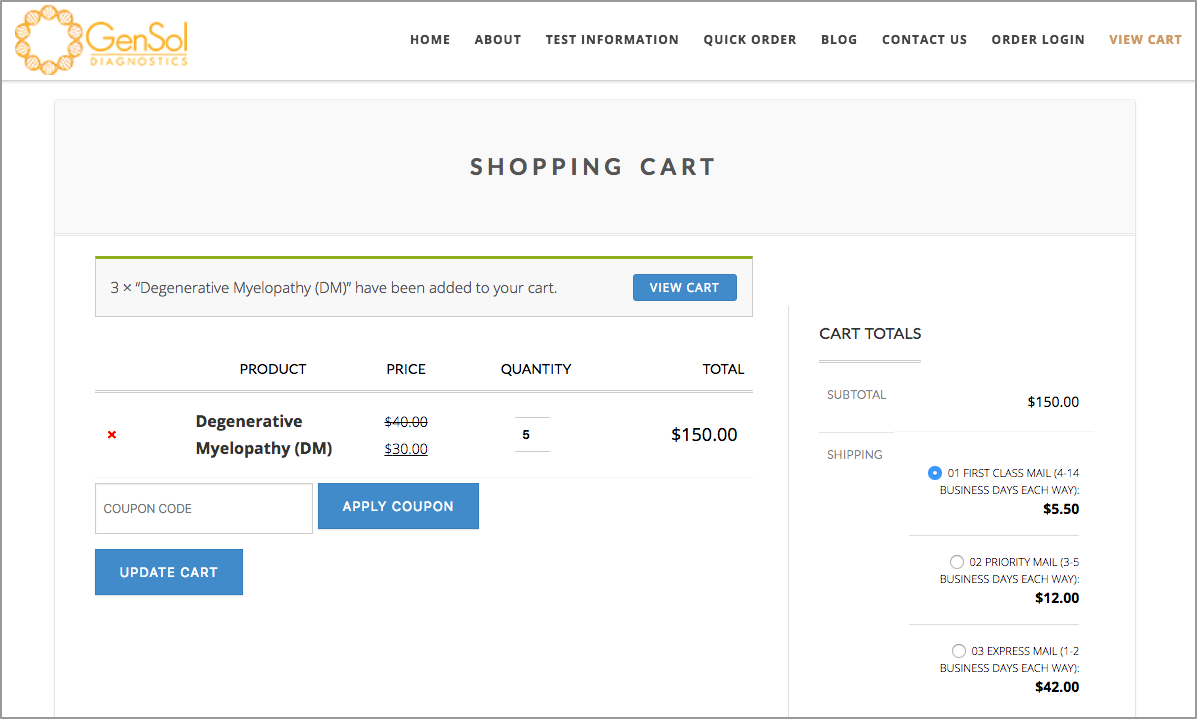 "coolblueweb impressed us with their knowledge, approach and experience with WooCommerce as well as back-end and front-end solutions for growing our website and business." – Micah D. Halpern
We developed an extensive plan to make their site more user-friendly for visitors and more GenSol-friendly on the backend.  Our big goals: enhancing the customer experience and making GenSol run more efficiently,
"coolblueweb helped us update our look and customer experience which in turn has resulted in increased sales and growth. We have seen both improved productivity as well as increased revenue." – Micah D. Halpern
Key plugins and extensions used
To build GenSol's online home, coolblueweb used a number of plugins and extensions. Here's a quick look at some of the more specialized building blocks we chose, and why:
WooCommerce Role-Based Payment and Shipping Methods – This extension gives GenSol total control of the shipping methods and payment gateways available to different types of users, from administrators and editors to subscribers and customers.
WooCommerce Sequential Order Numbers Pro – With this extension, GenSol's order numbers increment instead of randomizing, making for a more organized system.
WooCommerce Print Invoices/Packing Lists – This extension simplifies the process of printing invoices and packing lists for outgoing orders. GenSol can print directly from the order list page, and has the ability to customize the information on the resulting documents.
WooCommerce Conditional Shipping and Payments – This extension gives even greater control over the payment gateway and shipping methods by allowing limits based on product type, product weight/dimensions, customer location, and order total.
If you're interested in the full detail and specifics of the store build, take a look at GenSol's Showcase entry.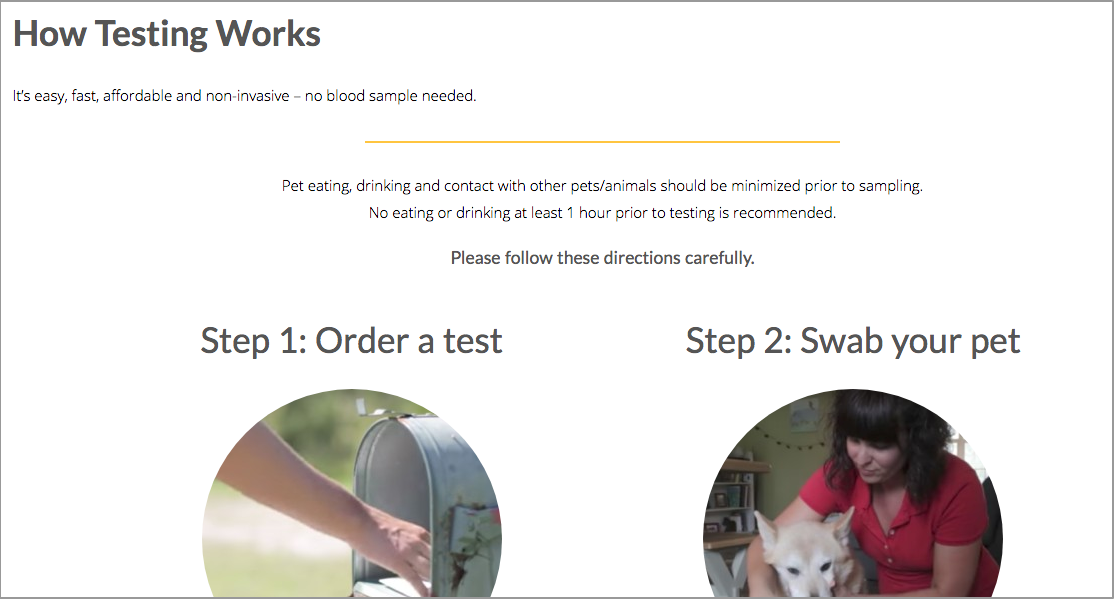 The Future of GenSol
As their testing capabilities improve and grow, GenSol wants to reach more customers. Staying up to date with the latest web technology and maintaining a great experience for their customers is very important.
Leveraging their relationship with the WooCommerce platform and the expertise of the coolblueweb WooExperts, GenSol will continue to grow and thrive in the realm of canine genetics.
"At GenSol, we are looking to continually improving our customer experience, enhance our web accessibility and marketing and streamline our internal processes and coolblueweb and WooCommerce are two key providers that will help us achieve future growth within the industry." Micah D. Halpern