The search for healthy food is no piece of cake.
It's easy to get trapped, bouncing between grocery stores with tiny "Health Food" sections (what exactly is the rest of the store offering?) and stopping at multiple, specialized shops along the way, possibly never really finding what you want.
Around the world, healthy food store owners strike out with a vision of helping their clientele eat better. But it can be hard to make an impact — and a profit — selling specialized products in a small location.
That's where WooCommerce swoops in to make a connection. You might think that it would be tough for stores with perishable goods to tap into eCommerce, but here are seven fresh and engaging retailers that have found success in this growing segment of the market.
Toosh Natural Grocery
Healthy meals start with healthy ingredients. There's just no other way.
A lot of healthy eaters have moved beyond the over-priced and over-cute packages of "healthified" grains, nuts, and dried fruits available in most stores — and they've started to see the beauty of bulk.
It's not "bulk" as in "200 rolls of toilet paper," but rather in the sense of natural ingredients measured out just for you and wrapped up with a minimum of packaging and fuss.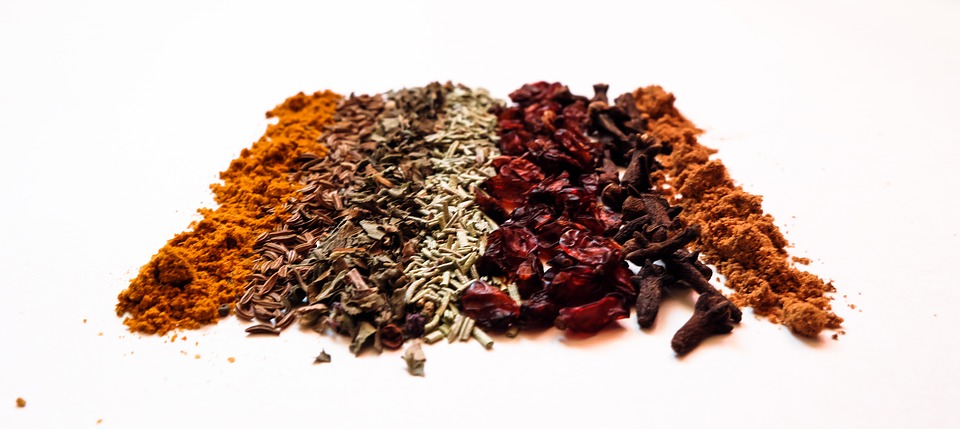 Toosh Natural Grocery offers shoppers a huge array of unique ingredients to inspire tasty, colorful, and natural meals. What if you could get a kilogram of barberries? Have you even had barberries? What if you could choose between Turkish apricots and Australian apricots? You could get them both — learn what you like!
Social tip: Resist the urge to tell your friends "I only eat Turkish apricots."
Toosh takes advantage of a long list of WooCommerce extensions, giving order to its colorful inventory with Cost of Goods to analyze profits, Xero to integrate its online store with its business accounting system, and Newsletter Subscription to build an ever-growing customer list.
Farming for Tomorrow
Farming for Tomorrow brings Chinese shoppers a complete range of fresh ingredients. The site even offers insight into the farmers and providers who supply the food.
Some of the products on offer come with pretty unique shipping requirements — think seafood. So, store employees hand-select the items to help ensure their quality, and Farming for Tomorrow needs to be able to dial in unique shipping prices, based on items' temperature as well as their weight and destination.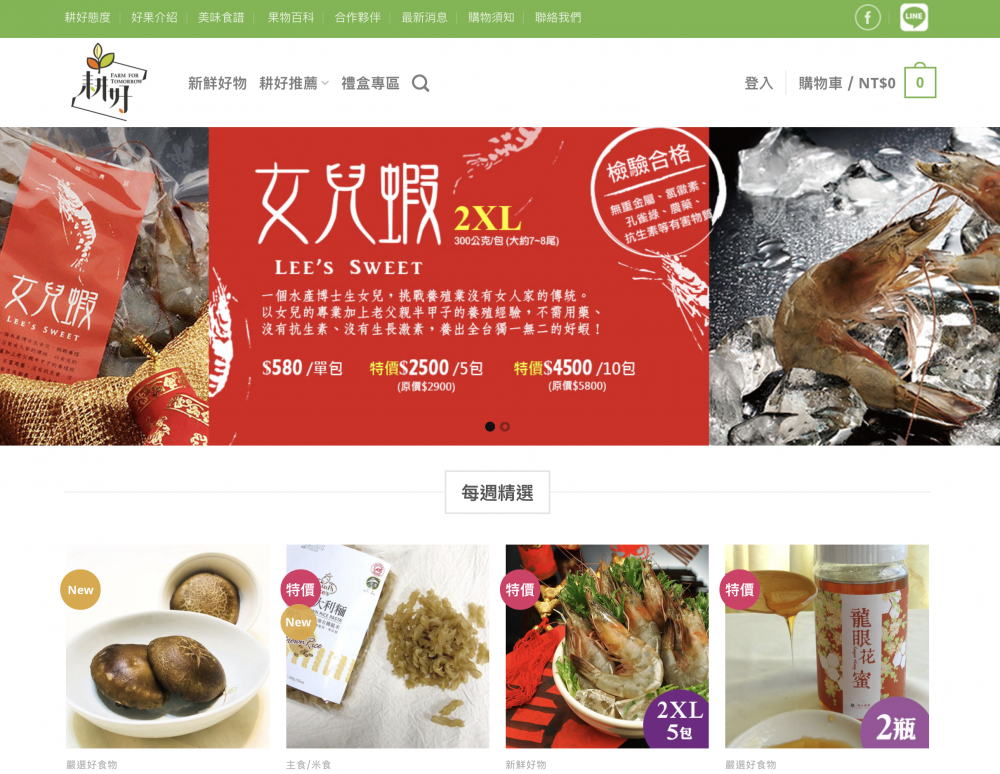 With Per Product Shipping, Farming for Tomorrow employees have that control — and they can even export all of their shipping rates into a spreadsheet, just in case they want to peruse them while sipping Saké (more on that later). Plus, Table Rate Shipping makes it easy for employees (sans Saké) to edit and import updated prices to keep things moving without waiting for complicated site edits.
BetterBody Foods
Do you want to build a better body by brunching? Okay, maybe you can't do that, but the folks at BetterBody Foods do believe that good foods contribute to a happy and healthy life.
BetterBody connects its customers to the benefits of products made with agave, coconut oil, peanut butter powder, and other foods. The company was already established when it decided to start selling products directly from its website — and that's when it met WooCommerce.
BetterBody already had existing sales channels, a clear focus on customer service, and a fun-looking website, so it loved the way that WooCommerce customizations let it build a store that fit right in. The company configured the store to tell shoppers how far they are from earning free shipping, and to let shoppers add ingredients to the cart directly from the Recipes page. ShipStation Integration even helps the company rein in all of its existing sales channels so that it can track and ship from one place.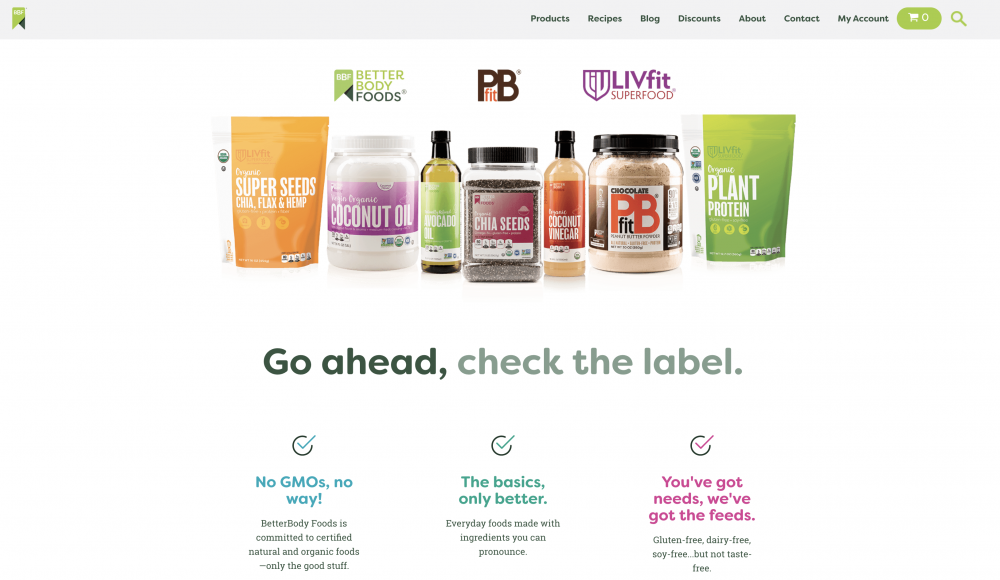 Fusion Jerky
When KaiYen Mai set out to climb Mt. Kilimanjaro, she knew that she would need some protein-rich, nutrient-dense food for the journey. But she grew frustrated with the flavors and textures of her energy food along the way to the top.
By the time KaiYen returned home, she had become inspired to build on her family's culinary traditions by creating Fusion Jerky — an all-natural and delicious-tasting gourmet jerky that provides lots of low-sodium protein without gluten, nitrates, or preservatives.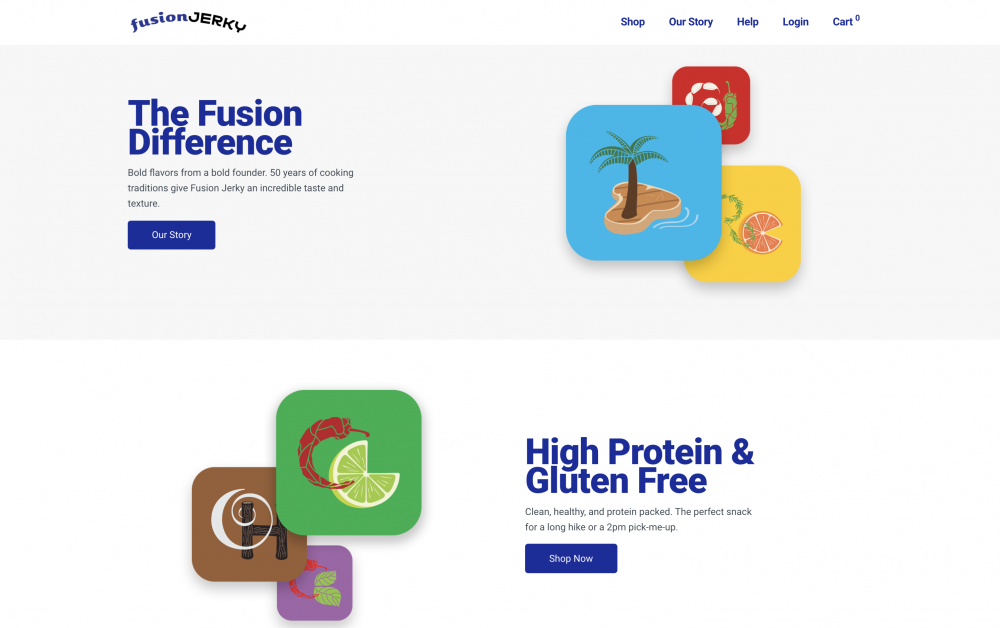 KaiYen built her inspiration into a facility in the cattle country of Scottsbluff, Nebraska, but she wanted to reach customers far and wide. Fusion Jerky turned to WooCommerce, and the Stripe extension helps the company keep customers on the site even while completing payments — a factor that's proven to lead to higher conversion rates.
Green Dinner Table
Some customers are searching for the ultimate ease and inspiration of complete healthy meals that arrive at their doorstep. For people trying to eat healthier, more sustainable foods, it can help to have a chef who tells them "try this!"
Cole Stacey and Tom Riley founded Green Dinner Table because they wanted to make it as easy as possible for people to adopt a healthy, sustainable diet. The two set their sights on shipping fresh ingredients for ready-to-make meals around the Christchurch, New Zealand, area. They set up shop in a historic hotel, but they knew that their busy customers couldn't stop by to sign up for the service — so they built a WooCommerce store on their site.
Now, customers can subscribe to Green Dinner Table online and, with the PayPal Powered by Braintree extension, the company conveniently accepts PayPal, credit cards, and debit cards directly at the site.
SakéOne
So, now you've had dinner. It's time for a little digestif while you chat about how all of those tasty natural elements intertwined to create a delicious blend of flavors and traditions.
What could be more appropriate than sipping something from SakéOne, a premium brand of Japanese rice wines that draw from the waters of Oregon's Willamette Valley? The folks at SakéOne are passionate about the larger goal of introducing saké to their American clients, so the company also imports and sells premium saké and shochu from Japanese brewing partners.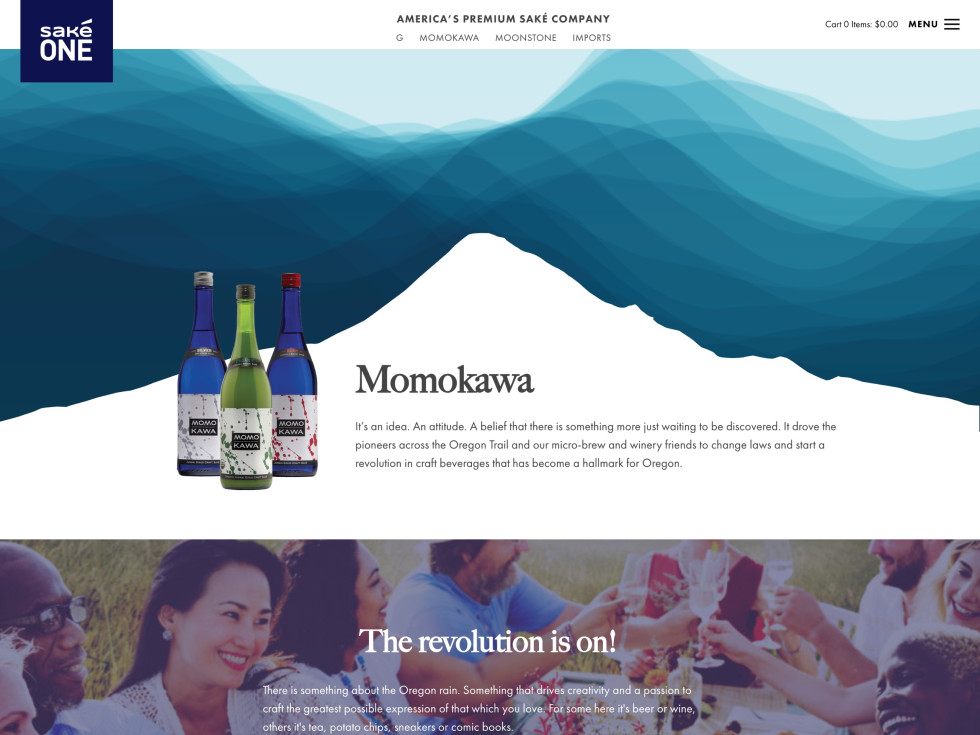 It all comes together through the SakéOne store, where WooCommerce customizations give customers a way to quickly zoom in on the price, brand, size, and other factors that define exactly what they want to try.
Craft Can Directory
Now, if you combined the concepts of a meal-service subscription and an after-dinner drink, you might come up with something like the Craft Can Directory — it's a way for customers to receive a shipment of the best of British, European, and international beer, either once or on a regular schedule.
With a dizzying variety of specialty beers and special-occasion gift sets available, the Craft Can Directory truly taps into the capabilities of online commerce — and WooCommerce Memberships helps the store quickly establish ongoing customers who last from month to month.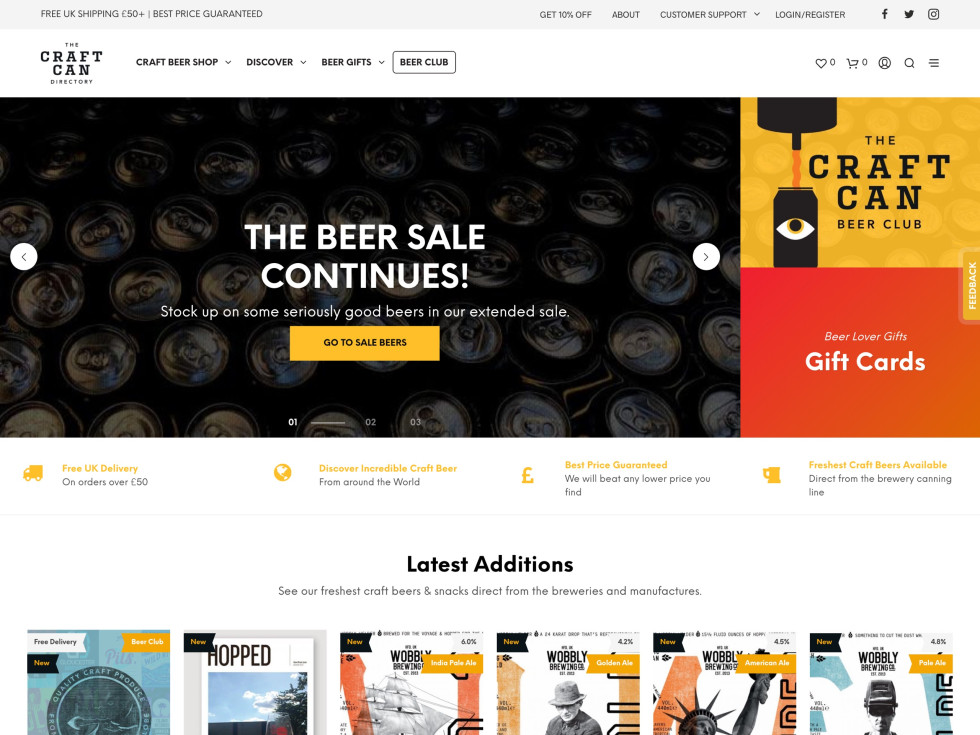 With competitive prices and quick shipping that guarantees freshness, the Craft Can Directory applies many of the concepts that make eCommerce a powerful tool for fresh food fans around the world.
Now Go Nuts
WooCommerce gives you both pre-built templates that help you start quickly and also the power of customization with an open-source interface that ensures ongoing updates, features, and community support. There are even WordPress themes waiting to help you build out a stunning storefront.
And, of course, the core WooCommerce software is free.
So, if you're ready to start your store — health- or food-related, or not — it's time to go nuts.