Email marketing is all about building a relationship with your customers by sending the right communication at the right time. This gets harder as your customer base grows. You probably don't have time to send one-on-one messages to each one of your subscribers, so how do you scale relationship-building? Email automation.
Now that you have a sense of the email lifecycle and recommended tools, let's look at five best practices for building customer relationships with email automations.
Email automation uses pre-set workflows and sends specific emails according to conditions you define. This way, your subscribers get personalized emails without you having to keep track of individual conversations. Follow a few best practices to create seamless, ongoing conversations with your subscribers:
1. Never miss a chance to make a first impression
Welcome emails thank the subscribers for subscribing, make your brand's first impression, and set subscribers' expectations. Cover all three bases by surprising new subscribers with a discount coupon, writing copy that conveys your brand's personality, and highlighting your email sending frequency.
2. Reward loyal customers with something special
Loyalty in a competitive marketplace is hard to find. Reward loyal customers with early bird surprises or special discounts to show your gratitude. Or try asking for their suggestions on your products and services —  being asked for opinions makes people feel appreciated.
3. Invest in a recommendation engine
The eCommerce industry thrives on tailor-made recommendations based on the purchase history of your subscribers. By investing in a recommendation engine, you can automatically send your customers relevant suggestions based on products they've purchased, or even just viewed.
4. Bring back inactive subscribers from a deep sleep
Statistically, 60% of any email list is made up of inactive subscribers. Try a series of timed re-engagement emails to re-engage your subscribers and retain more customers. 
Use the first email to remind them that they haven't purchased from your site in a long time. You miss them and hope they'll be back!
Set a trigger to send a second email two weeks later, and offer a perk like free shipping or a discount coupon. Finally, use a third email to let them know that if they don't take action you'll assume they'd prefer to be removed from your list. 
5. Create a high-performing cart abandonment email
Not all carts are abandoned for the same reason. The top reasons are: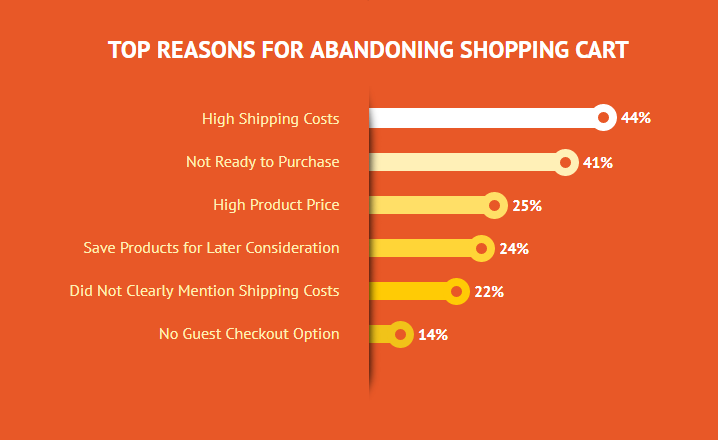 When tackling cart abandonment, study the behavioral patterns of your customers and create multiple cart abandonment emails that speak to each individual reason.
Timing and frequency also matters:
Send the first cart abandonment email within 60 minutes of abandonment, as a reminder of the products waiting in the cart.

The second email should be sent within 24 hours, to notify the customer that the products are in demand and won't remain in their cart indefinitely

The third email can go out within three to five days —  the chances of conversion are low by this time, but you can make one last effort!
Include images of the products in the body of the emails to help the recipient make the connection faster without needing to read the email copy.
Feeling inspired to create some new emails for your WooCommerce customer lifecycle? We hope so! Tomorrow, wrapping up this series, we'll share some marketing emails we love.