Featured Integrations: March 2017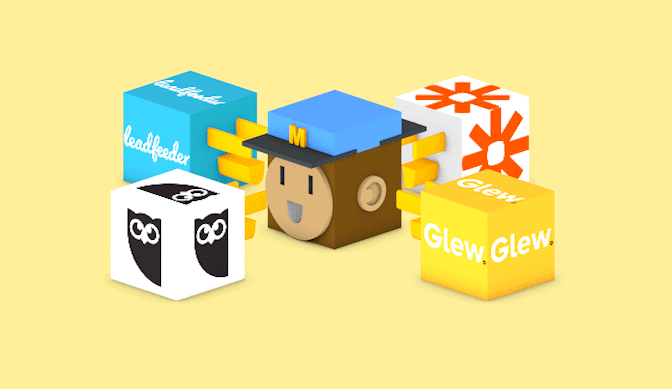 Small businesses have to stay on top of a lot of stuff, and many use several tools to keep things running smoothly. This month, we wanted to showcase some integrations that can help streamline your daily tasks—social media management, e-commerce tracking, and site analytics—and provide a more complete picture of how your business is performing. Here are a few that'll help you out:
Hootsuite
With Hootsuite, you can set up streams for each of your social platforms to follow topics that are important to you, like your company name, a trending hashtag, your competitors, or the top influencers in your field. You can even import your MailChimp data to learn more about your customers before interacting with them on social media.
Glew
There's a good chance there are some hidden growth opportunities you're not taking advantage of, and that's where Glew comes in. Glew is an e-commerce analytics platform that helps businesses optimize their performance by providing customer insights, merchandise analytics, and performance reporting. And when you connect Glew with MailChimp, you have the power to identify sales trends and use segmentation features in both applications to build targeted campaigns that drive sales.
Leadfeeder
Opens and clicks don't always tell the whole story of how customers engage with your campaigns, but using Leadfeeder can help fill in the blanks. Leadfeeder is a top-partner plugin for Google Analytics that shows you exactly what actions your customers make on your website when they click through your campaigns. You can track the journey a customer takes from MailChimp campaign to online store and use the data to improve customer experience or send a follow-up email if they didn't make a purchase.
Zapier
When there isn't a direct integration for a specific tool you want to use with MailChimp, you can count on Zapier to connect the dots. Zapier is integrated with more than 750 applications so you can easily pass data to wherever it needs to go. And the best part? You can manipulate any integration to better suit your company's needs.
Original article written by Tom >
[wpseo_map width="100%" height="300″ zoom="-1″ map_style="roadmap" scrollable="0″ draggable="1″ show_route="0″ show_state="1″ show_url="0″] [wpseo_address hide_address="1″ show_state="1″ show_country="1″ show_phone="1″ show_phone_2="0″ show_fax="0″ show_email="1″ show_url="1″ show_logo="0″ show_opening_hours="1″]