Many WooCommerce merchants know about chargebacks and how to prevent them — but in case you don't, here's a quick overview of the key details regarding chargebacks and some preventative steps you can take today.
Why do chargebacks exist?
A "chargeback" is when a customer recalls a payment. While they can be extremely costly for retailers when abused, chargebacks exist to offer consumers protection for purchases.
The Fair Credit Billing Act of 1974 established rules for disputing credit card charges. Protections provided by the act include:
Giving consumers 60 days to dispute a charge that was unauthorized, for the wrong amount, or for a purchase that was never delivered.
Allowing consumers to instruct their credit card issuer to withhold payment during a dispute with a merchant.
Limiting the amount of time for acknowledging a dispute and investigating it.
Requiring written notification of a credit card dispute, unless the card is stolen.
The result of these protections? Chargebacks.
How chargebacks happen
There are a few stakeholders involved in a chargeback:
Cardholder: the person disputing a charge.
Issuer: the bank that issued the card used for the purchase.
Acquirer: the bank, credit card company, or financial company that handled the transaction for the merchant.
Merchant: the store that sold the product or service whose charge is being disputed. (That's you.)
Here is the standard process followed for a chargeback:
A cardholder submits a dispute.
The issuer credits the cardholder and investigates the claim. If they side with the cardholder, the money is taken from the merchant along with any associated fees.
The merchant can request arbitration through the acquirer to fight those fees. In arbitration, the merchant submits all the information relating to the original charge to the acquirer. It's their responsibility to prove the charge is correct.
The acquirer decides who to side with, and their decision is final in almost all cases. The losing party pays the outstanding fees.
Every stage of the chargeback process incurs fees, even when the merchant eventually wins arbitration, so fighting a chargeback can mean more than just refunding the original purchase price. LexisNexis found that $1 in fraud can cost a merchant $2.94 in fees and expenses. The best way to keep costs down? Reduce the number of chargebacks, period.
What are the stakes for WooCommerce merchants?
Payment processors levy higher fees on merchants with too many chargebacks; they sometimes drop merchants altogether. On the other hand, companies with solid fraud prevention tools, clean records, and who fight fraudulent chargebacks are more likely to win at arbitration and have fewer chargebacks filed in general.
The rise of chargeback fraud and how to prevent it
While chargebacks are still used to dispute invalid charges made by predatory businesses, fraud is now a growing issue.
Chargeback fraud happens in two ways: fraudsters claim they never received a product or service even though they did, or actual customers fail to understand a charge and assume it's fraudulent when it's not. In either case, merchants have to spend time and money proving otherwise.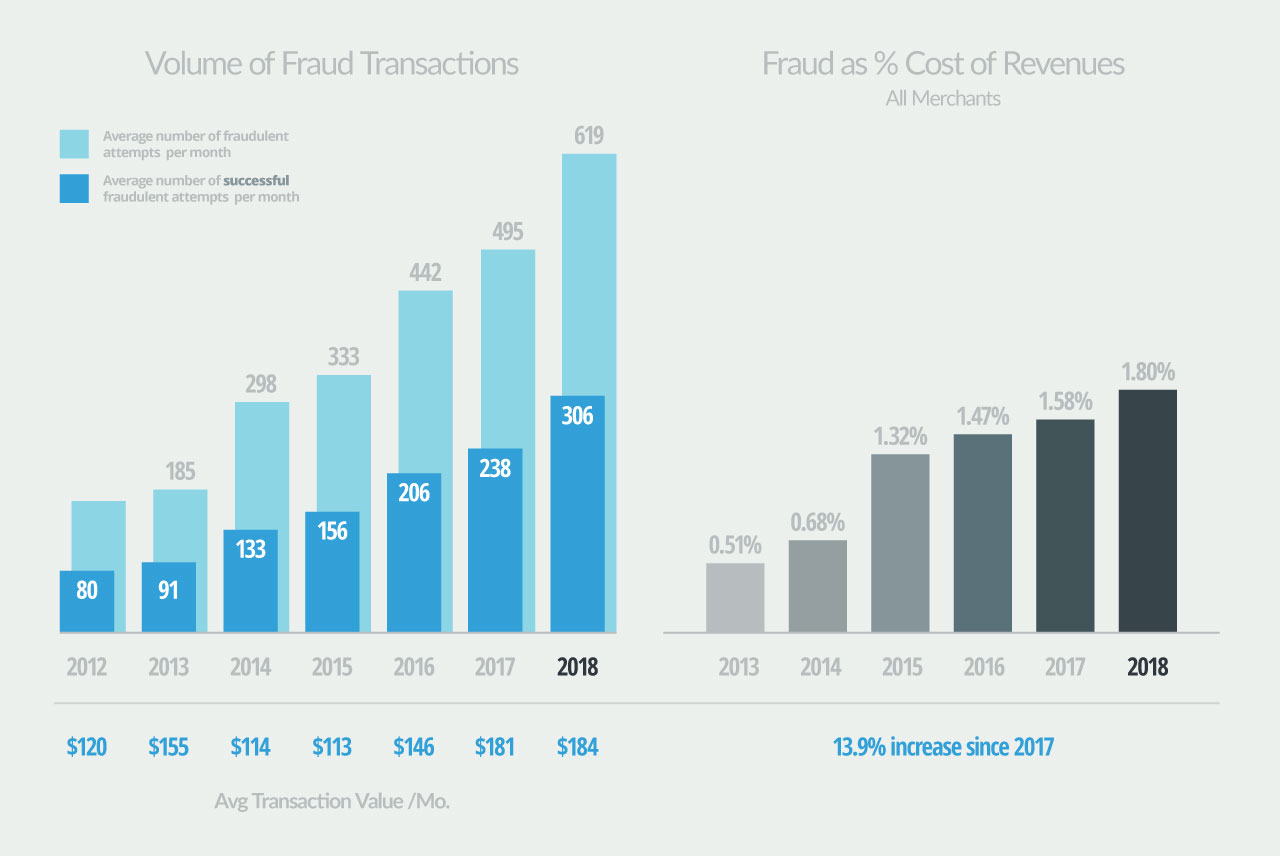 It's nearly impossible to prevent all chargebacks: they exist for a reason, and many chargebacks are legitimate. However, it is possible to reduce fraudulent chargebacks by minimizing the number of fraudulent transactions, and there are a few other steps you can take to reduce the likelihood of chargebacks at all.
Four ways to reduce chargeback fraud
1. Use the Right Tools
Many eCommerce stores don't use any fraud prevention tools at all — a mistake. Fraud protection software allows merchants to score transactions according to their likelihood of being fraudulent. By catching suspect orders early, merchants avoid the fees associated with handling the disputes later. Some stores add steps like SMS verification to their purchase process, which gives them a record to use if charges are disputes.
TIP: Add NS8 Protect™ (formerly Complete Storefront Protection) to your WooCommerce store.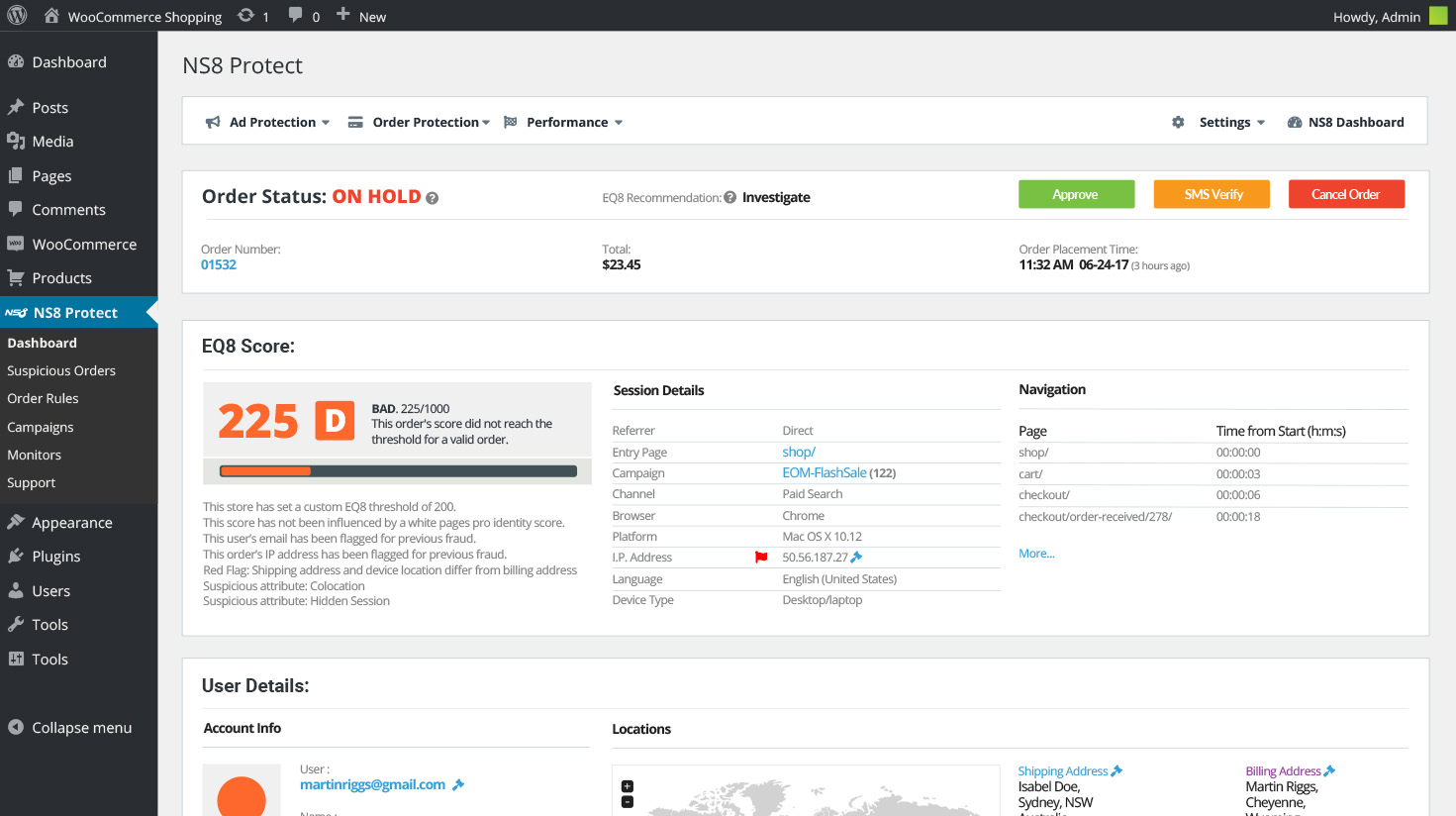 2. Offer Great Customer Service
Customers who can easily contact a representative to handle a problem are less likely to file a dispute. An item that arrives broken might result in a chargeback, but a customer service representative could resolve this by shipping out a new item or offering a direct refund. If you or your customer service team can keep issues from escalating, you keep chargeback numbers down.
TIP: Consider adding LiveChat to your WooCommerce store to make it easier for customers to reach you.
3. Use Efficient and Transparent Processes
Customers appreciate transparency and communication. Tracking shipped items, sending emails about the status of an order, and giving accurate timelines all impact how a customer views a transaction. Allow the customer to see exactly what is happening with their order, and you reduce chargebacks due to missing items or delays.
TIP: Enable Shipment Tracking for your WooCommerce store.
4. Notify Customers of Anything Unusual
Communicate everything. If you know that your charges show up on a bill as something other than your company name, tell customers in advance. If there are long delays or variations for certain products, tell customers in advance. If there a product has recurring charges, tell customers in advance. Be proactive and calling out potential issues before they occur to prevent those issues from becoming real problems.
TIP: Remember to add important information to product pages, as well as to your WooCommerce store emails.  
In summary: Good records are the key to fighting chargebacks. Every store should keep track of all customer interactions and maintain well-organized records of transactions, including information about any identity verification done during checkout. Having this information easily available makes it simple to pull the documentation for arbitration and gives a company a better chance of winning.
Thanks for taking time to learn about chargebacks
While the chargeback process is complicated and time-consuming, having a good understanding and using the right fraud prevention can help your WooCommerce store avoid costly fees and complications. Make sure to research the process for your payment provider to ensure you have the necessary tools to keep your chargebacks low.
——————-
Jackie Long is a content writer at NS8, a fraud prevention solutions company. NS8 provides abuse, fraud, and user experience protection tools. We use behavioral analytics, real-time user scoring, and global monitoring to optimize and protect against threats, and give firms a better insight into their real customers. Visit www.ns8.com to learn more.