Selling your products wholesale — at a reduced bulk price to retailers — can be a lucrative business strategy. Partnering with stores with established customer bases and distribution channels gives you access to new markets and geographical locations without added marketing, storage, and shipping investments. 
Interested in selling wholesale, but not sure how?
WooCommerce is the perfect online ecosystem: mix and match WooCommerce extensions for all the features you need to create a wholesale shop (or a combo wholesale/retail store). Offer special pricing, bulk ordering, and shared inventory for your retailers while keeping your customer-focused online shop running smoothly, and control it all from one central dashboard.
Set custom prices for different retailer types
The most important extension is Wholesale for WooCommerce, which allows wholesale customers to create accounts on your website. When they log in, they'll have access to special features — most importantly, discounted prices for bulk buys. You can set prices for wholesale customers on a per-product basis, or set category- or store-wide discounts as a percentage or dollar amount. You can also designate minimum order quantities to qualify for wholesale prices.
You don't have to treat every wholesale client the same, either. Create as many different roles on your site as you wish. Each role can qualify for different discounts — for example, you can grant higher savings to your biggest buyers or give local retailers a discount on large items. 
Another bonus? You can make any wholesale purchases tax-exempt, if that applies, or even set up special tax rates for retailers in different locations, right from your dashboard.
Control visible information
Wholesale for WooCommerce also allows you to control the information each user can view, which is key to sharing product descriptions and inventory between your wholesale and retail shops. 
Pro tip: if you're only offering wholesale products, hide your entire storefront with the Private Store for WooCommerce extension so only wholesale customers know an online store exists.
Mixed-use stores can use Wholesale for WooCommerce to set up display rules for categories or individual products. Make items visible only to retailers, only to regular customers, or to both. When a wholesale customer logs in, they'll only see the products and categories marked as available for wholesalers; likewise, any retail customer will see your standard storefront and retail products.
The big benefit: no need to set up a separate shop or website for your wholesale business. Once you've created a product and added its picture and other details, you can share that listing for both user types. Set wholesale prices for that same product without duplicating or restructuring your entire storefront, and best of all, track inventory amounts in one place.
Worried about coupons? Don't: disable coupon use for wholesalers. And if bonus shipping rates or special payment gateways aren't applicable to your wholesale customers, you have the fine-level control to turn shipping and payment options on and off.
Set up subscriptions for wholesale accounts
If you'd like to charge a membership fee for wholesalers, WooCommerce can handle that, too. You'll need one more extension: WooCommerce Subscriptions.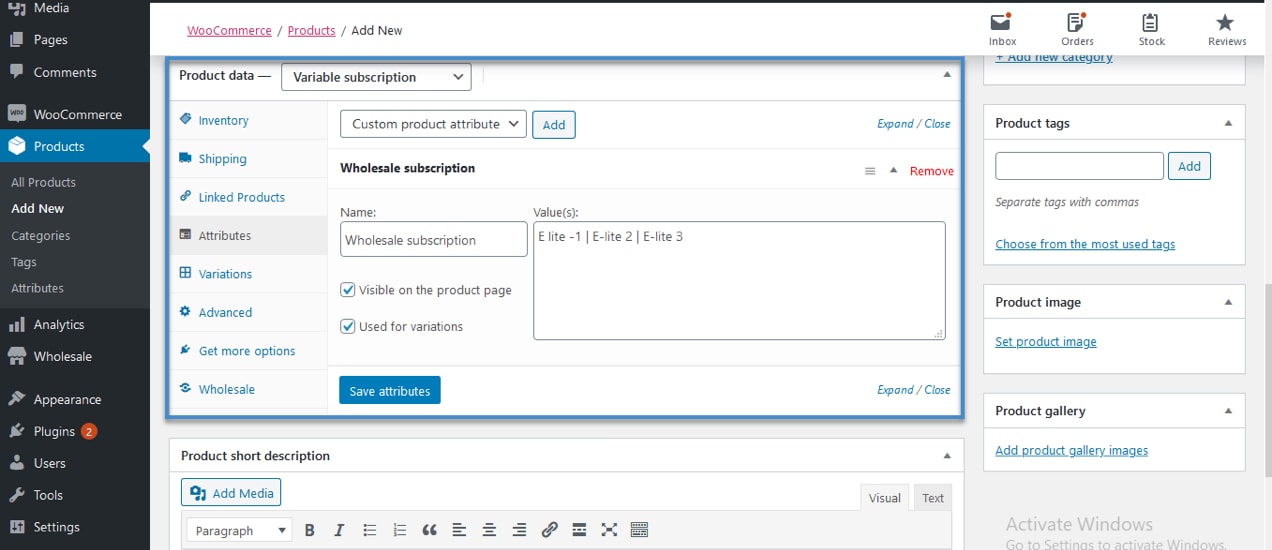 Create products for different subscription levels, like Gold, Silver, or Bronze packages. Once a wholesaler registers, their account will be activated automatically with correct access to the right products and discount levels. If they change their subscription level, their account access updates automatically, and if they don't renew their subscription it ends their access as well.
Automate onboarding or monitor it manually
Wholesale for WooCommerce includes an application form to let potential wholesale customers apply for access. The form is customizable to fit your store's design and branding.
When applications come in, they can be automatically approved —  the entire system will run itself while you're busy with other parts of your business. For more control, require manual approval.
Either way, you'll create a welcoming environment that lets large scale, bulk buyers know that you're interested in doing business with them.
Make it easy for wholesalers to order and re-order
One huge benefit of being a wholesale buyer is the ease of ordering high volumes and a large number of goods — make sure your store meets this expectation.
There are several WooCommerce extensions for letting retailers order multiple products at once. (Be sure to configure permissions in the extension settings so that only wholesale customers will be able to order using these tables and forms!)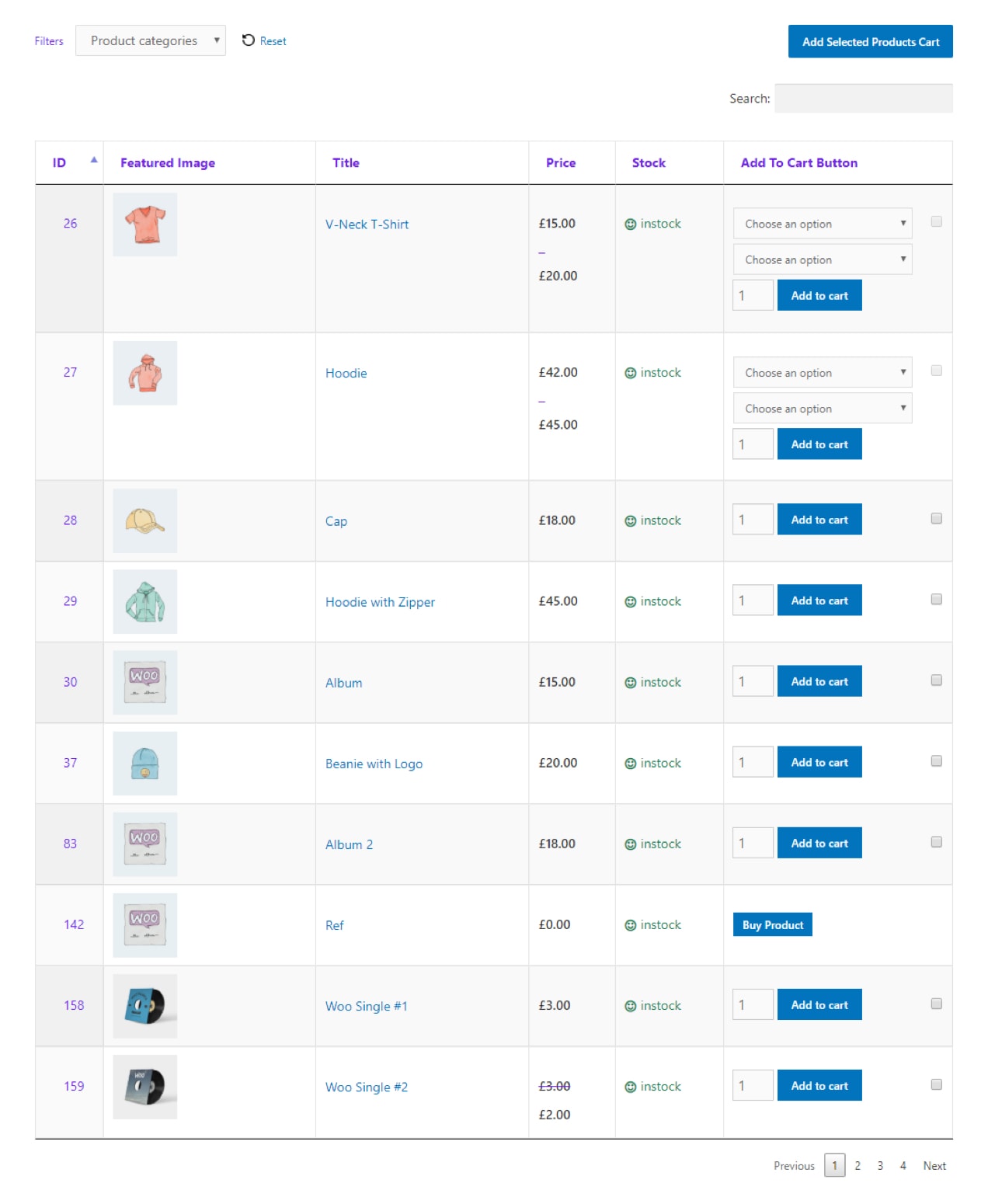 Bulk Shop for WooCommerce: Display all products or those from a specific category in a grid format, so the customer can enter amounts for multiple products at once. Use shortcodes to create a custom Bulk Shop page that showcases wholesale products and variations. 
Bulk Order Form for WooCommerce: Create your own fully-customized product tables, embeddable via shortcode anywhere on your site. Customers can filter tables by a range of criteria to create a list of exactly the products they wish to order, then enter amounts for all products at once. Savings for wholesale buyers are shown for each product. 
Bulk Variation Forms: Perfect for products with many variations, this extension adds an optional table to individual product pages so buyers can enter order amounts for all the variations at once.
Start a wholesale business
With a few key extensions, wholesalers can thrive on WooCommerce. Make it easy for wholesale customers to order what they need quickly. Create levels of wholesale access, set product and pricing structures with detailed control, and onboard new wholesalers automatically. It's just another way to leverage the power of WooCommerce to create a simple, scaleable, and shareable online store.