10 Year Old Completes 150 Minute Java Exam Paper in 18 Minutes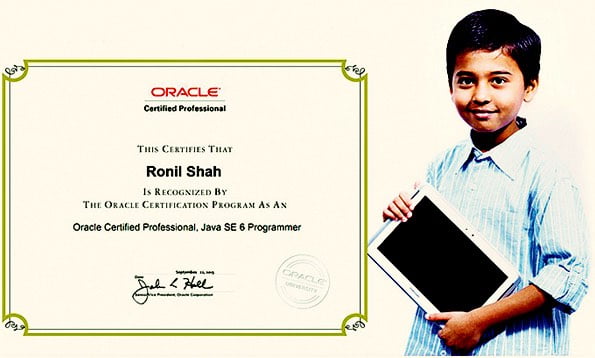 10 Year old scores 100 percent. Some say prodigies are born. Yes! it's true. They are born to surprise the world with the achievements that have never been attempted or broken before. Here is the story of Ronil Shah, a 10-year-old student from Ahmedabad, India, who proved himself to be a child prodigy by scoring 100% in Java exam.
10 year old Ronil Shah almost surprised everyone by scoring cent percent in a Java exam. Well, that's not the end of the story. The story continues as he just finished the entire paper of 150 minutes in just 18 minutes. If you want to know the level of the paper, let me tell you that he competed in an exam which is generally taken by engineering graduates or professionals preparing to be software developers. That too, not all of the graduates crack it.
The Java exam was held on September 2nd last year. In the IT world, this exam is very famous and it's called Java Standard Edition 6 Programmer Certified Professional examination. This exam is an international exam and it is conducted by US-based Oracle University.
Ronil Shah did not take any previous attempt and he cleared this exam just in his first attempt. This exam is required to show the deep understanding of the programming language, Java, and is a prerequisite to many other Java certificates. Ronil is a student of standard five from Euro School in Ahmedabad, India, and now he is also called a 'JAVA champion'.
I developed so much love for computers that I started learning animation, coding programming after standard 1. I took a holiday to practice for JAVA standard edition 6 program exam. I used to reach my computer institute to practice at 11.30 am and come home by 6 pm. That is how I managed to complete my online exam in 18 minutes, Ronil says.
Ronil wants to work in robotics in coming years. We wish him all the best. If you also have such stories, kindly share with us.
(Originally posted at FOSSBYTES)