Can't see the Genome. 23andme.com or color.com?
Hi there. In recent 2 years we were victimised with promotions in new trends within digital genetics applications and service providers. In that period we have been partially following up on two of them, based only on personal recommendation, on 23andme and with it's later addition, as used in this comparison, with Color.com as a SaaS as well. Since the 23andme was recommended and used first, equally by our friends and clients, we were following 23andme for 2 years, and since the announcement that Google's/Twitter's marketing strategists changed their CEO positions to run the Color.com service, we've been following the Color.com as well (shorter period). In our opinion now's the time to put down some bills and to try and find a difference. What is a difference? Is there a difference at all?
23andme.com
What is 23andme.com about?
As from WiKi: 23andMe is a privately held personal genomics and biotechnology company based in Mountain View, California. The company is named for the 23 pairs of chromosomes in a normal human cell. Its saliva-based direct-to-consumer personal genome test was named Invention of the Year by Time magazine in 2008.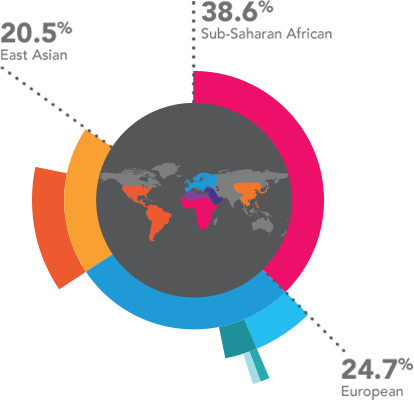 The company was founded by Linda Avey, Paul Cusenza and Anne Wojcicki, ex-wife of Google founder Sergey Brin, in 2006 to provide genetic testing and interpretation to individual consumers. In 2007, Google invested $3,900,000 in the company, along with Genentech, New Enterprise Associates, and Mohr Davidow Ventures. Cusenza left the company in 2007 and was appointed CEO of Nodal Exchange in 2008. Avey left the company in 2009 and co-founded Curious, Inc. in 2011. In 2012, 23andMe raised $50 million in a Series D venture round, almost doubling its existing capital of $52.6 million. In 2015, 23andMe raised $115 million in a Series E offering, increasing its total capital to $241 million. The company sponsored the PBS TV series '9 Months That Made You'.
In 2013 the US Food and Drug Administration (FDA) ordered 23andMe to discontinue marketing its personal genome service (PGS), as the company had not obtained the legally required regulatory approval. That resulted in concerns about the potential consequences of customers receiving inaccurate health results. The company continued to sell a personal genome test without health-related results in the United States until October 21, 2015, when it announced that it would be including a revised health component with FDA approval. 23andMe has been selling a product with both ancestry and health-related components in Canada since October 2014, and in the United Kingdom since December 2014.
What 23andme.com offers today?
Find out what your DNA says about you and your family.
Learn what percent of your DNA is from populations around the world
Contact your DNA relatives across continents or across the street
Build your family tree and enhance your experience with relatives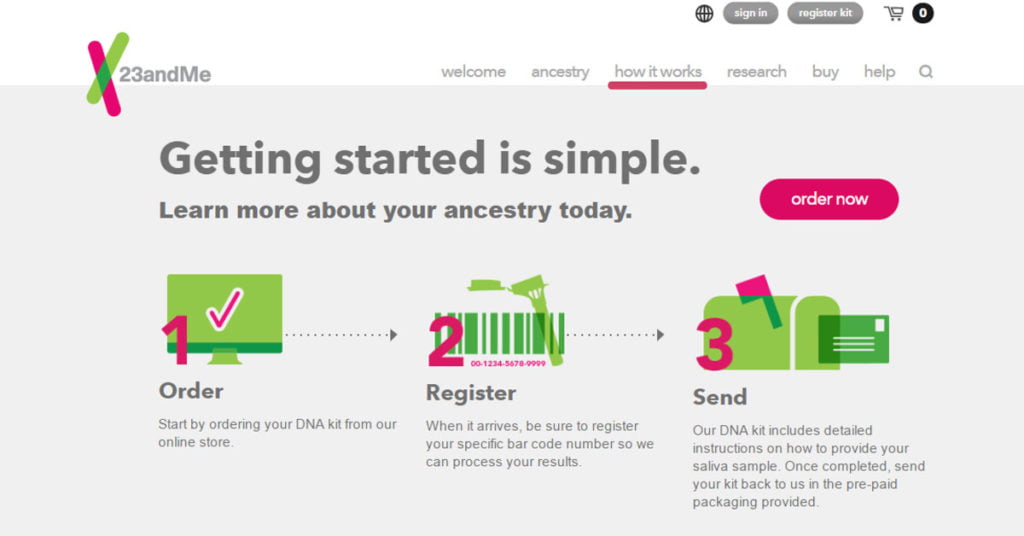 Direct to consumer genetic testing
23andMe began offering direct to consumer genetic testing in November 2007. Customers provide a saliva testing sample that is partially SNP genotyped and results are posted online. In 2008, when the company was offering estimates of 'predisposition for more than 90 traits and conditions ranging from baldness to blindness', Time magazine named the product Invention of the Year.
Uninterpreted raw genetic data is posted online and may be downloaded by customers. Customers who bought tests with an ancestry-related component have online access to genealogical DNA test results and tools including a relative-matching database. US customers who bought tests with a health-related component and received health-related results before November 22, 2013 have online access to an assessment of inherited traits and genetic disorder risks. Health-related results for US customers who purchased the test from November 22, 2013 were suspended until late 2015 while undergoing an FDA regulatory review. Customers who bought tests from 23andMe's Canadian and UK locations have access to some health-related results.
As of June 2015, 23andMe has genotyped over 1,000,000 individuals. FDA marketing restrictions have reduced customer growth. Is it really so? Let's move on ..
The new genetic testing service and ability to map significant portions of the genome has raised controversial questions, including whether the results can be interpreted meaningfully and whether they will lead to genetic discrimination. The regulatory environment for testing companies has been uncertain, and anticipated risk-based regulation catering for different types of genetic tests has not yet materialized.
Color.com or Color Genomics
First is first – What is color? Color is the aspect of things that is caused by differing qualities of light being reflected or emitted by them. To see color, you have to have light. When light shines on an object some colors bounce off the object and others are absorbed by it. Our eyes only see the colors that are bounced off or reflected.
What is Color.com about?
Some pre-historical data: First Color raised $41 Million in venture capital but had trouble getting people to use the app in enough density to deliver their main value proposition of social photo sharing. By now, everyone and their dog have been able to form and voice their opinions about the $41 million in early-stage funding raised by mobile photo sharing app developer Color. Of course, it is a heck of a lot of money, put in ahead of the actual launch and early user reception of the product to top things off, so evidently most people will deem it a frivolous investment. Only time will tell if it is, or if it's instead a genius move. Reports included that the staff would be sold to Apple for $2 to $7 million. In November Color Labs announced that the app would be shut down at the end of 2012.
How Color.com obtained its domain name: In the interest of feeding those that see the financing round as one of the most apparent signs of a major bubble in technology, consider this: the company spent more money acquiring the domain name color.com than most startups will raise in their lifetime. As pointed out by industry blog Domain Name Wire, the fledgling company bought the domain name for $350,000 from its previous owner. The sale of the domain name, which was brokered by Go Daddy, was initially reported in December 2010. Some history here >
Starting the Color.com
In September 2016 TechCrunch published an article Color Genomics raises $45 million to provide cheaper genetic tests that detect cancer risk. The story goes as: 'Othman Laraki and Elad Gil were sitting on Twitter's roof deck after their previous company Mixer Labs had been acquired. Gil had brought a small hard drive with him — which happened to contain data on his genome being sequenced — and Laraki wanted to take a look at the data..' No matter the content, but comparison data, especially nominative values somehow match the values of 23andme.com – Don't they? Or is there a difference in business model here? If 'It's not the CEO ..' then what is ..
Another article pre-dated was with Business Insider
Namely: This company wants to sequence your DNA and tell you your risk for 8 different cancers for $249
Actually the article was written well before the previously mentioned article from TechCrunch, and it's written as to a 3rd party and yet unknown brand-name, Color.com – an appropriate strategy to bring out of the blue what has already been set in motion even before the announcements. If you find it interesting, read the article >
Article writes: Color launched in April (2015) with its breast and ovarian cancer screening test, which looked at 19 genetic markers, parts of our DNA that have been linked to certain conditions. On Thursday the company expanded the test to include 11 more genetic markers, including those that have been linked with a higher risk of developing colorectal, melanoma, uterine, pancreatic, prostate, and stomach cancer ..
And additional story followed the CEO
RECODE wrote in December 2016 that: Genetic testing startup Color Genomics is switching CEOs
So what's that about? Sub-titled: 'CEO Elad Gil is becoming the chairman and co-founder Othman Laraki is now CEO' it says that: Co-founders Elad Gil and Othman Laraki are taking on new roles. Gil, who was CEO, is moving into the chairman's role, and Laraki, who was president, is now CEO, according to a blog post shared Thursday. These are quite some substantial shuffles, don't you think? Article ends with: Gil and Laraki co-founded Color in 2013 after leaving Twitter, which had acquired their previous startup, Mixer Labs. (The duo also worked together at Google.) Color offers a genetic test kit so patients can check if they are at risk for specific kinds of cancer .. Interesting indeed.
What Color.com offers today?
As from the color.com homepage, we can read: Learn your risk for the most common hereditary cancers >> Color analyzes 30 genes—including BRCA1 and BRCA2—to help women and men understand their risk for the most common hereditary cancers, including breast, ovarian, colon, and pancreatic cancer. Complimentary genetic counseling is included .. (in a headline)
So, to properly understand it, color.com offers what is subsequentially forbidded on 23andme.com – or is there a different service behind?
Besides to the fact that it's a $100 higher amount value test, it supposedly include for end-consumer:
Included with Color:
Comprehensive analysis of 30 genes (including BRCA1 and BRCA2) associated with an increased risk for the most common hereditary cancers: breast, colorectal, melanoma, ovarian, pancreatic, prostate, stomach, and uterine cancers.
Analysis of your personal and family health history to inform your results.
Consultation with a board-certified genetic counselor from Color. Every Color Test is physician-ordered.
Easy tools for sharing results with your healthcare provider.
Color.com even provides some visualised data, as below: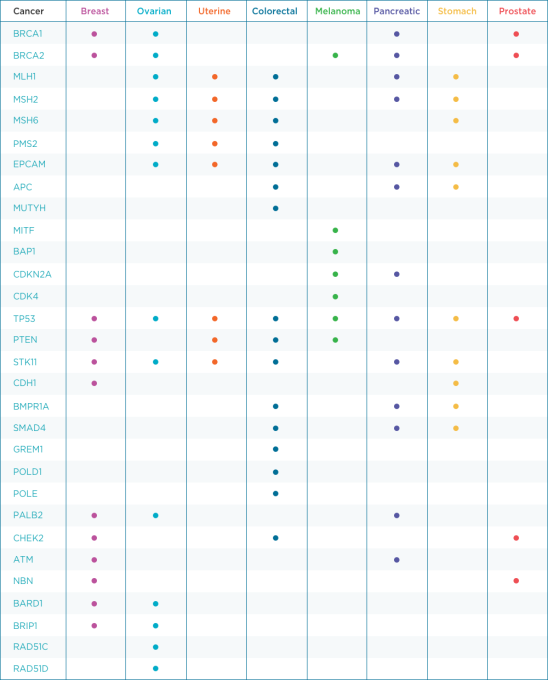 Right now, Color Genomics is focusing on testing for mutations that can lead to a higher risk for cancers, like ovarian, breast, prostate and colon cancer. That was in 2016. If the patients know that they are higher-risk, they can practice the best-known methods to help prevent those cancers from getting worse, such as getting regularly tested — in the case of colon cancer, regularly getting colonoscopies.
What's the Difference?
So what conclusions could we make if setting a difference with a data comparison evaluation? In our opinion not much of a difference then more a strategic dispersion approach in finance, data evaluation, data assembling, data storage and side-by-side with security policies being applied throughout the same period, even a doubt that there isn't a service as is, but a scheme behind that drives it. Also, if it's a Color.com and Abc.xyz with the name of Alphabet that one company owns, what else is left untouched? (read between the lines)
Any comments? Sorry, comments aren't allowed here, except on public networks. Attitude expressed in this article are attitudes of a writer and not of the Connect 2u2 Web Technologies and the writing itself doesn't represent the values of Connect 2u2 Web Technologies, does not disqualify any opinions and it doesn't suggest any inherit issues expressed with the topic. Thank you.