Less than two months left for SSL Certification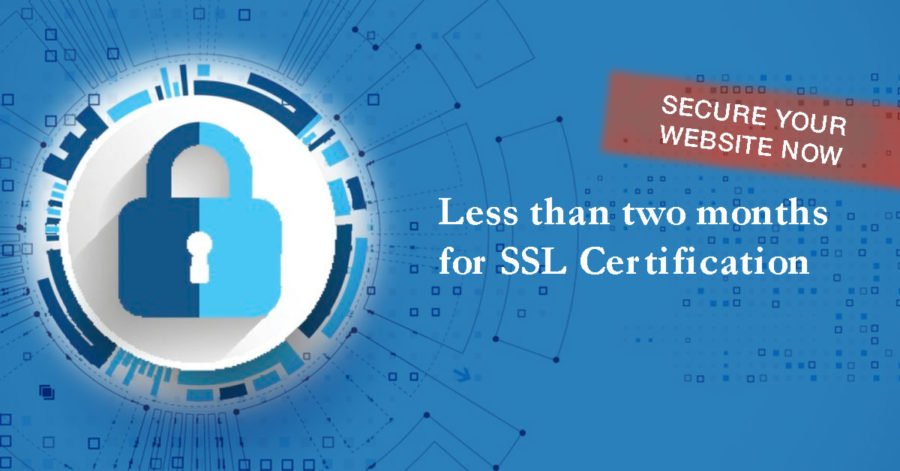 From today on – Less than two months is left before browsers start penalizing sites without SSL. We've said it before, and we'll say it again: SSL is no longer optional. It's mandatory. 
Regardless of what kind of site you are running, soon all websites without an appropriate SSL Certification installed, will be penalized by the browser community for not having encryption.
Already, the browsers (Chrome, Firefox, Safari, Edge, Opera, Yandex, Maxthon ..) are rewarding encrypted sites with SEO ranking boosts and the use of advanced features. But soon, non-encrypted sites will be given negative security indicators and actively labeled "not secure" in the browser's address bar. No one wants to be penalised for something they or he/she did not do? Don't wait until last day – Our Connect 2u2 Hosting Plans include Free SSL Certification, free SSL Certificate for every domain name / website installation and our support team is 100% ready to install it for you.
Secure your website now!
Fortunately, The Connect 2u2 Web Technologies offers excellent SSL security products (SSL Certificates, Server protection, Malware removal, CodeGuard Backups, SiteLock Scanning) and information to help you mitigate this situation—including an industry-leading cyber-security services (SiteLock, CodeGuard, Mod Security Firewall, AntiSpam, Spam Assassin) to help you with transition to a more secure, private and reliable hosting service for your website.
For some fun / educational part, watch the video below – The short history on Public key cryptography:
Secure hosting services
As said, all hosting services include a Free SSL Certification so you will receive a Free SSL (Comodo / Rapid) in 24h after you sign-up for any of the hosting plans. If you would require an additionally valued protection, you can choose from any of the available Cryptonite SSL Security Certificates.
Stay up to date on the latest updates and on top of the most recent web security trends. We recommend you to subscribe, and that you introduce it to your business partners too—Connect 2u2 Web Technologies offer a truly invaluable security, privacy and data protection services.