4 employees who make every day Earth Day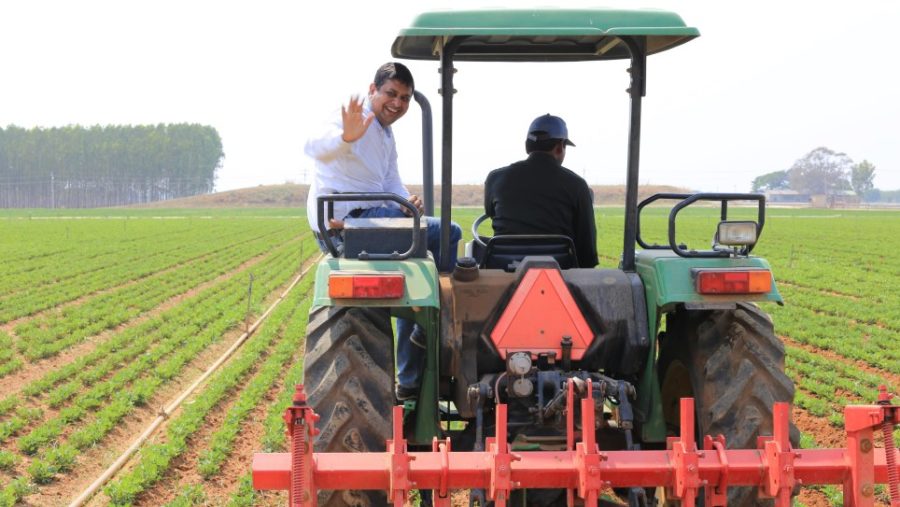 Sustainability is on our collective minds this week as we celebrate Earth Day and recognize a few of the people and technologies that are helping to preserve and protect our planet's vital resources.
Meet four Microsoft employees who work as environmental stewards, learn about a Microsoft partnership aimed at tackling water scarcity, and find out why our chief environmental strategist is hopeful that the world's resource challenges can be addressed through innovation and technological advances.
Additionally, we look at how a nonprofit in Utah is using Microsoft Edge to provide a web-based, free learning tool aimed at boosting economic empowerment in impoverished countries.
In India, where a multiyear drought has impacted more than 300 million people, Prashant Gupta is using technology to help farmers determine the best times to sow crops. In Spain, Karen Chalk — struck by the number of discarded computers and tablets that could be reused — worked to create a global e-waste sustainability program.
In rainy Ireland, Conor Kelly uses solar panels on his home and works on smart energy proposals for datacenters. And in Seattle, beekeeper Krista Conner is striving to improve bee population resiliency and enable beekeepers to maintain more hives.
These four inspiring Microsoft employees, whose efforts are detailed in a feature story, embody Microsoft's commitment to sustainability by leveraging technology and innovation to tackle environmental challenges for the benefit of the company, their communities and the planet.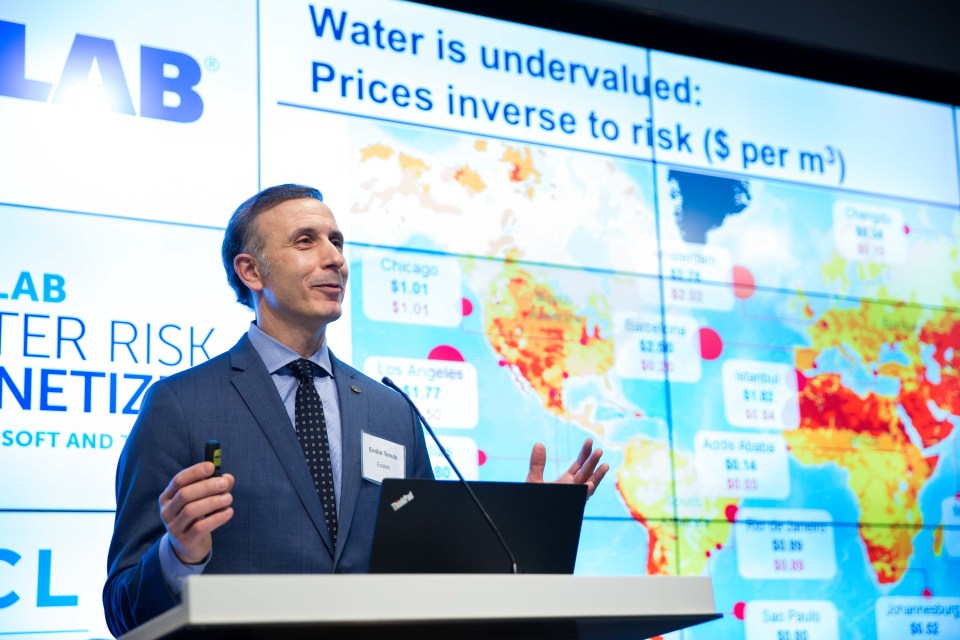 The United Nations predicts that in less than 15 years, demand for water will outpace supply by almost 40 percent. To address that challenge, Microsoft is partnering with Ecolab, a global provider of water, hygiene and energy technologies and services, to help industries around the world address water scarcity.
In partnership with Microsoft and Trucost, Ecolab recently launched its enhanced Water Risk Monetizer tool. Built on the Azure Cloud, it is the first no-cost, publicly available water risk analysis and financial modeling tool that translates water scarcity risks into financial terms.
Microsoft is using the enhanced Water Risk Monetizer to optimize water management projects like its datacenter near San Antonio, Texas. The insights gleaned will allow Microsoft to save more than $140,000 in water costs annually and avoid the use of 58.3 million gallons of potable water per year.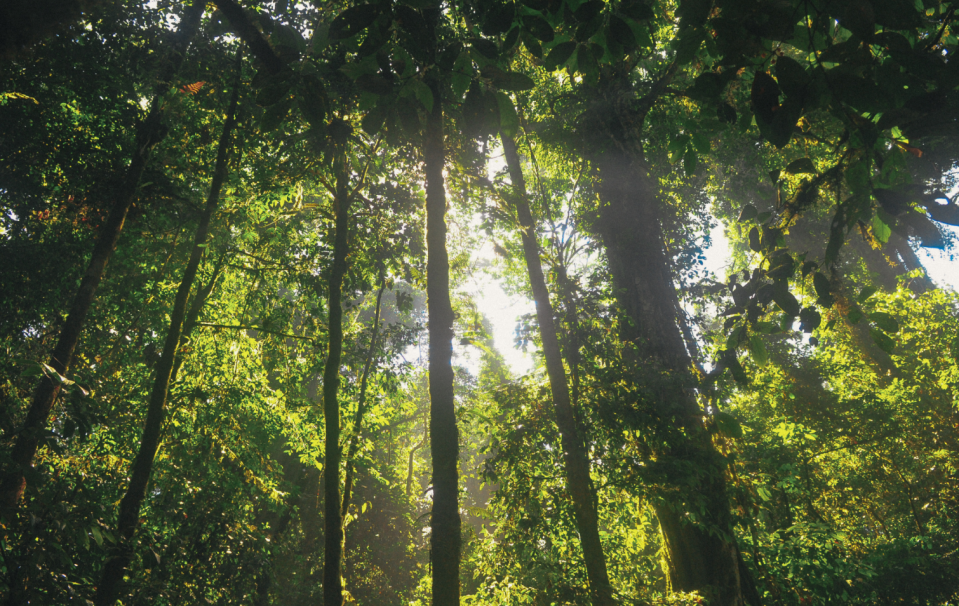 Though the world faces daunting resource challenges, Microsoft Chief Environmental Strategist Rob Bernard sees reason to be hopeful.
Innovation is allowing many industries to be more efficient and reduce their environmental impact, he says. Cloud computing and artificial intelligence are enabling companies, researchers, consumers and others to better understand and mitigate their impact on the planet. Digital transformation is helping to deploy renewable and off-grid technologies that bring clean, affordable power to more people. Advances in agricultural management are being used to feed a growing population, and new tools are enabling us to better preserve and protect clean water resources.
"By working together, and continuing to develop and deploy revolutionary technological solutions, we can change the story of our planet's future for the better," Bernard writes in a blog post.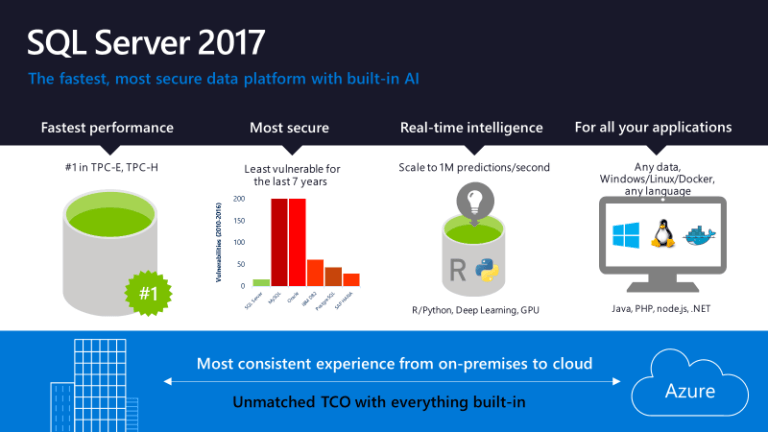 Leveraging intelligence out of the dizzying amount of data available can make the difference between being the next market disruptor and being left behind.
At the Microsoft Data Amp online event on Wednesday, several new products and innovations were announced that merge data and artificial intelligence (AI) to transform applications and businesses. Those include the first relational database management system with built-in AI that offers support for a rich library of machine learning functions, the ability to infuse apps with cognitive intelligence in the cloud through Microsoft Cognitive Services, and the release of Microsoft R Server 9.1, which brings intelligence to more places that data lives and introduces several advanced machine learning algorithms from Microsoft.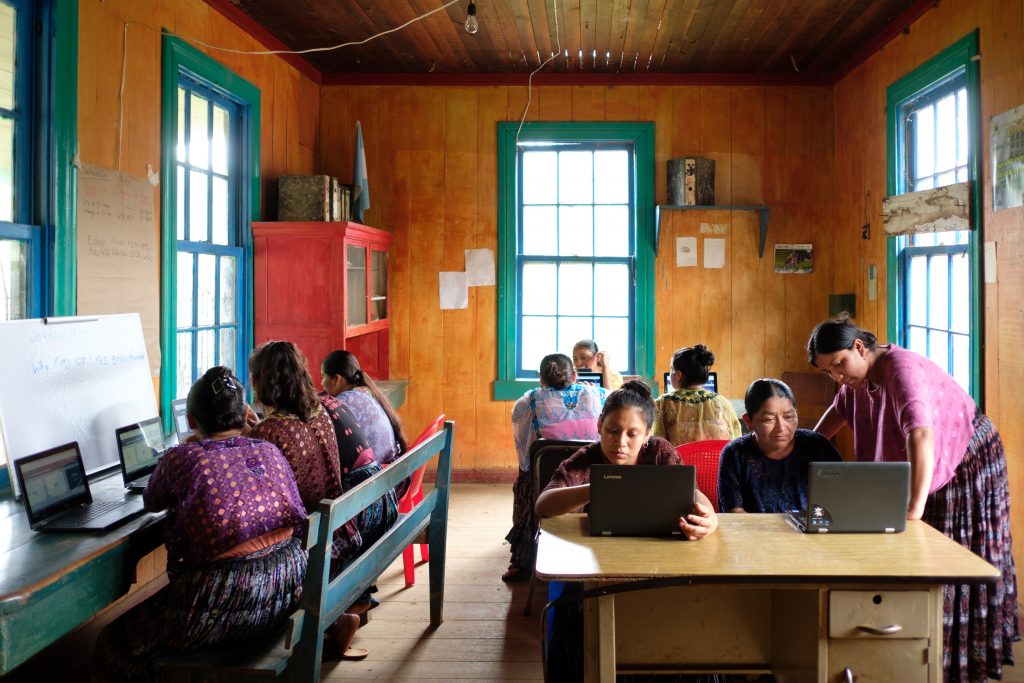 It might seem like a stretch to think a web browser could help lift people out of poverty, but a nonprofit group is using Microsoft Edge to achieve that goal.
CHOICE Humanitarian, a Utah-based organization focused on eradicating extreme poverty, announced on Tuesday that it has created a new literacy tool in partnership with the Microsoft Edge team. Called Accent, the easy-to-use, browser-based learning solution will initially be used to help women in Chulac, Guatemala, learn Spanish as a step toward economic development. The program is customized for individual learning, and students will work with a local mentor fluent in Spanish as they progress in their learning.
"Because of Microsoft's history and dedication to increasing access to technology, the opportunity to partner with Microsoft Edge in developing browser-based technology to benefit women in rural Guatemala is very exciting and promises great outcomes," writes Francesca Perkins, economic development coordinator for CHOICE Humanitarian.
As the work week winds down, why not kick back with some music? If you're not already using Groove Music, sign up for a 30-day free trial and get a code for an additional three free months. That's 120 days of ad-free music with millions of songs and no Wi-Fi required — just download and play music offline, anywhere.
For Xbox fans, "Halo Wars: Definitive Edition" is now available, bringing improved graphics, additional Achievements and all downloadable content into one convenient package. "Voodoo Vince: Remastered" is available with Xbox Play Anywhere support — which means buying it once digitally gives players ownership on both Xbox One and Windows 10 — and several new fan-inspired feature updates for Xbox Insiders were also announced this week.
"This Week on Windows" highlights new apps for Surface Dial to help you take advantage of the Windows 10 Creators Update, the new Porsche Car Pack for "Forza Horizon 3," tips and tricks for Microsoft Edge and new items in the Windows Store.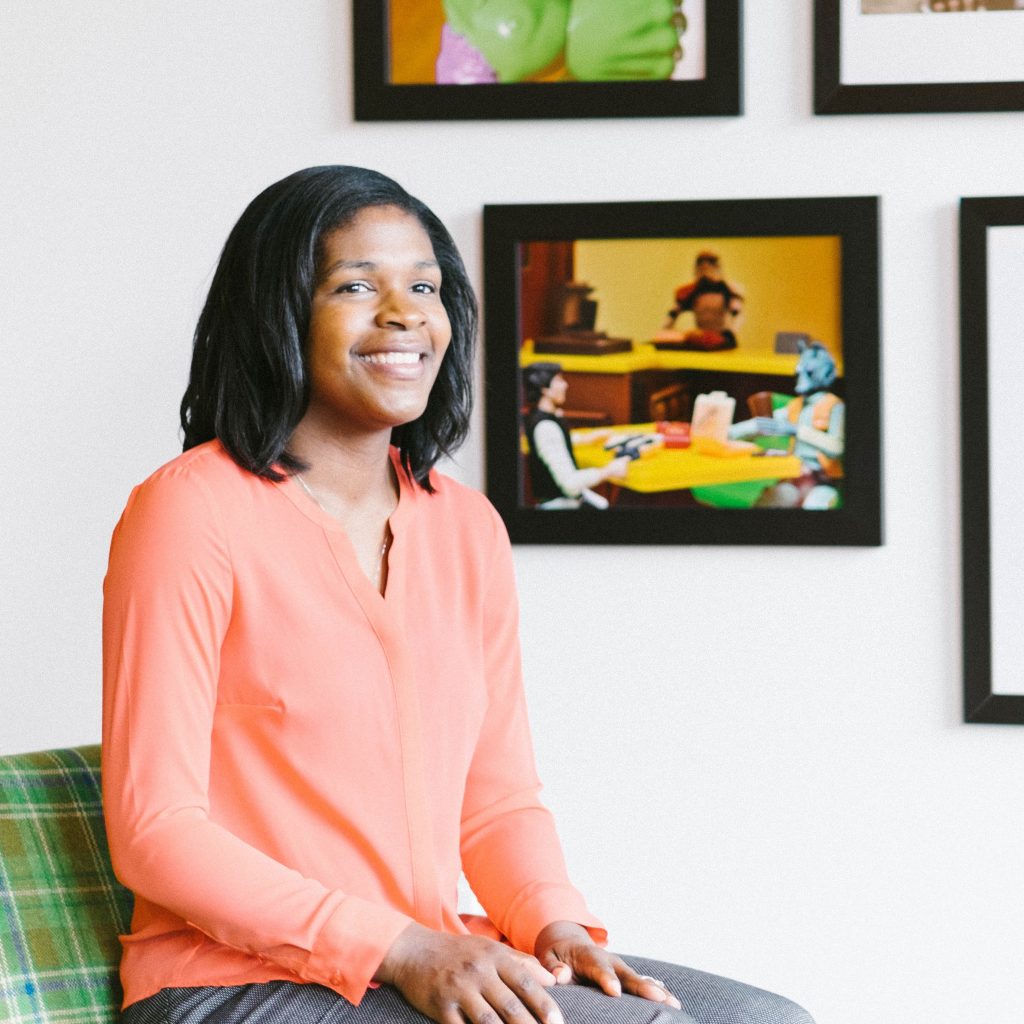 This week on the Facebook, Twitter and Instagram pages, we highlighted Heather Dowdy, a program manager on our Web Accessibility team. Both of Heather's parents lost their hearing as toddlers, so she learned at an early age the importance of inclusive design. Today, Heather has dedicated her career to building products for people of all abilities to make the internet accessible for everyone.
That's it for this week. Have a great weekend, and check back next Friday for another edition of Weekend Reading.
Posted by Deborah Bach
Microsoft News Center Staff
Original article written by Deborah Bach >