In today's world of all-things-digital, having a unique, on-brand website is a non-negotiable.
But sometimes, pulling your website design together can be challenging. There are so many decisions to make! Should you stick to a minimalist design or go more complex? What should the color palette be? How about the layout? And don't forget images and fonts.
When you're having trouble addressing these questions checking out what's already out there can be the best way to get the creative juices flowing.
We've done the research and scoured the web for inspiration sources, to help you find your design mojo and create a killer website. Here are the best sources for web design inspiration out there:
Pros:
The biggest pro of using Pinterest for design inspiration is the sheer volume of pins on the platform. You can do a broad search for "web design inspiration" or search for specific elements like "web design color palettes" or "web photography." Either way, you're likely to get hundreds of results. And the more results you review, the more likely you'll be to find that much-needed inspiration for your site design.
Another Pinterest pro is that pins include vertical images, which allows you to see more of the actual design in the Pinterest thumbnail without having to actually click through the website.
Cons:
Unlike other inspiration sites that are curated by design experts, Pinterest is curation by—and for—the people. This means that some of the sites you find might be less unique, professional or inspirational.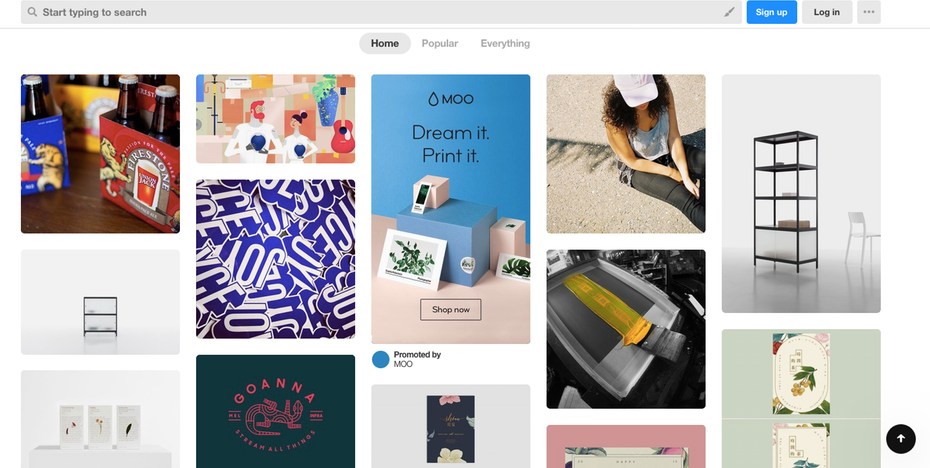 Think of Designspiration as the Pinterest of the design world. Like Pinterest, it's a visual platform where people can save images, articles, or inspiration, except with Designspiration, everything is related to design.
You can find all sorts of inspiration (designspiration?) on this site, and that includes website design inspiration. The site has plenty of examples of well-designed websites that you can peruse, save, and use as inspiration for your own website design.
Pros:
As mentioned, Designspiration is very similar to Pinterest, but the one major advantage is that it exclusively features design content. That means you won't have to sort through other, non-related content, like home decorating articles, or cupcake recipes in order to find the design inspiration you're looking for.
Cons:
Unlike pins on Pinterest, only some of the saves on Designspiration feature vertical images, which means if the website design you're interested in has a horizontal thumbnail, you're going to have to click through to the website to get a better idea of the overall design.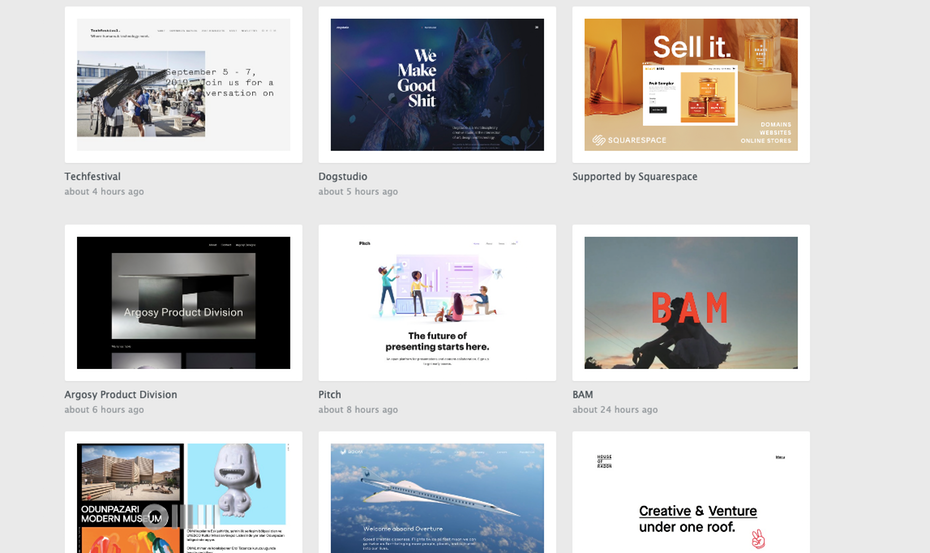 If you're looking for strict website design inspiration, you're definitely going to want to have a look at siteInspire. This platform pulls in some of the most visually striking sites on the web and assembles them in a single, easy-to-use platform. siteInspire also has one of the most built-out search functions on this list, allowing you to break down results by everything from website type, subject, style or platform.
Pros:
There's not a lot of bells and whistles on siteInspire, but that's actually one of its biggest assets. The search function is easy to use, the website designs are organized in a grid making it easy to view multiple websites without feeling visually overwhelmed and siteInspire's neutral color palette doesn't compete with the web design inspiration it's showcasing.
Also, siteInspire has an "add it to a collection" feature that allows you to save sites you like and organize them accordingly for future inspiration needs.
Cons:
This site is exactly what you need if you're looking for website design inspiration. No cons to be found!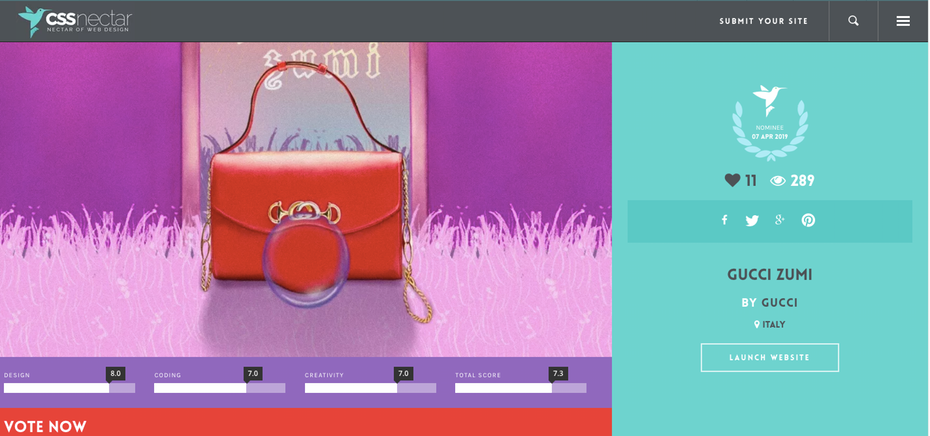 There's more to web design than meets the eye. If you're a person who cares about the different elements that come together to create a cohesive web design, you should definitely check out CSSnectar.
Like other inspiration sites, CSSnectar aggregates different website designs, but unlike other inspiration sites, it doesn't stop there. Each site is then voted on by the design community in three different categories: coding, design, and creativity. CSSnectar then tallies up all the votes to assign an overall score to each website design, which you can easily see at the bottom of each design's thumbnail when you're searching the site for inspiration.
Pros:
The ability to see how other designers rated each element of a website's design can be quite informative if you're not a pro at web design. Also, CSSnectar has a handy search function that allows you to filter website design inspiration by color, category, feature or country.
Cons:
If you're looking for a more simple or minimalist web design—or if you're designing on a template-based platform like WordPress or Squarespace—you're not likely to find the inspiration you're looking for on CSSnectar.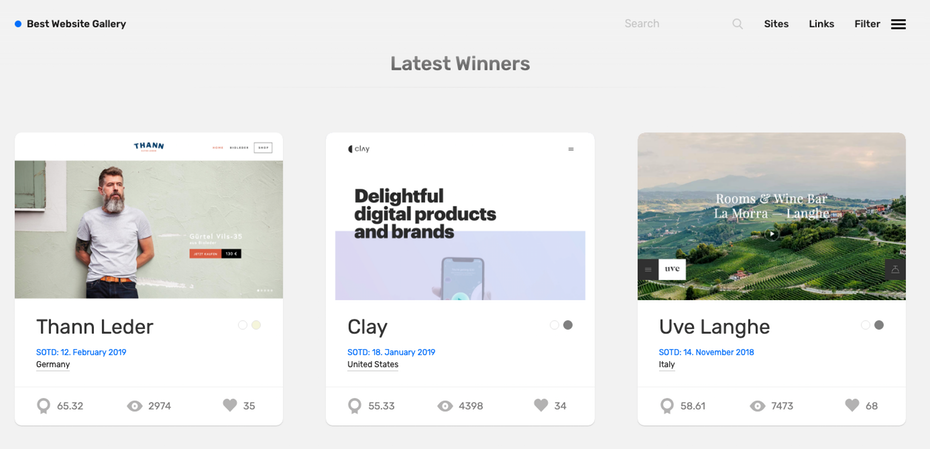 BWG (Best Website Gallery) is a collection of web designs that personally inspire the site's designer and developer. That might not seem significant, but because the site has been around for more than a decade—BWG originally launched in 2008 as MakeBetterWebsites—BWG has amassed quite a collection of design.
In addition to inspiring websites, BWG also features a section of helpful and/or interesting web design and development-related articles.
Pros:
BWG has one of the most unique search functions out there and one of its coolest features is the ability to filter your results by CMS (like Drupal or WordPress) or framework (like Bootstrap or jQuery). If you know where and how you're going to build your site, the ability to search websites that use the same CMS or framework is super valuable.
Cons:
BWG is a site for website design inspiration, but in terms of its own design, it's not exactly inspirational. The grid design is easy to navigate, but it definitely isn't winning any style points. That's okay, what counts is the inspiration you can find there.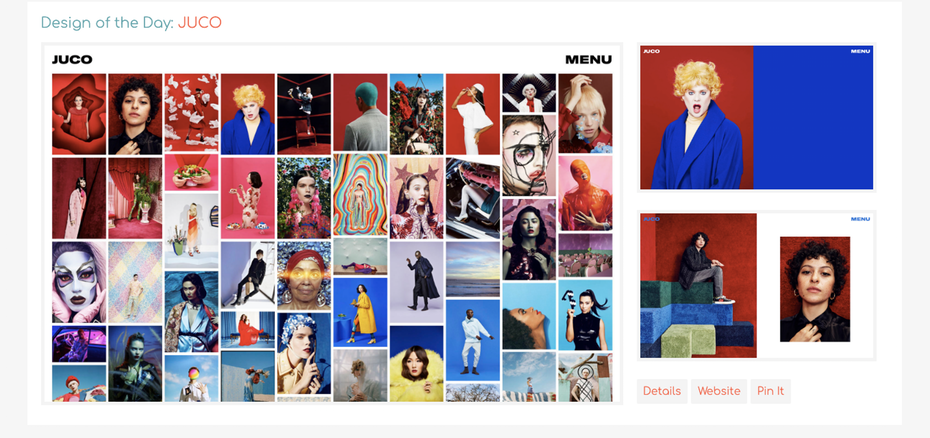 Straightforward, simple and with plenty of website design examples, The Best Designs is a go-to source for designers looking for inspiration without all the bells, whistles, and "fluff" you might find on other sites.
Pros:
As mentioned, this site is simple, straightforward, and easy-to-use. Plus, its "Design of the Day" feature ensures that it's always updated with fresh content. You also have the ability to browse WordPress themes and connect directly with designers.
Cons:
The Best Designs certainly isn't winning any awards for being flashy, well-designed or original, but who cares? There are no real cons to using it, which makes it a winner in our book.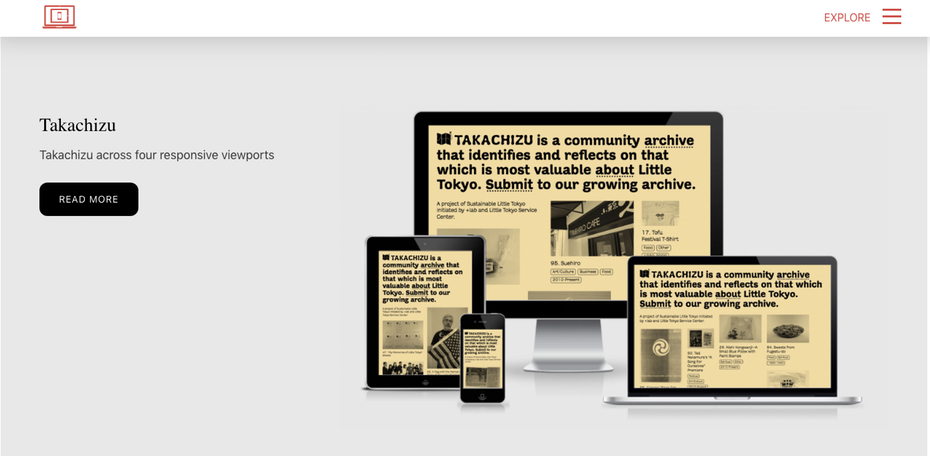 A well-designed website is essential, but design doesn't mean anything if that website isn't responsive. ResponsiveDesign.is not only a great source for website design inspiration, it also lets you see how each site looks across multiple devices, including mobile and tablets.
Pros:
ResponsiveDesign.is isn't just a website design inspiration platform, it's also a site dedicated to all-things-responsive-design. The site features design tips, long-form articles on responsive design and development, marketing and strategy content and a podcast, too. When you look at everything this site has to offer, it definitely is one of the most well-rounded resources on this list.
Cons:
In terms of actual web design inspiration, ResponsiveDesign.is doesn't have as many examples as some other inspiration sites out there.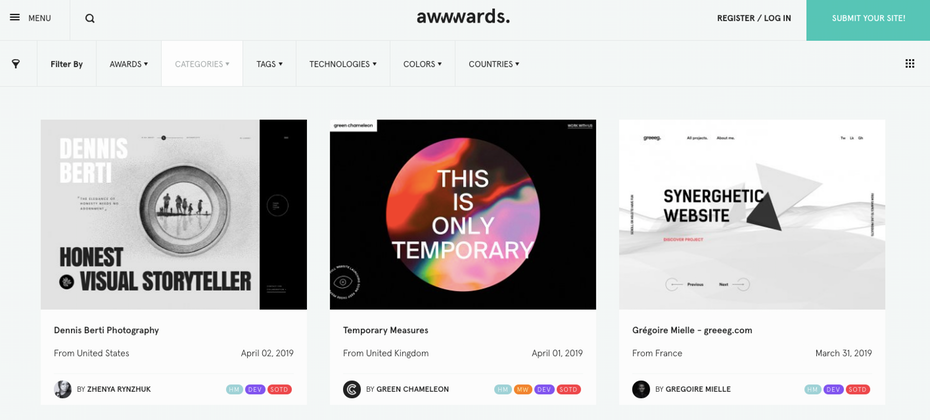 By far one of the sleekest and most comprehensive sources of website design inspiration on this list, Awwwards is the go-to for the world's best designers and design enthusiasts. With a well-designed grid layout, a constant stream of new content—Awwwards features a new site every day—multiple categories and an industry-best search tool, which includes colors, technologies, categories, awards, tags and more, Awwwards is a great jumping off point for finding the best website design inspiration the internet has to offer.
Pros:
As mentioned above, this site has it all. It's basically one giant pro!
Cons:
None.
Not to toot our own horn, but if you need a bit of web design inspiration, you won't find a better pool of talented designers, and inspiring designs, than right here on the 99designs platform.
99designs' Discover feature allows you search the platform for web design inspiration, styles and ideas. And the best part? If you find a web design that inspires you, you can connect with the designer one-on-one and turn that inspiration into a brand new website for your brand.
Your other option is to directly browse thousands of web designer portfolios to find the perfect fit for your web design project.
Pros:
Discover has a great search function not only allows you to filter by design type, but also allows you to filter by top designers—to ensure all the website designs that come through your search are from the most experienced talent on our platform—and by contest winners, so you only see the best-of-the-best in your results.
And when you find the website design that truly inspires you, all you have to do is send the designer a message—and they can get to work designing your website.
Cons:
I mean, obviously, we don't see any cons on the Discover platform! There's no downside to discovering inspiring web designs from thousands of designers.
Find your inspiration—and bring it to life
—
With this list of website design inspiration sources, you have everything you need to get out there and find your inspiration. Then all that's left to do is bring that inspiration to life!
This article was originally written by Barin Cristian Doru and published in 2014. It's been updated with new information and examples.