Whether you're looking to promote an exciting new brand or want to outfit your relatives for Instagram photo ops at a family reunion, there's always a good reason to print your own custom t-shirt. Sure, you probably own a large collection of comfortable, versatile tees. But, there's always room for more, so why not make your own?
In this step-by-step t-shirt printing guide, we'll review the ins and outs of printing a t-shirt, including determining your quantity & budget, selecting a printing method and choosing the right fabric. We're here to get you on your way to printing your new favorite tee!
Step 1: Get a design
—
You can't print a t-shirt without a great design. So, long story short, make sure you've got a design that tells your story, fits your brand, or just looks really cool. Start by asking yourself what you want your shirt to say about you or your brand. Who's the target group you're trying to appeal to? Take your time creating a design that reflects your brand identity, whether it features an illustration, a logo, a slogan or a combination of all three.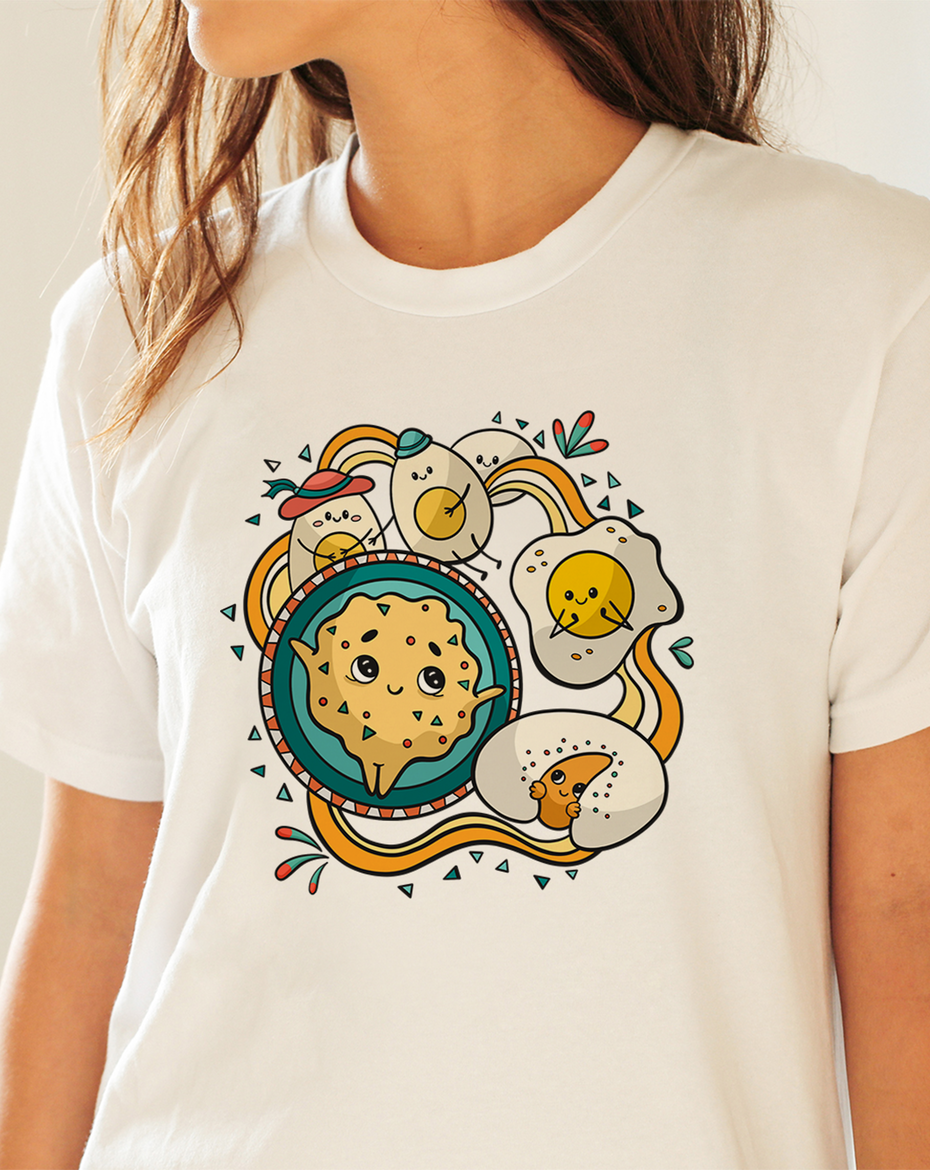 It's crucial that you spend some time making sure your t-shirt design is perfect before you move on to printing. Does it have the right proportions? Do the colors work well together? Is the text legible?
Also remember that your design needs to work with whatever t-shirt color you choose: a design with dark colors won't show up well on a dark blue or black t-shirt. So, if you know you want to print on black t-shirts your design needs to use lighter colors and vice versa.
Don't have a design yet? Check out our ultimate guide to t-shirt design where we cover everything you need to know to design a t-shirt you'll love. You'll learn how to pick the right style, imagery, colors and typography, so you'll end up with the perfect t-shirt design.
Pro tip: working with a professional designer is the easiest way to get a stellar t-shirt design that is guaranteed to look amazing on the finished printed shirt.
Step 2: Know your quantity and budget
—
Before you get too deep into the printing process, identify your estimated quantity and budget. As with any type of printing, ordering a large quantity will likely reduce the cost per item. Ordering in bulk is a smart plan, especially if you'll be selling the shirts.
In addition to quantity, identify which sizes you'll need and how many of each. If you're printing merchandise shirts, keep in mind that some sizes are more popular than others, but it's always important to have an inclusive range. Depending on your manufacturer, certain sizes can be pricier than others.
Having your quantity and budget set in stone is also an essential step toward narrowing down your printing method. The number of shirts you need will also influence your printing method. Some methods are ideal for printing in bulk. Others have a higher cost per shirt and are better for small orders.
How much does t-shirt printing cost?
Printing a single t-shirt usually costs between $15 to $30, while printing in bulk can bring the cost per shirt down to $5-$10. Prices for t-shirt printing vary depending on the printing technique you're using, the quality of the plain t-shirts you're printing on and the quantity of t-shirts you're ordering. You can get big discounts on bulk orders.
Step 3: Choose your printing method
—
When it comes to printing a T-shirt and deciding on the right method, differences in cost, appearance, production time and materials will all come into play. Let's cover these important details with three popular printing techniques:
Screen printing
Screen-printed tees can be made by hand or by machine. And either way, this method is the gold standard for T-shirt printing. The printer will make original screens of your T-shirt design, allowing you to print in bulk.
Pros: Screen printing is reliable, affordable and high-quality. This method is ideal for large orders.
Cons: A new screen is required for every new color or design revision. Colorful designs end up being pricey.
Best for bulk orders and printing bright colors on dark shirts
Vinyl graphics
T-shirts with vinyl graphics are created through transfer printing. What results is a different look and texture from screen printing—one that feels bolder and more dimensional. Vinyl is often considered to be more durable than ink.
Pros: The bright colors and durable materials work best for t-shirt designs that you really want to stand out.
Cons: Much like screen printing, each additional color adds to the cost. Because each graphic must be transferred shirt-by-shirt, vinyl printing is not a great option for large orders.
Best for simple graphics and short-run orders that include basic shapes and/or text-based designs
Direct-to-garment
Direct-to-garment (or DTG) printing is a newer option that utilizes the freedom of inkjet printing. This method sprays ink onto the garment—like inkjet printing on paper, but with fabric.
Pros: The DTG method allows for highly-customizable designs with intricate detail and many color choices. Bring on the color!
Cons: This works best for shirts in small batches. The more you're printing, the less viable it becomes. Also, dark-colored garments are a no-go.
Best for small-quantity orders that require high amounts of detail
Step 4: Find a printer
—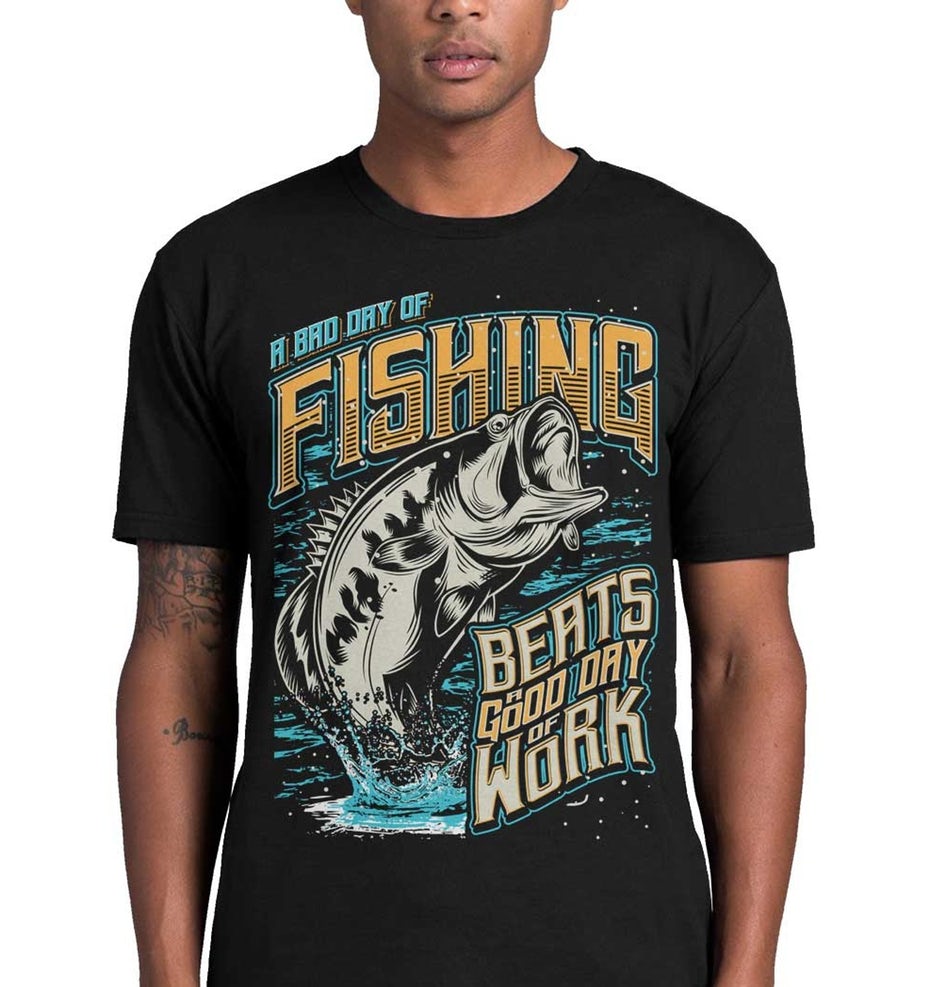 Once you've settled on your design, budget and printing method, it's time to find a printer. There are many options to choose from (both locally and online), so we recommend taking the time to explore the possibilities.
If you're printing locally, request samples of actual, finished shirts, not just design images. Most printing companies love visitors! Stop by their shop to see and feel their work.
Remember: a printer's job is to translate design to an actual print, and only a finished product reveals that. If you decide to go with an online printing company be sure to read reviews of previous customers and give their customer support a call to see if they're the right fit for your project and printing needs.
As you select your printer, always keep your timeline in mind to make sure you can have the order ready in time. For an online order, factor in the printing time as well as the shipping time, so if you're under a time crunch, you can eliminate a step by placing the order locally and picking it up in person.
The following factors will influence which printer to choose:
printing techniques they offer and whether they work for your design
cost for plain t-shirts plus printing
printing time
t-shirt cuts, sizes, materials and colors they offer
quantities you can order
support and proof options
Step 5: Choose a fabric and shirt type
—
Plain and simple: a T-shirt should be comfortable. Keep this in mind as you explore fabric options for your new design.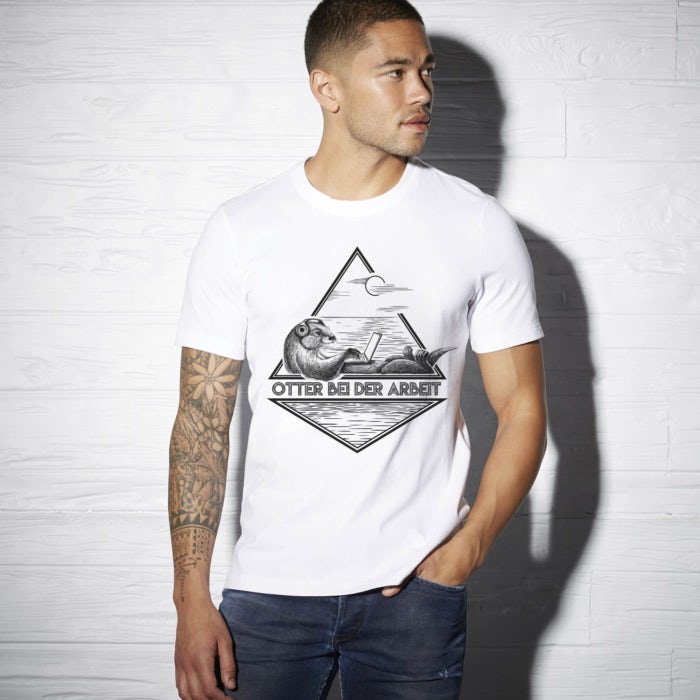 An incredibly popular option is 100% cotton. It's versatile, easy to wear and even easier to wash. For a softer and more breathable alternative, try the 50% polyester/50% cotton blend, a crowd favorite and often cheaper than pure cotton.
Work with your printer to determine which fabrics will work with your quantity and budget.
In addition to selecting a fabric, you'll need to settle on a shirt type.
Think about your audience and intended goals before deciding the right type of t-shirt. What's the style and cut your target group would like best? What colors will they prefer? When and where do you want them to wear it? When in doubt, go with the short-sleeve crew-neck in white, black or grey. It's a fail-safe bet.
Step 6: Submit your files
—
When you're ready to pull the trigger on printing, you'll need to send your design files to your printer. Communicate directly with your printer and ask them about specific file types, color requirements and file sizes. Ask in advance in order to avoid any miscommunication down the road. Relay this information to your designer so they can supply you with your final files.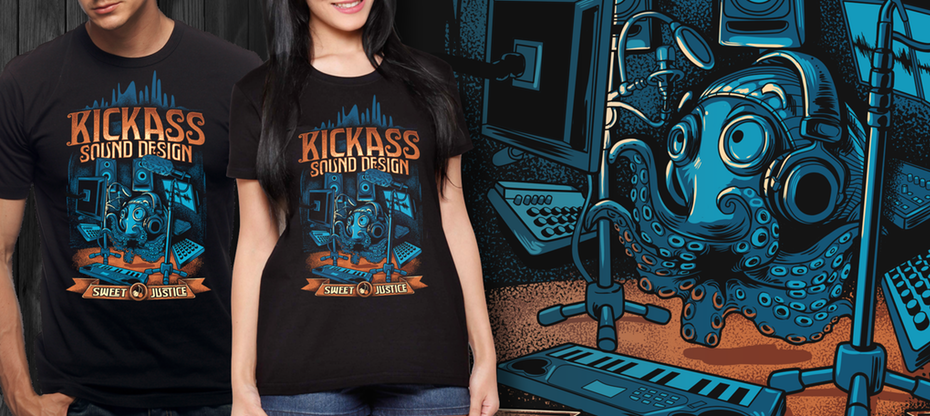 What is the right file format for t-shirt printing?
You will need to submit your t-shirt design in vector format. This will likely be an AI, PDF, or EPS file. Any of these formats will work, but if you're unsure which one to send to your printer, choose a PDF since it's the most versatile. Your designer will provide you with a file in one or several of these formats (depending on the program your design was created in, such as Adobe Illustrator or InDesign etc.). You'll need one for each different t-shirt design you're creating.
Additionally, you might need the specific color codes, if your printer does custom colors. Make sure you have the Pantone or CMYK color codes so that everything turns out looking like you want.
Step 7: Check your proof
—
A printer should always send you a proof before a shirt gets printed, especially if you're placing a bulk order. This can be a digital proof or a test print of the shirt itself. This is your last chance to make any changes, so review it very carefully. Check the words, the numbers, the colors, the alignment… everything!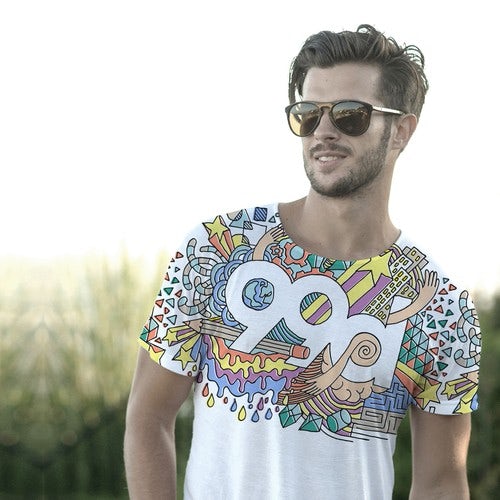 When reviewing, it can be helpful to show the proof to an impartial third party who will provide a fresh perspective on any potential errors.
Step 8: Get your shirts!
—
Once your shirts have been printed, pick them up and check everything over. Ensure that you're satisfied with the end product and thank your printer for the hard work. If possible, leave a review about your experience. Now enjoy your amazing new shirts!
You're teed up for perfect t-shirt printing
—
We've covered it all, from quantity and budget to t-shirt printing methods to finding the right fabric. Now, it's time for you to get started! Identify your goals, then print the perfect tee. Nothing says "you are what you wear" more than a statement-making, exceptionally-designed t-shirt.