Everyday, our designers bring to life the brands (and dreams) of founders from all over the world. Anyone who's started a business knows the rush of seeing their logo and branding—something that once was just an idea—in real life for the very first time. It's a really special moment that we're lucky enough to see on a daily basis.
Welcome to #99designed, where we're sharing some of these amazing stories on our blog and Instagram.
The journey begins
—
Quirky Campers is a bespoke campervan rental agency offering beautifully designed, hand-crafted vans for rent in the UK and New Zealand. Founder Lindsay Berresford and her husband developed the idea after they rented out Bella, the custom campervan they had built, for six months while they were away in Kenya. The campervan stayed rented for over 120 nights, and its popularity inspired them to turn their idea into a brand-new business.
Saul campervan via Quirky Campers
Duke campervan via Quirky Campers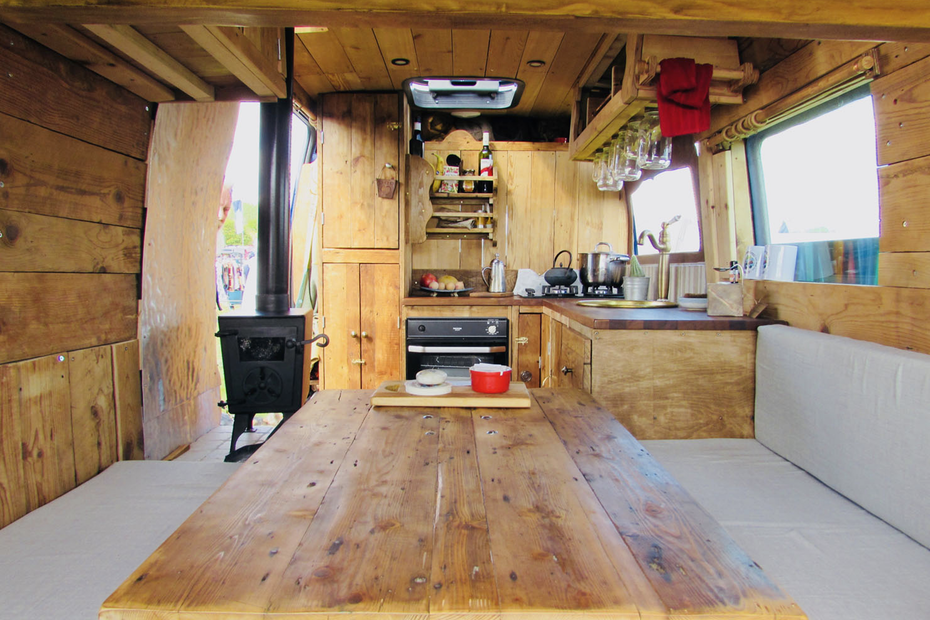 Buttercup campervan via Quirky Campers
Craftsmanship is the name of the game at Quirky Campers. They make sure that every campervan they rent is a one-of-a-kind vehicle that will provide renters with the ambiance, comfort and fun that they deserve when they set out on the road. Owners often use many traditional skills and artistry techniques when they upgrade their campervans, including upholstery, metal work, and carpentry, to name just a few. The company also passionately supports upcycling, recycling, and reuse whenever possible. In fact, one of Quirky Campers' vans is made from 90% reused materials, and a majority are built from reclaimed materials.
Beyond the vans themselves, the Quirky Campers team even scouts out the most well-designed and highest-quality campgrounds where their clients can have a memorable stay. The crew says their campervans are more like an Airbnb for lovers of outdoor living.
A quirky, crafted logo
—
Quirky Campers was already up and running when Lindsay realized she didn't have a logo or business card. In fitting with her brand's commitment to craftsmanship, she wanted a simple, beautiful design that had a handmade look without being too DIY. Through a logo and business card design contest on 99designs, Lindsay collaborated with Irish designer spoon lancer.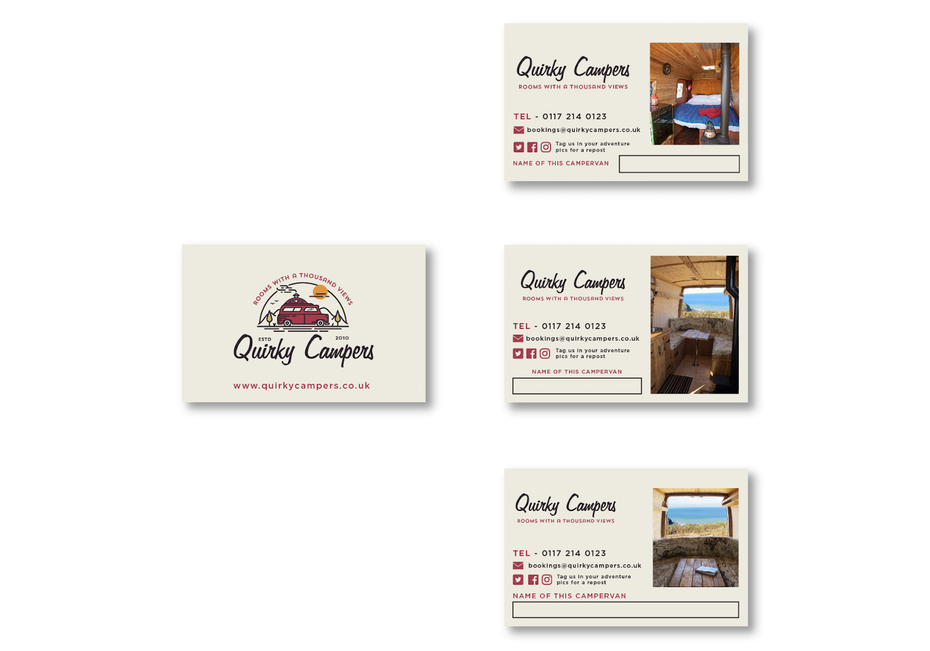 Logo and business card design by spoon lancer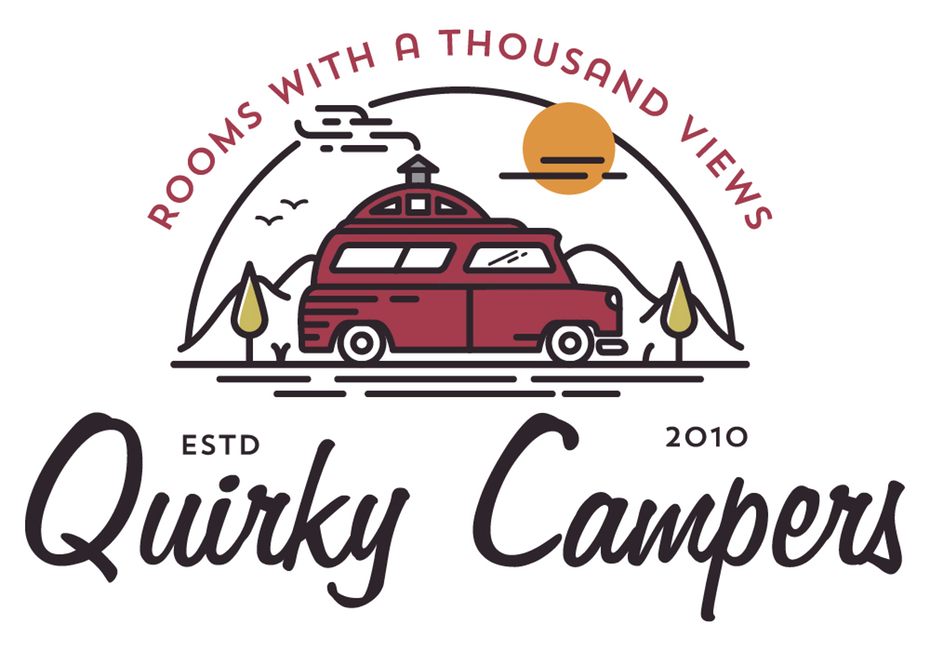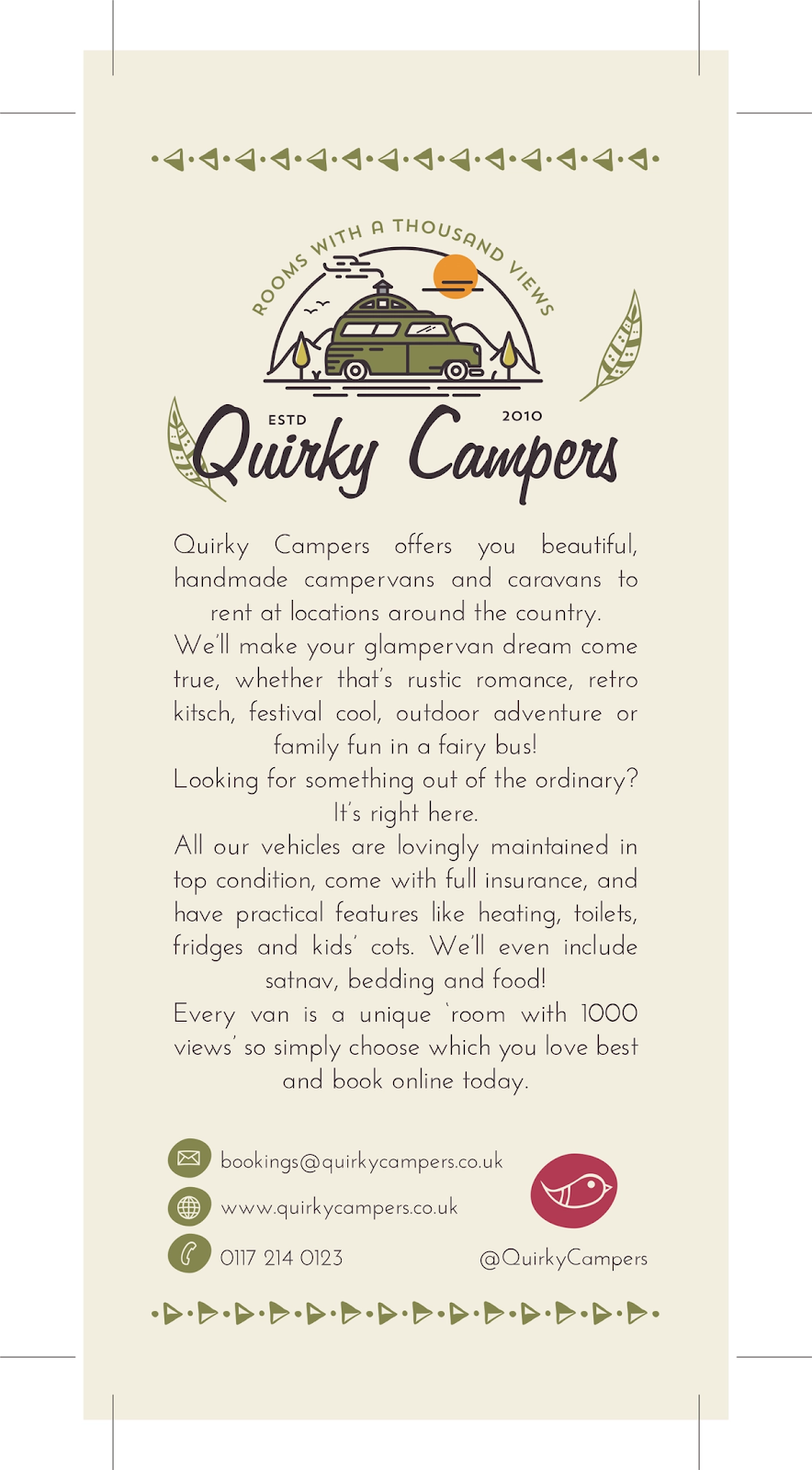 The Quirky Campers brand embodies an outdoor lifestyle with a sprinkling of beauty and uniqueness. Their audience is made of adaptable individuals and families who love travel, DIY and the relief of having less "stuff" in their lives.
The Quirky Campers team established these brand values before they started their design contest, but they were flexible in how these values manifested in their design. Spoon lancer looked to these brand elements to create a top-notch logo and brand identity that Quirky Campers now uses in all of its marketing and communication.
After nailing their logo and business cards, the Quirky Campers team went on to work with designer duo Lucadia on a two-sided flyer to help promote the company. Lucadia's design merges the existing brand elements with playful iconography to create a playful, yet elevated flyer that perfectly introduces Quirky Campers to the world.
The new age of old-school travel
—
Boutique hotels, "voluntourism" and Airbnb rentals have become essential trends in the travel industry over the past few years. Alternative travel experiences and vacation accommodations are on top of travelers' lists, and Quirky Campers is right in the middle of the movement. As the company responds to what more and more individuals want, their emphasis on quality and craftsmanship sets them apart from the rest. As Lindsay points out, their distinctly unique campervans has helped them to naturally draw press interest, backlinks from many other websites and lots of social shares, which allows them to continue standing out in their small but powerful industry.



By focusing on quality first and foremost and growth second we have maintained our uniqueness.





Lindsay and her husband believe that the industry is still extremely young. As it continues to grow, they'll continue to invest in customs campervans and everything their customers are looking for when they travel. In addition to van rentals, Quirky Campers has now expanded to offer campervan sales, a directory of the best van converters, an online shop of #vanlife products, and the Camp Quirky festival for van-builders.
In the meantime, Quirky Campers will focus on maintaining brand consistency as they slowly and carefully expand to other countries. And they'll always stay true to their motto: Be true to your values, be consistent and have fun with it!