Koken CMS – Web site publishing for photographers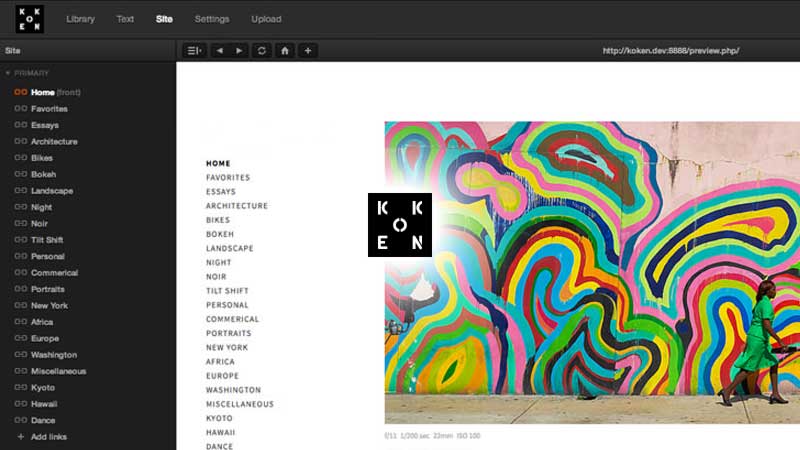 Built for photography
With Koken CMS, your images are your most important asset. Koken treats your images with the attention they deserve by including a full-featured management interface that looks and feels like a desktop application.
Work and words, together
Write about portfolio updates, inspiration, or anything that comes to mind. Images, videos, slideshows and content from Flickr, Instagram, Vimeo, SoundCloud andTwitter are a snap to display.
Includes live site previewing and editing
With Koken, you can setup your navigation, add pages, and edit your site's color and layout with simple point-and-click controls. No HTML experience required.
Themes and plugins
As with other popular CMS (Content Management Systems), with Koken you can browse, select and install themes and plugins through an integrated store. Everything downloads and installs automatically to your Koken CMS installation.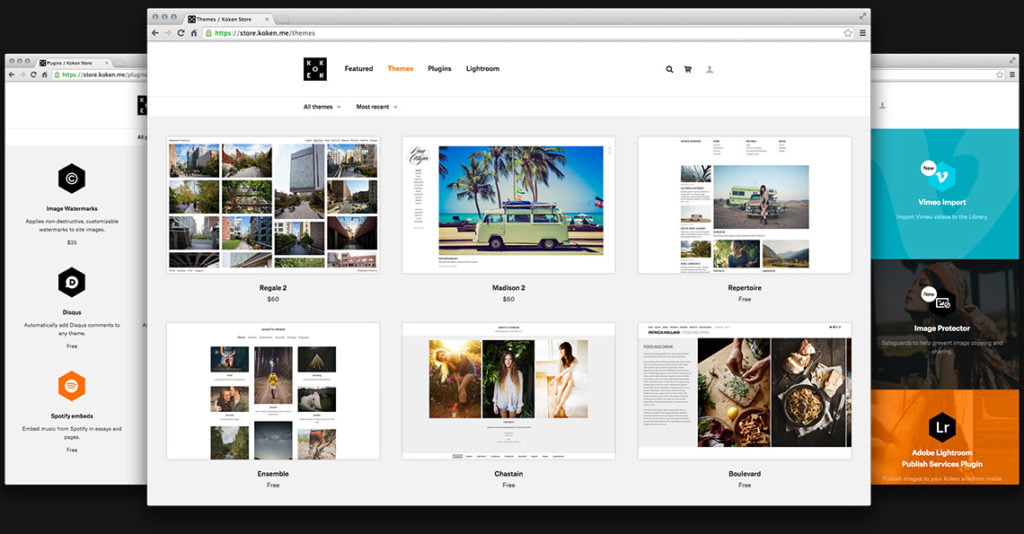 It Syncs with your Adobe Lightroom
Free Koken publish services plugin for Lightroom is available to upload, edit or replace images from inside Adobe Lightroom.
Koken includes
Simple theme controls
Edit your site's color, layout, typefaces and more with a point-and-click floating panel of options. No HTML experience needed.
Custom CSS editor
Append styles to any theme through an inline CSS editor. Edits immediately appear in the live site preview.
Independent Drafts
Independent draft and live site states so you may make behind-the-scenes changes without affecting your live site.
Navigation builder
Add and remove navigation links with one click. Assign front pages, edit labels, filter data and more.
Live preview
See all site edits instantly inside the site editor. Build exactly the site you want then publish when ready.
Content Filters
Edit page content order and visibility using tags, categories, favorites or featured criteria.
No advertising
Koken CMS sets the stage for you, not for Koken. Koken CMS sites display no advertising, badges or promotional links.
Koken is included as a self installing applications with all Connect 2u2 Web Technology Cloud Hosting Plans.