How to Turn Off Comments Notifications in WordPress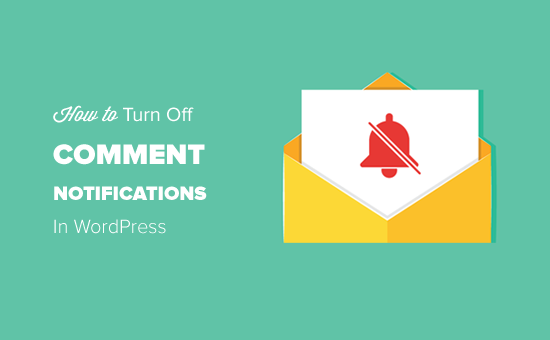 Do you want to turn off comment notifications on your WordPress site?
By default, WordPress notifies the site administrators when there is a new comment on the site.
If you are just starting a new blog, then this feature will alert you of new comments that you can respond to and increase user engagement.
However, these comment notifications could become annoying as your blog grows because you would start getting a lot of them.
Luckily, there is an easy way to disable WordPress comment notification emails. In this article, we will show you how to easily turn off comment notifications in WordPress.
How to Turn Off Comment Notification in WordPress (Step by Step)
First of all, you need to login to your WordPress admin area and go to Settings » Discussion page. From here, scroll down to 'E-mail me whenever' section where you will see these two checkbox options:
Anyone posts a comment
A comment is held for moderation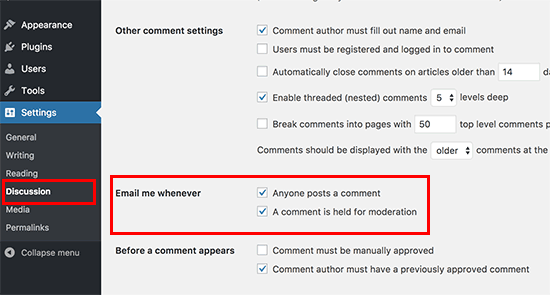 As shown in the image above, the comment notification emails are enabled by default in WordPress.

To disable comment notifications, you need to uncheck both boxes, and then click on the 'Save Changes' button at the bottom of the page.
That's all!
WordPress will now stop sending comment notification emails to the site administrators and post authors.
If you want more tips to improve your WordPress comment notifications, then you can see our guide on how to how to manage WordPress comment notifications emails.
Turning Off Comment Notification Emails from Other WordPress Websites
Are you receiving comment notification emails from websites other than yours?
If you have commented on a post on another blog and subscribed to its comments, then you will receive comment notification emails every time a new comment is added to the post.
Many blogs nowadays use a plugin like Subscribe to Comments Reloaded to add a comment subscription option in their comment box.
You probably checked or forgot to uncheck the comment subscribe option.
For example, you can see 'subscribe to comments' option under the comments section of this article.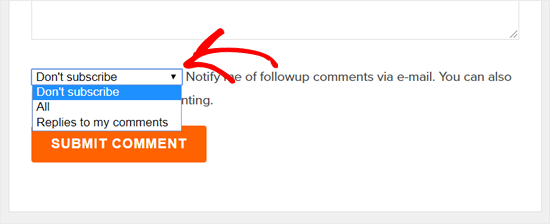 It is useful if you have asked a support question and waiting for a response from the post author. But if you posted a general feedback comment, then it can distract you unnecessarily.
You can unsubscribe to such comment notification emails by merely clicking on the unsubscribe link in the email.