How to Choose the Best Business VoIP Provider in 2019 (Compared)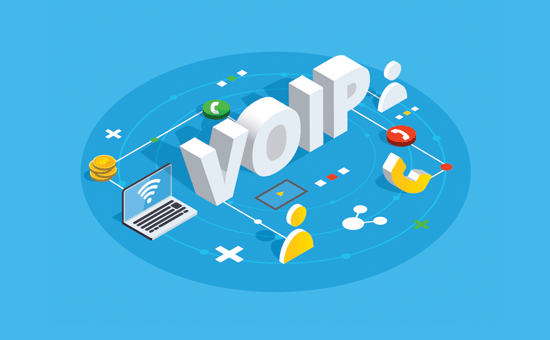 Are you looking to choose a business VoIP provider but not sure which one is right for your needs?
VoIP is a term used for business phone service which allows you to use advanced call management features on your computer or mobile device.
Unlike the old school bulky phone setup, business VOIP is a perfect phone solution for small businesses. You can cut down phone costs while enjoying all the powerful tools to grow your business.
In this article, we will explain what is business VoIP, and how to choose the best business VoIP provider for your company. Since we had to choose a VoIP provider for our own business, we will also share our best VoIP phone providers for small and growing businesses.
What is VoIP?
VoIP or Voice over IP is a term used to describe internet phone service. Unlike a traditional phone service which uses the landline, VoIP services use the internet to receive and make calls.
Benefits of using VoIP
Following are just some of the benefits of using a business VoIP phone system:
You can receive calls using computers, VoIP phonesets, and even cell phone.
You can share one number with several employees.
You can easily track call duration, hold times, wait times, and overall usage.
Most business VoIP services come with call forwarding, caller ID, call waiting, call routing, and more.
You can use the same number anywhere you want.
It gives you a business phone number, so you don't have to share your personal cellphone number with clients.
Business VoIP offers cheaper local and international calls.
The business VoIP technology offers a lot of flexibility and freedom, and it has made it easy for businesses of all sizes to have a business phone number. Whether you're a small 1 person company, a growing 10 people team, or established business with over 100+ people, you can use business VoIP.
However if you don't choose the best business VoIP provider, then you can run into some serious challenges.
For example, the voice quality on VoIP calls varies depending on the internet connection and the service provider you're using. Unlike landlines, you'll loose VoIP connection during a power outage or internet disruption, but this shouldn't impact most small businesses if you're well prepared.
Having said that, let's discuss when is the right time to start thinking about a business VoIP solution.
Does Your Business Need VoIP Business Phone Solution?
In any business, giving people a way to contact you is helpful in building trust and boost your sales.
When starting a website, most business owners add a contact form, which makes it easy for users to contact you via email.
However depending on the industry, sometimes customers may prefer more instant communication.
This is why many businesses offer live chat or phone number on their websites. Giving users more than one way to communicate with your business can improve customer support and result in more sales.
Whether you run an online store to sell products or a business website to sell services, a VoIP based business phone service can help you grow your business without the high costs.
Your website visitors can easily call you to request a quote, ask a pre-sale question, or even request support.
In short, business VoIP phone enables you to better manage and track your calls, collect customer information, and build stronger relationships with your customers.
How to Choose The Best VoIP Service Your Business
There are a lot of large companies offering business VoIP services, and it's a very competitive space. The abundance of choices and highly competitive nature of advertising makes it difficult for business owners to choose the best VoIP provider for their business.
If you are just starting out, then you may be looking for the cheapest VoIP business phone service. However, you need to be careful when going down this route because they may lack certain features, which you'd later discover to be essential for your business.
Then there are some business VoIP services that are not easy to implement, transfer, or simply too expensive.
When comparing business VoIP providers for our business, we looked for a balance of features and reasonable cost. Here's a quick checklist that we used:
Cost of local vs international calls. Most business VoIP services offer different plans for international calls. You need to choose a provider based on the geographic location of your customers.
Features available in the VoIP plans. Many companies offer different features while some sell them as separate add-ons which would increase your costs.
Mobile apps and features that you can share among multiple users.
Third-party integrations that you can use to connect your VoIP service to other tools like your CRM software, email marketing service, and more.
That being said, let's take a look at our pick of the best business VoIP providers.
1. Nextiva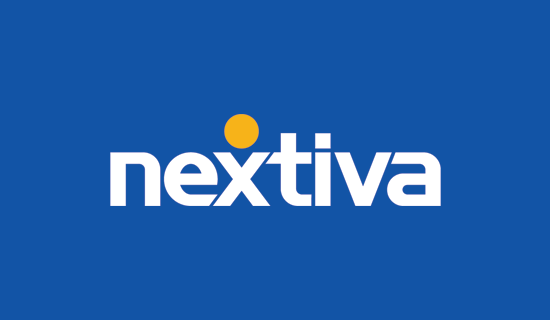 Nextiva is the best business VoIP service on the market. We can say this confidently because while researching for a VoIP service for our own business, we ended up choosing Nextiva.
Their business VoIP service offers all the essential features needed by a growing business including call routing, free domestic calling, voicemail to email and text, online fax, and more.
Other standard features include free number porting, caller ID, call forwarding, custom greetings, hold music, and more.
They also offer a free local or toll-free number with their plans.
We were able to quickly setup professional sounding welcome message with directory and phone routing which helps make our small business compete with the big guys.
What we really liked about Nextiva was their support team was extremely helpful from pre-sales all the way to onboarding and setup.
Even though we didn't need any fancy desk phone sets, they gave us a full demo and showed us how we can easily use Nextiva with traditional desk phones or conference phones as our business grows.
The best part was they went above and beyond even though we're a relatively small customer for them considering they help large businesses like Taco Bell, Ashleys Furniture, Conan, and others.
Pricing: Starts from $20 / per user / per month. Unlike other business VoIP providers, they don't require annual contracts. However you can get discounts on buying pre-paid packages, and you can also get lower rates when you add more users to your plan.
2. RingCentral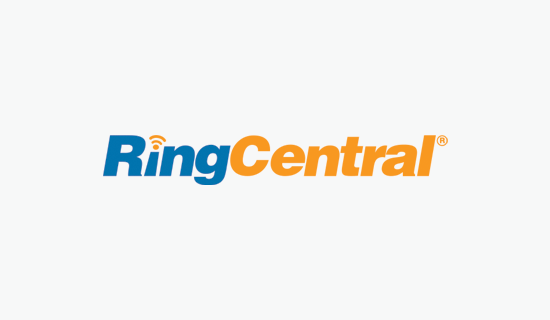 RingCentral is another excellent business VoIP provider. With RingCentral, you get all the standard feature you would expect from a reliable business VoIP provider like call forwarding, advanced routing, call waiting, caller ID, hold music, and more.
They offer easy integrations with third-party services like Dropbox, G Suite, Salesforce, and more.
Other notable features include online meetings, video calls, screen sharing, conferencing, and an easy to use web-based administration panel.
We first discovered RingCentral organically because they are very well known and a fairly large company in the business VoIP space. While their feature offering is great, their pricing is a bit on the higher end unless you sign the annual contract.
Pricing: Starting from $34.99 / per user every month for the first user. Their monthly pricing drops significantly when you add the second user to $24.99 per user every month. You can also save 40% by switching to the annual plan.
3. GrassHopper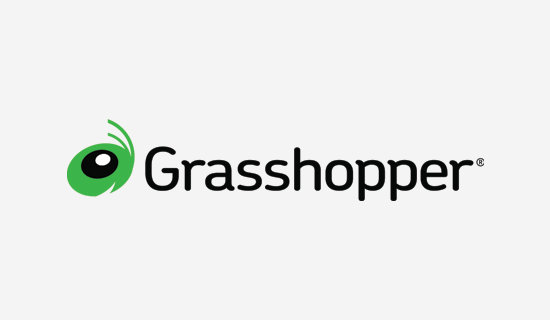 GrassHopper is a popular business VoIP service suitable for startups and growing businesses.
They offer virtual phone numbers over VoIP platform, allowing call forwarding to any numbers or devices. The downside is that you'll need a landline for outgoing calls.
They offer all the features you will expect like call waiting, forwarding, hold music, advanced routing, voicemail to email, and more. You can manage it from a computer using your web browser or mobile phone apps.
It works with local, toll-free, vanity numbers, and you can choose from the US, Canada, or UK based numbers.
Pricing: Starting from $29 per month with 1 number and up to 3 extensions. They offer a 10% discount if you sign an annual contract.
4. Phone.com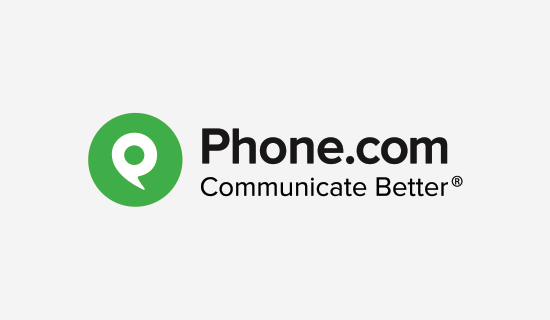 Phone.com is another popular choice among small business VoIP service providers. They include many European countries and Canada in their local call minutes. If you are operating in those locations, then it could be a cheap business VoIP service for your needs.
Their service includes call forwarding, routing, waiting, custom greetings and music, conferencing, and more. You can also integrate your VoIP plan to popular CRM software like Salesforce or Zoho.
Pricing: Starting from $12.99 per month with 300 monthly minutes. Their unlimited plan starts at $29.99 per month per user extension.
5. Vonage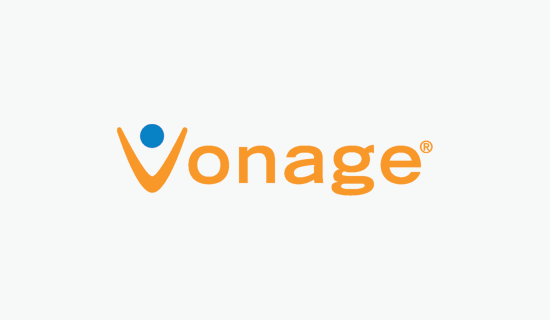 Vonage is famous for offering residential VoIP however they also offer business VoIP services for small to medium-sized businesses as well as enterprise clients. They offer a wide range of business communication tools including VoIP.
It includes all the usual features such as call forwarding and routing, caller ID, waiting, and more. Apart from that, they also offer team messaging and chat, conference calling, CRM integration, automatic call attendant, call recording, and more.
They offer different plans each with different features and limitations.
Pricing: Their base plan starts from $19.99 per month per line.
Which is the Business VoIP Provider for You?
Above we have shared the best business VoIP providers in the market today. Each of them offer a slightly different product and service at different prices.
When looking for a business VoIP solution for our company, we did extensive research to compare each of these companies, their ratings on top user review websites, and even what their employees were saying about them.
At the end, we ended up choosing Nextiva for our business.
We recommend using Nextiva as the best business VoIP provider. Their plans are suitable for businesses of all sizes with an impressive set of features and great customer service.
They offer fair pricing, do not require annual contracts, and their customer service is top-notch.
RingCentral came as a close second. They offered a lot of the same features, but at the end it came down to pricing where Nextiva clearly won.