The story behind Microsoft's earnings: The intelligent cloud powers customer innovation across industries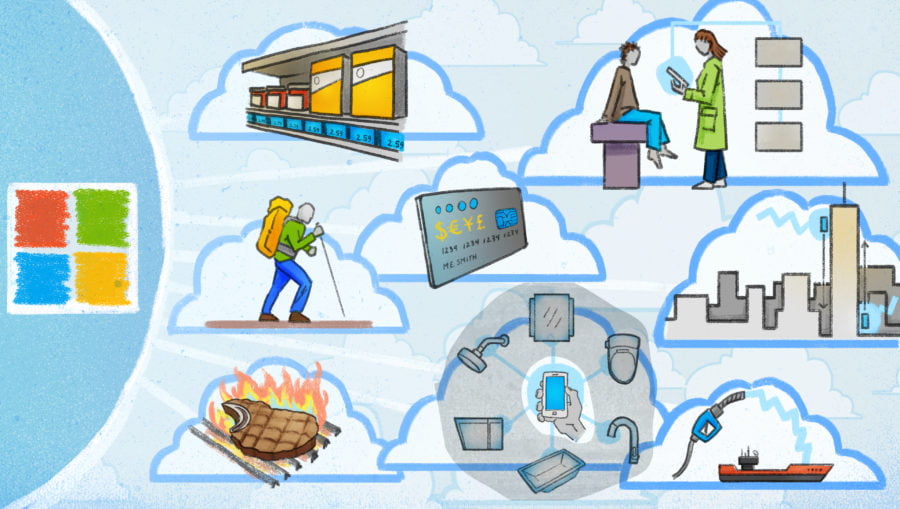 In today's Microsoft second quarter earnings call, CEO Satya Nadella showcased how customers are using our technology to create digital business solutions. The 56 percent year-over-year growth in commercial cloud revenue — with broad-based growth across geographic markets and industry segments — is fueled by customer and partner success.
Just this week, we announced news with Publicis Groupe, Columbia Sportswear and PTC. Communications and advertising giant Publicis Groupe is building its new AI-powered platform, Marcel, on Microsoft Azure and Office 365 to empower its 80,000 employees worldwide. Columbia Sportswear, innovator in active outdoor apparel, announced its choice of Dynamics 365 and Azure to its enhance worldwide consumer experience. Plus, PTC, a leader in product lifecycle management solutions that include Internet of Things (IoT), augmented reality and 3D computer-aided design for the industrial sector, has selected Azure as its preferred cloud platform.
Below are more customer highlights from this quarter.
In the industrial sector, United Technologies Corp. (UTC) builds and services millions of products, from elevators in some of the world's tallest buildings to aerospace equipment. UTC is using Dynamics 365 and Azure to help its massive field organization better predict and respond to customer needs. Chevron announced Azure as its primary cloud for intelligent, digitized oil fields in order to increase revenues, reduce costs and improve the safety and reliability of operations.
Consumer product companies are innovating with the Microsoft cloud, too. Kohler has built a legacy of blending home comfort and style through innovation. This year marks Kohler's entrance into the connected home market with a new line of kitchen and bathroom products, Kohler Konnect. For example, with Azure IoT, Kohler Konnect products respond to voice and in-app commands to manage bath temperature or start a shower.
In real estate, CBRE entered the smart building market with a customizable, connected workplace solution to give property investors and occupants a single, seamless access point to building amenities and services. Powered by Azure IoT, the CBRE 360 mobile apps will allow users to locate colleagues and navigate the workplace, reserve workspaces, and access food and beverage services, as well as basic building and high-end concierge services.
In retail, national grocery chain Kroger is leveraging Azure to power its EDGE (Enhanced Display for Grocery Environment) solution — a grocery-store shelf with digital screen displays showing prices, nutritional information and more. The system manages high volumes of data, better connects store management and customers and ensures stock does not run low. Home-improvement company Lowe's worked with Fellow Robots to deploy autonomous LoweBots to assist with inventory data and shelf intelligence. As the LoweBot scans inventory on the shelves, Azure helps Lowe's keep constant tabs on inventory and frees store employees to assist customers. Merkal Calzados, Spain's leading retailer of affordable footwear, has chosen Dynamics 365 for retail, finance, operations, and customer service to transform how it selects and sources product, improve marketing and accelerate omnichannel growth.
One of the world's largest casual dining companies, Bloomin' Brands, Inc., chose Azure to help its digital transformation across approximately 97,000 team members and almost 1,500 restaurants. The parent company of Outback Steakhouse, Bonefish Grill, Carrabba's and Fleming's Steakhouse, Bloomin' Brands is using Azure advanced analytics, machine learning and Power BI to enable guest engagement and convenience through mobile apps, websites and e-commerce, including the customer loyalty program.
In the healthcare sector, UMB Healthcare Services, a division of UMB Bank, continues to improve its health savings account (HSA) solution, powered on Azure, by creating a seamless customer experience for 1.2 million HSA accounts. For example, ReceiptVault allows HSA owners to safely manage their health care receipts in one place, which is an important tax requirement.
Aurora Health Care operates 15 hospitals, more than 150 clinics and 70 pharmacies throughout eastern Wisconsin and northern Illinois, Premera Blue Cross is the largest health plan in the Pacific Northwest, and UPMC is one of the largest integrated health care delivery networks in the U.S. These partners are working with us on a new AI-powered health bot project, currently in private preview. Powered by Cognitive Services and enriched with medical content, the bots give customers self-service access to their health-related questions and information.
In the government space, Kansas City's Azure-powered solution from Opti improves water quality and saves local citizens and companies money. The solution uses a wide range of data to control rainwater entry into the sewer system and could reduce the overall cost of the program by almost a billion dollars over 25 years.
In the world of payment technology, Mastercard selected Microsoft 365 to support a modern workplace that empowers its employees' teamwork and innovation. One of the largest companies in the payments space, Mastercard connects consumers, financial institutions, merchants and businesses in more than 210 countries and territories to achieve their vision of a world beyond cash. The company is also leveraging Azure for apps, including Masterpass, a digital mobile wallet and rewards program application.
In the auto industry, Volkswagen Group Digital is piloting new forms of workplaces. The company recently deployed Surface Books, Surface Pros, Surface Studios and Surface Hubs in its 10X service design lab and Future Centers, and to run its collaboration application, DEON. DB Schenker, a division of Deutsche Bahn AG, focuses on logistics across air, land, sea freight as well as contracts logistics. The company turned to Windows 10 to help safeguard its business with intelligent, built-in security and to empower the productivity of its global, mobile workforce.
Across the globe, industry leaders are choosing Microsoft to power their business strategies and new products, or support culture change. I am constantly inspired by our customers' and partners' digital ambitions and innovation, and I am eager to continue partnering with them on their digital journey.
Tags: Azure, Cloud, Internet of things, IoT
Original article written by Judson Althoff >