Today I had the pleasure of joining the prime minister of Ireland (or Taoiseach, as we say in Irish), Leo Varadkar, and my colleague Cathriona Hallahan, the managing director of Microsoft Ireland, to officially open our new $165 million, 365,000-square foot campus in Dublin – fast becoming a digital hub of Europe.
This new campus, One Microsoft Place, brings together 2,000 of our most talented employees in Ireland under one roof as they work to make our shared mission a reality – to empower every person and organization on the planet to achieve more.
During my last visit back in April, I was lucky enough to join the amazing advocate Sinéad Burke and speak to 800 young girls at an event Microsoft Ireland hosted for Girls in ICT (Information and Communications Technology) Day. Our message that day was one we at Microsoft truly believe – that if you pursue a career in technology, you can absolutely change the world. I have no doubt that some of the girls I met on that trip are going to grow up and change the world right from inside this building.
That's what the new campus at One Microsoft Place is all about. It's a place designed to help our team do their best work – fueling innovation and creativity, and inspiring everyone who visits. By embracing new ways of working, this space will empower our employees, optimize operations and help Microsoft more deeply engage with the local community.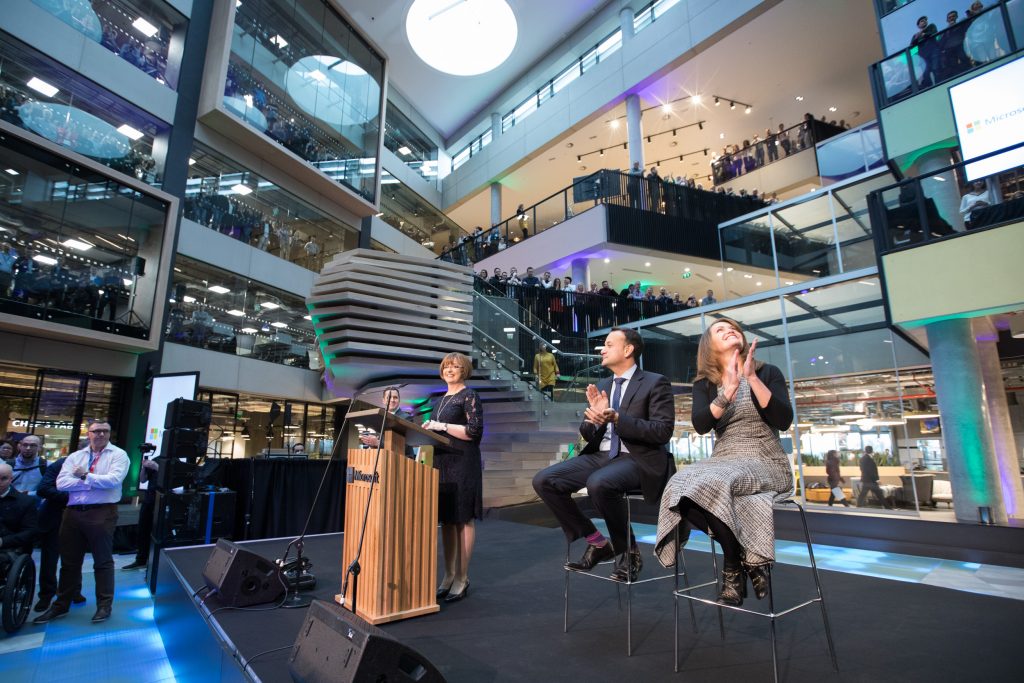 For the past two years, I've had the opportunity to work closely with the Irish team as they continue their quest to transform. Because of my family ties, I've always known how special this country is, but the last two years have also taught me just how special this team is – representing 71 different nationalities, with people of all ages, backgrounds and beliefs.
Ireland is the only location outside our headquarters in Redmond, Washington where every part of Microsoft is represented – from the team that operates our Dublin data center, to our engineering and product groups, operations and sales. The work that is undertaken here is helping to power the digital transformations of corporations, governments, schools and non-profits – not just in Ireland and the European Union, but all around the world.
And since establishing the EMEA (Europe, Middle East, Africa) Digital Sales team in Dublin, we've watched that impact accelerate beyond anything we could have hoped for. From its establishment a year ago, the organization has grown to almost 700 people, attracting top talent from across Ireland and around the globe.
Microsoft has now been a part of the Dublin community for more than 30 years, and One Microsoft Place is both a celebration of our shared history, and an investment in our shared future. Thank you to everyone who made this beautiful campus possible – the Taoiseach, our customers and our partners in the local community. But above all, thank you to the incredible employees of Microsoft Ireland. We can't wait to see what you accomplish here.
To get a glimpse of or new campus at One Microsoft Place in Dublin see: https://www.microsoft.com/en-ie/aboutireland, or on Twitter, search for the #MicrosoftLifeIreland hashtag.