The Glass Room is back, this time in London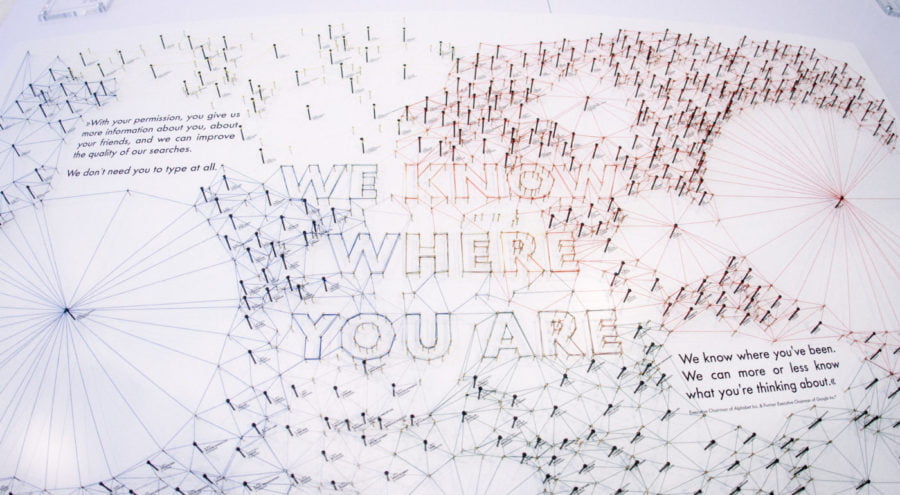 Dubbed "the new oil," data is fast becoming one of the most valuable resources on Earth, and we consumers are its richest source. Our personal data is mined, traded and sold by private and public entities at unprecedented rates. As each of us blissfully taps, reads, watches and visits online every day, how often do we really consider where our data goes in the process? How is it used after we give it away for "free" goods and services? How much control do we truly have over our online movements when ever smarter algorithms predict our behavior and guide us behind the scenes?
Last November, more than 10,000 people considered those questions while visiting The Glass Room in New York City. This week, The Glass Room London opens its doors to the public for a run in Central Cross through Nov. 12.
A "tech store with a twist," The Glass Room is like a Black Mirror episode come to life, one part art, one part education experience that prods us to confront the relationship between technology, privacy and online security and discover what's being gained and lost in the mix.
At first glance, The Glass Room London appears to offer the latest in shiny digital consumer products, such as the newest tablet, fitness tracker or facial recognition software. But as visitors explore, they find nothing is for sale.
A closer look at the "products" reveals works of art that peek behind the screens and into the hidden world of what happens to our personal data. The "Ingenius" team is on hand to answer questions raised by the exhibit and help visitors them with alternatives, privacy tips and tricks.
The objects on display explore several narratives:
Something to Hide
What happens when we exchange data in return for free services? Exhibits include an alternative fitness tracker that moves when you don't as well as a 'predictive shopping' algorithm.
Normal is Boring
What is the disruptive global impact of Silicon Valley and its startup empires? With their vast accumulation of knowledge, wealth and power, tech companies have become some of the biggest corporations in the world. Exhibits include an example of how Silicon Valley billionaires tackle philanthropy, such as with a fertility chip for women in developing countries, and a mapping of Google's acquisitions and mergers.
Big Mama
How do corporations and states use the data they are gathering with our best interests at heart? One example looks at how predictive policing software is used to identify crime before it happens, another how the censuses are being outsourced to giant defense contractors.
Open the Box
What does our data look like from the other side of our screens and how is it used? In The Glass Room, we'll see how our life patterns leak to mobile phone providers and discover what is revealed from our email.
The Data Detox Bar
With the help of the Ingenius team, explore your own data traces and learn how to use a selection of free, alternative apps. Try out the eight-day Data Detox Kit, helping you to take back some control over your digital self.
Workshops and Tours
Through a series of facilitated workshops, you'll get practical skills for understanding and managing the flow of personal data in the digital world. The Glass Room also offers a variety of guided tours and an event program throughout the exhibition.
Visit The Glass Room London
Curated by Tactical Technology Collective and presented by Mozilla, The Glass Room London will be open seven days a week, from Oct. 25 through Nov. 12, 2017. If you're in London, stop by to visit and take a look into your online life.
If you're not in London, keep track of what's going happening on Mozilla's Twitter and Facebook. We'll livestream some of the programs and feature some of the amazing artists that make The Glass Room a one-of-a-kind experience.
Original article written by M.J. Kelly >