What's New in OceanWP: Setup Wizard & Many New Cool Things!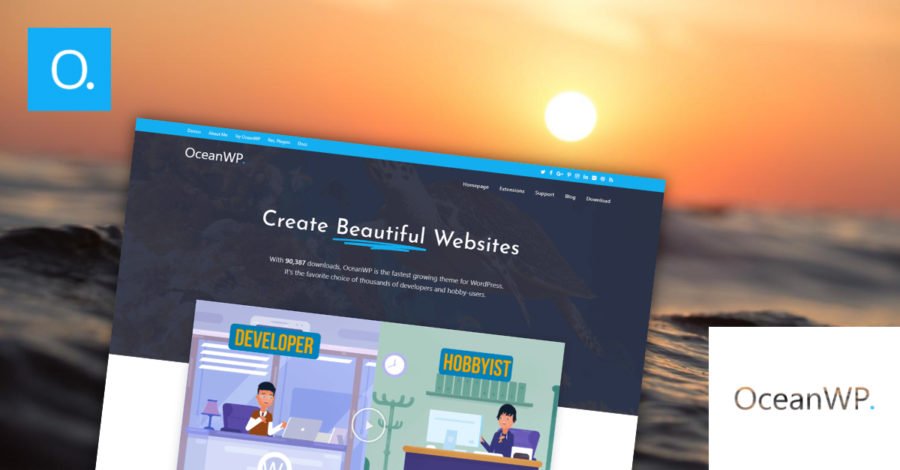 To start well 2019, we've worked hard to offer you an amazing update to always help you to create more amazing websites.
A Setup Wizard to easily start your site in minutes, many new demos, new products style, and much more…
When you will install OceanWP with Ocean Extra for the first time, you will see a little notice on your dashboard to run a setup wizard, with this wizard, you will be able to create a complete website in just a few minutes.
You will be able to select the demo you want for your site, and on the next step, to add your own logo, favicon and global colors in just a few clicks to make the selected demo your own website.
You can access the setup wizard when you want by clicking on Theme Panel, it is the first button on the sidebar.
We have created for you 25 new demos, we want to create new demos each month to give you more and more tool to build amazing websites.
Here, few of the new demos:
Many users asked us to make OceanWP compatible with a lot of WooCommerce addons available in the market, unfortunately, it is impossible to make a theme 100% compatible with all plugins, so we have added a simple setting in the WooCommerce section of the customizer, this setting, when activated, will remove all the default WooCommerce features of the themes, this way, you will have the default WooCommerce styles and hooks and all addons will work perfectly with the theme.
This setting also applies for the Woo Elementor Builder in Elementor Pro, some widgets have issues with OceanWP as we have created many unique features for WooCommerce, if you use this setting, you will be able to create your shop page and single products pages with Elementor without any issue.
The breadcrumb of OceanWP was very simple, to have more control of it, you were forced to use a plugin like Yoast SEO or SEOPress, even if those two plugins are really great, we strongly improved the theme breadcrumb to let you have full control of it directly from your customizer.
You can now, choose your own breadcrumb separator, type your own text for the home, 404 page and search result items and most importantly, you can choose what you want to display before your posts/products/portfolio titles, you can display nothing, the category/tag of the item or the parent page.
Two New Elementor Widgets
We have created two new Elementor widgets for Ocean Elementor Widgets plugin, a Search icon and Cart icon widgets, you can now display your search and cart icon where you want on your custom header or top bar with a great style. Check the Jewelry demo to see the cart icon in action in the top bar.
Also, we work on something very special for the next release of this plugin, I'm pretty sure you will love it even more, so stay tuned 🙂
You don't need anymore to use the Ocean Demo Import plugin, all the free demos are directly in Ocean Extra, so you can delete the plugin from your website.
A new setting that allow you to position the Scroll Up button have been added.
Some users asked me if I could add a setting to add their sidebar before their content on mobile, now you can 🙂
Many little bugs have been fixed in the theme and some plugins.
Tell me in the comments what you think about this new big update and get ready to see more awesome new stuff in 2019!