Launch Your Next WordPress Site Quickly with OceanWP and SiteGround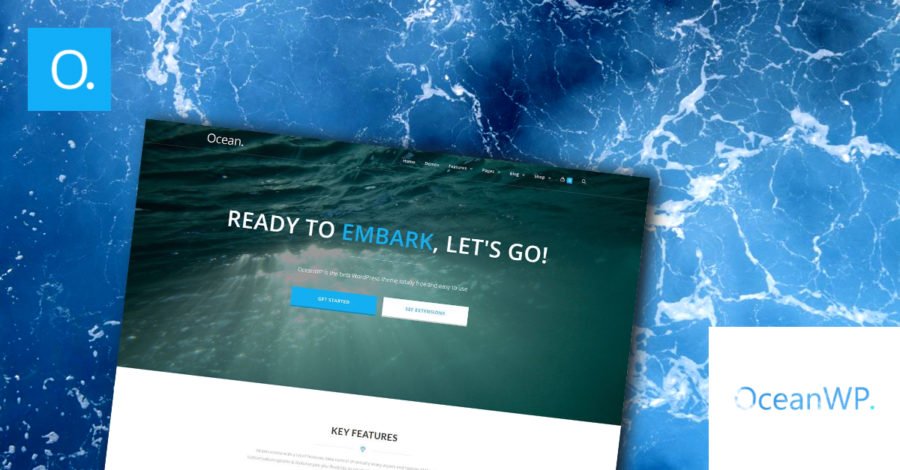 The wonderful thing about building sites with WordPress is the flexibility to create just about anything. With thousands of themes and plugins, you can find the perfect combination of features to create your dream website. However, making all these choices when setting up a new WordPress site can be pretty overwhelming, especially for beginners.  
OceanWP is now making this process friendlier by partnering with SiteGround Web Hosting. All new sites built on SiteGround are set up with the SiteGround WordPress Starter Plugin, a guided experience that takes the stress out of launching a new website and includes a step to choose your very own OceanWP theme.
When you log into a new SiteGround WordPress admin for the first time, you will be guided through a short site-building process that includes selecting a theme with demo content and adding basic website functionalities.
Once you've made your selections, all your choices will get installed and you'll have a fully-functional site — right out of the box. Then you can start customising it with your content and media.
Everything starts with the right design

The first step in the WordPress Starter process is choosing a great theme, the foundation of your site's look. When installing a new theme however, many beginners struggle to achieve the same look as the demo site. That's why the WordPress Starter gives users a jump start on customising their theme with easy-to-edit placeholder content. The pre-populated content makes building pages more intuitive so you use the theme to its full potential.
Choose from a curated list of exceptional pre-populated themes organised by category and industry. OceanWP specifically designed these themes for SiteGround and their clients can take full advantage of the handy time-saving demo images and content.
The demo content on OceanWP is built with the free version of Elementor page builder, which many website owners consider to be the easiest page builder plugin for WordPress. We install the free version of the Elementor page builder plugin by default for everyone unless you choose to opt out.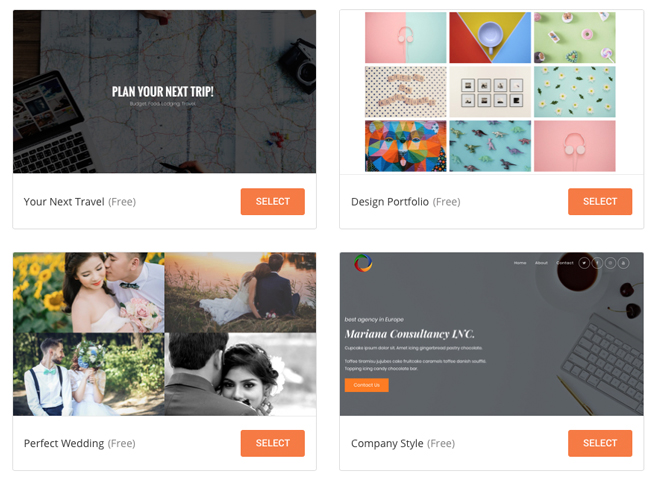 Adding function to form

The next step is adding functional features to your site such as contact forms, calendars, an online shop, SEO, and other essential marketing tools.
If the functionality is already built into the theme or the demo content, the WordPress Starter won't ask again if you want to add it. For example, it assumes if you've chosen a portfolio theme, you want the gallery feature. The goal is to limit the number of decisions in the website-building process, so you can focus on precisely what you need.
Using the WordPress Starter can also save you the task of searching for and evaluating plugins. SiteGround has hand-picked the best plugins for the most common website needs based on our knowledge and experience.
There is a choice of some of the most popular, easy-to-use, and highly-rated plugins to offer an even more seamless experience to customers – WPForms, FooGallery, Yoast SEO, Monster Insights, The Events Calendar, Optin Monster, WP Google Maps, Jetpack, and WooCommerce.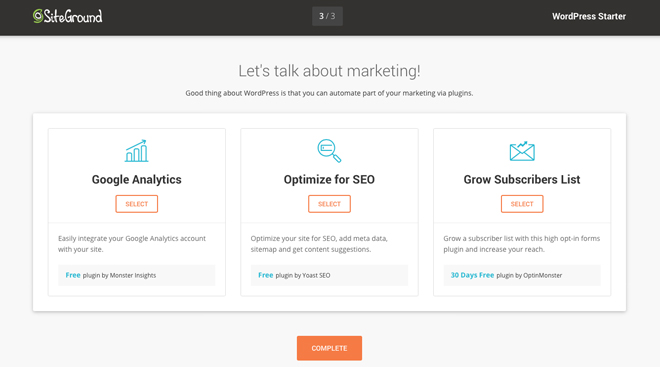 An easy start on a solid foundation
SiteGround is great for all types of WordPress users and OceanWP themes will help you publish amazing things combined with the power of SiteGround. SiteGround features like the Starter Plugin make building sites incredibly easy for beginners and their advanced development tools give professionals the power and flexibility they want.
If you love OceanWP themes and want a fast and simple way to launch your new WordPress website, we encourage you to try the SiteGround WordPress Starter.