Are Ad Blockers Affecting Your Income? Here's How to Prevent Them From Harming Your WordPress Business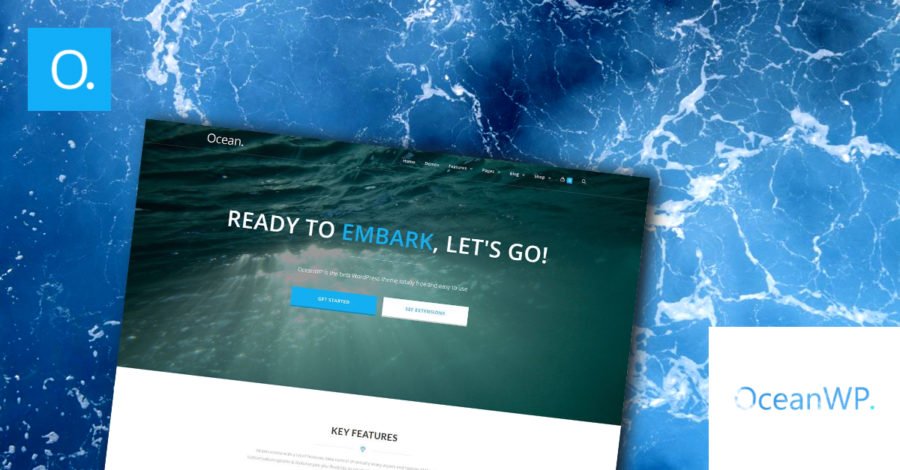 When ad blockers came out back in 2014 everyone was happy. By everyone, I mean people who don't own a business themselves because entrepreneurs, CEOs, and website owners didn't enjoy it much.
If your business relies much on ads (and it probably does), you're losing revenue. But the two questions are:
How much of your income is affected by ad blockers?
How can you prevent this to happen?
In this post, we will talk about why people hate ads, how much money you're leaving on the table as a website owner, and how you can partially fill the gaps in your earnings.
Are ad blockers affecting your business?
First of all, why worry about ad blockers at all? Because no matter how much they keep your business up and running, ads are not your readers' best friends. People do not care that hiding the ads means stealing your bread; when something is annoying, you don't want it in your life. It's very simple. A recent study shows that in 2018 there were 87% more ads on websites than two years ago. And the more advertisement, the more counterattack from the customers.
According to Statista, the number of internet users that block ads is on the rise. In 2018, 30% of the US onliners used tools to eliminate the ads from the websites they were visiting. That translates into roughly 615 million devices that have ad blockers active on them. Out of this amount, 380 million are only mobiles. The rest of 236 million applies to desktops, PageFair says.
AdBlock got so popular nowadays that it's not only the youngsters that make use of it but also people at 64 years old, as stated by MarketingLand.
So the anti AdBlock revolution has only just begun. As of now, AdBlock Plus registered a number of downloads of 500 million in total since its first launch in 2014.
Is ad blocking having ugly consequences over online businesses? The answer is big time. All the publishers (with no exception) have a lot to lose if their readers use AdBlock.
To get the idea, Google's ad revenue went up to $95 billion last year, while Amazon US' ad revenues reached 63.5% this year, surpassing $2 billion for the first time.
When it comes to the publishers, Forbes states that globally-popular blogs like Mashable, Smashing Magazine, Gizmodo, or Perez Hilton earn most of their income through advertisement.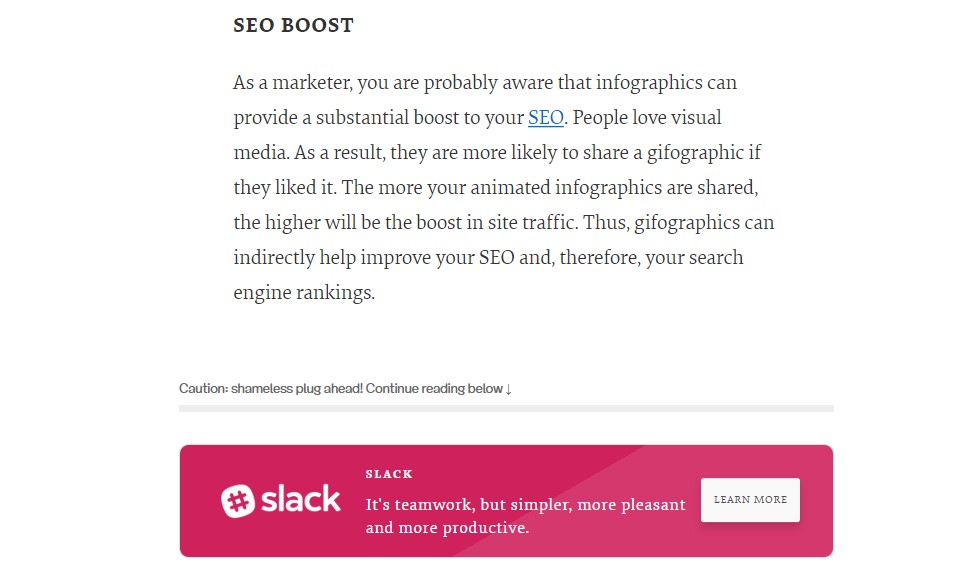 It is estimated that brands like these will lose around $35 billion of revenue by 2020 if ad blocking rates remain at their current levels.
Same story with YouTube. YouTube is even more sensitive in terms of monetization since most of the guys that advertise (and own a channel) here will lose even more revenue. A YouTuber can drop a huge percentage of their earnings because YouTube ads generate money per impressions and not necessarily per click. AdBlock is, therefore, an arch enemy for YouTubers.
But not Google or Amazon are the ones living the hard life here. It's small businesses that we should truly worry about; when your earnings are small or medium, the impact of AdBlock can hit your budget really hard. Each loss can translate into a huge failure.
The thing is, you can't beat the ad blockers. But you can fight to at least reduce the amounts of lost revenue. It's still better than nothing.
How to prevent ad blockers from harming your business
Like I said earlier, you can't. But what you can do is to slow them down a bit. Anti ad blockers were created by developers as a desperate reaction to ad blockers.
Attention! The anti ad blocker won't stop the ad blockers per se but will display a notice to your readers, a notice through which you can kindly ask people to deactivate the extension if they want to keep getting good content for free.
Ad Blocker Notify is one of these plugins. Every time it detects an ad blocker on your visitors' site, it displays a notification in a pop-up form, which you can customize to your liking. The plugin is entirely free but provides a premium version, too.
Ad Blocker Notify offers three notification types: you can either show a pop-up with a complaint, redirect to a different page by forbidding the access to the content or display custom messages in place of the hidden ads asking people to deactivate AdBlock.
To use the modal box, you just need to add a title and a custom message that will appear on your readers' front-end. Moreover, you can combine effects, animations, and colors to gain their attention easier.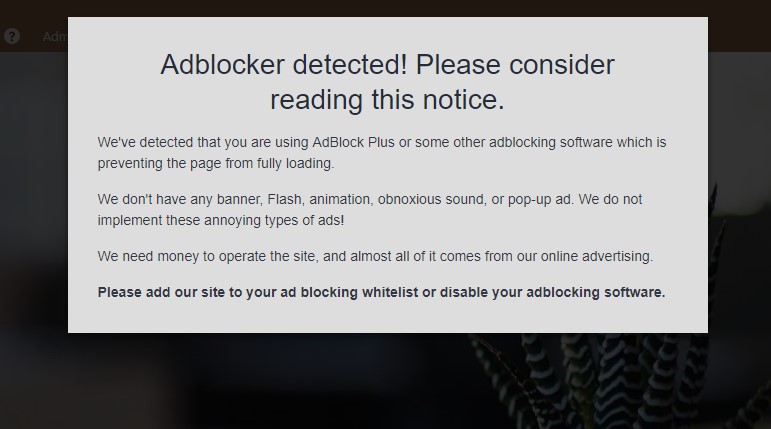 Block AdBlock is another lightweight plugin that displays flying boxes, full-screen pop-ups, and sticky bars on the AdBlock users' screens.

Admiral comes with more solutions built to help publishers save a part of their ad revenue. They have tools that not only engage with the user but also show you stats like how many users ignored your message or how much money you managed to save with the tool. Their products come in free plans, but give you a hand in recovering bits of revenue if you go premium.
BlockAdblock (a different tool from the aforementioned one) is yet another cool tool that uses filters to detect the ad blockers installed on your readers' sites. It is free and adds a script to your site, which will provide modern and friendly options for pop-up display. It also has Analytics integration so you can track the stats and see how many people disabled the ad blocker after getting your message. Apart from the functionality settings, you can choose from a catchy palette of color schemes to beautify the notification pop-ups.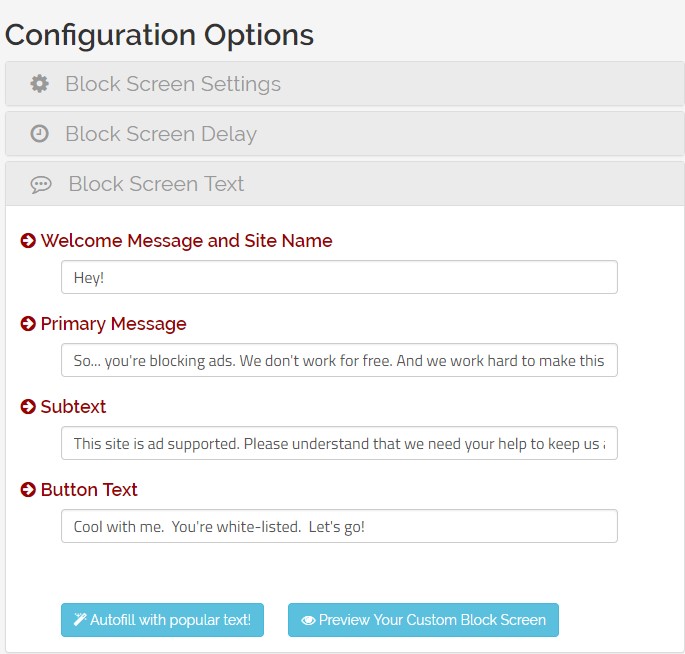 For even more WordPress solutions, check this guide by ThemeIsle, where you can find a comparison of the best anti AdBlock plugins available on the web.  
How to monetize your content another way?
Ok, the advertisement is one of the main sources of revenue for most publications and businesses, but you can recover your money by implementing alternative monetization methods.
Use affiliate marketing
Affiliate marketing works since forever. You sign up to a company's affiliate program that you normally promote on your blog and use their affiliate links instead of the conventional ones. For each conversion generated via your site, you get commissions and bonuses (they vary from provider to provider).
Add sponsored content policy
Publishers can use several tricks, though, to make money with their blogs. You can introduce different sorts of payments for marketers and product owners who want to promote their name on your blog. You can accept sponsored content, review various products, and even engage in cross-promotion with other publications from your niche.
Ask for financial support and/or create premium content
If you're investing a lot of work and time in creating quality and highly-researched articles, you can implement the premium model for members only. You can still provide free content, but put a price on your most valuable resources at the same time. It's like buying a newspaper or a book. Selling content via pricing plans is nothing abnormal if you ask me, and should be encouraged.
Another option would be to create free content only but to politely ask for financial support or donation. Your loyal readers who find your content valuable and consume it repeatedly won't say no. If you're aware that your content impacts people's lives in a good way and helps them through various informative pieces, then go for it.
Make a compromise. Spotify, for example, offers content for free but only if its users accept the ads. If you really don't want to see ads when listening to music, then you can opt for the premium plan (pay for no ads). In this case, the business wins anyway.
Sell a digital product
Apart from writing articles and blog posts, you can release a standalone product such as:
An online book. You can put together all the articles that you wrote on the same topic and publish an eBook.
A course (be it video or written) to teach other people what you know.
An extension, tool, or app that could help your niche.
Why people block ads
You, as a site owner, see the ads as an opportunity to make money. But now try to walk in the user's shoes.
Sometimes, it's the way you showcase your ads that convince people to install AdBlock. And it's true that many sites place ads intrusively instead of finding a milder fashion to display them (without disturbing the user's browsing too much).
Why do people hate ads? These are the main three reasons: 
You're using too many. Placing only three or four simple ads per page (like in the Smashing Magazine example) might be decent for people to cope with. By "decent" I mean "easy to overlook". So okay, place ads, but not in a way that will interrupt or discontinue people's activity on your site. Place them in the sidebars or between sections; avoid sneaking them within your content, since they can distract your visitors and make them stop reading further.
They are too annoying. Like I mentioned earlier, a static banner here and there can most of the time go unnoticed if it doesn't disrupt the users. But you have a problem when you're adopting recurrent pop-ups, videos that can't be skipped, autoplay ads (preferably with sound), persistent banners that can't be closed, full-screen pop-ups that won't let you see the content (interstitial ads), banners asking for subscription or any other action from the readers.
They affect your site speed. If you're placing multimedia ads that contain tons of information, then your site's loading time will be affected. Make sure you're activating the cache and image optimization plugins in this case. I recommend W3 Total Cache for caching and Optimole for image optimization and lazy loading. This way, your pages will load smoother and the level of irritation among users will drop.
It's okay to pay for content
Any site owner needs ads to monetize their work. But it does matter a great deal what kind of ads you want to place, where, and how many. A publication that seeks respect must respect its readers too. You can either introduce membership/subscription plans and let people choose what they want to consume or ask them gently to pause the ad blocker if they appreciate your content.
As a huge reader myself, I'm okay with paying for content as much as I am okay with buying a book or any physical product. If you want to read content for free, disable the AdBlock on the sites that you appreciate, as long as they're not invading your space. Sometimes, in order to support the content you love, it only takes one click of a button.